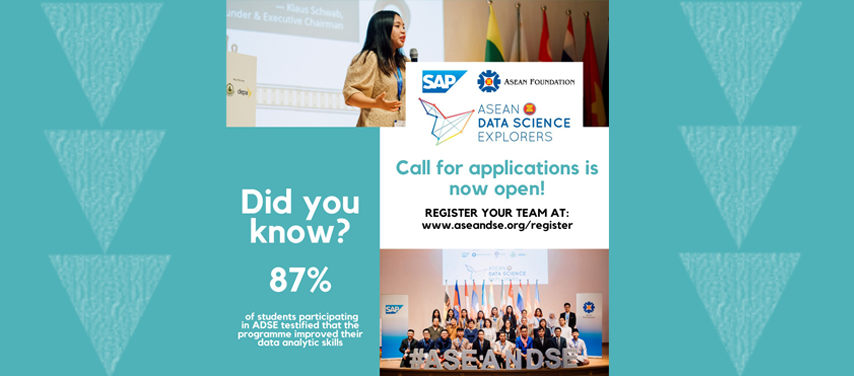 The ASEAN Foundation and SAP launched the call for applications for the ASEAN Data Science Explorers (ASEANDSE) 2020, inviting ASEAN students attending undergraduate studies to be the next cohort of data-driven changemakers.
According to the aseanfoundation.org, the ASEAN Data Science Explorers (ADSE) is a flagship programme under the ASEAN Foundation's partnership with SAP to engage and prepare today's youth for tomorrow's world.
The ADSE calls for data-driven proposals in a competition targeting tertiary students across the 10 ASEAN Member States (AMS). In the competition, the students use technology and innovation to develop solutions towards ASEAN growth and development to improve people's lives. The ADSE also has a training programme segment, which aims to build information and communications technology capacity for youth in the region, bridge the digital divide in 10 AMS and prepare them for the Digital Economy. This is how the ADSE supports the ASEAN Information and Communications Technology Masterplan 2020 and ASEAN Work Plan on Youth and Education 2016-2020. The competition segment of the ADSE is held at the national and regional levels with the national level conducted at 10 AMS and the regional final hosted by the ASEAN country chairing ASEAN. Through the data analytics competition, the ADSE encourages ASEAN youth in all 10 AMS to harness the power of data, highlighting the pressing social and economic issues in ASEAN and derive meaningful insights that lead to innovative and feasible solutions. The solutions that youth will submit are not limited to a campaign, policy, product, service, or volunteering recommendation. Furthermore, entries submitted will be shared with relevant ASEAN bodies for their consideration.
By using the SAP Analytics Cloud, the ADSE encourages participants to deliver data-driven insights which highlight pressing social and economic issues in ASEAN across the seven United Nations Sustainable Development Goals, namely (1) Good Health and Well-being, (2) Quality Education, (3) Gender Equality, (4) Clean Water and Sanitation, (5) Decent Work and Economic Growth, (6). Industry Innovation & Infrastructure and (7) Sustainable Cities and Communities.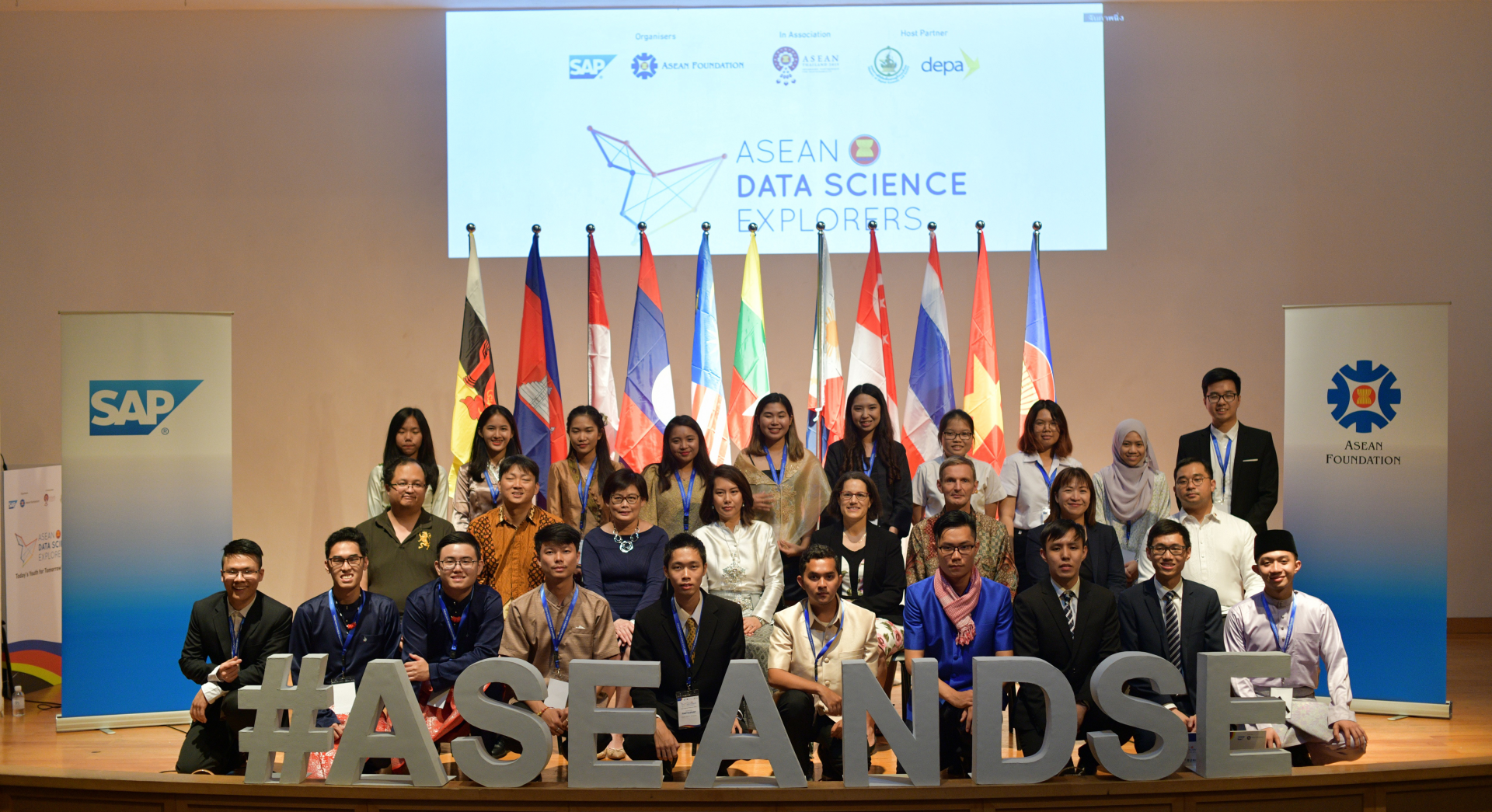 The ASEAN Foundation, SAP SE (NYSE: SAP) and Digital Economy Promotion Agency (depa) in 2019 held the regional finals of ASEAN Data Science Explorers (ASEANDSE) 2019 that saw three teams from Viet Nam, Singapore and Thailand emerge as winners for their insights and data-driven solutions to solve the region's most pressing social and economic issues. (Photo: asean)
At the ASEANDSE 2019, Team AWM from Viet Nam, comprising Ha Vu and Trung Vu from RMIT University Vietnam, took first place at the Regional Final. Their project focused on ethnic minorities as a potential source for economic development in ASEAN.
Team Revolution from Singapore, comprising Shi Xuan Teng and Egwin Fan from Nanyang Technological University, emerged as the runner-up. Their project was designed to solve the waste management problem in ASEAN.
Meanwhile, Team NT from Thailand, comprising Noppawan Rakthinkumnerd and Bao Tran Ngo Le from Thammasat University, became the second runner-up for their project on gender inequality in work force in ASEAN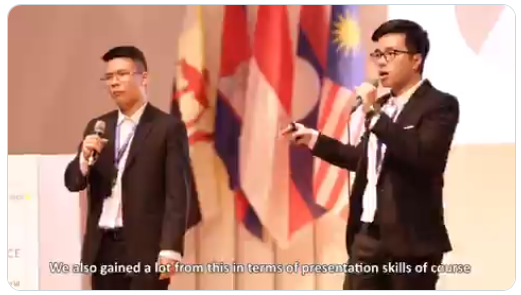 Team AWM from Viet Nam, comprising Ha Vu and Trung Vu from RMIT University Vietnam, took first place at the Regional Final. Their project focused on ethnic minorities as a potential source for economic development in ASEAN.
Trung Vu, a member of Team AWM from Viet Nam said, "we were just excited and delighted that our ideas and our solutions were acknowledged by ASEAN, UN and other governmental agencies to turn our vision into reality. We also got exposure to diverse cultures from students from other countries that we've become friends with. We can learn from each other and share our knowledge and different perspectives in the region and I believe that diversity is crucial for someone who wants to be a global citizen such as myself and a lot of other students."
ASEANDSE is a regional programme by the ASEAN Foundation and SAP that recognises the importance of equipping ASEAN youth with skillsets that will help them to thrive in the fourth industrial revolution and unleash the region's full potential. Since its inception in 2017, ASEANDSE has empowered over 9,000 youths from 230 higher education institutions in the region with data analytic skills. Participating students came from a wide range of disciplines such as political science, engineering and architecture gleaning actionable insights from data to come up with solutions that have an impact on these areas.
The Executive Director of ASEAN Foundation Elaine Tan said, "ASEAN Foundation is honoured and proud to collaborate with SAP for three consecutive years. SAP played a significantrole in thisinitiative as together we are addressing the post-2020 direction of ASEAN youth development that focuses on fostering future-ready ASEAN youth through digital skills development. The initiative help ASEAN youths to seize the vast opportunities that lie ahead of them. At the same time, the initiative equips them with relevant digital skills they require to tackle the challenges posed by the Industrial Revolution 4.0,".
This year's deadline for ASEANDSE 2020 registration has been extended to June 30 to call for more innovations to help ASEAN conquer its issues.
Tarah Nguyen