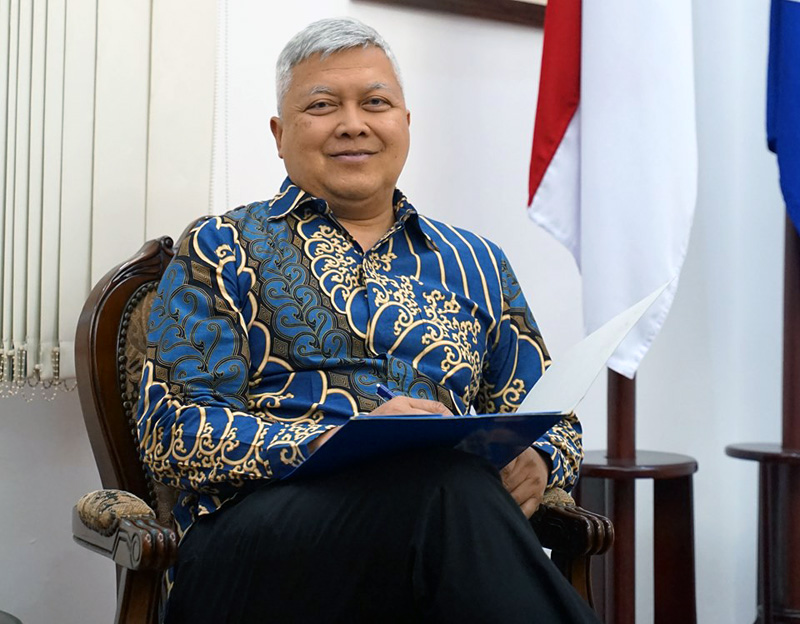 Mr. Ibnu Hadi, Indonesian Ambassador to Vietnam. (Photo: CPV)
On the auspicious occasion of the Reunification Day of the Socialist Republic of Vietnam on 30 April 2020 as well as the International Labour Day,1 May 2020, Indonesian Ambassador to Vietnam Ibnu Hadi has sent a congratulatory letter to Vietnam Union of Friendship Organizations President Nguyen Phuong Nga to express his heartfelt congratulations to the Vietnamese leader and people . Vietnam Times would like to cite his letter of congratulatuon for reference hereinafter.
DUTA BESAR REPUBLIK INDONESIA
AMBASSADOR OF THE REPUBLIC OF INDONESIA
Hanoi, 29 April 2020
Madam Nguyen Phuong Nga
President
Vietnam Union of Friendship Organization (VUFO)
Hanoi
Dear Madam Nguyen Phuong Nga,
On this good occasion, I am honored to offer my heartfelt congratulations to Your Excellency and the Vietnamese people on the auspicious occasion of the Reunification Day of the Socialist Republic of Vietnam on 30 April 2020. At the same time, allow me also to congratulate Your Excellency on International Labour Day,1 May 2020.
The COVID-19 pandemic is still lingering, but positive development has been made particularly in Vietnam. We all commend the achievement made by the Vietnamese Government and its people. Vietnam has shown a good example of how to manage the pandemic, and other countries including Indonesia could learn and take necessary action accordingly. I also believe that under Your hairmanship, ASEAN will make significant progress in this year of 2020, despite rescheduling programs. We are looking forward to the upcoming ASEAN Summit by end of June 2020 then the following ASEAN Summit and the East Asian Summit in November 2020.
Despite the COVID-19 pandemic, I am very happy to witness the fact that our bilateral relationship has been closer with trade amounted to USD 9.1 billion in 2019 and achieved USD 2.2 billion for January — March 2020, increased by near 3%. Our Strategic Partnership has allowed both countries to work closely in many areas of mutual benefit in politics and security, economy and trade, and social culture and education.
I have been here as the Indonesian Ambassador since February 2016, and I am proud to see so many progress taking place between Indonesia and Viet Nam including the historical visit of General Secretary Nguyen Phu Trong to Indonesia in August 2017. I would do my best to contribute to the success of the ASEAN Year 2020 chaired by Viet Nam.
Please accept the assurance of my highest consideration along with the best wishes for continued success in your endeavour to bring growth and prosperity to the people of Vietnam.
Sincerely yours,
Ibnu Hadi
Early in April, 500 "Made-in-Vietnam" COVID-19 test kits donated to Indonesia arrived in Jakarta on April 5 to help the country sooner detect the virus and contain the coronavirus pandemic. That day the ambassador noted that this was the result of coordination and cooperation between the Indonesian Embassy in Hanoi, Vietnamese Embassy in Jakarta and Vietnam's Ministry of Science and Technology supported by Vietnamese government and people.
Tarah Nguyen