Australia-Vietnam Young Leadership Dialogue kicked off
The Australia-Vietnam Young Leadership Dialogue (AVLD) kicked off on March 23 in Australia in an effort to intensify mutual understanding and step up co-operation between the two countries.
New South Wales Governor Margaret Beazley addresses the event. (Photo: VOV)
This year's dialogue is expected to see the recruitment of 20 young people who are keen to contribute to efforts aimed at deepening the relationship between both nations whilst promoting their journey of leadership to participate in the program.
As part of her opening speech, New South Wales Governor Margaret Beazley affirmed that the focus of this year's dialogue will be on promoting a range of innovations and partnerships in the post-COVID period, including areas related to the arts, business, and community. The young leaders selected for this year's scheme will be made up of a range of dynamic and talented individuals who work in such fields as business, policymaking, education, health, arts, culture, and innovation.
Following their selection, the young leaders will then participate in activities scheduled to take place in both Ho Chi Minh City and Sydney in September. It is anticipated that the dialogue will create greater opportunities for the next generation of leaders from both countries to embark on a transformative journey towards achieving a stronger innovation partnership and co-operation across priority areas.
Trinh Duc Hai, the Vietnamese Consul General in New South Wales, affirmed that the initiative will help contribute to developing bilateral relations, especially as Australia represents one of Vietnam's most important strategic partners, VOV cited.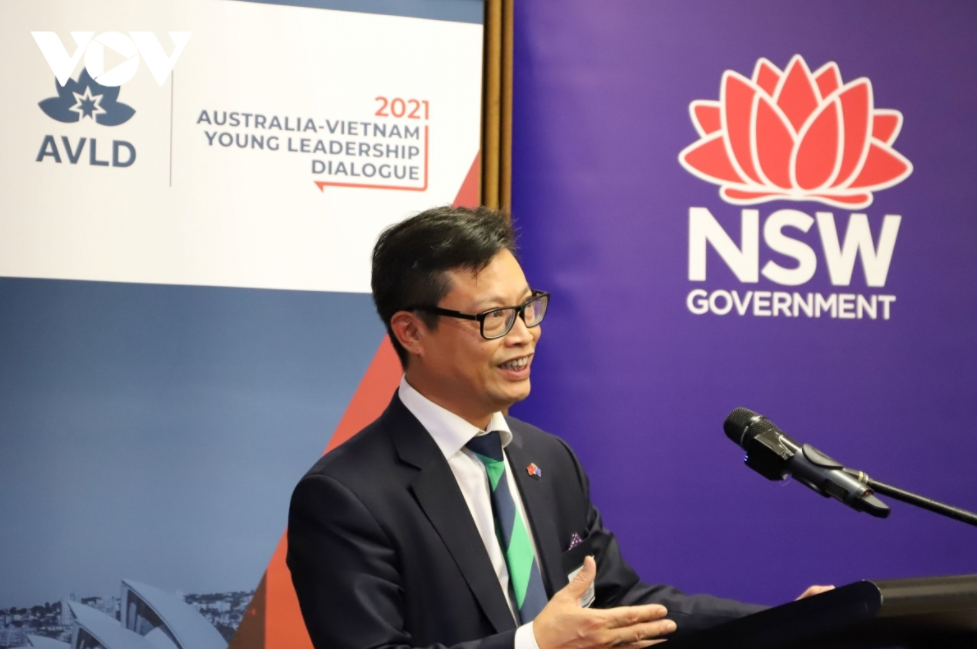 Vietnamese Consul General in New South Wales Trinh Duc Hai speaks at the event. (Photo: VOV)
Peter Cosgrove, former governor-general of Australia and sponsor of the Australia-Vietnam Young Leadership Dialogue, emphasized that both countries have recorded a range of amazing achievements in bilateral relations, with these milestones reached largely through boosting diplomatic, economic, and trading ties.
Both Vietnamese Ambassador to Australia Nguyen Tat Thanh and Australian Ambassador to Vietnam Robyn Mudie have been invited to be advisors for the program. "Vietnam welcomes the comprehensive participation of the change-makers network and expresses its belief that participants in the dialogue will further strengthen the bilateral relationship through cooperation in the priority strategic areas of the two countries," said Ambassador Thanh.
The Australia Vietnam Young Leadership Dialogue is a transnational non-profit initiative that was endorsed by the Australian government through the ASEAN-Australia Council and other partners. Given that Vietnam and Australia are close both diplomatically and geographically, despite being on entirely different continents, there is plenty to talk about. The Australia-Vietnam Young Leadership Dialogue's inaugural 2017 event included talks and speakers on business, international relations, non-profits, and the arts. Through the program, delegates have the opportunity to travel between the two countries, some for the very first time, according to Vietcetera.
The dialogue showed that only through collaboration countries can address such national, regional and global challenges. It was expected to inspire the next generation of young leaders of Vietnam and Australia to take action to create a better future for both countries, said Saigon Times.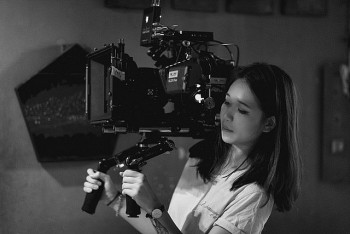 Viet's Home
A film project named 'If wood could cry, it would cry blood' by female director Nguyen Phan Linh Dan has been honoured at the 26th Busan International Film Festival 2021.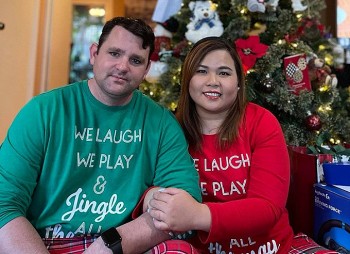 Expats in Vietnam
An American man has removed tattoos on his body so that his Vietnamese girlfriend doesn't feel shy when being with him.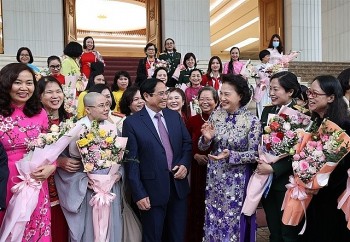 Focus
Prime Minister Pham Minh Chinh has affirmed that Vietnam has created an environment conducive to women's advancement in society.