Australia: Protests and Violence Broke Out On Streets Against Lockdown Restrictions
On Saturday, thousands of markless anti-lockdown protesters broke out on the streets of Australia's two biggest cities as infections hit a new record and authorities warned of a "growing problem".
Thousands of people took to the streets of Sydney and other Australian cities on Saturday to protest lockdown restrictions amid another surge in COVID-19 cases, and police made several arrests after crowds broke through barriers and threw plastic bottles and plants.
The unmasked participants marched from Sydney's Victoria Park to Town Hall in the central business district, carrying signs calling for "freedom" and "the truth."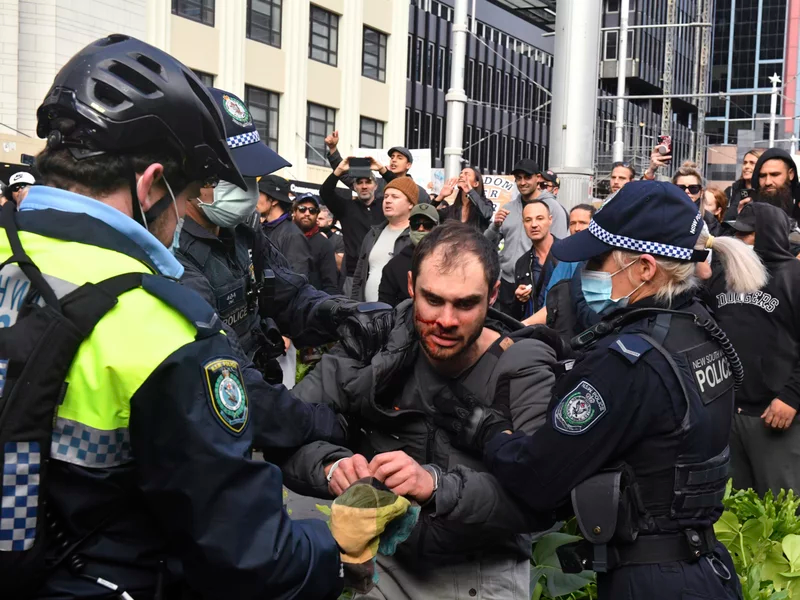 Police arrest a protester at a demonstration at Sydney Town Hall during an anti-lockdown rally on Saturday. Mick Tsikas/AP
There was a heavy police presence in Sydney, including mounted police and riot officers in response to what authorities said was unauthorized protest activity. Police confirmed a number of arrests had been made after objects were thrown at officers.
New South Wales Police said it recognized and supported the rights of free speech and peaceful assembly, but the protest was a breach of public health orders.
"The priority for NSW Police is always the safety of the wider community," a police statement said.
The largely maskless protesters were flouting rules on non-essential travel and public gatherings, a day after authorities suggested the restrictions could remain in place until October.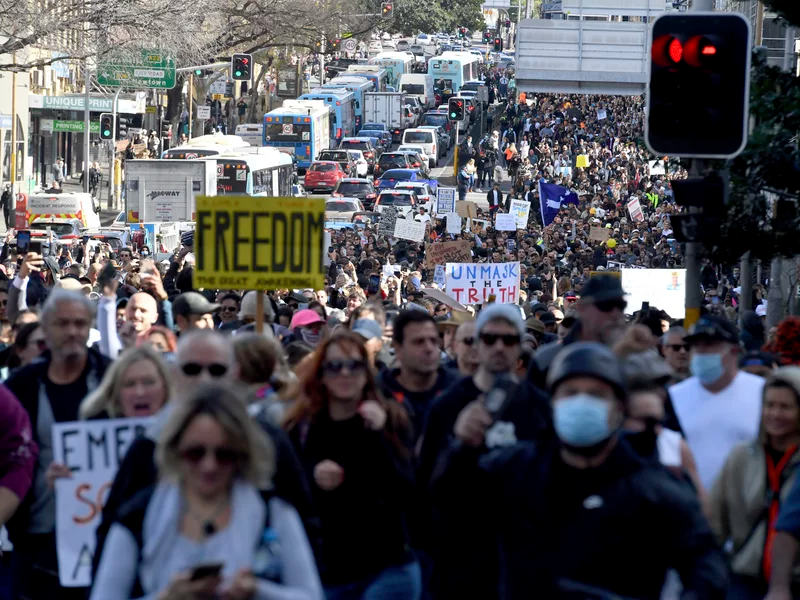 Protesters march through the streets in Sydney on Saturday. Mick Tsikas/AP
"I am utterly disgusted by the illegal protesters in the city today whose selfish actions have compromised the safety of all of us," the premier of Sydney's state of New South Wales, Gladys Berejiklian, said in a statement.
"The protesters have shown utter contempt for their fellow citizens who are currently doing it tough."
Hundreds of police responded to the Sydney protest, with several demonstrators pulled from the crowd in handcuffs by officers. Police said they issued nearly 100 fines and arrested 57 people.
Police in Melbourne said six people were arrested.
New South Wales Police Minister David Elliott said a team of detectives would be scouring footage to identify and charge as many people as possible in the coming days.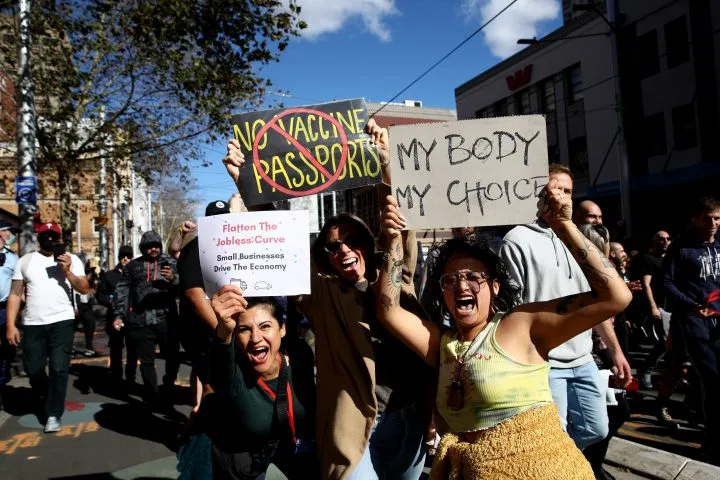 Protesters march down George St on July 24, 2021 in Sydney, Australia. Photo: Getty Images
"What we saw today in Sydney is unfortunately something that we've seen in cities that we all shake our head at," Elliott told media after the protest.
"It's quite clear that you know, Sydney isn't immune from morons as well."
He also said he expected the gathering to drive a spike in COVID-19 cases and urged all those who attended to get tested and isolate.
Organisers had dubbed the protest a "freedom" rally and publicised it on social media pages frequently used to spread vaccine disinformation and conspiracy theories.
Attendees carried signs and banners reading "Wake up Australia" and "Drain the Swamp" - echoing messages seen in similar demonstrations overseas.
Helicopters buzzed above the streets of Sydney, a city of over five million people that is struggling to contain an outbreak of the Delta variant.
The state of New South Wales reported 163 new infections Saturday to bring its total in the current outbreak to nearly 2,000.
After escaping much of the early pandemic unscathed, around half of Australia's 25 million people are now in lockdown across several cities.
There is growing anger at the restrictions and the conservative government's failure to provide adequate vaccine supplies.
Just 11 per cent of the population is fully vaccinated.
Protesters and mounted police clash at Sydney Town Hall on Saturday. Mick Tsikas/AP
The protest comes as COVID-19 case numbers in the state reached another record with 163 new infections in the last 24 hours.
Greater Sydney has been locked down for the past four weeks, with residents only able to leave home with a reasonable excuse.
"We've turned the corner, we've got it sorted. We're hitting the marks that we need to make, a million doses a week are now being delivered," Prime Minister Scott Morrison said. "We are well on our way to where we want to be by the end of the year and potentially sooner than that."
The federal government said it will send thousands of extra Pfizer doses to Sydney while adults in Australia's largest city are also being urged to "strongly consider" AstraZeneca in view of the scarcity of Pfizer supplies.
"It's not about a virus it's about total government control of the people"
Police officers in Sydney detained several protesters [Steven Saphore/AFP]
The NSW police said officers from across central metropolitan region, assisted by specialist resources, were deployed in response to the unauthorised Sydney protest.
"The NSW police force recognises and supports the rights of individuals and groups to exercise their rights of free speech and peaceful assembly, however, today's protest is in breach of the current Covid-19 public health orders," it said.
"The priority for NSW police is always the safety of the wider community."
Some protesters lit flares as they gathered outside Victoria's Parliament House.
Protesters held banners, including one that read: "This is not about a virus it's about total government control of the people."
The protest was brought to a violent end by police. An AAP photographer wearing visible press accreditation was pepper sprayed as police cleared the rally, as were other photographers.
The Victorian premier, Daniel Andrews, had labelled the idea of protesting against the lockdown as "ridiculous".
"Protest against this virus by staying at home, following the rules and getting out of lockdown," he said.
Victoria recorded 12 new locally acquired Covid-19 infections on Saturday, 10 of which were in quarantine throughout their entire infectious period. All infections are linked to current outbreaks. Victoria has been in lockdown since 16 July.
A car rally is also planned for locked-down Adelaide, the state capital of South Australia, with police warning they will make arrests over unlawful activity.
On Saturday, the South Australian premier, Steven Marshall, has reported one new case of Covid-19, linked to the Tenafeate winery cluster.
The state is in the middle of a seven-day lockdown, which Marshall says is on track to be lifted on Tuesday.
The slow rate of Australia's Covid vaccine rollout has been heavily criticised, with only 12.4% of the population fully vaccinated so far.
Australia's deputy chief medical officer, Michael Kidd, said the protests were putting lives at risk.
"I'm very concerned if people are not following those restrictions ... When that happens, there is the risk that we'll get spread of Covid-19," he said on Saturday.
"This is even more imperative during this outbreak with the Delta variant than it was during the times last year when we saw similar protests."