Australia supports Vietnam in innovation under partnership program
The Australian Government has committed an additional package of 3.5 million AUD (2.7 million USD) to support Vietnam in strengthening innovation system under Aus4Innovation program.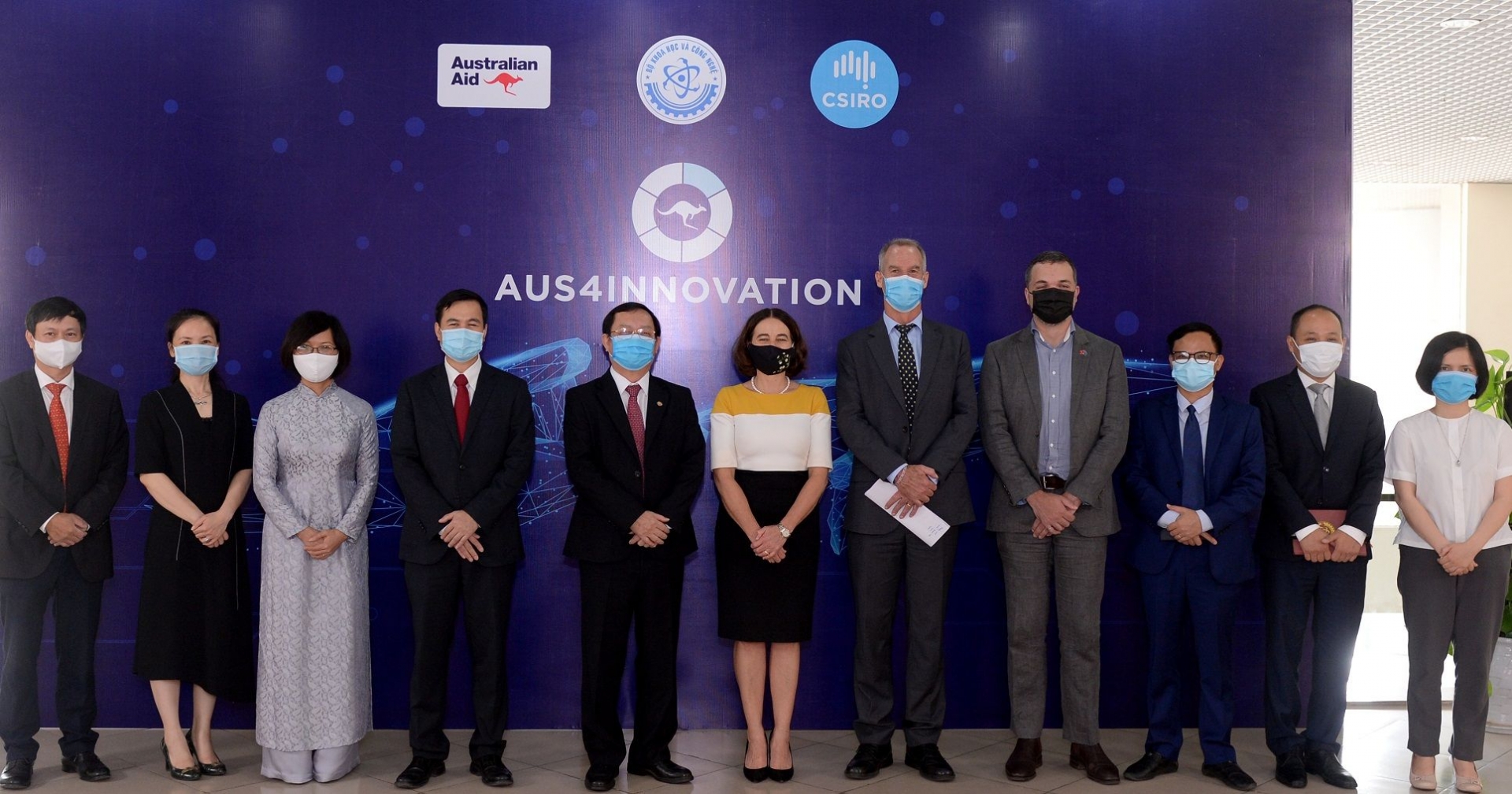 Full delegation team joining Australian Ambassador to Vietnam and Vietnamese Minister of Science and Technology at the bilateral meeting. Photo Australian Embassy
The new flagship investment has increased the program's total budget to 13.45 million AUD to fund new initiatives that will help the program adapt to the Covid-19 context and prepare the program for phase 2 until 2025.
Addressing the annual Australia-Vietnam Innovation Partnership Meeting 2021 last week, Robyn Mudie, Australian Ambassador to Vietnam, said "Four years since its establishment, I'm delighted that the Innovation Partnership between Australia and Vietnam, through the Aus4Innovation program, has delivered tangible, significant results that are having substantial positive impacts on the lives of Vietnamese people. Our collaborative achievements with the Ministry of Science of Technology and partners from both countries are being realised thanks to an embrace of emerging technology and scientific knowledge."
"Our decision to increase support for innovation by AUD3.5 million reaffirms Australia's commitment to our strategic partnership with Vietnam, in which knowledge and innovation is one of the three priorities," she said.
During the meeting with the Australian Ambassador to Vietnam, Vietnamese Minister of Science and Technology Huynh Thanh Dat said in this critical period when Vietnam is facing a global pandemic and must accelerate to complete the digital transformation goal set by the Government, a reliable partner like Australia is very valuable.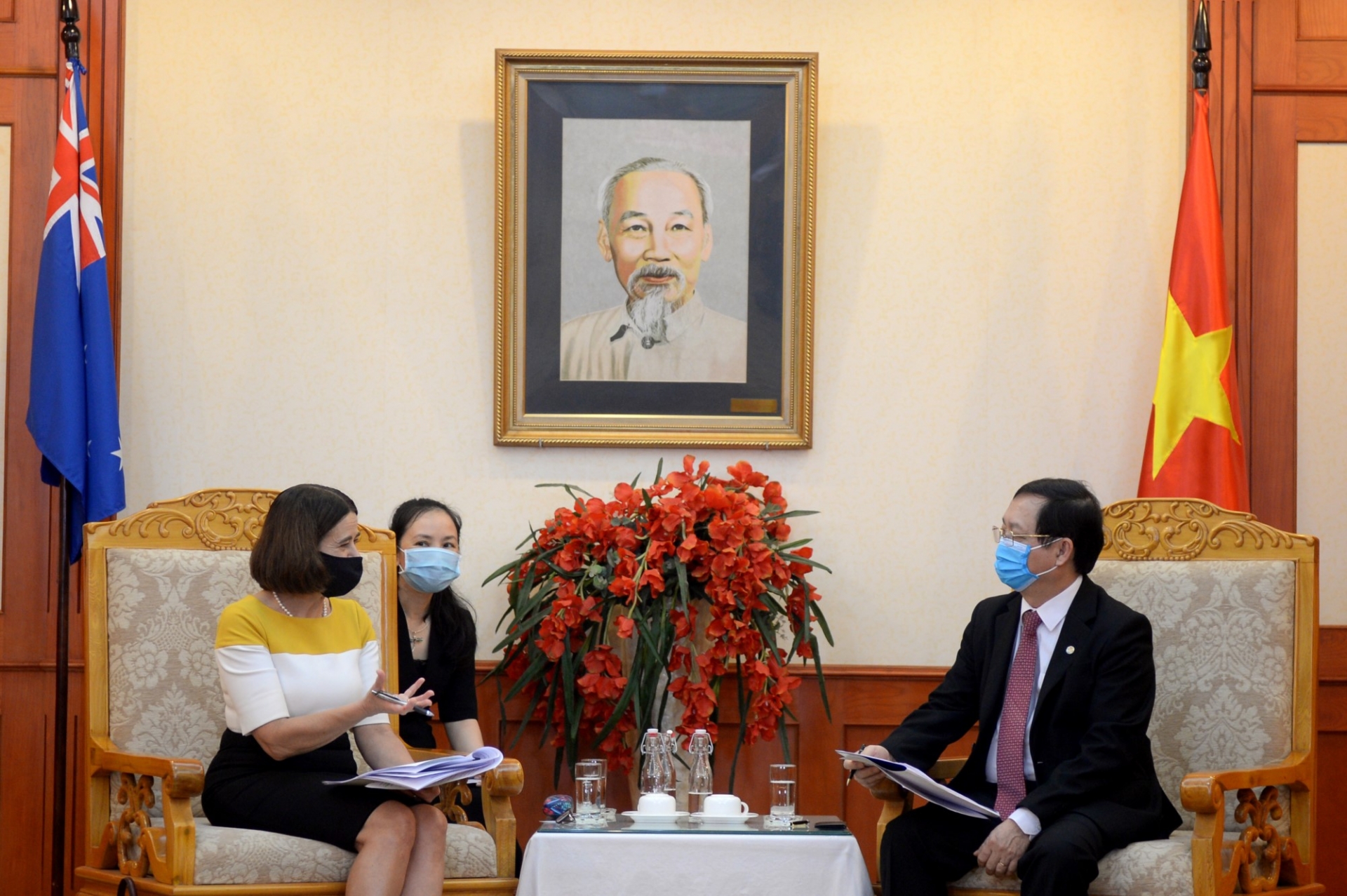 Robyn Mudie, Australian Ambassador to Vietnam (left) has a courtesy call on Huynh Thanh Dat, Vietnamese Minister of Science and Technology last week. Photo Australian Embassy
"The cooperation between the two countries is based on trust in the role of science, technology and innovation in sustainable socio-economic development, as well as on the mutual benefits," he said.
"We greatly appreciate the support of the Australian Government through the Aus4Innovation program and are pleased to see what the program has achieved, the impacts it has had on Vietnam's innovation ecosystem. We will continue to work closely with Australia to ensure the success of the transition phase and look forward to more far-reaching impacts in the program's second phase," Minister Dat added.
Aligning with Vietnam's digital transformation and knowledge-driven growth objective – which has been accelerated due to the Covid-19 pandemic, Australia launched Aus4Innovation program in 2018.
Since then, the program has explored emerging areas of technology and digital transformation, trialled new models for partnerships between public and private sector institutions, and strengthened Vietnamese capability in digital foresight, scenario planning, commercialisation and innovation policy.
The University of Technology Sydney (UTS) and Ho Chi Minh University of Technology (HCMUT) adapted water monitoring technology from UTS to a uniquely Vietnamese version. Four monitoring stations were successfully built in Phu Yen province, providing real-time warnings on seawater quality thereby helping lobster farmers take prompt actions to protect their investment. Photo Australian Embassy
The Aus4Innovation program is building partnerships between Vietnamese and Australian universities, research institutions, technology businesses and policy makers to strengthen Vietnam's innovation ecosystem for sustainable socio-economic development.
Aus4Innovation's initial activities focused on future digital economy, including digital transformation and artificial intelligence, and adaptive agriculture and food.
In the 2021-2022 period, it will sponsor initiatives such as the Vietnam innovation market portal to promote connections between businesses and research institutions of both countries, the Australia-Vietnam Cooperation on responding to ocean plastic waste./.
Since its launch in 2018, Aus4Innovation has brought in positive results. As many as 130 organizations from both Australia and Vietnam have been brought together in 43 partnerships.
Substantial and innovative solutions that bring development impacts are applied in many areas of the economy such as health, agriculture, clean water, smart urban infrastructure.
Overall capacity in science commercialisation has been significantly enhanced through training for knowledge institutes and individual researchers, the opening of technology transfer offices across the country, and the piloting of science commercialisation models to find the most suitable model for Vietnam.
A remarkable result of this effort is the Commercialisation Plus – How to Guide, co-developed with Vietnamese partners to introduce a structured commercialisation process to Vietnamese research institutes. Reports and econometric models have been conducted to provide policymakers in Vietnam with technical support and introduce lessons learned from Australia.