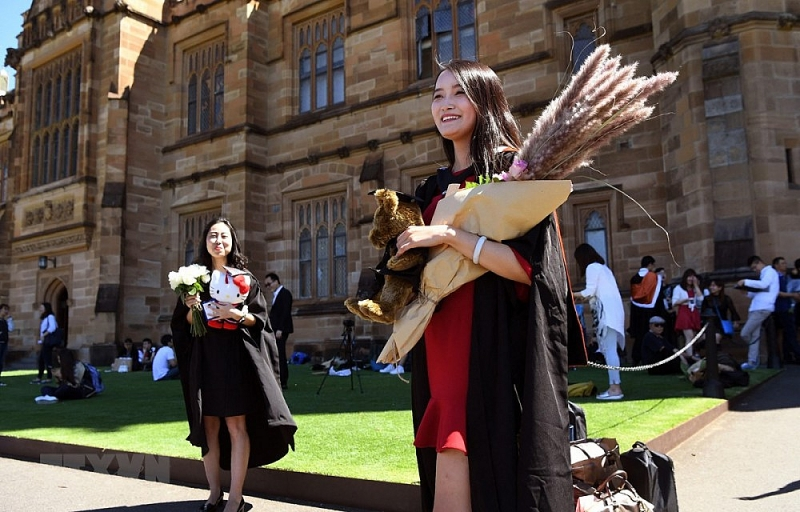 International students at a university in Australia. Photo: AFP
By the end of 2020, the total number of Vietnamese students enrolling at educational institutions in Australia reached more than 24,000, decreasing 2000 students compared to 2019.
Although suffering a decline in the number of students, Vietnam surpassed Brazil (down from over 27,000 in 2019 to 21,500 in 2020) to rank fourth among the five countries with the most students studying in Australia, only after China, India, and Nepal, Baotintuc reported.
Due to the impacts of the border closure in a bid to prevent the spread of the COVID-19 pandemic, the total number of international students studying at educational institutions in Australia in 2020 was 686,104, representing a year-on-year decrease of 9%. However, the above figure does not include international students studying online from outside Australia.
According to Dang Thuy Chi, First Secretary in charge of education at the Vietnamese Embassy in Australia, since 2020, thousands of Vietnamese students have returned to the home country but still continue studying online and wait for opportunities to come back to Australia. Many students also decided to enroll in international educational institutions domestically such as RMIT University or joint education programs organized by Vietnamese and international universities.
Although Australia has well-controlled the epidemic and launched the vaccination campaign, it has yet to decide the time to reopen the border to international students as it is prioritizing quarantine facilities for tens of thousands of its citizens returning from abroad.
Malie Nguyen