Drug trafficking tricks of former Korean police and his partner
Former Korean police use his lover's company as a "shield" to illegally sell drugs by stuffing drugs into granite blocks and sending them abroad from Vietnam.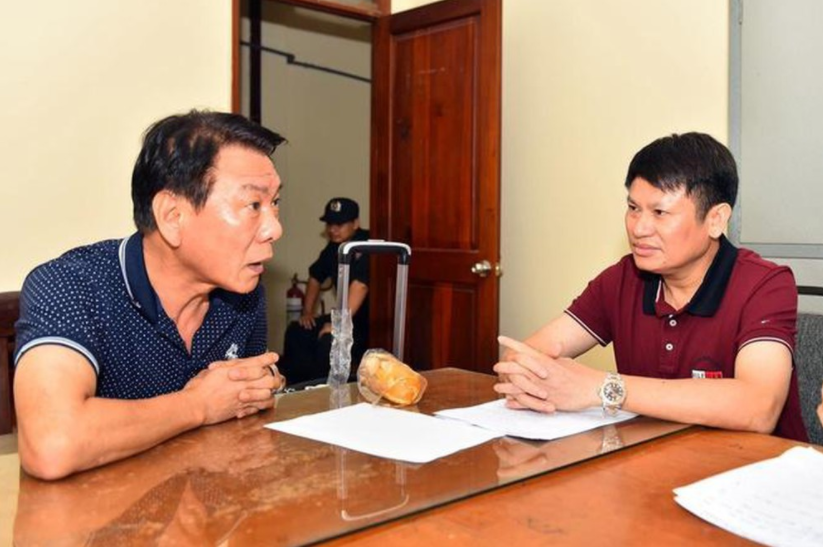 Kim Soonsik (left). (Photo: Bao moi)
On September 30, the Drug and Crime Prevention Department, Vietnam Border Guard cooperated with The Investigation Police Department on Drug-related Crimes (Ministry of Public Security) to hold a preliminary conference and award the units involved in destroying the line of illegal drugs buying, selling from Ho Chi Minh City to Korea.
The leader of this line is Kim Soonsik (former Korean police, 50 years old, residing in District 2, Ho Chi Minh City).
Get his lover company as a front shield
Kim Soonsik traveled to Vietnam and had a relationship with Huynh Thi Hoa Tran, who is the Director of APE Industrial Machinery and Equipment Co., Ltd., headquartered in Thu Duc district. Tran's company is a front shield to help Kim Soonsik transport drugs abroad by sea. There are some Chinese and Korean companies back Kim Soonsik's illegal business.
Kim Soonsik buys drugs from the border area, then hides them in his apartment in district 2, Ho Chi Minh city. The drugs will then be transferred to a granite warehouse in Thu Duc district where Kim and his team hide drugs in granite blocks and move them to Cat Lai port to export to Korea.
Around 1:30 pm on July 19, the police found their container at Cat Lai Port, seized 40 kg of drugs, arrested 2 Koreans, 2 Chinese, and one Vietnamese. After investigating all the suspects, the police seized 7 more drug packs, 27 synthetic drug tablets, and some documents related to drug trafficking activities.
Kim Soonsik and his accomplices then admitted having successfully transported 3 batches of drugs using the same technique.
Drugs are hidden in motorbike vortices to be transferred cross the border. (Photo: Bao Moi)
An illegal business line with hundreds of partners
Researching into the above case, the police determined that Kim Soonsik directed his juniors to take drugs from Le Ho Vu (33 years old), who is, in his turn, backed by Nguyen Chi Thien. Both of these two have dozens of partners and branches in Ho Chi Minh City and Dong Nai province.
On July 30, when Le Ho Vu and Nguyen Chi Thien transported drugs from the cars to their homes in Binh Chanh district, the police broke into and seized 73 kg of synthetic drugs. At the same time, 10 reconnaissance teams flooded into many locations to arrest 11 people in the crime line, collecting 45 kg of synthetic drugs, and 19 heroin cakes.
According to the testimony of Vu, the Department of C04 coordinated with the border post of Linh Huynh, Kien Giang to arrest Nguyen Trung Kien, the focal point specializing in supplying drugs to drug dealers in Ho Chi Minh City.
Kien claimed that drugs were brought from the Golden Triangle to Cambodia and then transferred to Vietnam through two Vietnamese living in Cambodia. These two people used to come to Ho Chi Minh City to survey and set up drug warehouses and then hand them over to the Vietnamese and Chinese for management. Then, the suspects stuffed drugs into car engine block, disassembled generators, iron cylindrical cylinders, transferred them through Tay Ninh border gate to gather in warehouses in Ho Chi Minh City.
Up to now, the police have arrested 24 people, seized 164 kg of synthetic drugs, 19 heroin cakes and many of their properties.
In the first 9 months of 2020, the nationwide Drug Crime Police force has coordinated with the functional forces to detect 18,388 cases and arrest 26,793 drug offenders. Authorities have seized 235 kg of heroin; nearly 1.6 tons of synthetic drugs, 850,000 ecstasy pills, 113 kg of marijuana.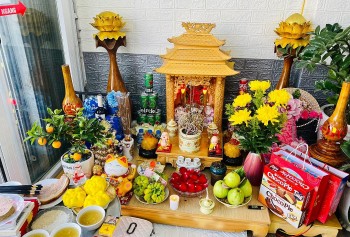 Handbook
Learn more about an ancient Vietnamese tradition that may bring you good fortune!