Australia's position in the US - China balance
Australia is considered as an important companion to the US in the Indo-Pacific region in the context of US-China power competition.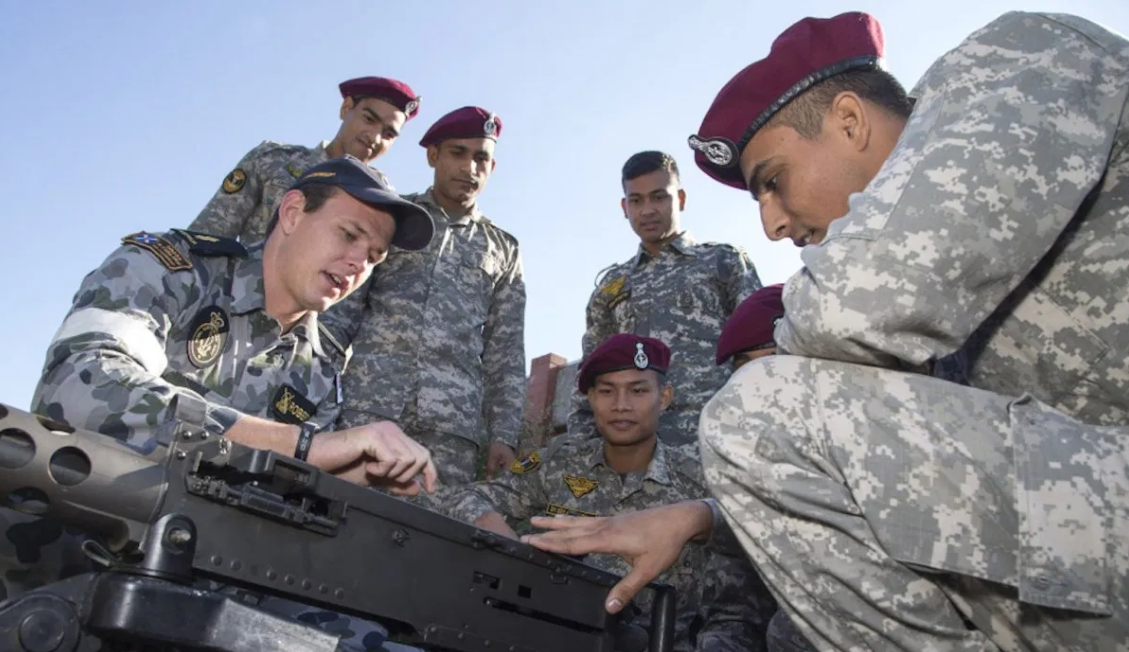 An Australian naval officer shows weapons to Indian Navy counterparts during the AUSINDEX 2017 joint exercises held in Australia. Photo: Twitter/Commonwealth of Australia
Australia's military capacity is much less powerful in comparison with that of the US, however, the cooperation between the two forms an ally network to create pressure on China. There is historical evidence to support that statement. Namely, in the Second World War and the Cold War, victory seemed to belong to whichever side consisting of more states. Therefore, the more allies like Canberra that Washington has in its network, the greater chance it has to prevail over Beijing.
Besides, it is undeniable that in the Indo-Pacific region, Australia is still a military power. Its military budget is estimated at $25.9 billion USD in 2019, ranking fifth in the region. Australia is planning to own 12 more submarines. Moreover, in the next 10 years, Australia is expected to spend about 270 billion AUD (about 4 million billion VND) to develop air, sea, and land long-range attack capabilities. This figure increases by nearly 40% compared to Canberra launched in 2016.
Therefore, in the context of the US and China competing for power, in the Indo-Pacific region, Australia will play an important role when accompanying the US.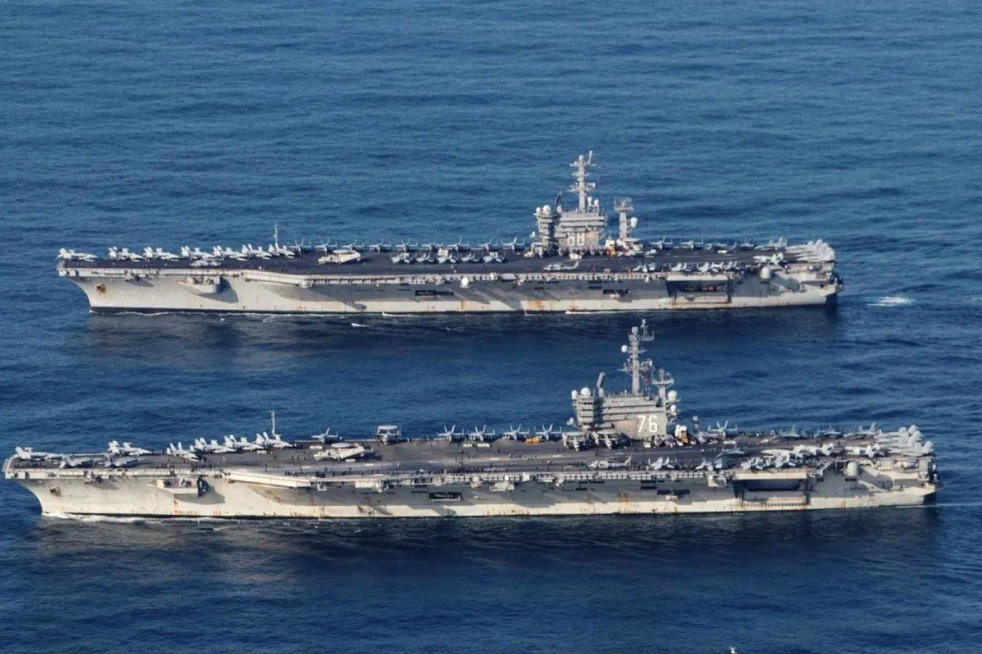 Aircraft carriers the USS Ronald Reagan (bottom) and USS Nimitz were both recently deployed for drills in the South China Sea. Photo: Handout/US Navy
In an interview with Thanh Nien on July 29, Dr. Satoru Nagao (Hudson Institute, US) stated that Australia's toughness towards China had been consolidated over the years. Considering Beijing's current actions during the Covid-19 pandemic, Canberra had accelerated that process, taking a stronger position by standing by the United States in a clear statement to reject China's territorial claims in the South China Sea.
Also in that interview, Prof. Yoichiro Sato (expert on International Relations, Ritsumeikan Asia Pacific University, Japan) claimed US-Australia cooperation opened up advantages in 3 aspects. Firstly, cooperation complemented the legitimacy of Washington's policy through a multilateral perspective. Secondly, Australia opened the direction to strengthen its military capacity to challenge China's behaviors. Especially, the Australian Navy has gradually promoted patrol activities, protected freedom of navigation, and discussed maintaining long-range anti-warship capabilities. Thirdly, Australia and the United States could jointly build a military balance against China in the region.
Mr. Greg Poling, Director of the Asia Maritime Transparency Initiative (AMTI) program of the Center for Strategic and International Studies (CSIS, USA) added: Australia had been increasingly worried about China's behavior in the South China Sea in recent years. Australia had the second strongest voice on this issue, only after the US. Over the past six months, issues such as concerns over Hong Kong's situation, hackers supposed originating from China, Beijing supposed interfering in Australia's internal political situation, had prompted Canberra to strengthen its approach to Beijing.
The Malabar joint exercises with US, Indian and Japanese vessels in 2018. Photo: Handout/Agencies
The Quad alliance forms 'arc of democracy' around China
Last week, the US conducted simultaneous naval drills in the Pacific and Indian Oceans with democratic allies and partners Australia, Japan and India. The four countries comprise the on-off "Quadrilateral" defense arrangement, a concept that envisions establishing an "Asian Arc of Democracy" around authoritarian China.
Last week's drills followed directly on a major US policy statement on the South China Sea, where US Secretary of State Mike Pompeo declared China's wide-reaching claims in the disputed maritime area "illegal" while implicitly backing those of Southeast Asian claimants.
For the first in over a decade, Australia is set to return to India's annual Malabar naval exercises with the US and Japan in the latest sign of deepening military cooperation among China's rivals, cited by Asia Times.
Last week, the USS Ronald Reagan strike group also conducted joint drills with Japanese and Australian naval forces in the Philippines Sea in the Western Pacific.
Full Quad exercises are on the near-term horizion. After years of reluctance to irk China, India has invited Australia back to this year's annual Malabar exercises for the first time since 2007. The joint exercises will be held in the Bay of Bengal.