Chinese ambassador to US said "We will not participate in such a ruling" when asked for its violation of international law
Chinese Ambassador Cui Tiankai said that the U.S. has to make "a fundamental choice" as to whether it's ready to live with China in peace and cooperate with the rising power to jointly tackle global challenges.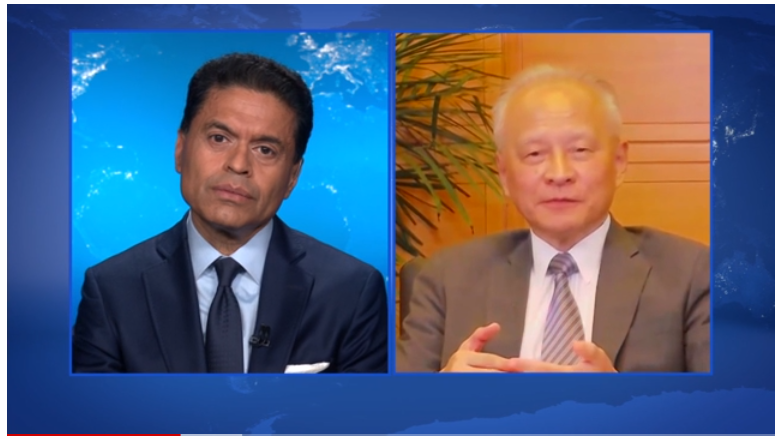 Cui spoke with CNN's Fareed Zakaria in an exclusive interview on Saturday.
Cui spoke with CNN's Fareed Zakaria in an exclusive interview on Saturday, after a dizzying few days in the souring relationship between the US and China.
Earlier this week, it emerged that the White House is reportedly considering banning members of the Chinese Communist Party from entering the US, and on Thursday the Chinese Ministry of Foreign Affairs accused America of oppressing and bullying China.
In response to claims by some in the West that under President Xi Jinping, China has become more assertive, expansionist and repressive power, Cui said "people have to fully recognize the realities of today's world."
"The fundamental question for the United States is very simple – is the U.S. ready or willing to live with another country with very different culture, very different political and economic systems," said the ambassador in response to a question about whether China has become more assertive and expansionist under Chinese President Xi Jinping.
When CNN's Fareed Zakaria asked that: "Particularly in recent years, a China that has become more assertive, more expansionist, and more aggressive. And this will require a very different American response than the previous policy of many decades. How do you react to that? Why do you think this has happened?", the ambassador answered that:
Cui responded: Well you see, I think people have to fully recognize the realities of today's world. Actually, the Chinese civilization has been there for about 5,000 years, much longer than the United States. And there is strong continuity for the Chinese civilization and there are ongoing efforts by the Chinese people to modernize our own country. This has never changed, whether in the last 70 years or in the last seven years. This is a continuing process. We certainly have the legitimate right to build our country into a modernized, strong, prosperous country, like every other country in the world.
This is not the first time Chinese politicians have mentioned their "5,000-year civilization history" when commenting on the deteriorating relationship between the United States and China.
Speaking at a US-China policy forum in early July, Chinese Foreign Minister Wang Yi said, "Aggression and expansion is not in the genes of the Chinese nation throughout its 5000-year old history". The words seem be to confirm that a such great power with a 5000-year culture and history of China must be impossible to be aggressive and expansionist to smaller countries in the region, because it is not the way of a power.
In the interview, Mr. Cui Tiankai also mentioned many issues such as how to handle the COVID-19 pandemic, national security laws in Hong Kong, Xinjiang situation and tensions in the South China Sea.
In the Zakaria's question that: " But of course you also have had an international ruling that what China is doing in the South China Sea is a violation of international law. Will China change course and accept that it has, in fact, been violating international law in terms of its activities in the South China Sea?", the ambassador said: "We rejected it from the very beginning. We don't think this is the right thing to do. But some people insisted on doing it", and "We will not participate in such a ruling".
When claimed that " "We will not participate in such a ruling", means China will not participate in the international law, the Chinese ambassador still criticized the US that:'' Unfortunately, countries like the U.S., particularly the United States, are trying very hard to intervene, to send their military, to strengthen their military presence in the region. The intensity and frequency is so high. But ironically, the United States is not yet a contracting party to the Convention on the Law of the Sea. I don't know how many people are aware of this."
So, it is understood by the Chinese ambassador's words that: though China is aware of the international ruling by the UNCLOS 1982, China will not participate such a ruling, and the US sends their military, to strengthen their military presence in the region while not yet a contracting party to the UNCLOS.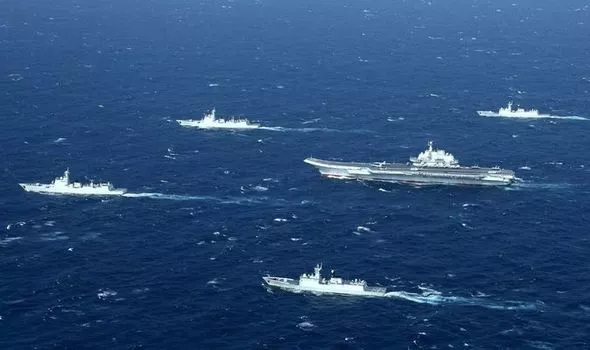 Chinese warships carrying out military exercises in the South China Sea (Image: GETTY)
However, the US Secretary of State Mike Pompeo in his words said that: " America stands with our Southeast Asian allies and partners in protecting their sovereign rights to offshore resources, consistent with their rights and obligations under international law. We stand with the international community in defense of freedom of the seas and respect for sovereignty and reject any push to impose "might makes right" in the South China Sea or the wider region".
The US's Rear Admiral George M. Wikoff was quoted as saying by the Wall Street Journal, which first reported the exercises in the South China Sea in early July that:" The purpose is to show an unambiguous signal to our partners and allies that we are committed to regional security and stability," and " to support a free and open Indo-Pacific".
After his above words, the Ambassador Cui finished that: We are always ready and open to work together with the U.S. government, any administration. And especially, we still have confidence in the goodwill of the American people, and we have the same kind of goodwill towards the American people. So I think as great powers, big countries with heavy responsibilities not only for ourselves but also for the world, we really have to base our policies on a good perception of the common interests, on growing global challenges and how the international community would expect us to do, and not allow suspicion, fear, or even hatred to hijack our foreign policy.
There is a Chinese idiom that: "君子一言,驷马难追 -(Jun zi yi yan, si ma nan zhui), means: What is said can't be retracted or A nobleman's words is his bond. All people in the world hope to see the world and region in peace and stability under the powers' responsibilities.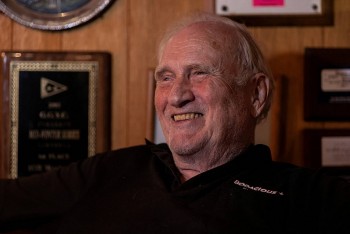 World
Alain Aspect, John F. Clauser, and Anton Zeilinger have won this year's Nobel Prize in physics for their work in quantum mechanics, Sweden's Karolinska Institute announced on Tuesday.