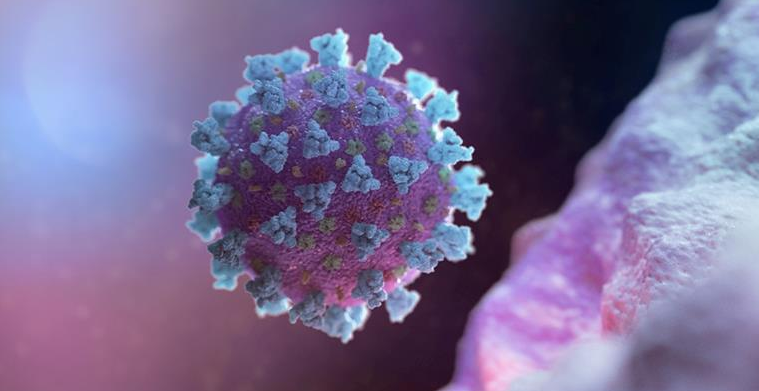 A computer image created by NEXU Science Communication shows the coronavirus linked to the Wuhan outbreak [Reuters]
Speaking at an annual news conference during China''s parliamentary session on Sunday, Wang said that "some political forces in the US are taking China-US relations hostage", the BBC reported.
The US has been infected by a "political virus" that compels some politicians to repeatedly attack China, Wang Yi told reporters on Sunday.
He urged the US to "stop wasting time and stop wasting precious lives" in its response to the Covid-19 outbreak.
Tensions between Washington and Beijing have escalated as the virus has spread.
US President Donald Trump, who faces re-election this year and has been criticised for his handling of the pandemic, has blamed China for trying to cover up the outbreak.
But on Sunday, Mr Wang repeated China's assertions that it had acted responsibly to safeguard global public health since the virus first emerged in December.
China say:
Speaking at an annual news conference during China's parliamentary session, Mr Wang said that "some political forces in the US are taking China-US relations hostage".
He did not specify what those forces were, but said they were trying to "push our two countries to the brink of a new Cold War".
"Aside from the devastation caused by the novel coronavirus, there is also a political virus spreading through the US," he continued.
"This political virus is the use of every opportunity to attack and smear China," he said. "Some politicians completely disregard basic facts and have fabricated too many lies targeting China, and plotted too many conspiracies."
But he called for co-operation between Washington and Beijing in tackling the outbreak.
"Both of us bear a major responsibility for world peace and development," he said. "China and the United States stand to gain from co-operation, and lose from confrontation."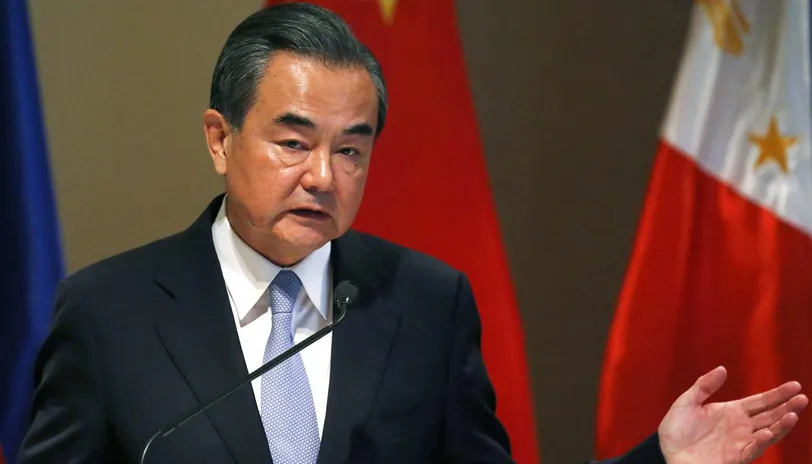 The country's top diplomat, Wang Yi, said some US politicians had "disregarded basic facts" (Photo: the republicworld)
And the accusations against China?
The coronavirus outbreak first emerged in the Chinese city of Wuhan late last year and was widely reported to have originated in a food market.
Since then, however, some senior US politicians have suggested that the source was a research facility in Wuhan that had been carrying out research on bat coronaviruses. China has dismissed the idea.
Mr Pompeo said earlier this month that there was "a significant amount of evidence" that the virus came from a laboratory in Wuhan. He later appeared to step back, saying "we know it began in Wuhan, but we don't know from where or from whom".
And on Saturday, the director of the Wuhan Institute of Virology told state media that claims that the virus could have leaked from the facility were "pure fabrication".
Wang Yanyi said the centre had "isolated and obtained some coronaviruses from bats" but stressed that these were sufficiently different to Covid-19.
Last month, senior Chinese diplomat Chen Wen told the BBC that demands for an investigation into the source of the outbreak were politically motivated and that such a move would only divert attention and resources away from fighting the virus.
China in the latest attack at the United States has accused the country of spreading 'lies and conspiracy theories' about coronavirus and escalating tensions between the two nations. Chinese foreign minister Wang Yi during a press meet on May 24 said that some politicians in the United States are ignoring facts and making up countless lies and conspiracy theories.
"It is most regrettable that while the coronavirus is still out there, a 'political virus' is also spreading in the US and jumping at any opportunity to attack and slander China. I call on the US side to stop wasting precious time and stop costing people's lives. China and the US need to work together on a number of urgent things," Wang Yi said while talking to reporters.
Wang Yi also accused that some political forces in the United States are trying to hijack US-China relations warning that it may push the two global powers to the brink of a 'new cold war'. "It has come to our attention that some political forces in the US are taking China-US relations hostage and pushing our two countries to the brink of a new Cold War. This dangerous attempt to turn back the wheel of history will undo the fruits of decades-long China-US cooperation, dampen America's own development prospects, and put world stability and prosperity in jeopardy," Wang added.
The relation between two world's powers
President Trump and Beijing have traded repeated barbs in recent weeks, on issues from the World alth Organization (WHO) to potential lawsuits against China over its alleged cover-up of the outbrHeeak.The two world powers have experienced longstanding friction over issues such as trade and human rights, but tensions have risen dramatically amid the pandemic.
On Sunday, Mr Wang said the suggestion that US states could bring legal action against China was "a daydream" and lacked any precedent.
He also defended the WHO and its head Tedros Adhanom Ghebreyesus, who has been the target of recent US criticism.
Relations between the United States and China have never been so fragile as Washington has time and again accused the Communist state of not sharing full information regarding the coronavirus outbreak and its true origin. The United States has also claimed that the virus emerged from a virology laboratory in Wuhan and that it is not of natural occurring. Health experts believe that the virus originated from a seafood market in China's Wuhan city, where exotic animals were reportedly being traded illegally.
U.S. President Donald Trump has accused Beijing of a lack of transparency over the outbreak, and is pushing the theory that it may have leaked from a top-security Chinese laboratory.
Chinese Foreign Minister Wang Yi said Sunday that Washington had been infected by a "political virus" to continually attack China, but that Beijing would nevertheless be open to an international effort to find the coronavirus source, said the aljazeera.
"It has come to our attention that some political forces in the U.S. are taking China-U.S. relations hostage and pushing our two countries to the brink of a new Cold War," Wang said.
He blasted what he called efforts by U.S. politicians to "fabricate rumours" about the virus's origin and "stigmatise China".
While European nations initially among the hardest hit have started to ease lockdowns in a bid to salvage economies and lifestyles, other countries such as Brazil, where deaths have surged, are emerging as new centres of the pandemic. As coronavirus reaches every corner of the earth, its impact could prove disastrous for the world's poorest countries. Millions of people who already live in poverty, are now being forced out of their livelihoods, robbed of their regular income, and finding themselves without enough to eat, clean water and access to adequate medical care. More than 5 million infections and 340,000 deaths due to the coronavirus, the numbers are still increasing everyday. No one knows when the pandemic completely stops. It seems be much worse than a terrible war in human's history.
Tarah Nguyen