Authorities remind foreigners to adhere to 5K message
Despite the language barrier, the functional forces in Hanoi still make efforts to use translation apps to remind foreigners to wear face masks in public spaces.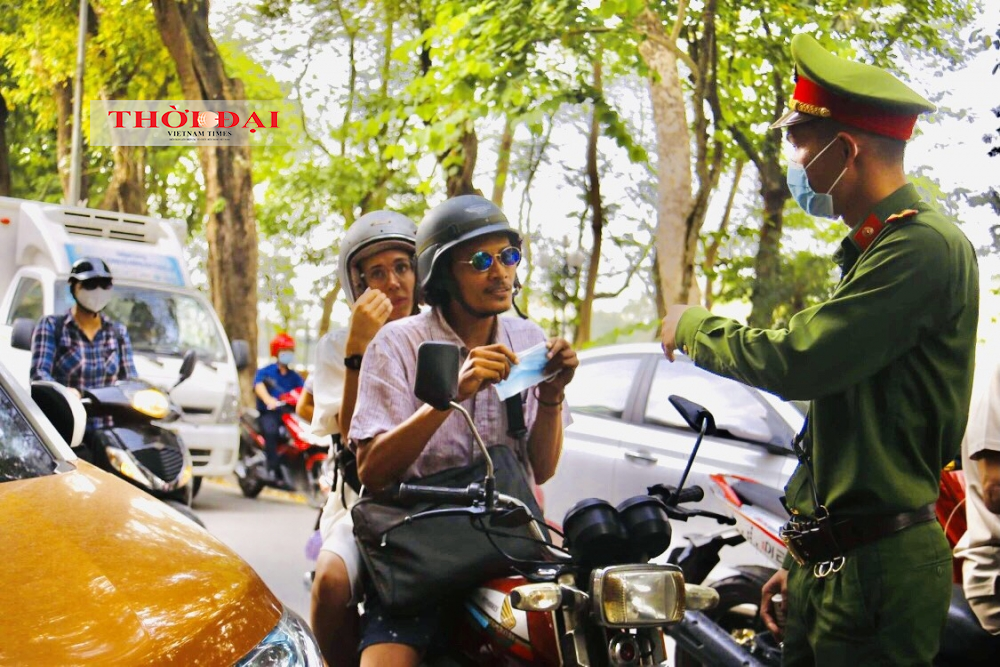 Photo: Thoi Dai
On the afternoon of May 4, at the intersection of Le Thai To and Hang Khay Streets, medical workers and police force of Trang Tien Ward coordinated with the Hoan Kiem District's police force to handle people not wearing face masks in public spaces. As reported by Thoi Dai Magazine's reporters, in spite of the heavy fine of VND 1-3 million ($43- $130), many people failed to don face masks, especially foreigners residing in Vietnam.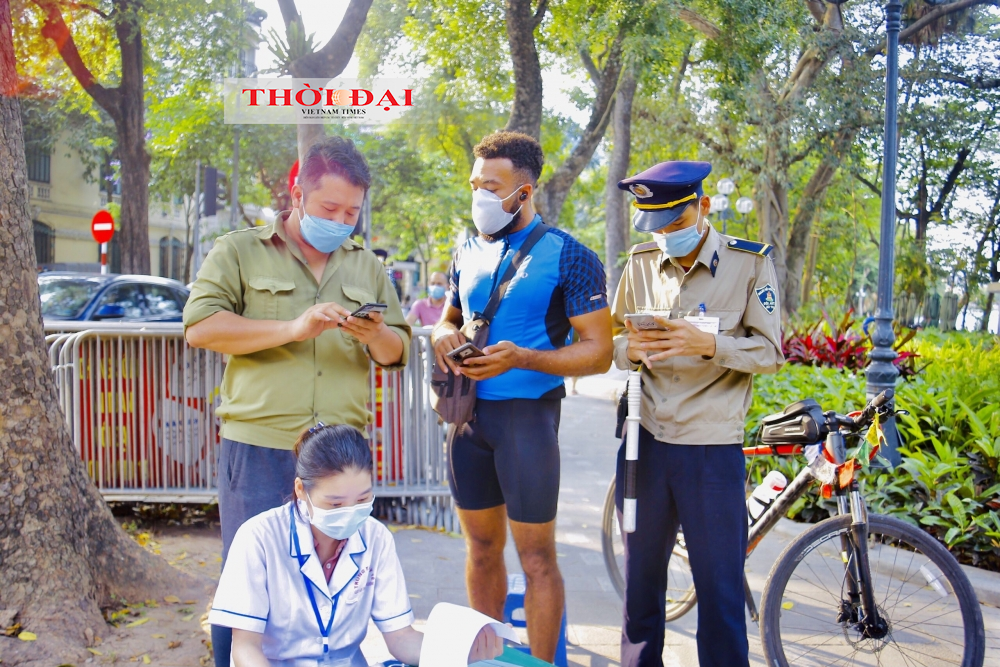 Photo: Thoi Dai
Nguyen Thanh Tung, a passer-by without mask said that he hasn't got used to wearing face mask when going out as he stays at home almost all the time. However, after hearing the authorities explained regulations on Covid-19 prevention and control, he accepted to pay the fine and pledged to strictly adhere to anti-pandemic measures.
Not only Vietnamese citizens, but also foreigners living in Vietnam didn't comply with wearing face masks in public spaces. Despite the language barrier, the functional forces still make efforts to use translation apps to remind them to wear masks.
"Apart from fining, we come to eateries and restaurants in the city to remind them to abide by the Covid-19 safety protocols," said a police officer of Trang Tien Ward.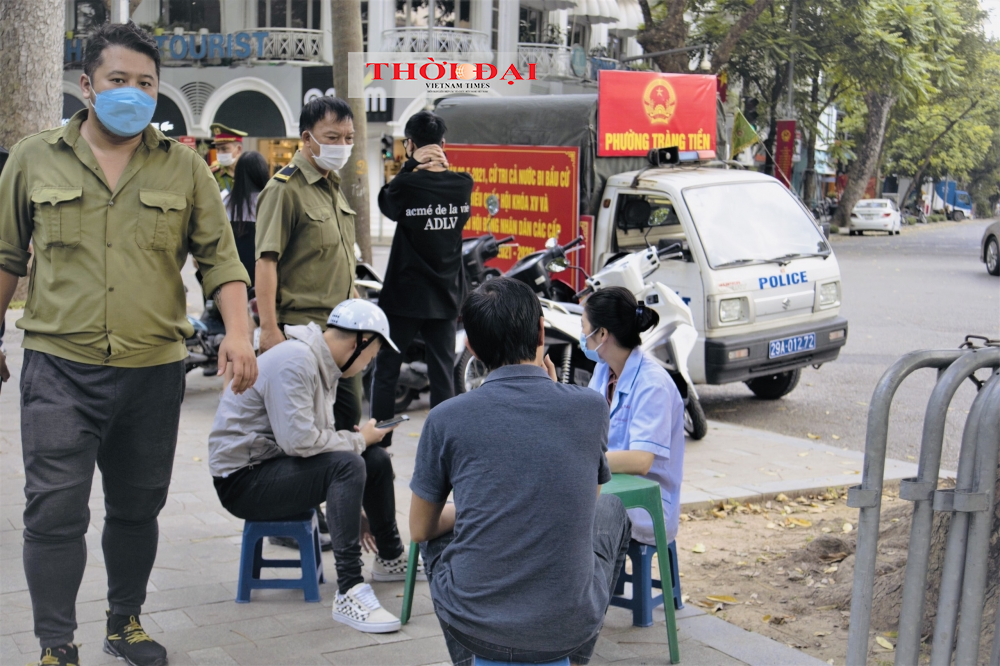 Photo: Thoi Dai
Earlier, the Hoan Kiem District fined 134 people more than VND300 million ($13,800) during the four-day holiday weekend for not wearing masks. On May 3 alone, Hoan Kiem fined 22 people a total of VND44 million ($1,908).
In Dong Anh District, five people were fined VND10 million ($433) for the same violation during the holiday.
Hanoi has suspended non-essential services like bars, karaokes and dance clubs, as well as street food vendors and cafes to prevent the disease from spreading.
All massage, beauty parlors, cinemas, gymnasiums, and stadiums in the city will also be suspended starting May 5.
To date, Hanoi confirmed 6 local cases since April 29 after over one month free of such infections. Experts evaluate its infection risk as very high, given the large number of commuters traveling in and out of the city in recent holiday breaks.
At least 42 coronavirus-positive cases have been associated with a locked down frontline hospital in Hanoi, with many coming from outside the city, Vnexpress reported.
The National Hospital for Tropical Diseases, a frontline facility in the nation's Covid-fight, has been locked down since Wednesday after one of its doctors tested positive for the coronavirus.
By Thursday afternoon, authorities have recorded at least 42 coronavirus-positive cases associated with the hospital, of which 22 have been confirmed as Covid patients.
According to Hanoi's Center for Disease Control, nine of the 42 cases are from Hanoi while the other 33 are from Hai Phong and 13 northern provinces - Bac Giang, Bac Ninh, Hai Duong, Hoa Binh, Hung Yen, Lang Son, Nam Dinh, Phu Tho, Quang Ninh, Son La, Thai Binh, Vinh Phuc and Yen Bai.
The three Thai Binh cases have been transferred to the Thai Binh Province General Hospital, with their residences locked down and contact tracing commenced by local authorities, said the provincial Center for Disease Control (CDC).
Further test results are needed to tag them as Covid-19 patients.
In Hung Yen, two coronavirus-positive cases are family members of a confirmed Covid patient at the National Hospital for Tropical Diseases. Both have stayed with the Covid patient for only a night.
Vietnam is currently experiencing its fourth wave that has seen 64 community transmissions confirmed since last week in Hanoi, Da Nang and Ho Chi Minh City and the provinces of Ha Nam, Vinh Phuc, Hung Yen, Quang Nam, Dong Nai, Hai Duong, and Yen Bai.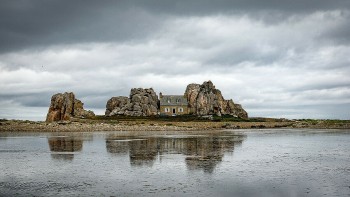 Travel
In a quiet little village of Plougrescant, France, tourists can visit this quirky and extraodrinary Castel Meur, also known as "The House Between The Rocks", which has become an attraction for many years.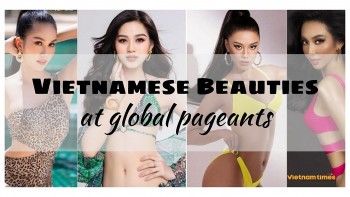 Handbook
Do Thi Ha, Pham Ngoc Phuong Anh, Nguyen Thuc Thuy Tien and Nguyen Huynh Kim Duyen set to vie for global beauty pageants.
World
In the outskirt of Poland, there is a pretty rural village that is called "The painted village" for its amazing and unique tradition of painting their homes inside and out with colorful floral patterns, making this place the most photogenic spot.