More parlors, sports facilities closed down in Hanoi
All massage, beauty parlors, cinemas, gymnasiums, and stadiums in Hanoi will be suspended starting May 5 to curb the future spread of the novel coronavirus.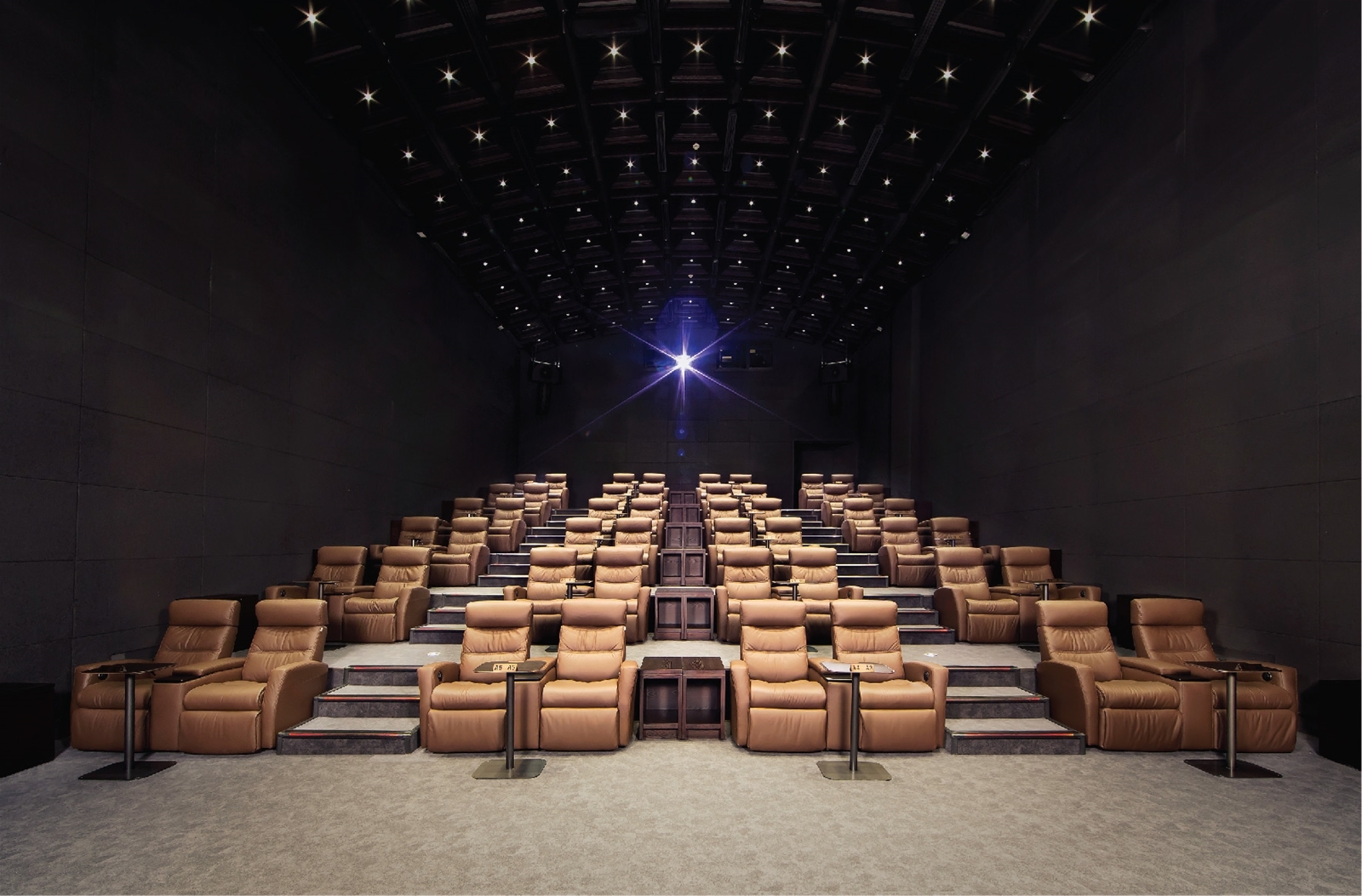 One cinema in Hanoi (Photo: kenhhomestay)
The decision was made by Chu Xuan Dung, vice chairman of Hanoi People's Committee at the meeting of the Municipal Steering Committee for Covid-19 Prevention and Control Tuesday afternoon.
Authorities also called for the limitation of non-essential celebrations with large gatherings such as weddings, death anniversaries, birthday parties, opening ceremonies, etc.
On May 3, the city also closed down all streetside food and drink businesses. Indoor restaurants and cafes must ensure disinfection, social distancing, and other anti-pandemic regulations. Takeaways are encouraged.
In the week leading to the Reunification holiday (April 30), all festive activities, including firework demonstrations, were scrapped over coronavirus worries. Recreational facilities and Hanoi's Walking Street also ceased operation until further notice.
Starting Tuesday morning, around 2 million students from nurseries to high schools and vocational training centers in Hanoi switched from in-person classes to virtual ones.
The decision was issued by Hanoi Department of Education and Training on May 3, making Hanoi become the 6th localities in the country to deploy distance learning.
To date, Hanoi confirmed 6 local cases since April 29 after over one month free of such infections. Experts evaluate its infection risk as very high, given the large number of commuters traveling in and out of the city in recent holiday breaks.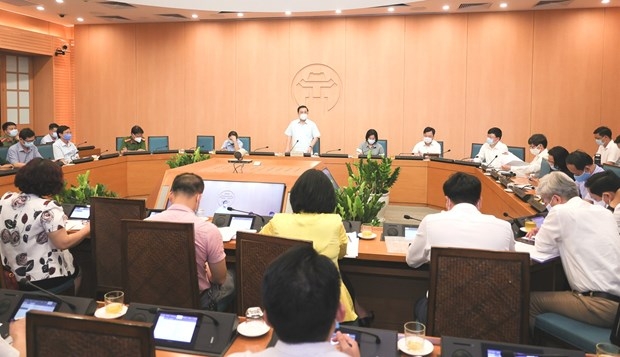 Chu Xuan Dung, vice chairman of Hanoi People's Committee speaking at the meeting (Photo: Vietnam Plus)
Hanoi is among the many places in Vietnam to issue such an order.
Ho Chi Minh City on Monday announced plans to suspend the operation of massage parlors, saunas, musical theaters, cinemas and internet cafés starting 6 p.m., May 3. Important conferences, seminars, and religious ceremonies must now be held with the smallest number of attendants possible.
Dubbed Vietnam's biggest entertainment hub, Ho Chi Minh City had earlier halted all 500 karaoke parlors, 180 bars, and discotheques on April 30.
Chairman of Da Nang People's Committee on Monday called for pilgrims and beach bums to stop holding religious rituals and vacationing at beaches, to avoid the spread of Covid-19. Sporting and recreational facilities, night markets and walking streets have also been closed.
Celebrations and funerals should be attended by no more than 30 people. Restaurants, streetside stalls, and mass transit must strictly follow preventive measures.
Political and socio-economic events must get licenses from local authorities to take place.
In the meantime, Yen Bai Province has issued an official dispatch regarding the ban of all celebrations, weddings, parties and other large gatherings. Funerals should be small, simply held and in line with anti-epidemic protocols. Cremation is encouraged.
Other provinces, including An Giang, Lam Dong, Quang Ngai, Thai Nguyen, have also been strengthening preventive orders, including the temporary cancellation of non-essential activities.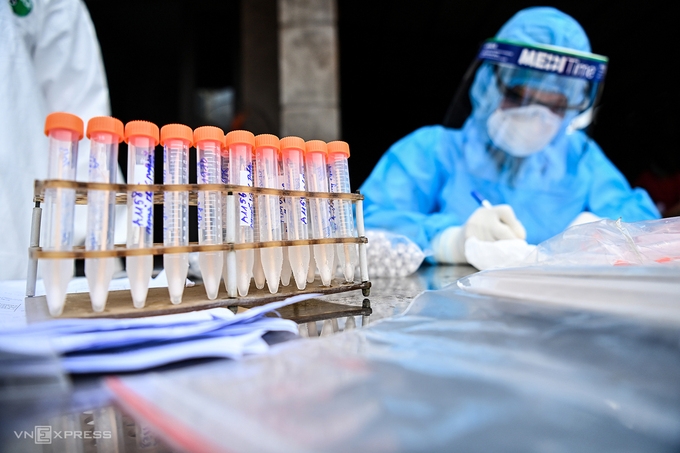 Medical staff in Hanoi sampling suspected patients' specimen (Photo: VNE)
Vietnam has reported 64 cases since April 29, when the latest wave began. To date, Hanoi reported 27 new cases, the highest among the 9 localities affected. Ha Nam and Vinh Phuc confirmed 14 cases each.
They are all linked to a "super spreader" known as Patient 2,899.
Until April 29, Vietnam had gone for more than one month without recording any new locally-transmitted of Covid-19.
Patient 2,899 tested positive for the coronavirus after returning home from two weeks of quarantine following his return from Japan.
The Ha Nam Center for Disease Control announced the 28-year-old man's test result on Thursday.
The man returned from Japan on April 7 and was quarantined at the Alisia Beach hotel in central Da Nang City. He tested negative for the coronavirus three times during his stay.
On April 22 he returned home to Ha Nam and self-isolated. But on April 24 he began to display symptoms such as coughing, fever and throat pain, and was taken to a local medical facility for testing.
Following a positive test result, he has been quarantined t the Ha Nam General Hospital, while his close contacts have been put in quarantine.