Amidst difficulties, Vietnamese in Laos persist in battling Covid-19
Amidst the complex Covid-19 situation in Laos, the Vietnamese Association in Vientiane has called for Vietnamese expats to stay calm and strictly adhere to the anti-epidemic measures.
After more than 30 years of living in Vientiane and having to close stalls twice due to the lockdown order, Nguyen Thi Kim Hoa has fears of economic burden as well as the health of her family, Vietnamplus reported.
Hoa said that the Vietnamese community in Vientiane has suffered many difficulties given the complicated development of Covid-19 in Laos.
Not included in the list of essential goods, Hoa's clothing stall at the Khua Din market had to shut down. Thus, her family has only lived on the salary of two children.
A person in Vientiane has his sample taken for Covid-19 testing. Photo: VNA
Selling clothes at the Khua Din market for 28 years, this is the second time that Hoa has had to close her stall due to the Covid-19 epidemic. The first time was in 2020 when Covid-19 broke out in Laos.
Nevertheless, according to Hoa, this outbreak was more severe than the previous one, so, she was nervous that if the lockdown order kept lasting, her family would incur heavy economic pressure.
Many stores of Vietnamese in the Khua Din market also had to suspend operations to stem the quick Covid-19 spread, she added.
To protect herself from the disease, Kim Hoa refrains from venturing out if not necessary, washes hands with sanitizers, and regularly cleans up the house.
Hoa also expressed her hope that the Vietnamese community in Laos would join hands with the local authorities in fighting against the epidemic.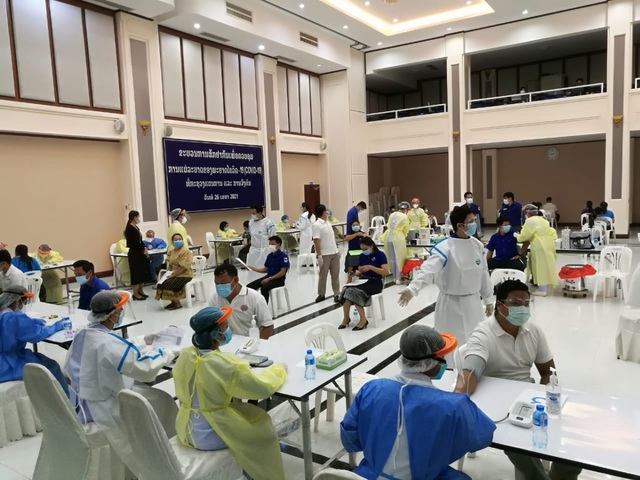 Vientiane established field testing sites to meet a surge in suspected Covid-19 cases in the city.
Pham Thi Huyen, living in the Vientiane capital, said she also felt anxious given the complicated Covid-19 situation in Laos, adding that the lockdown has made her family's life turn upside down.
Because the school allowed her children to stay at home and study online, Huyen has found it difficult in taking care of and teaching them while dealing with a tight budget. In addition, during the time of staying at home, Huyen's children are inactive and only watch TV and smartphones, which makes her even more worried about their health.
Huyen has strictly abided by the regulations on Covid-19 prevention and control such as wearing face masks when going out or regularly wash hands with sanitizers.
The Vietnamese Association in Vientiane has called for Vietnamese expats to stay calm and strictly adhere to anti-pandemic measures.
At a press conference on the afternoon of May 2, the Lao National Steering Committee for Covid-19 Prevention and Control said that at least 45 Vietnamese people in Vientiane have contracted the novel coronavirus. Most of them stay in the wards of Thatluang, Naxay, and Sisangvone and are now under treatment at two field hospitals in Vientiane.
In order to cope with the pandemic, Lao medical workers coordinated with the Vietnamese Association in Vientiane to take samples from 200 Vietnamese over the course of 2 days (May 2nd - May 3rd) in three previously mentioned wards and the National University of Laos where many Vietnamese students are studying.
To date, as many as 56 Vietnamese Laos have been infected with SARS-CoV-2, according to the Vietnamese Embassy in Laos.
The Vietnamese Embassy has requested relevant authorities in Laos to provide maximum support for Vietnamese Covid-19 patients while asking people to stay calm and continue strictly follow anti-pandemic measures.
The Embassy said if anyone wants to return to Vietnam, they need to register with the Embassy and the Consulate General of Vietnam for support. It has also required citizens not to illegally enter the country to avert the contagion.
Laos confirmed 60 new cases of Covid-19 on Tuesday, bringing the total number of cases in the country to 1,026, according to the Laotian Times.
Deputy Prime Minister and Head of the National Taskforce, Kikeo Khaikhamphitoun, has moved to extend the lockdown period for Laos until 20 May.
Many provinces across Laos went into lockdown on 21 April or in the following days, with measures prohibiting all residents to leave their homes except for essential grocery shopping, hospital visits, and any other tasks authorized by the government, such as work undertaken by essential workers.