Bac Giang Province and India Strengthen Cultural, Educational and Economic Exchanges
In Hanoi, Mai Son, standing vice chairman of the People's Committee of Bac Giang Province and leaders of the Department of Foreign Affairs, recently visited the Indian Embassy to wish a Happy New Year.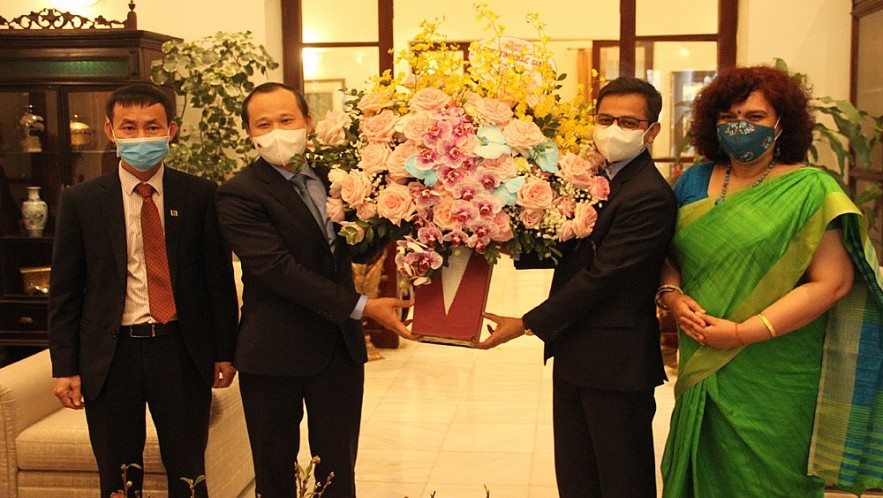 Mai Son, standing vice chairman of the Provincial People's Committee presents flowers to the Ambassador Extraordinary and Plenipotentiary of India. Photo: Bac Giang Newspaper
During the visit, Mai Son, standing vice chairman of the Provincial People's Committee informed the Indian ambassador Pranay Verna of outstanding results in socio-economic development and investment attraction. He also reviewed the tradition of good diplomatic relations between the two countries with the Ambassador.
India is one of the 10 largest trading partners of Vietnam. Two-way trade turnover has increased gradually over the years since the two countries established a strategic partnership and upgraded to a comprehensive strategic partnership.
Currently, in Bac Giang province, there is an Indian-invested enterprise, Abrasives Private Co., Ltd., Song Khe Industrial Park - Noi Hoang, operating in the field of Silicon Carbide production with a capital of US$6 million.
Bac Giang province's export turnover to the Indian market in 2020 is more than US$1.1 billion, in 2021, it is nearly US$1.7 billion. India is the province's 7th largest export market, with main products such as computers, electronic products, phones, and components.
In culture, education, and training, there are activities showing the cooperative and relationship between Bac Giang province and the Indian Embassy in Vietnam.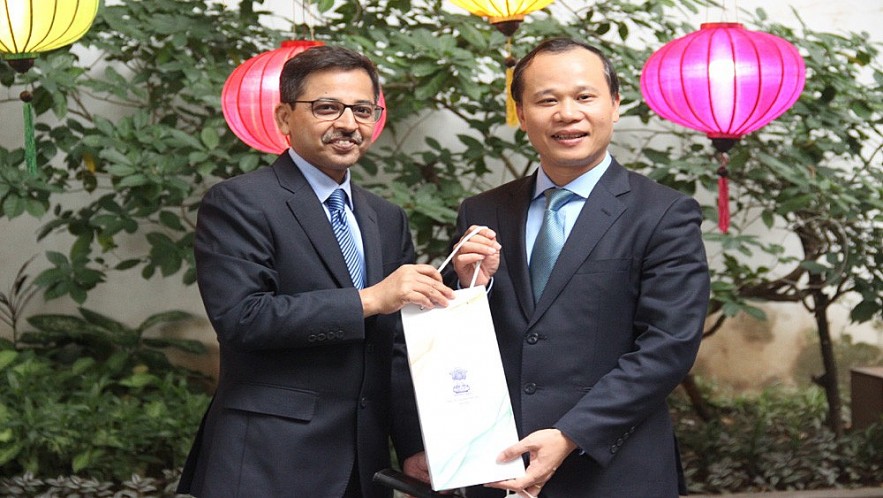 Pranay Verna and Mai Son agreed on many important contents. Photo: Bac Giang Newspaper
Mai Son said Bac Giang has advantages such as raising chickens, fruit trees, and lychees. These products can be exported to India. He suggested the Ambassador coordinate in promoting trade for the province's strong agricultural products; introducing Indian investors to survey in Bac Giang, focusing on the fields of: Information Technology (IT), production of pharmaceutical materials, vaccines, medical equipment.
Bac Giang is currently focusing on digital transformation, yet it still lacks high-quality human resources in IT. Meanwhile, India has a world-renowned strength in this field. The province hopes that the Ambassador will be a bridge for corporations and businesses to invest in Bac Giang. The province hopes that businesses will train, provide human resources, consider granting scholarships for training courses for provincial officials in agriculture, IT, and health.
Bac Giang province wishes to strengthen cultural exchange and education activities; have a school in disadvantaged areas of the province.
The Indian Ambassador congratulated Bac Giang on their achievements. Agreeing with Bac Giang's proposals, Pranay Verna suggested the focal points of Bac Giang and the Indian Embassy coordinate closely and more specifically.
The two sides should exchange information regularly to implement the above-mentioned contents. The Ambassador raised the idea of ​​forming a cultural space in Bac Giang province, showing the good traditional cooperation relationship.
It is necessary to strengthen connections and people-to-people diplomacy; organize events such as seminars, online conferences on economy and culture attracting businesses and organizations of the two sides.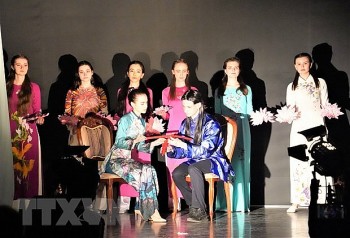 Overseas Vietnamese
Two exchange programmes were held in Russia, attracting manyemany and students of Vietnamese studies from leading universities in Russia.