Bac Ninh adopts market entrance tickets amid social distancing time
The new ruling is issued as the province grapples with a surge of new coronavirus patients.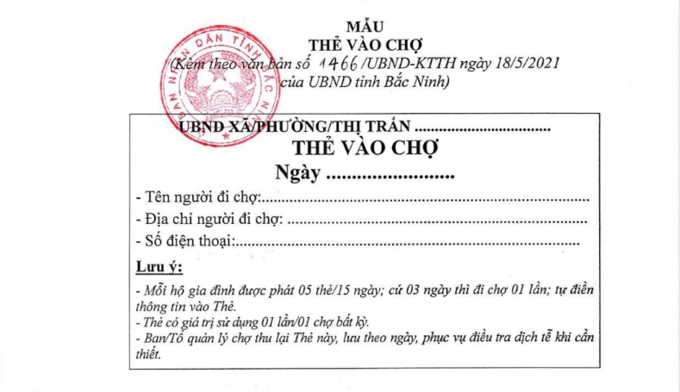 Bac Ninh's market entrance ticket form (Photo: VNE)
Authorities in Bac Ninh city and Thuan Thanh district are handing out to all household tickets that allow designated individuals to enter markets. The move followed the social distancing order applied in Bac Ninh city from May 18.
Each family will be given five tickets to go grocery shopping at local markets every three days. The ticket is for one-time use only.
To enter, market-goers will have to submit tickets to security guards after filling out shopping date and personal information which includes name, address, phone number. Local authorities are responsible for keeping the tickets, making sure all individuals wear face masks and sanitize their hands before entering.
Such practice will reportedly make it easier for local authorities to do contact tracing in case new community infections are detected.
"Those retailers, shoppers disregarding anti-pandemic measures are not allowed to get into the market. Everyone must pay attention to keep a safe distance while shopping", according to the document issued by the Municipal People's Committee.
Bac Ninh is the 4th locality in Vietnam to apply the market-entrance-ticket measure after Thua Thien Hue, Da Nang and Hai Duong.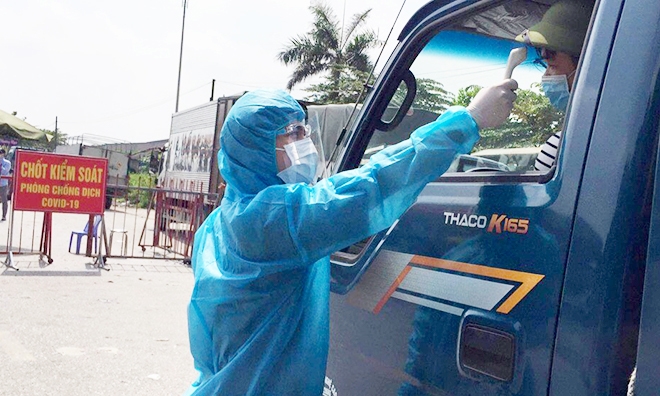 Medical staff checking one truck driver's body temperature as the driver drove past one checkpoint in Bac Ninh (Photo: VNE)
The northern province is one of the current two biggest Covid-19 hotspots in Vietnam. Since the onset of Vietnam's 4th outbreak (started on April 27), it recorded 332 infections. On May 19 morning only, 26 new cases have been confirmed.
Earlier on April 15, local officials put four of its affiliated localities, namely Bac Ninh city, Tu Son town, Luong Tai and Tien Du district under social distancing. At the time, Covid-19 Steering Committee members said the pandemic in Bac Ninh had evolved complicatedly and was getting worse.
Meanwhile, its neighboring Bac Giang province is also battled by complicated development. As 80% of the total 527 infections are workers, authorities have decided to shut down four industrial parks until further notice.
Speaking at an online meeting with companies in the four parks on Monday night, the province's chairman, Le Anh Duong, said the Covid situation had never been so complicated. It is currently quarantining more than 6,000 people for having been in direct contact with infected people and medically monitoring 30,000 others. It is also speeding up mass testing of all workers at and people living around the four industrial parks.
Vietnam is grappling with the 4th outbreak which is evaluated as the biggest one since early last year. Within 22 days since its onset, a total of 1,503 cases have been reported. Bac Giang, Bac Ninh and Hanoi are having the highest tally, which stands at 517 cases, 322 and 246 respectively.
The country is gearing up for the 3rd nationwide vaccine rollout with the imported AstraZeneca vaccine. All localities are required to quickly draw up vaccination plans, which will cover new prioritized groups.
"Safety will be a top priority," Health Minister Nguyen Thanh Long said on May 14.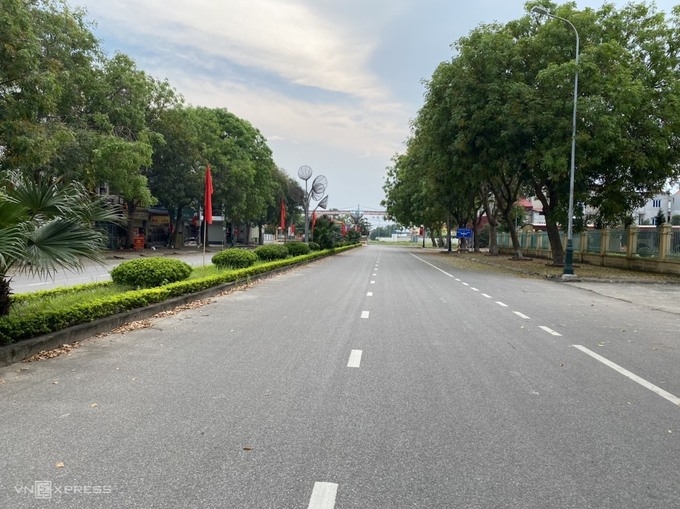 Roadway in Bac Ninh city left deserted following social distancing order (Photo: VNE)
It has reached a purchase deal of 31 million Covid-19 vaccine doses with US-based Pfizer biopharmaceutical company at a reasonable price. The batch will be distributed in the second half of 2021.
The Ministry of Health said last Friday that it has reached agreements to have 110 million doses of Covid-19 vaccine provided for Vietnam in 2021.
38.9 million AstraZeneca vaccine, produced by British-Swedish firm AstraZeneca and Oxford University, will be provided to Vietnam via the global vaccine access mechanism Covax, which is backed by the World Health Organization to distribute vaccines to low- and middle-income countries. Around 2.5 million doses under this program have arrived in Vietnam.
Aside from the vaccine provided by Covax, Vietnam had already secured a deal to have Vietnam Vaccine JSC (VNVC) buy 30 million doses from AstraZeneca. Of these, 117,600 doses have been delivered.
Besides, the ministry has also registered to buy about 10 million additional doses through Covax under the cost-sharing scheme to enjoy the lower prices.
Vietnam began its own Covid-19 inoculation program on March 8 after using the AstraZeneca vaccine that arrived either through contracts or Covax.
So far, over 977,032 people have been inoculated, mainly frontline workers of the Covid-19 fight and medics at local hospitals.