Covid-19 leaves thousands of Vietnamese students in quarantine
Thousands of students across the country have been sent to quarantine centers for having close contact with coronavirus-infected peers.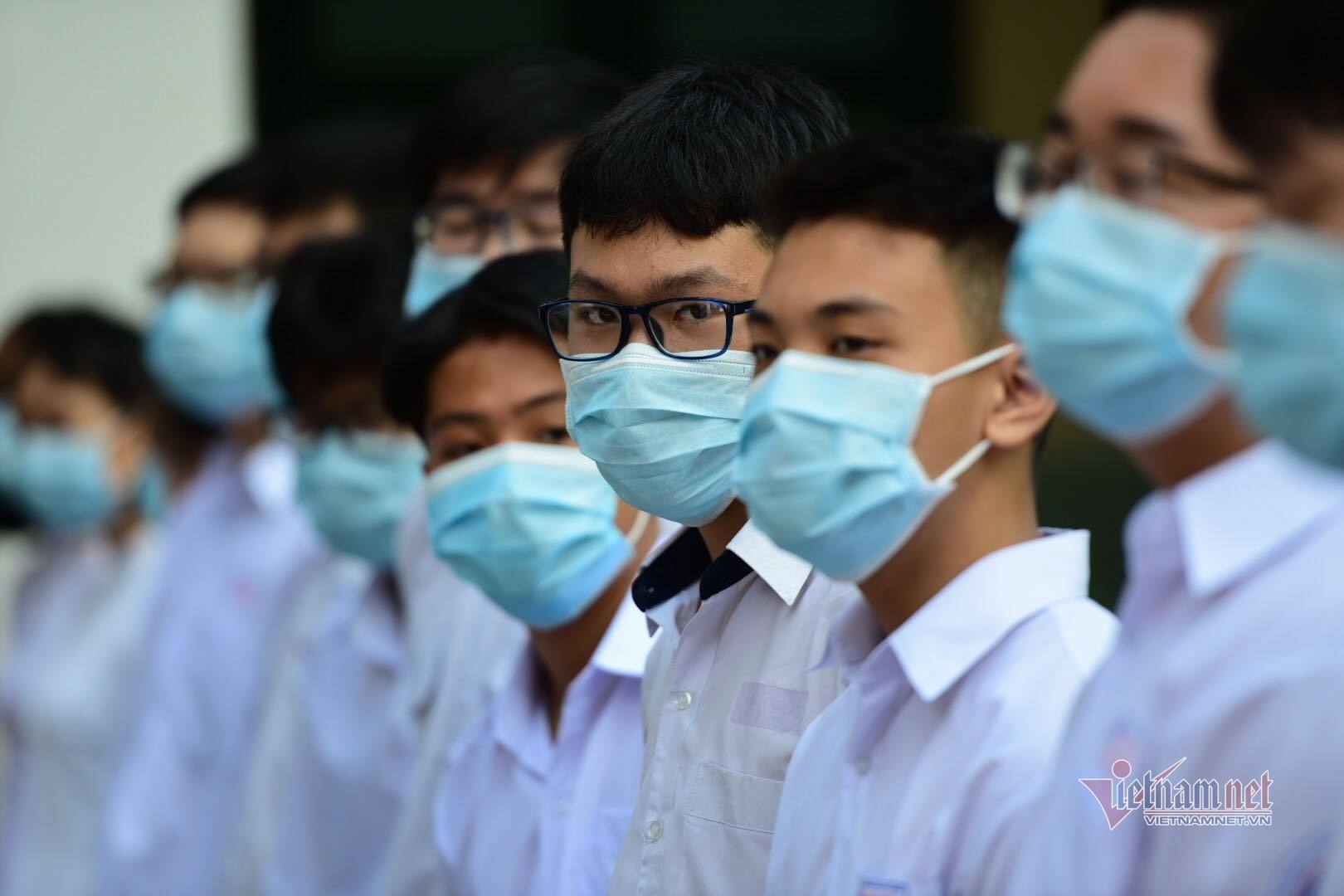 779 students, teachers and school personnel in Bac Giang are under centralized quarantine (Photo: Vietnamnet)
Over 1,500 students and teachers from nursery to high school in major Covid-19 hotspots are under centralized isolation. Dozens of students have reportedly been contracted the novel virus.
Nearly 800 of the inmates are in Bac Giang province – the country's current biggest epicenter. In particular, 678 students and 101 teachers, and various school personnel are now serving the mandatory three-week quarantine following confirmation of 8 infected students.
Over 17,150 students and 2,300 teachers are self-isolating at home.
Provincial authorities on Sunday decided to put off the high school entrance exam, which is supposed to take place in mid-June, until further notice.
The northern province is facing three large outbreaks including ShinYoung Vietnam Company in Van Trung Industrial Park and Hosiden Vietnam Company in Quang Chau Industrial Park.
Since the resurgence of the pandemic on April 27, Bac Giang has recorded 474 cases. On May 18 alone, at least 63 patients have been confirmed. The Ministry of Health is sending leading medical experts from top hospitals and mobile police officers to help local personnel contain the virus. More field hospitals are being set up to shoulder the surging new cases.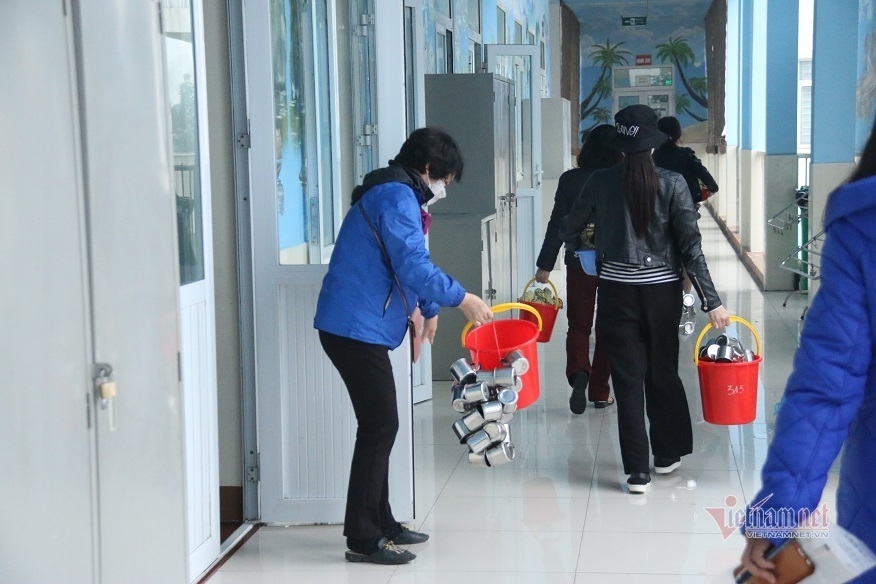 At the quarantine center (Photo: Vietnamnet)
Meanwhile, in Bac Ninh, a total of 511 students, teachers and school staff were also transferred to quarantine centers when test results of two teachers and 12 students came out positive. 10,009 individuals are under home isolation. With nearly 300 cases, municipal authorities on Monday imposed social lockdown to the city of over 220,000 people starting 6 a.m. May 18.
Vinh Phuc, Nam Dinh, Hung Yen, Lang Son, are among the other northern provinces that having hundreds of students and teachers under quarantine.
Such large numbers are testaments to the tremendous impacts Covid-19 is having on the education sector which has already been disrupted due to physical classes closure.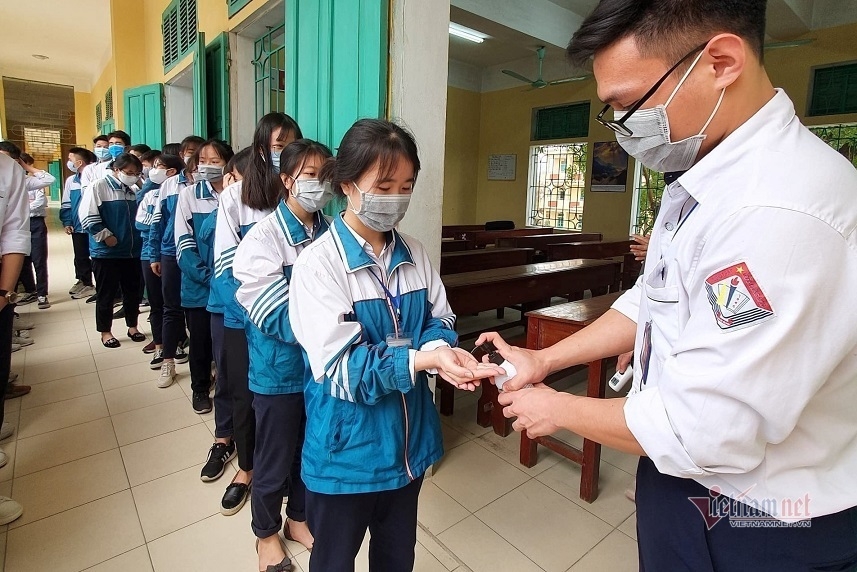 Before classes were switched to online, all students were given hand sanitizers before entering class (Photo: Vietnamnet)
Starting May 3, educational institutions of all levels switched to distance learning to ensure safety. Hanoi and the central city Da Nang were the two first localities to announce such change. Other provinces and cities, including Ha Nam, Vinh Phuc, had followed suit.
Teaching in many universities in Hanoi and Ho Chi Minh City was also halted. Vietnam National University was the first university to deploy online classes. Dozens of universities had made similar move, including Hanoi University of Science and Technology, the Academy of Journalism and Communication, and the University of Transport and Communication.
Hanoi People's Committee on May 14 also agreed with the municipal education department's proposal that the summer break of the school year 2020-2021 would start from May 15 instead of May 28, as originally planned. The decision marks the first time Hanoi students "enjoy" a summer break without finishing their school year.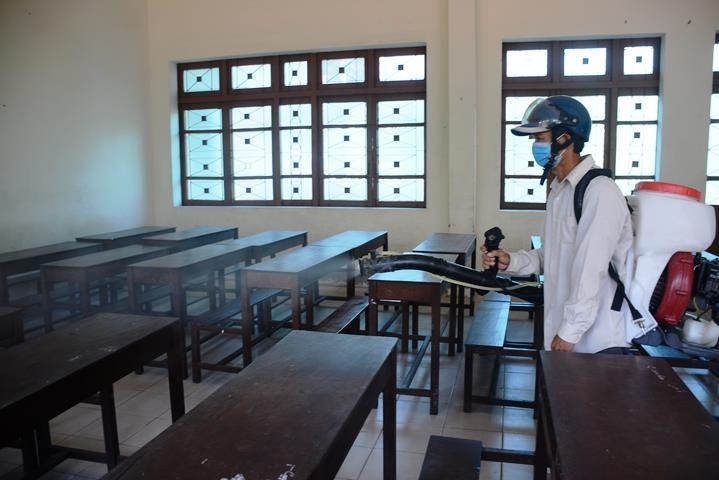 Medical staff sanitizing classes in Quang Nam (Photo: Vietnamnet)
The remaining curriculum will proceed at in-person classes when the pandemic abates. Therefore, schools that are yet to organize final exams are advised not to do it virtually. According to the department, certain educational facilities are not fully equipped with technology infrastructure and other criteria to make sure the examination goes smoothly and there is no cheating.
Senior students (9 graders and 12 graders), however, will continue with virtual classes which they have been sticking to since May 3. The high school and university entrance examinations, set to take place on June 10, 11, will be put off until further notice.
Vietnam is grappling with the 4th outbreak which is evaluated as the biggest one since early last year. Within 21 days since its onset, a total of 1,425 cases have been reported. Bac Giang, Bac Ninh and Hanoi are having the highest tally, which stands at 474 cases, 293 and 246 respectively.