Bac Ninh to spend $8 mln to give Covid-19 vaccine to 300,000 prioritized citizens
Northern Bac Ninh Province would spend VND185 billion ($8 million) to inoculate around 300,000 prioritized residents against Covid-19 for free, the provincial People's Committee said Thursday.
Prioritized citizens include frontline workers in the Covid-19 fight, police and military forces, teachers, diplomats, customs officers, those with chronic conditions, and those aged 65 and above, said To Thi Mai Hoa, director of the Bac Ninh Department of Health, local media reported.
Vaccination for the rest of the province's population, around 1.1 million people, would be considered later, she added.
The VND185 billion, derived from both local and national budgets, would be spent on buying Covid-19 vaccines and covering storage, transportation, and equipment costs, Vnexpress reported.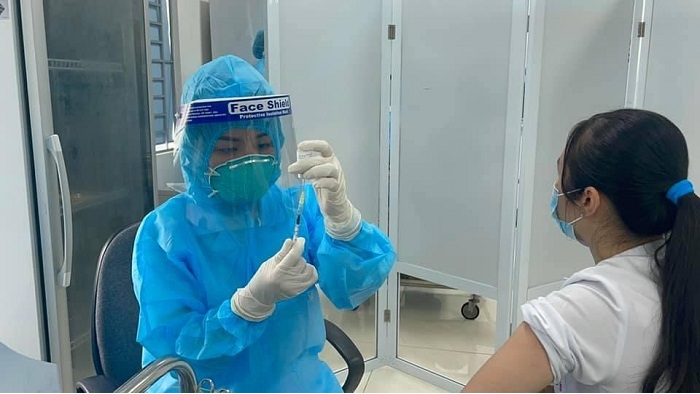 Photo: Nhan Dan
As Vietnam began its mass Covid-19 vaccination campaign earlier this month, Bac Ninh was provided 2,900 Covid-19 vaccine doses by British-Swedish firm AstraZeneca, prioritized for its frontline workers.
The province, home to 15 industrial parks and several plants of tech giant Samsung and LG recorded five local cases during the latest coronavirus wave that swept through 13 cities and provinces from late January.
It has given over 1,300 medical workers their first Covid-19 vaccine jabs as of Wednesday.
Bac Ninh is not the only province deciding to buy its own Covid-19 vaccines. Others like Khanh Hoa, Hanoi, Ho Chi Minh City, Quang Ninh, and Dong Nai have also followed suit.
27,546 Vietnamese frontliners receive Covid-19 vaccine
By the end of March 18 afternoon, an additional 3,492 people were injected with the COVID-19 vaccine, bringing the total number of vaccinated people to 27,546 nationwide, according to VOV.
There have been a total of 14 cities and provinces throughout the nation conducting COVID-19 vaccinations since the national COVID-19 inoculation campaign was launched on March 8.
On March 18 the northwestern province of Dien Bien administered the first shots of the AstraZeneca COVID-19 vaccine to frontline health workers at its temporary hospital to serve COVID-19 treatment at the medical center of Dien Bien Phu city.
On the first day of inoculation, 80 of the hospital's 172 staff members were vaccinated, with every necessary step taken to ensure absolute safety.
Dien Bien province has received 1,900 doses of the AstraZeneca vaccine from the Ministry of Health in the first phase.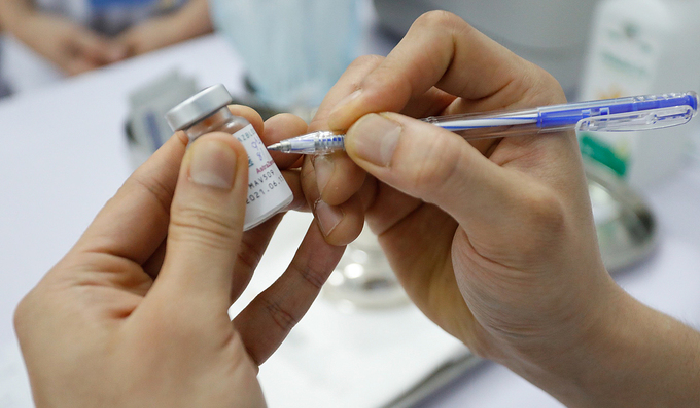 A medical staff notes on a vial of AstraZeneca vaccine before administering it in HCMC, March 8, 2021. Photo: VnExpress.
Meanwhile, around 900,000 people from priority groups in the Mekong Delta province of Dong Thap will be inoculated, according to the provincial People's Committee.
Dong Thap is scheduled to inject 350 doses delivered by the Health Ministry to staff at the Hong Ngu General Hospital, which is treating COVID-19 patients, from March 23 to 26.
The 11 priority groups in the national COVID-19 vaccination campaign are healthcare workers; those who have joined the COVID-19 fight; diplomats and customs and immigration officers; military personnel; public security forces; teachers; people over 65 years of age; providers of essential goods; people with chronic diseases; those who must work or study abroad; and residents in pandemic-hit areas.
Vietnam started the national COVID-19 vaccination campaign on March 8, using 117,600 doses of the AstraZeneca vaccine imported in late February, and more than 5.6 million doses are set to arrive in March and April.
Vietnam has no new COVID-19 cases to report on March 19 morning, keeping the tally at 2,570, according to the Ministry of Health.
The number of domestic infections stands at 1,601, including 908 cases recorded since January 27, when the latest outbreak began.
As many as 2,198 patients have recovered while the fatalities are still maintained at 35.
Thirty-seven of those still under treatment have tested negative for the coronavirus SARS-CoV-2 once, 18 others twice, and 63 thrice, said the treatment sub-committee of the National Steering Committee for COVID-19 Prevention and Control.
There are three patients in severe condition at present, including two at the branch of the National Hospital for Tropical Diseases in Hanoi's Dong Anh District and one at the Lung Hospital of Da Nang city. They have tested negative for the virus 3-5 times but are still undergoing further treatment as they have certain underlying health conditions.
Up to 37,878 people having close contact with confirmed cases or coming from pandemic-hit foreign regions are being quarantined.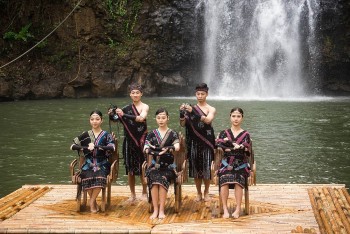 Travel
Many passengers applaud the creativity of the flight instruction video that Vietnam Airlines has recently introduced on their flights. This video not only creatively conveys the message of flight safety but also helps to spread globally the unique, indigenous cultural values ​​of the country and people of Vietnam.