Bai Tu Long Bay: The Majestic and Dreamy Bay In The North
Bai Tu Long Bay, which is located in Van Don District, Halong City and Cam Pha City in Quang Ninh Province, is home to around 600 limestone islets, diverse ecosystem and wonderful nature.
While Halong Bay radiates the beauty of a gorgeous and dazzling woman, Bai Tu Long Bay is more of like a pure, enchanting young girl with its untouched mountains, beaches, and parks. The bay has a rich biodiversity with two ecosystems: a tropical, moist, evergreen rainforest ecosystem; and a marine and coastal ecosystem.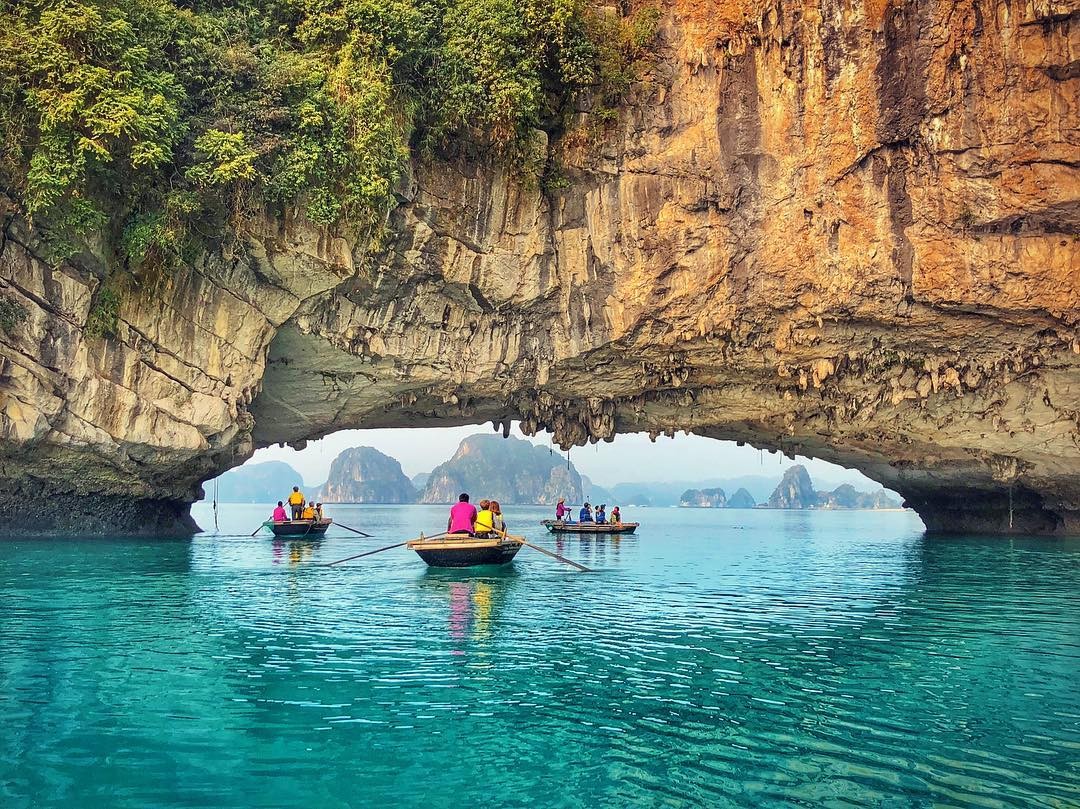 Photo: Inspitrip
Due to its geographical position, located in the east of Halong Bay, quite far from Cat Ba island and adjacent to the territorial sea of China, Bai Tu Long Bay is almost forgotten by visitors. Therefore, it is so pristine and unpolluted, a "must-see" place for travelers who prefer wild nature. In 2006, Bai Tu Long Bay has been found in the top 5 greatest tourist destinations in Southeast Asia, according to a poll hosted by the eco-tourism company Gecko Travel (UK).
According to legend, from millions of years ago, when Vietnam was conquered by invaders, the Jade Emperor sent the Mother Dragon and her child to help the people. After winning, the dragons did not come back to the fairyland but decided to stay on earth, where the Mother Dragon descended which is now called Halong Bay, and where the Young Dragon descended is Bai Tu Long Bay. Prominent attractions of Bai Tu Long Bay are Vung Vieng fishing village, Quan Lan Island and Co To Island. There is also Bai Tu Long National Park, one of seven National Park of Vietnam, possessing both on land and sea ecosystems.
Overview of Bai Tu Long Bay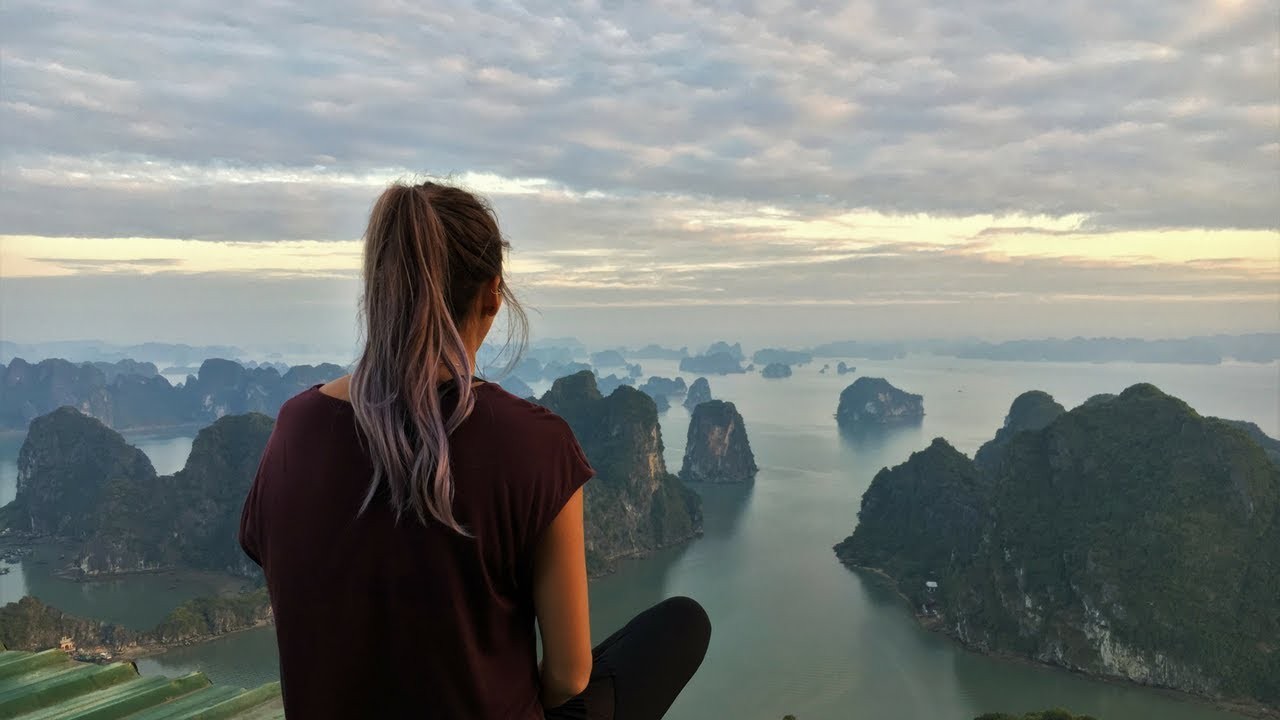 Photo: Alison Linh
Can you really find that elusive peace and quiet in an area this popular with mainstream tourists, one so firmly planted on the international traveler's radar? As soon as you venture 30 km northeast from Ha Long towards the Chinese border, you step into another world – even though, from the standpoint of geology and in terms of the landscapes around you, there won't be much difference at all. Where Bai Tu Long trumps its world-famous cousin is that as a travel destination, it is still in its infancy – meaning far fewer tour boats and tourists.
Covering a primary area of roughly 158 km2 but also stretching further afield across a larger buffer zone, Bai Tu Long Bay houses a variety of ecosystems and is made up of hundreds of islands and islets. While a few of them have recently started to receive more attention from tourists, the grand majority of these islands are still as pristine as when Mother Dragon and her children created them with their emerald teeth (well, at least according to the traditional lore).
Sheltered from international throngs by the simple fact that it lies further away from the main tourist wharf than Ha Long and is therefore harder to fit into a quick, efficient trip around Vietnam, Bai Tu Long offers unlimited opportunities for swimming, snorkeling, kayaking and trekking – all within the picturesque and tranquil settings of the Vung Vieng fishing village, the Ban Chan beach, the Ang Du area or the Thien Canh Son Cave. If you like to keep things off the beaten track, this is an ideal destination for you.
Ecosystem
Photo: V' Spirit Cruises
The national park includes five kinds of ecosystems: rain/broad-leaf forest, limestone forest, littoral forest, coral area and shallow water area.
The rain/broad-leaf forest area is mostly secondary forest. The average canopy covers 50 – 90%. 494 species belonging to 337 genera of 117 families have been found in this type of ecosystem. Some endangered species include Cycas balansae, Radix marindae officinalis, Ardisia sylvestris Pitard, Smilax glabra, leopard cat (Prionailurus bengalensis), Indian muntjac (Muntiacus muntjak), small Indian civet (Viverricula indica), large Indian civet (Viverra zibetha).
The limestone forest area is forest growing in poor soil with particles of limestone on rocky islands. Some rare animals found there include serow, rhesus macaque.
The littoral ecosystem in the park is small areas surrounding the islands. It has a rather large tidal variation and is biologically highly diverse with 251 species including 19 species of mangrove, 17 species of seaweed, 29 species of marine worms, 149 species of molluscs, 22 species of crustaceans and 15 species of echinoderms.
The coral area is located from the water depths of low tide to 10m deep. 409 species have been found including groupers, sea bass, crabs, snails, abalone and seaweeds.
The shallow water area covers a large area around the islands, beyond the tidal area and extending from 1 km to around 4 km. These areas have not been profoundly researched but 539 species have been found.
Is Bai Tu Long a Part of Halong Bay?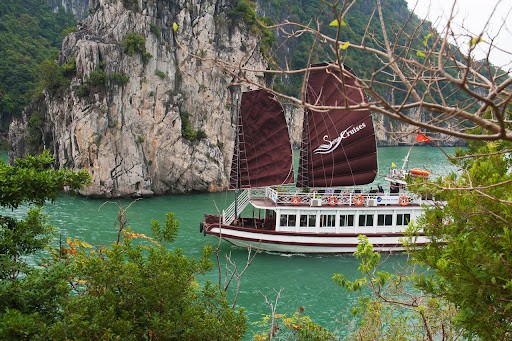 Photo: Tree Vietnam Travel
Not more than an afterthought to Halong Bay in the popular imagination, Bay Tu Long Bay is in fact a separate bay, with clearly delineated borders which set it apart from the neighboring tourist giant (the same is true for Lan Ha Bay, another overshadowed beauty in the area).
That said, it needs to be noted that geologically speaking, Bai Tu Long is a seamless extension of Halong Bay, and for this reason it exhibits a landscape identical with that in Halong Bay. Ever since Halong Bay shot to popularity in the latter stages of the 20th century and received the nod as a UNESCO World Heritage Site, tour operators have been lumping the attractions of the 3 bays under a single Halong Bay brand, oftentimes cruising their tourist boats across the greater Halong Bay area without even informing their clients that strictly speaking, they aren't in Ha Long anymore. Not that it would make any difference to the passengers – the 3 bays are all marvelous!
When to Visit Bai Tu Long Bay?
The weather is obviously the main factor to consider when choosing the most attractive time to visit the north of Vietnam. It gets somewhat chilly here in January and February, whilst May typically marks the arrival of southern monsoons which last until September. March – April and September – October are therefore the best choices for your trip; neither too hot nor too cold, with clear skies above your head.
What to Do in Bai Tu Long?
There is much to see and do from your cruise boat! But besides cruising itself, there are tons of activities to keep you on your toes during your trip.
Swimming in the jade green waters of the bay is a must. Active travelers will jump at the chance to enjoy the bay's rock climbing, bouldering, and cliff jumping. There are some great areas for kayaking here and your guide will be able to take you to exciting hidden coves, lagoons and tunnels.
And here's a quick rundown of our favorite attractions in Bai Tu Long, Vietnam:
Bai Tu Long National Park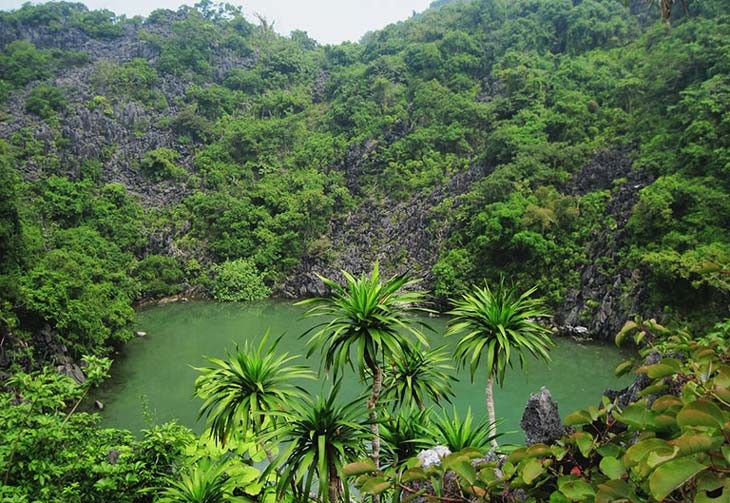 Photo: Oriental Sails
The spectacular islands of Bai Tu Long Bay, immediately northeast of Halong Bay, form Bai Tu Long National Park and are every bit as beautiful as their famous neighbour. In some ways the park is actually more stunning, since it's only in its early stages as a destination for travellers. The bay and its islands are still unpolluted and relatively undeveloped.
As with Halong Bay, the best way to experience the full limestone-pinnacle-scattered seascape is on a cruise, though there are relatively few outfits that tackle the area.
Thien Canh Son Cave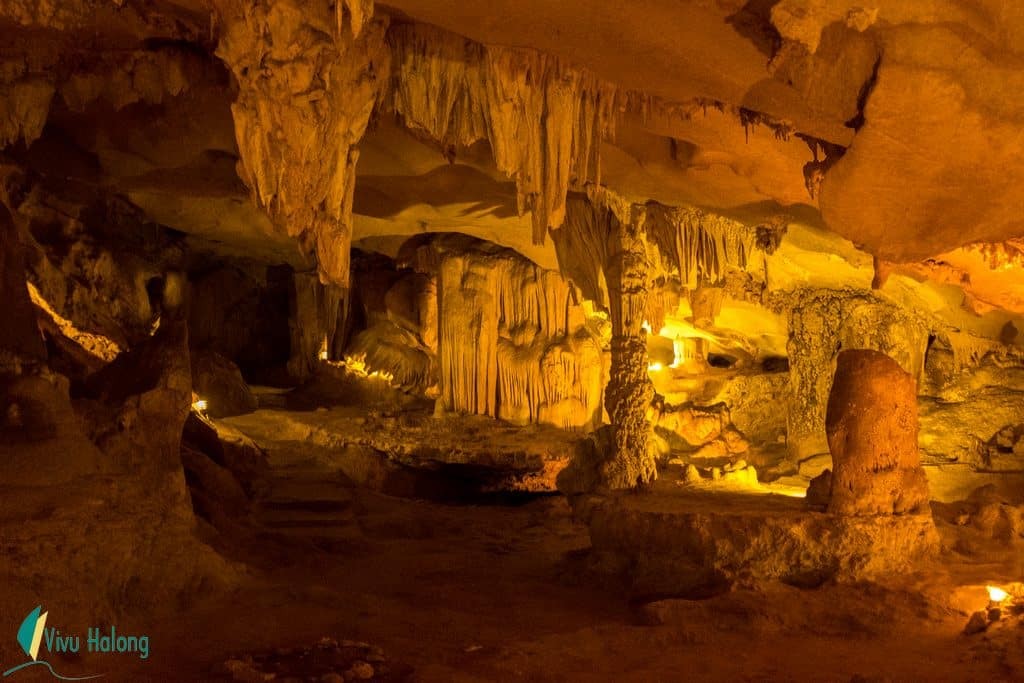 Photo: Vivu Halong
Located in the quieter region of Bai Tu Long Bay, Thien Canh Son Cave is just one among the 59 discovered caves in the Halong Bay area.
Contributing to what experts consider to be Vietnam's most valuable natural asset, Halong Bay's grottoes and caves make up a unique ecosystem; yet Thien Canh Son Cave is itself unique in many ways.
The most convenient way to access Thien Canh Son Cave is by joining a cruise ship that includes it on its route. The boat will bring you to the shore of the island, where you'll disembark and begin your climb up the 60 odd steps to the entrance of the cave. It's not a harrowing climb by any means, but those with mobility difficulties should take care and be aware of this beforehand. Once you ascend the stairs you'll find yourself in a small clearing, an uncommon sight in the thick foliage that adorns Cong Do Island.
Vung Vieng Fishing Village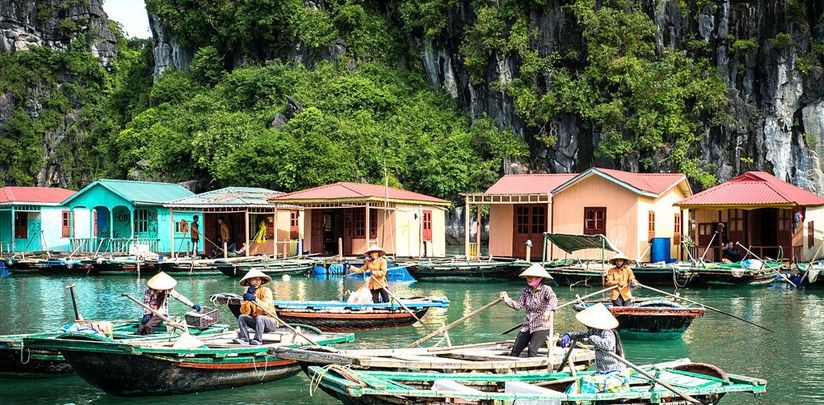 Photo: Halong Bay Tours
Out of the four fishing villages in Ha Long Bay, Vung Vieng is the least touristy, a perfect fit for travelers seeking to experience local life. After disembarking the mother boat, you will be transferred by rowing boats or kayaks to enter Vung Vieng. The village offers a chance for travelers to experience the villager's daily life as well as observe the traditional culture and customs of the fishermen.
These families have lived in this village for generations. They go about their daily lives, oblivious to the buzz surrounding the Heritage site of Ha Long Bay. Living far away from the bustling tourist attractions, the people at Vung Vieng are friendly and all smiley to curious visitors. It is interesting to take part in the making of fishing nets and processing fishes. The rambunctious children make up one third of the local population and their presence livens up the quitet fishing life.
Once you've set foot on the peaceful village of Vung Vieng, be sure to stay overnight for the exciting communal activities which only unfold in the evening. Under the majestic moonlight, tourists sit on woven bamboo boats beside the crackling fire, breathe fresh air, listen to folk song duets, drop flower garlands and colored lanterns for luck and watchthe fishermen catching marine products. If you're lucky to arrive at Vung Vieng during the annual Ha Long Tourism Week, you're welcomed to participate inthe fishing village festival. Exciting activities vary fromfolk song singing contest, culinary competition, swimming competition and boat handling competition etc.