5 Delicious Must-Try Dishes For Food Lovers in Ben Tre
Ben Tre is not just well-known for its scenic beauty, but also some of the best and most iconic delicacies in Vietnam. Here is top 5 most delicious and must-try dishes you can not miss when you travel to Ben Tre.
The picturesque little province of Ben Tre was always one ferry beyond the tourist traffic of My Tho and consequently developed at a more languid pace, although new bridges connecting Ben Tre with My Tho and Tra Vinh funnelled more visitors into the area. The town's sleepy waterfront, lined with ageing villas, is easy to explore on foot, as is the rustic settlement across the bridge to the south of the centre. This is also a good place to arrange boat trips in the area, particularly for those wanting to escape the tour-bus bustle. Plus, the riverside promenade and the narrow lanes on both sides of the river are ideal for two-wheeled exploration.
What to eat in Ben Tre, this is one of important thing when you discover a new place, special in Ben Tre. Now, let's explore together; after that, you will suddenly recognize tour Ben Tre cuisine is simple but tasty like Ben Tre people.
1. Coconut rice – "Com Dua"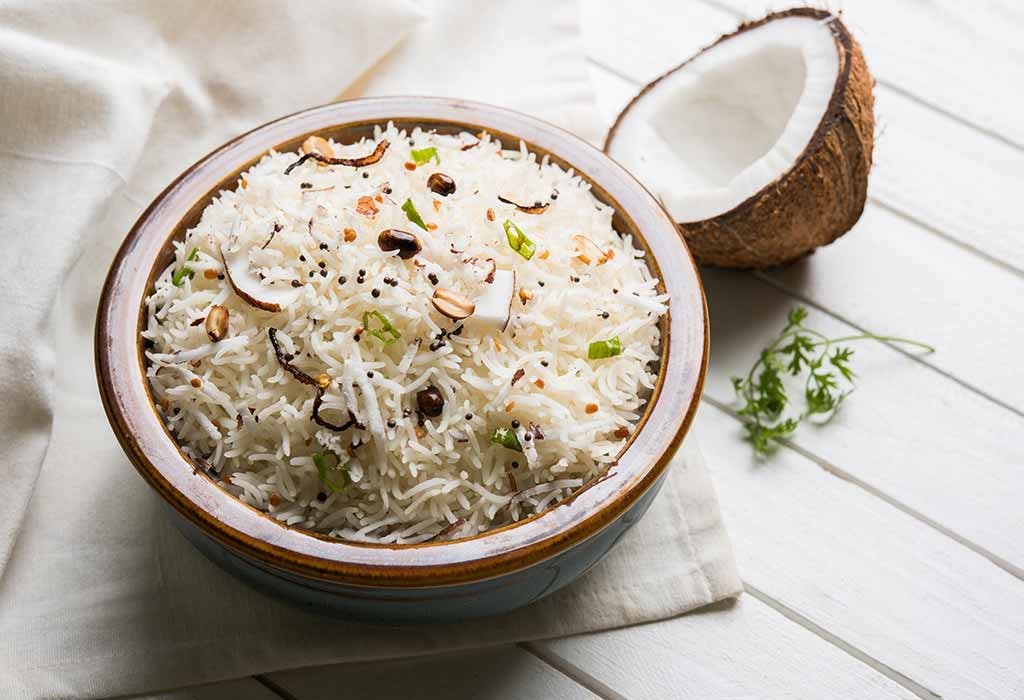 Photo: Getty Images
Coconut tree is a symbol of Ben Tre land as well as a "backbone" of Ben Tre people. Thus, you will be flooded in a lush cuisine made from coconut: coconut candy, fried banana with coconut milk, cake wrapped in coconut leaf, snakehead fish steamed with coconut water, banana simmered with coconut milk, coconut blade salad and so on.
It is not difficult to make this food. You only need delicious rice which has a sweet aromatic fragrance, a steamer, and some coconuts to make the dish. First, you have to peel freshly an outer layer and a fibrous husk of the coconut. Use the sharp knife to cut the top of the coconut let the water out, flatten the bottom and use the coconut as the cooking pot.
Place the rice in a colander or sieve and rinse in the cold water. Then, drain the rice. After that, place the rice in coconuts, add enough coconut water (enough to cover the surface of the rice) and put the lids on the coconuts. The hardest part is to measure the right amount of coconut juice, if there is too much water, the rice is wet, too little and the rice is dried. Finally, put all the coconuts in a steamer and leave the rice to simmer for about 1 hour, until the water is absorbed all and the rice becomes soft.
When the coconut rice is cooked, it is better to keep warm in a steamer and only take the coconut out when it is ready to use. If the rice is brought out early, it will become cold and yellow. One tip to enjoy all the tastiness is to eat with roasted shrimp with coconut water.
2. Shredded pork skin rolls – "Bi Cuon"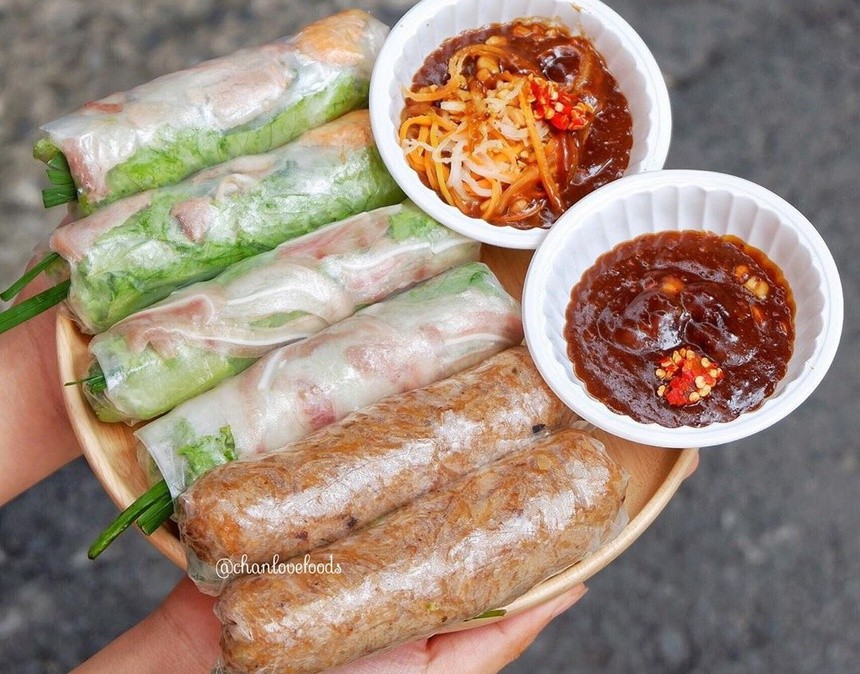 @chanlovefoods
The Mekong Delta is known as a land of rolled food and shredded pork skin roll is a wonderful one of them. In addition to other essential ingredients of typical Vietnamese summer rolls (or fresh spring rolls- "gỏi cuốn"), for example: salad, herbs, rice vermicelli, the shredded pork skin roll do not include prawn or sliced pork. Instead, it has "bì" inside, a mixture of shredded pork skin and shredded pork belly. Especially, what makes shredded pork skin rolls distinct from other rolls and yummy is "thính" (Vietnamese roasted rice powder).
Pork is divided into meat part and skin part. The meat part is fried until it turn to beautiful yellow. After that, let it cool and shred to mix with shredded pork skin part and roasted rice powder. Then, the mixture is divided into smaller part and rolled tightly with other ingredients in rice paper. The shredded pork skin rolls can be eaten with other vegetables and Vietnamese daikon and carrot pickle. The sweetness of roasted rice powder combined with the crunchy and chewy "bi" create a delectable and distinctive roll that you could not forget.
3. Grilled banana with coconut milk – "Chuoi Dap"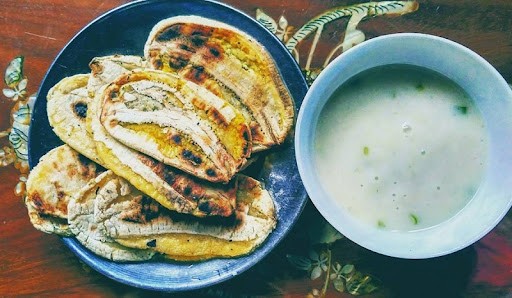 Photo: Foody
Grilled banana with coconut milk is the simplest way of eating snack but it is delicious and especially cheap that any tourists should try during Ben Tre trip. Banana and coconut milk is a perfect combination which create a rustic dish and full of the Mekong flavor.
Bananas prepared for this dish must be ripe Thai bananas. Bananas are peeled, halved and grilled both sides on a charcoal grill. When they are nearly cooked, banana are slightly beaten until they become thinner. That's why Vietnamese people call this snack "chuối đập" (literally "beaten bananas"). Then, continue to cook those thin bananas until they turn to dark yellow or a bit brown and have an aromatic fragrance of cooked bananas. To have thick, smooth and fragrant coconut milk, dried coconut meat is squeezed to get coconut milk. Then, coconut milk is boiled with slow heat. A little bit flour is added to the boiling coconut milk to make it thicker. Salt and sugar can be added to make the coconut milk tastier.
Grilled bananas eaten with coconut milk has a coconut aroma, salty flavor harmonized with intense sweetness, which make any dinners cannot resist to try again and again after the first bite. This favorite snack in Ben Tre is also the nostalgia for those who are away from home. The grilled banana street hawkers which are close to Truc Giang river bank, in front of Thi Xa Ben Tre hospital are perfect choices to taste this snack.
4. Roasted shrimp with coconut water (Tep Rang Dua)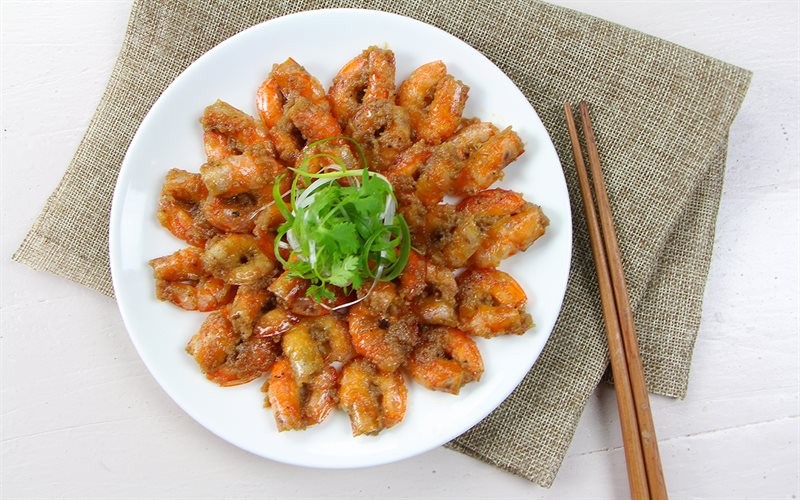 Photo: Sieu thi Sai Gon
This kind of shrimp is called "tep" in Vietnamese, and it mainly live in countryside field in Vietnam. Roasted shrimp with coconut milk is the most suitable food to go together with the coconut rice.
First of all, the ingredients is included: 200 grams fresh shrimp, 100 grams coconut milk (made from dry and small coconuts). Cut all heads and tails of the shrimps and wash them in cold water. After that, put the shrimps in a pan and pour coconut milk into the shrimps. Cook the mixture in low heat for few minutes. Add more spices, including salt and sugar for seasoning. When the shrimps turn into a beautiful red color, turn on the heat, stir the shrimps with chopsticks to absorb the spices. The food is ready when all coconut milk is soaked in the shrimps.
A perfect Ben Tre meal only includes few coconuts with coconut rice inside, a plate of roasted shrimp with coconut milk set on a table. Use a spoon to scoop coconut rice with one or two shrimps into your mouth and slowly chew, you will feel the mild sweetness of the rice, the distinctively aromatic fragrance of coconut water mixed with the salty, greasy and crunchy flavors of the shrimps spreading to all your senses and make you cannot stop eating.
5. Duck noodle – "Banh Canh Vit"
Photo: Dien may Xanh
Duck noodle in Ben Tre is usually cooked with duck and used with ginger sauce. Such noodle is cut into small pieces. Duck meat has white color and soup has good taste that you never forget this if try one time only. You can find the one of the best duck noodle restaurants in Ba Mu bridge market, Nguyen Hue, Ward 4, Ben Tre city.
"Bánh canh" or a thick Vietnamese noodle soup that has many versions depended on each region of Vietnam. It is also known as Vietnamese udon. The Mekong people have their own "bánh canh" as well and the flavorful "bánh canh thịt vịt bột xắt" (duck noodle soup) is best-known "banh canh" of the coconut land Ben Tre.
In Vietnamese, people call it "sliced rice flour thick noodle soup" literally because they have to do with the most handmade method while cooking: slice dough made of rice flour by hands. To make a dough for this noodle, rice is soaked in water until it become softer. Then, blend the soaked rice with water and place the mixture in a cloth bag to drain it slowly until the water go out completely. Duck meat is the main component to create the appetizing taste of this noodle soup. The locals here use home raised ducks, which are fed by grain, to make the dish more distinctive.