Longan Cake: A Sweet Gift For Loved Ones From Nam Dinh
Long An cake, one of the most famous sweet treats in Hai Hau District, Nam Dinh Province, always charms every tourists for its delicious and sweet taste.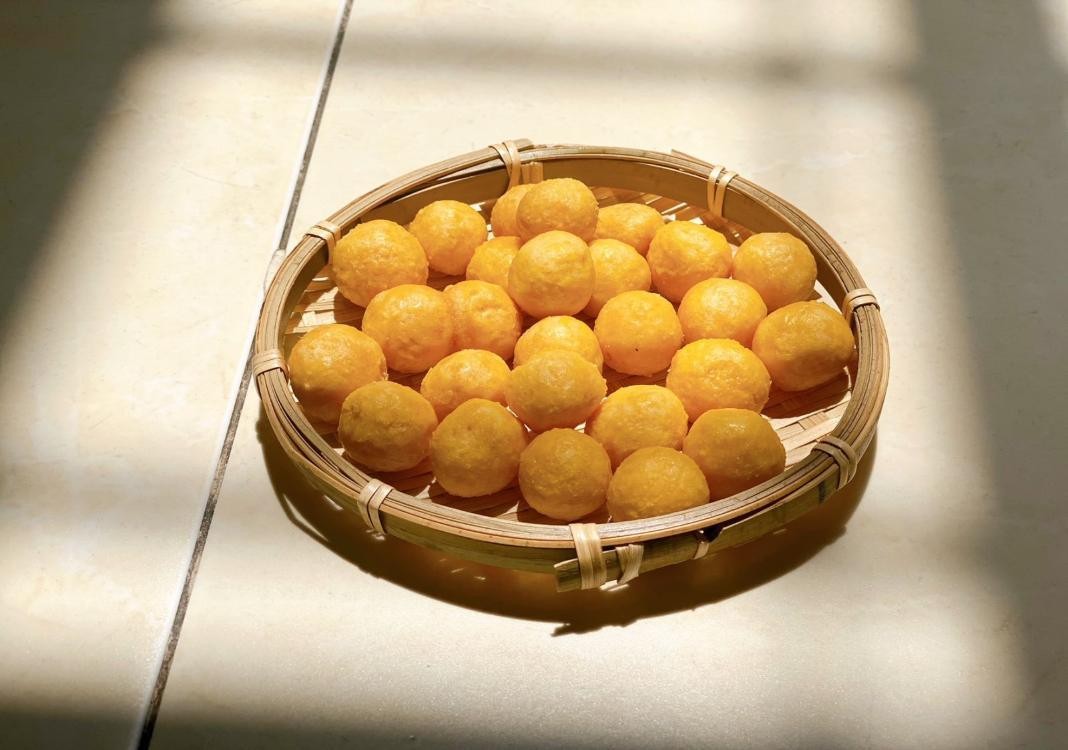 Photo: Vietnamnet
This is a special cake made by local residents of Hai Hau borough. People call it "longan cake" not because it is made from longan, but because the shape and skin looks like one. No one know when the cake's recipe was created. People in Nam Dinh only know that they have eaten this kind of flavorful cake since they were young. The cake is tiny but it is very tasty. Longan Cake is lightly sweet, crispy, buttery and fragrant. This sweet cake is eaten as snack every day. In North Vietnam, they eat Banh Nhan at Tet festival – the biggest festival of the country.
Ingredients to make this cake are sticky rice flour, chicken eggs and sugar. Recipe of Longan Cake is simple and easy: we mix all of the ingredients into a smooth and sticky dough, then form the dough into many balls which are as small as longan fruit. These balls are fried in a pan until they turn light yellow and crispy. Then balls are put into sugar water and stirred continuously to add sweet taste to the balls. The cake fried in pork lard is more delicious than the one fried in oil.
Preparations take time. Every step from preparing dough to frying little dough balls must be taken care of. The ratio of flour to egg determines the crispness and evenness of these cakes.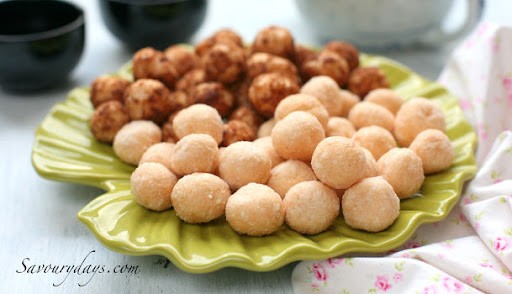 Photo: Savoury Days
The best Longan Cake is made by Hai Hau borough in the province. Yellow flowered glutinous rice flour which is famous for its quality make Longan Cake in Hai Hau different from Longan Cakes in other regions. The Cake has a very outstanding taste which make dinners would like to eat more and more. Longan Cake can be preserved for 4 weeks.
Longan cake is made in many places in Nam Dinh, but the cakes of Hai Hau are known for a special taste and flavor that no other longan cakes have. The difference comes from using a special kind of rice powder. In Hai Hau, yellow flowered glutinous rice powder is used, and this rice is famous around Vietnam for its unique flavors. Therefore the cakes in Hai Hau are more fragrant and delicious than those of other places.
In the past, women of families in Nam Dinh usually make Longan Cake for their families. In recent days, this cake has become more and more popular around Vietnam. It is easy to buy a pack of these tiny cakes at cheap price in the country.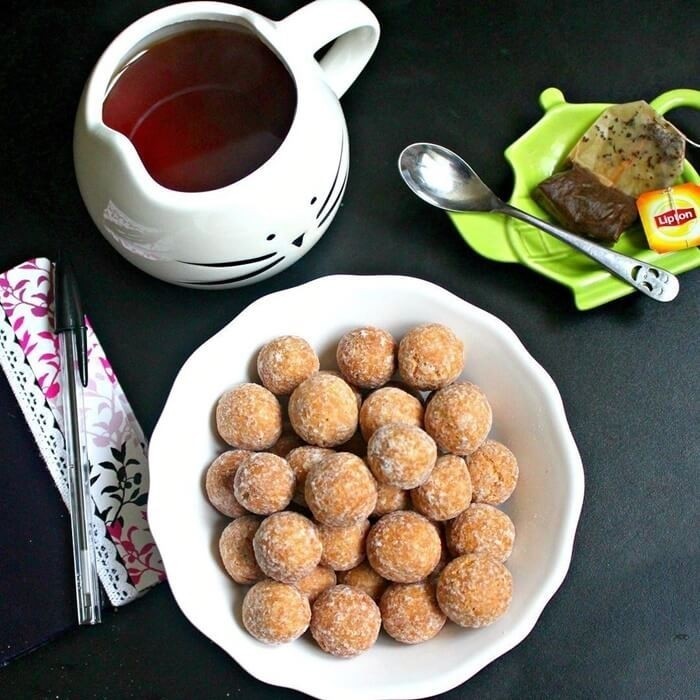 Photo: Vinlove
Dong Cuong is among the villages in Hai Hau which produce the best longan cakes. They are sold as gifts at many stores in the village.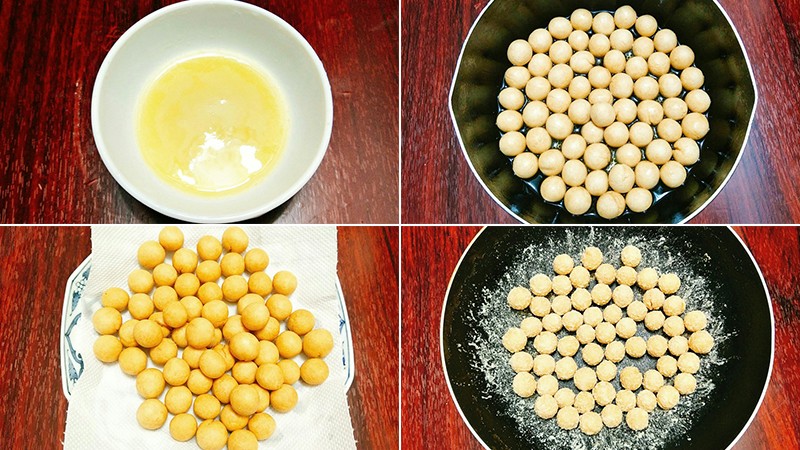 Photo: BachhoaXanh
Other best dishes in Nam Dinh that you should try
Pho bo (Beef noodle soup)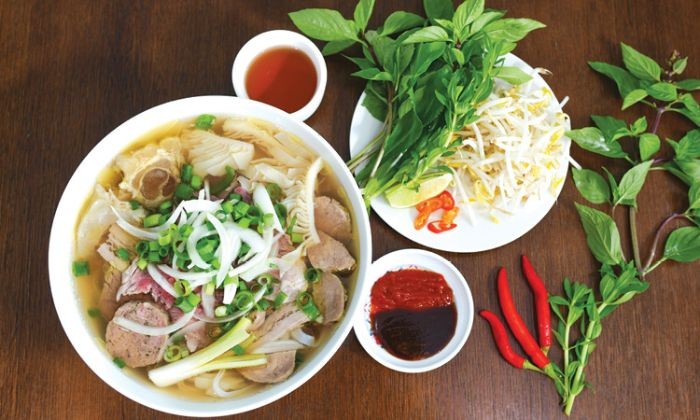 Photo: cosopho.com
When it comes to Pho, most people would be reminded of Pho in Hanoi. Nevertheless, Nam Dinh is also well-known for Pho. Pho Nam Dinh is characterized by broth and beef slices which are skillfully processed by traditional recipes.
The sweet broth combined with soft noodles and beef slices creates an irresistible bowl of Pho.
Banh xiu pao (Char siu cake)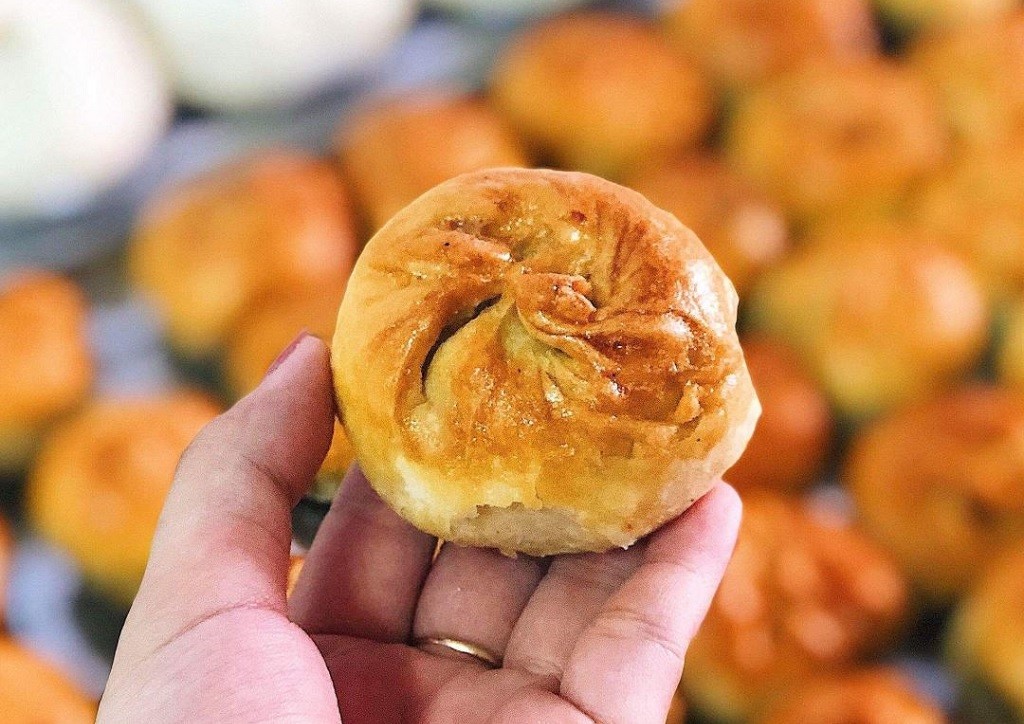 Photo: Vivu
Banh xiu pao originates from China and has entered Nam Dinh for a long period of time. Banh xiu pao resembles a fried dumpling with the main ingredients including flour, meat, eggs, lard, and several spices.
Banh xiu pao allures visitors with the aroma of "xá xíu" (Char siu), the greasy taste of fatty meat, and the spice of pepper.
The cake is so popular that tourists can buy in every corner of the streets with the price of VND8000-VND10000 (US$0.35- US$ 0.43) each.
Grilled fish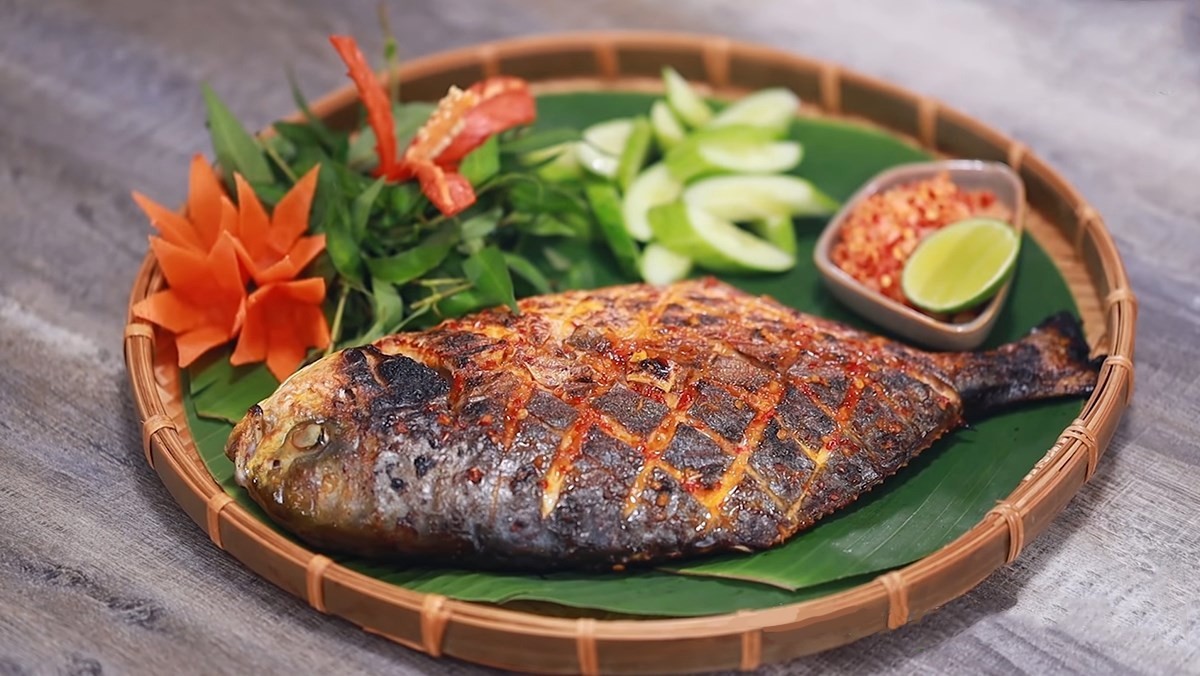 Photo: Dien may Xanh
Another delicacy in Nam Dinh that you shouldn't miss is grilled fish. The local people often eat this dish on important occasions such as the Tet holiday.
Grilled fish is grass carp (2 - 5 kg), or carp (1-2 kg). Before grilling, the fish is marinated with lemongrass, "lá mắc mật" (Clausena Indica) and ginger for about 30 minutes. Grilled fish has a golden color and a fragrant flavor of fish. If you travel to Nam Dinh, don't miss out on the opportunity to savor this scrumptious dish.
Xoi xiu (Char siu sticky rice)
It would be a big shortcoming if you do not mention Xoi xiu (Char siu sticky rice) in the list of "must-try" delicacies in Nam Dinh. A standard portion of Xoi xiu (VND15000- US$ 0.65) includes sticky rice, Char siu, sausage, and a little spicy and fragrant sauce on top.
Xoi xiu is a favorite dish of many people, especially in winter. You can buy it at stalls on the streets of Hang Sat or Hoang Van Thu.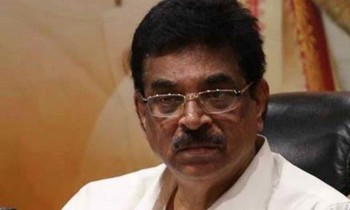 Economy
Mizoram Governor Hari Babu Kambhampati on Thursday said that a Super-Speciality Cancer Hospital and Research Centre would be set up in Aizawl