Bamboo Airways' First 'Historic' Direct Vietnam-US Flight Lands in San Francisco
Bamboo Airways' QH9149 flight, using the Boeing 787-9 Dreamliner aircraft, took off at 7:55 p.m. from Hanoi's Noi Bai Airport for San Francisco.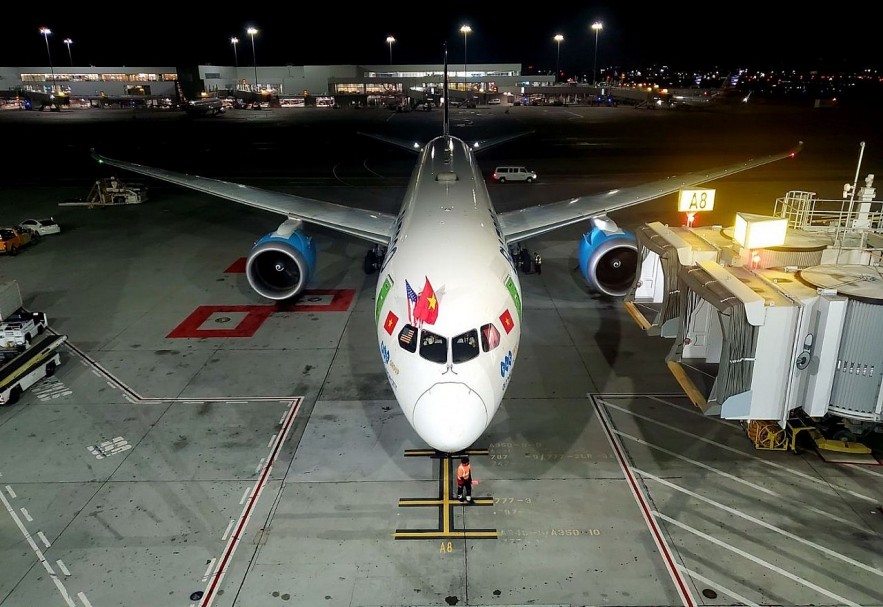 Bamboo Airways' first flight landed at SAN FRANCISCO. Photo: Bamboo Airways
Bamboo Airways conducted its first direct flight from Vietnam to the U.S. Thursday night.
The QH9149 flight, using the Boeing 787-9 Dreamliner aircraft, took off at 7:55 p.m. from Hanoi's Noi Bai Airport for San Francisco.
Today 09:50 on September 24 (Vietnam time) - is 19:50 on September 23 (US time), after 13 hours and 36 minutes of non-stop flight, QH9149 landed at San Francisco airport (USA). The first non-stop flight between Vietnam and the US was as long as the history of Vietnamese aviation was expected, but also as fast as the blink of an eye, taking "Quy Nhon City" halfway to the other side of the hemisphere of the world, connecting the two countries far from thousands of miles.
Bamboo Airways pilots and flight attendants prepare to get aboard the airline's first direct Vietnam-U.S. flight, Hanoi, September 23, 2021. Photo by VnExpress
Launching the first 'historic' direct Vietnam-US flight
America with beauty and its development has always been a dream. Flying directly to the US with Bamboo Airways has become a reality again. Becoming the "First" in the Vietnamese aviation industry to open the door of "Direct Flight Vietnam - America" after only 981 days to officially take-off is an unforgettable milestone of Bamboo Airways.
The flight, the first of 12 direct flights between Vietnam and the U.S. that Bamboo Airways has won approval from the Transportation Security Administration (TSA), is expected to take over 14 hours.
The flight crew included four pilots, 14 flight attendants and several technicians and ground controllers to perform necessary functions at the San Francisco Airport.
Before the flight took off, a commemoration ceremony was held at the airline's headquarters on Cau Giay Street the same day.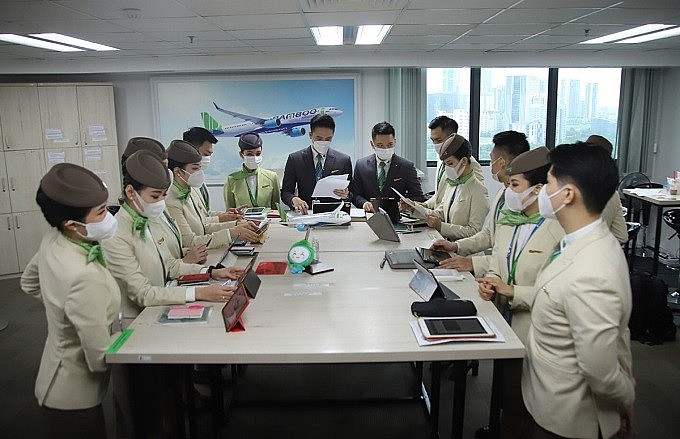 The flight crew briefed before the flight
Nguyen Manh Quan, deputy general director of Bamboo Airways, said the flight was a historic one, not just for Bamboo Airways also for Vietnam's aviation industry itself, according to the vnexpress.
"We will once again affirm the capability for operation, safety, security and infrastructure for Vietnamese airlines and the entire Vietnamese aviation industry in general," he said at the meeting.
Nguyen Ngoc Trong, another deputy general director of Bamboo Airways, said the flight's goals were to serve tourists in both Vietnam and the U.S., foster commercial, diplomatic and cultural exchanges, and to affirm the status of Bamboo Airways, considering that direct flight to the U.S. is among the hardest flight paths to achieve.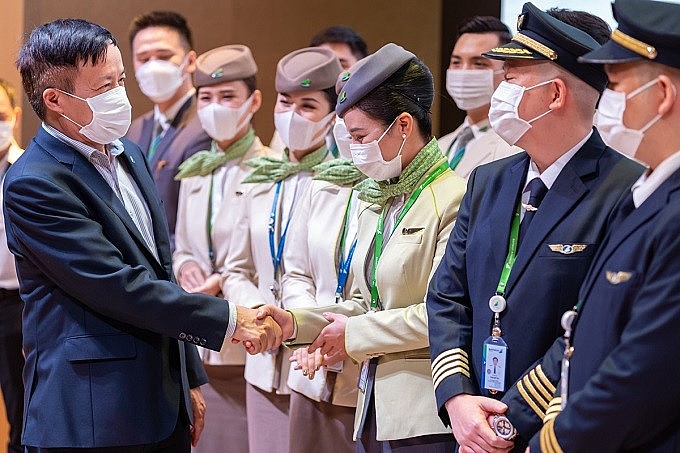 Mr. Nguyen Ngoc Trong, Deputy General Director of Bamboo Airways.
"In the last two years, we've managed to see opportunities in developing flights not just within Vietnam, but also in Southeast Asia and Northeast Asia like Japan, Taiwan, and even reaching towards Europe and Australia. And now, to the U.S.," he said.
"By introducing direct flights to the U.S. at this moment in time, we're showing that we are ready to operate commercial flights once the pandemic dies down to meet customers' demands in both countries," he added.
Bamboo Airways had earlier announced plans to organize three direct flights to the U.S. each week, gradually increasing the frequency to 5-7 flights, and then to daily flights.
Vietnam Airlines has conducted several direct U.S. flights for Covid-19 repatriation purpose. The national carrier said this week it is set to receive its final permit from U.S. authorities soon to conduct regular direct flights to the U.S. after nearly two decades of preparation.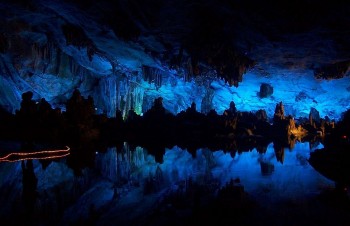 Travel
Caves are the creation of nature, charming any tourists with their mysterious and an air of danger, waiting for humans to explore the deepest secrets inside them. Take a look at these magnificent and beautiful caves around the world that you must visit once in your lifetime.
Viet's Home
According to the AFC official statement, Vietnam striker Nguyen Tien Linh won the AFC International Player of the Week after receiving the most votes out of the remaining nine players.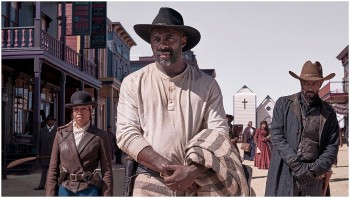 Handbook
November is coming close, and the cold outside makes us want to curl up inside our warm blanket and bing watch our favorite movies or shows. Here is the list of what is coming on Netflix in November, and some of the most expected Netflix originals for you to enjoy.