Bangladesh media says Vietnam is exemplary in economic development during pandemic time
The prestigious news outlet Dhaka Tribune on April 26 dedicates one article to praise Vietnam's phenomenal economic growth during the Covid-19 time, which Bangladesh could learn a great deal from.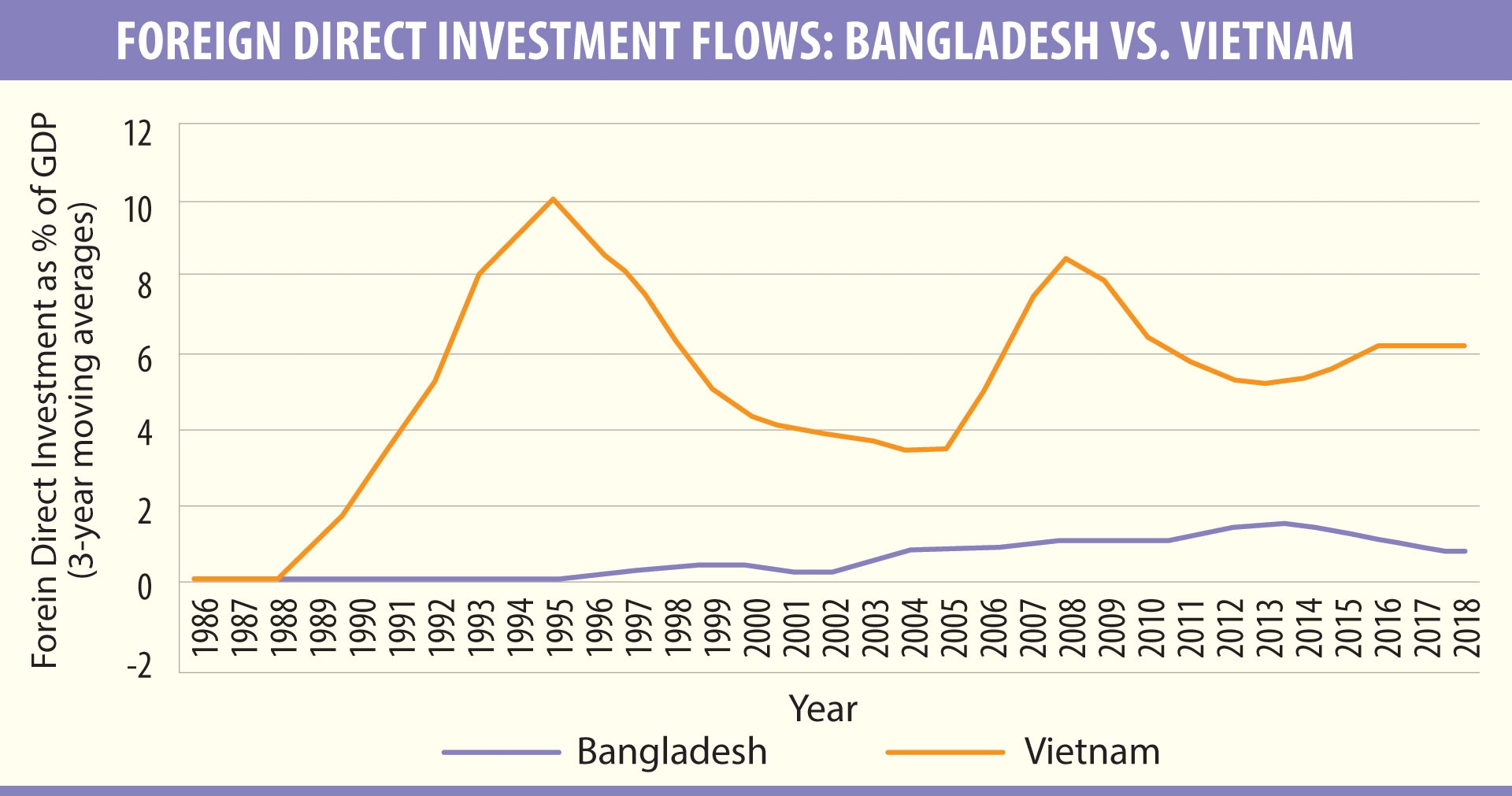 Foreign Direct Investment as percent of GDP (3-year moving averages) (Line graph: Dhaka Tribune)
The article titled "What did Vietnam do that we could not" begins by saying "as we seek to diversify our economy and make our manufacturing sector globally competitive, we would do well to study what Vietnam did and learn from it."
The economist behind the article said he had discussed the widely different trajectories of electronics exports from Bangladesh and Vietnam. He used electronics as an example of a complex, sophisticated product but could have told a similar story using other products as examples. To recapitulate, in 1995, Bangladesh's total export earnings from electronics was similar to that of Vietnam, both in absolute terms (about $30 million) and as proportion of total exports (less than 1%). Now almost 40% of Vietnam's total exports comes from electronics while for Bangladesh the corresponding share has remained below 1 percent.
He then listed three lessons Bangladesh could take from Vietnam's phenomenal economic success during such an unprecedented pandemic time.
The first thing he mentioned are skills.
The fact that 10% of Samsung's software on a global scale is developed by Vietnamese IT engineers is a testament to the engineering skills available in Vietnam. Samsung's largest R&D Centre in South-east Asia is located in Hanoi and employs more than 1,500 highly skilled Vietnamese workers. Nonetheless, the Vietnamese feel that they have skill shortages and are paying attention to addressing this issue.
It may be mentioned that it is not just the academic training in relevant disciplines that matters but also the cognitive and soft skills needed for an employee to make the best of the on-the-job training provided by companies. Companies do not expect employees to come with all the skills required but they place a premium on trainability.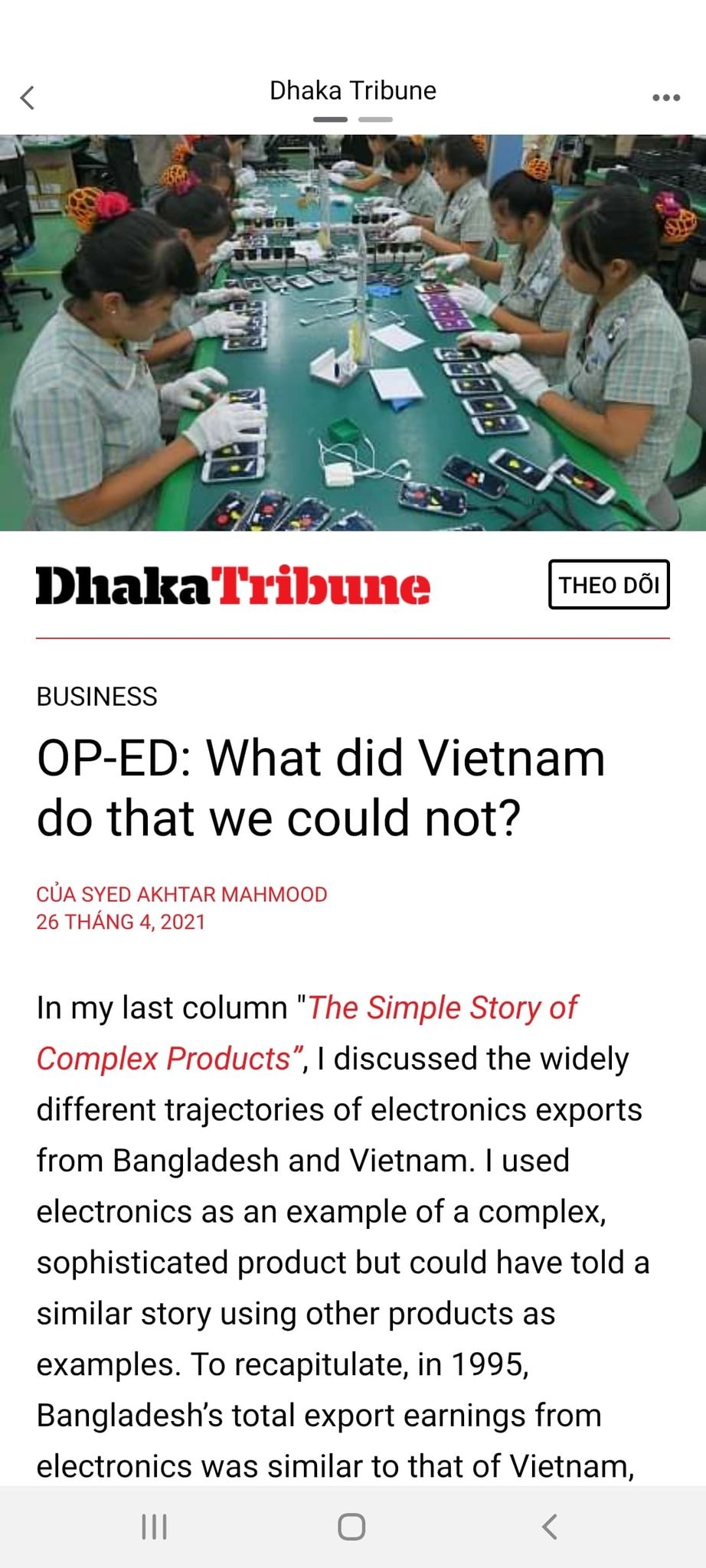 (Photo: Captured)
The second critical factor is a vibrant and open international trade regime.
According to the article, manufacturing of electronic products requires dozens, often hundreds, of different components, most of which need to be sourced from outside. A country with an open trade regime and large trade networks can access diverse sources of components and benefit from cheaper imports of intermediate goods, thus enhancing the competitiveness of its exports.
Over the years, Vietnam has joined several regional and global trade agreements, such as the Association of Southeast Asian Nations (ASEAN) Free Trade Area (AFTA) in 1996, the Bilateral Trade Agreement between the United States and Vietnam (US-BTA) in 2000, the World Trade Organization (WTO) in 2006, and the Comprehensive Progressive Trans-Pacific Partnership (CP-TPP) in 2017. Vietnam has also signed bilateral Free Trade Agreements with several countries in the last two decades and more are in the making. This is in sharp contrast to that of Bangladesh whose trade regime remains constricted, despite some liberalization over the years.
The third factor is the catalytic role of foreign investment.
Foreign investors bring the technical skills, brand name and access to markets needed for electronics exports. The chart below shows how we have done compared to Vietnam. Till the late 1980s, we were at par with Vietnam with FDI inflows in both countries being a minuscule proportion of GDP. Since then, the situation has improved for Bangladesh, but only slightly; FDI inflows are still below 2% of GDP. Meanwhile, as Vietnam opened its economy, it paid particular attention to attracting FDI. While the ratio has fluctuated, even if we take three-year moving averages as shown in the chart, the Vietnamese have clearly forged ahead on this front. Since the early 1990s, annual FDI inflows to the country have averaged 6% of GDP, Dhaka Tribune reported.
In Vietnam, the foreign-invested companies contribute up to 70% of total exports, with the proportion being much higher for electronics exports. One of the major foreign-invested companies in Vietnam's electronics sector is Samsung. The Korean company made its first investment in Vietnam in 1996 to produce color TV sets for the domestic market. Its presence expanded considerably from 2009 after its $670 million investment in an export-oriented mobile phone manufacturing plant in the northern province of Bac Ninh. By the end of 2017, Samsung had invested $14 billion and provided employment to more than 100,000 Vietnamese. 30% of Samsung's global production of mobile phones comes from Vietnam and the company alone accounts for close to 25% of Vietnam's total merchandise exports. Because of Samsung, Vietnam has become the second largest exporter of smartphones in the world. Meanwhile, Intel has opened a $1 billion semiconductor assembly and testing facility in Ho Chi Minh City, putting Vietnam firmly on the global technology map.
As we seek to diversify our economy and make our manufacturing sector globally competitive, we would do well to study what Vietnam did and learn from it. Once again there is foreign investor interest in Bangladesh. But we need to be agile to grab these opportunities.
"If we do so, we can tell our own Vietnam story. If not, all we can tell our grandkids would be more stories of the Samsungs who left us for greener pastures," the article ends.