Independent praises Vietnamese 'hero' delivery driver who caught falling baby
The UK's prestigious newspaper Independent on Tuesday runs an article praising the heroic act of the young Vietnamese delivery driver who saves a 2-year-old's life from high-rise falling.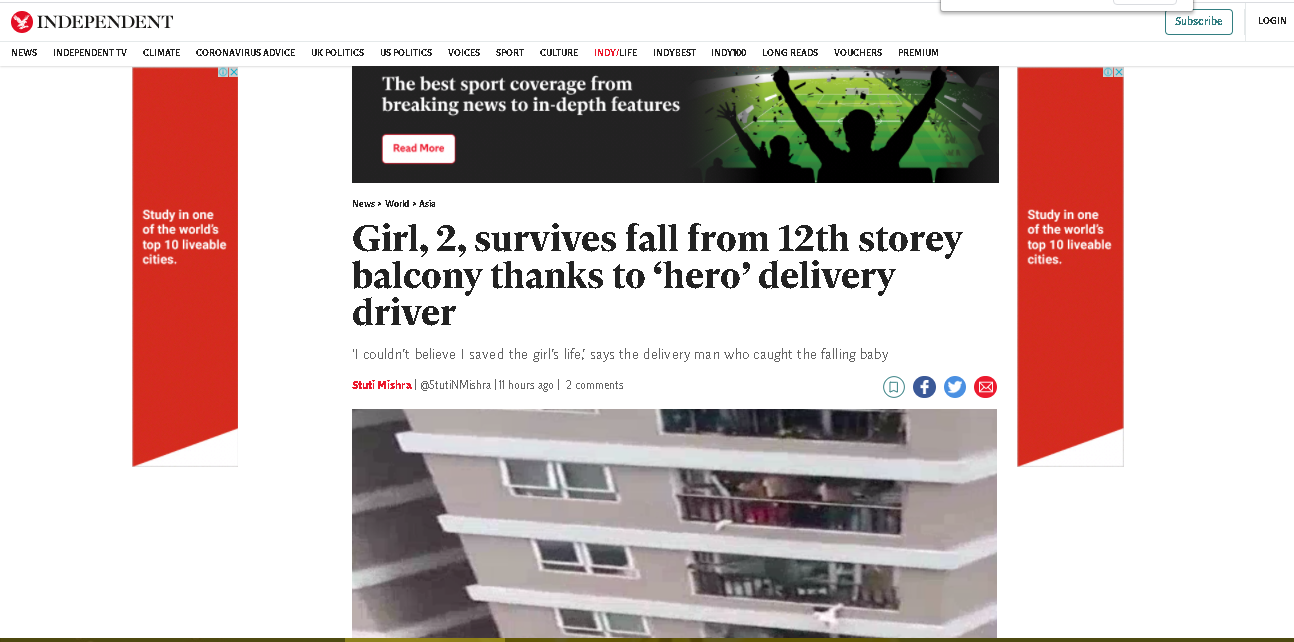 Independent runs an article praising the heroic act of the Vietnamese man (Photo: captured)
"A delivery man in Vietnam is being hailed as a hero after he saved a little girl as she fell from a balcony of a high-rise in Hanoi", the article titled "Girl, 2, survives fall from 12th storey balcony thanks to 'hero' delivery driver" starts.
Nguyen Ngoc Manh was described by Independent as a delivery professional who runs a packing service in Hanoi. As he heard a baby's bawling while sitting in his car waiting for the delivery, Manh immediately plunged out of the car and found ways to climb into the nearby building.
"I mounted on a 2-meter-high tile roof to seek a proper position to get the girl", Manh was quoted.
Although Mr Manh positioned himself to catch the baby and prevent her from falling on the ground, he says it was incidental that she fell on his lap, Independent reported.
The prestigious news outlet also quoted Manh's saying "Everything happened within a minute. I didn't understand how I could scale the roof that quickly. I couldn't believe I saved the girl's life."
The girl, according to the report, has a broken arm and leg but is stable, while the delivery executive also suffered a sprain. On March 1 morning, doctors at National Children's Hospital, where the girl was admitted, said she dislocated her hip after the incident, but suffered no other anomalies.
At the last part of the article, Stuti Mishra, the journalist behind the article dedicates three paragraph to report on how Vietnamese people react to Manh's heroic act.
"The residents of the society who witnessed and recorded his heroic act have praised him. Mr Manh has also become a hero in the country overnight with his photograph being circulated online", Independent wrote.
It notes that Manh disliked his new moniker as a hero which was given by Vietnamese netizens.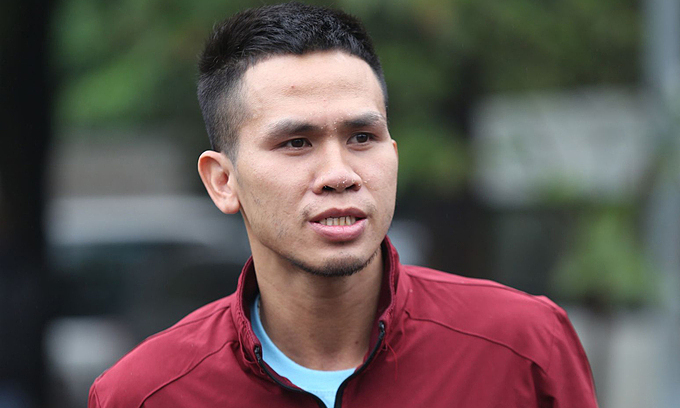 Nguyen Ngoc Manh, 31, still finds himself trembling as he recalls how he saved a little girl falling from the balcony of an apartment complex in Hanoi on February 28, 2021. Photo: VnExpress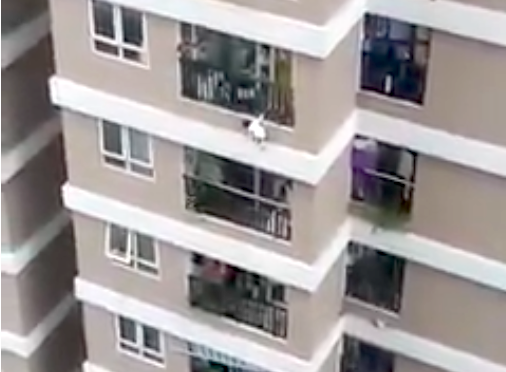 A video still showing a little girl hanging from a Hanoi apartment balcony, seconds before she fell.
Prime Minister Nguyen Xuan Phuc on March 1 praised Nguyen Ngoc Manh for his brave act and after he saved a little girl falling from a balcony of a high-rise in Hanoi.
"I was touched when learning about the news," the PM said, lauding the delivery man's courage and sense of responsibility.
He suggested the Hanoi People's Committee and the Central Emulation and Rewards Committee honour the man in order to promote his good deed among the community.