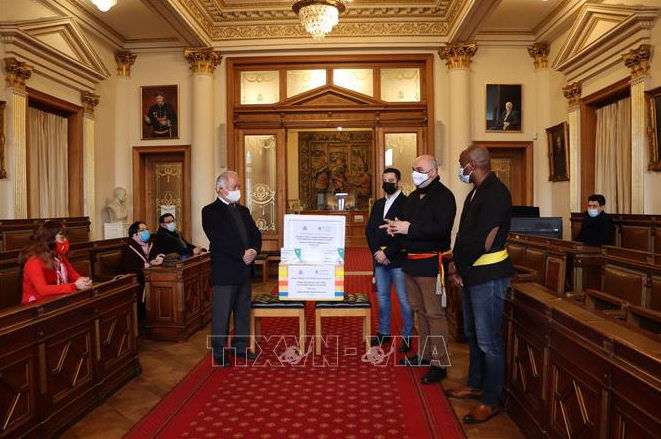 Overview of the ceremony. (Photo: VNA)
On March 17, on the occasion of receiving medical masks as a gift from the General Union of Vietnamese in Belgium, Mr. Christos Doulkeridis - Mayor of Ixelles municipality, Brussels expressed his appreciation and applause towards the Vietnamese community's contribution to the fight against the COVID-19 pandemic.
According to VNA reporters in Brussels, Mr. Huynh Cong My - General Union of Vietnamese in Belgium President, gifted 1.200 medical masks to Ixelles' leaders. Ixelles is the location of the Vietnam Embassy to Belgium and also the district with the highest density of Vietnamese living, studying, and working in Belgium.
My emphasized that the Vietnamese community here kept in their heart the city and district authorities' willingness in helping them to adapt to Belgian social life.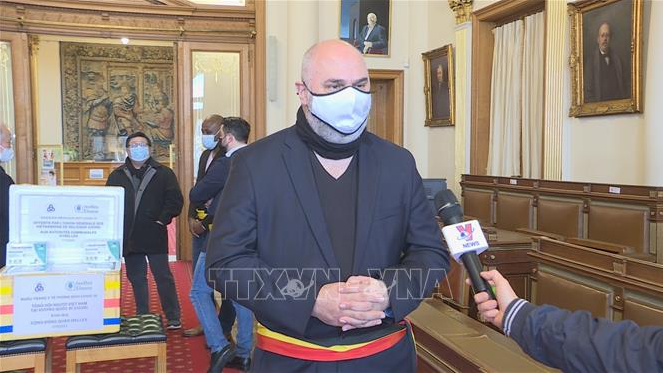 Mr. Christos Doulkeridis - Mayor of Ixelles (Photo: VNA)
Mayor Christos Doulkeridis expressed his appreciation toward the gift from the Vietnamese community in Belgium, which showed that the Vietnamese were truly a part of the Belgium community, especially in Ixelles municipality.
He added that in order to fight against the novel disease, every person had to join hands. Vietnamese community's symbolic gesture showed that every individual could contribute to this fight with a simple yet significant tool - a mask - a tool that showed mutual protection.
Doulkeridis spoke highly of the Vietnamese community's spirit, affirmed that Vietnamese generations had well adapted to Belgian life.
On this occasion, the Mayor called those who had been asked to be vaccinated to proactively comply as it was the best way to protect the community.
Valerie Mai