Beautiful Tourist Destinations in Wonderful Nam Dinh
In Nam Dinh, there are not only delicious dishes but also many beautiful places not many people know about. These wonderful photographic locations are suitable for memorable Nam Dinh food tours.
Nam Dinh is a relatively new tourist destination in the northern region of Vietnam, although there are not many scenic spots or majestic mountains, the land of Thanh Nam still has an abundance of interesting surprises for tourists to discover.
Thanks to unique, magnificent, and ancient structures with a bold Western architectural style, Nam Dinh is quickly becoming an attractive tourist destination. This place attracts a lot of tourists. Just spend a day exploring Nam Dinh and they will be able to bring back a lot of high-quality photos.
Hung Nghia Church
Today, this church is one of the most famous churches in Nam Dinh. Many young tourists often come here to take unique pictures. When they come to Hung Nghia church, they often feel like they are lost in the western sky. This church is located in Hai Hung - Hai Hau - Nam Dinh commune, about 30km from the city center.
Photo: toquoc.vn
This is one of the parishes with a special dome architecture that makes anyone who comes here admire its magnificence. The domed roofs combined with the soaring spire easily remind tourists of the Hogwarts school in the Harry Potter series. This church is attracting more and more tourists to discover its mysterious features and take unique pictures.
Photo: toquoc.vn
Address: Hai Hung Commune, Hai Hau District, Nam Dinh Province
Kien Lao Church
Kien Lao Church is also one of the beautiful churches in Nam Dinh that is visited by many people. This church has a palatial design with a western style. It is 75m long, 26m wide, and 28m high, with street lights and lakes on both sides. Featured with light gray-white colors, and airy space with dignified street lights that are equally poetic, this is a destination that virtual life enthusiasts can hardly ignore.
This place is also likened to a castle in a fairy tale. That is why it is loved by many young tourists. Couples also come here to take wedding photos as well.
Photo: toquoc.vn
Address: Xuan Tien Commune, Xuan Truong District, Nam Dinh
Hai Ly Church
Hai Ly Church is the most special church in Nam Dinh. Although this church has been partially destroyed, it is still a tourist attraction that is visited by many people. Most visitors here feel extremely curious about an old church located right next to the beach.
Hai Ly Church was built by a French architect in 1943. In the past, due to the encroachment of the sea into the mainland, the Hai Ly church was knocked down by the waves. But a strange thing is that at that time the waves could only partially knock down the church but not completely. And that status quo has been preserved to this day.
This church is located on the beach of Xuong Dien in Hai Hau district and about 40 km from the center of Nam Dinh city. This ancient abandoned church is built precariously on the beach, creating an extremely poetic scene, especially in the dawn or dusk.
The desolation combined with the light of the sun, the coolness of the wind, the air of heaven and earth, and the beauty of the sea make the church become a destination that attracts many visitors to Nam Dinh, especially young people.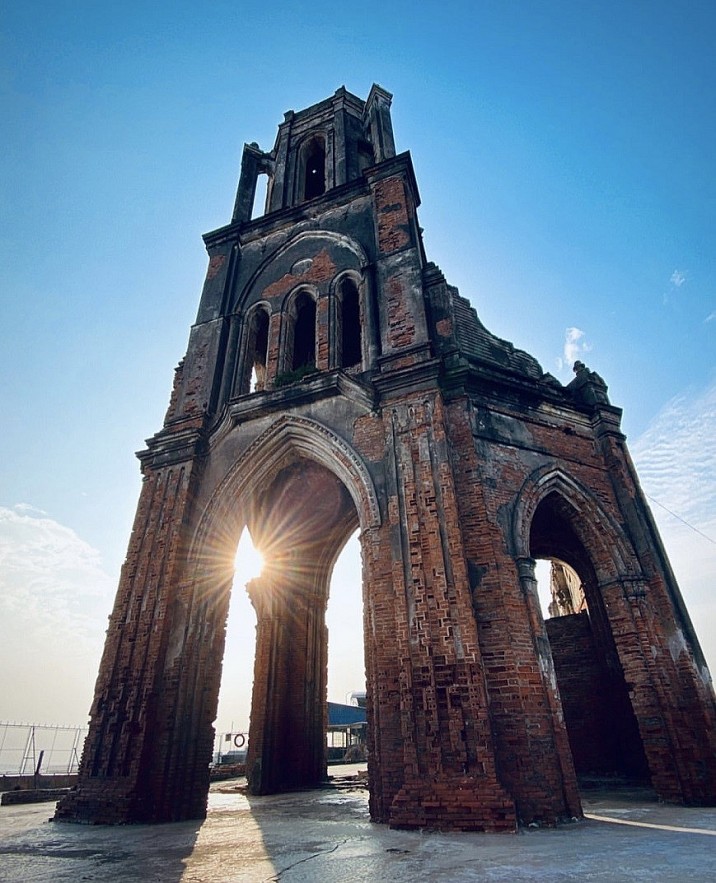 Photo: toquoc.vn
Address: Hamlet 3, Hai Hau, Nam Dinh
Tiled Bridge of Luong Pagoda
Nam Dinh tile bridge looks strange but familiar, with a shape very similar to the familiar tile bridge in Hoi An. Hai Hau Nam Dinh tile bridge is also a famous historical relic of Thanh Nam and with more than 500 years old. The two sides of the bridge façade are designed and decorated in the same way with striking yellow tones. Under the background is a green rock that has faded and worn down over time.
Although this bridge has gone through more than 5 centuries with many ups and downs, its timeless beauty remains intact. Currently, the Hai Hau Nam Dinh tile bridge has attracted many tourists to visit and record the ancient imprint of the tile bridge through commemorative photos. More specifically, many young people also come here to visit and check in by the ancient tiled bridge.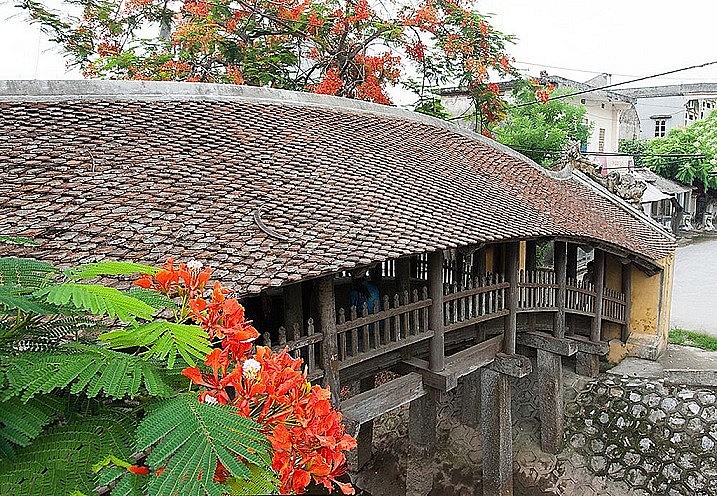 Photo: toquoc.vn
Address: Hai Anh Commune, Hai Hau, Nam Dinh.
Thinh Long Beach
For the people of the North in general and the people of the capital in particular, Long Thinh Beach is no longer a strange place.
Thinh Long Beach stretches for more than 3km and owns 3 beaches with smooth sand strips, with crystal clear blue water. This place is surrounded by lush pineapple groves and casuarina forest, making the air always fresh and cool. This place has a simple and quiet beauty.
Thinh Long Beach is not only outstanding with net boats on the beach but extremely suitable for tourists to take pictures and create impressive photos. In particular, Thinh Long beach also has stone and concrete embankments of all different shapes, thanks to that point alone, people can take over 1001 real virtual live pictures.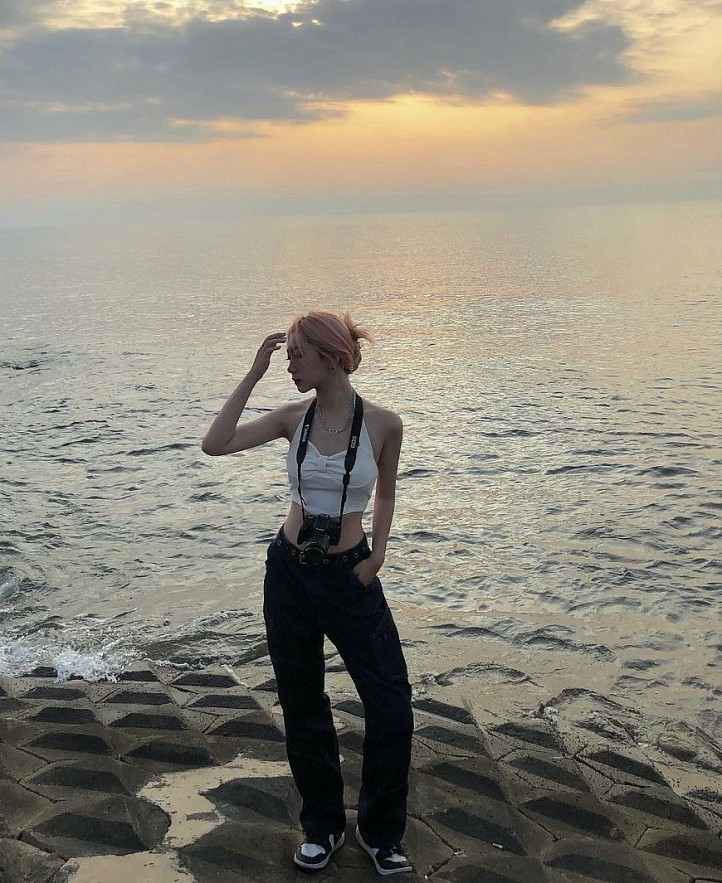 Photo: toquoc.vn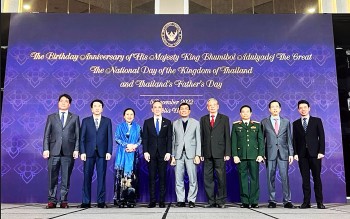 Friendship
The Royal Thai Embassy organises the reception on the occasion of celebration of the Birthday Anniversary of His Majesty King Bhumibol Adulyadej the Great, the National Day of the Kingdom of Thailand and Thailand's Father's Day on 2nd December 2022 in Hanoi.