Belgian enterprises hope to boost investment into Vietnam market
Belgian enterprises currently have 78 investment projects in Vietnam with a total capital of USD 1,1 billion, ranked 23rd out of 131 nations and territories that invest in Vietnam.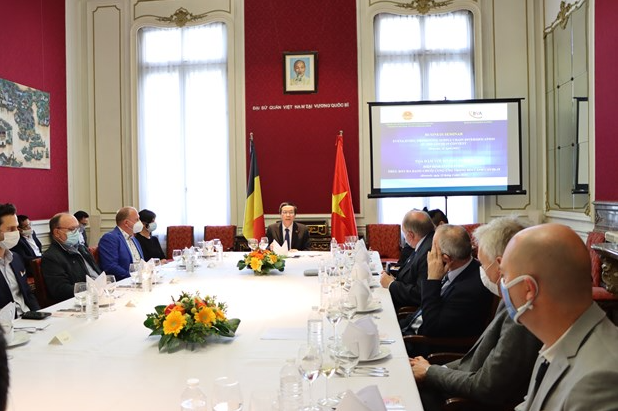 Photo: VNA
According to VNA's reporters in Brussels, on April 22, the Embassy of Vietnam to the Kingdom of Belgium, the Grand Duchy of Luxembourg, and the European Union, in coordination with Flanders Investment & Trade and Belgian-Vietnamese Alliance held a seminar named "EVFTA, EVIPA - driving force to promote supply chain diversification"
The seminar welcomed Ms. Karine de Vleeschouwer, Flanders Investment & Trade manager for Southeast Asia and Oceania, and representatives from Belgian enterprises.
At the seminar, Belgian enterprises brought up issues, opportunities, and challenges posed by EVFTA and other FTAs that Vietnam is a member of. They also spoke of Vietnam's efforts to improve the investment environment, administrative procedure reform that benefits foreign businesses, incentives for Belgian businesses when investing in businesses in Vietnam, simplification, and facilitation of entry procedures to Vietnam for Belgian experts and businessmen in the context of COVID-19 pandemic.
Belgian enterprises expressed their concern towards Vietnam's economic potential and cooperation and business opportunities in Vietnam.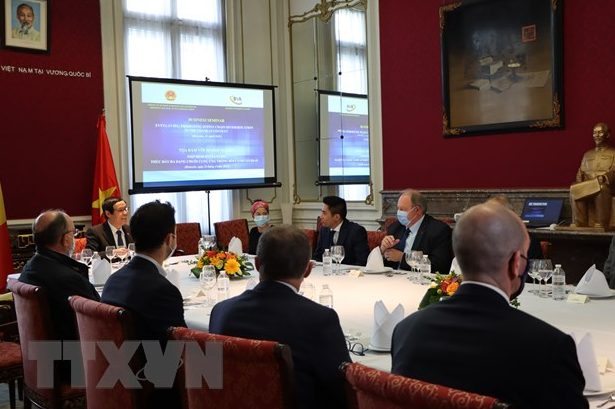 Photo: VNA
Vietnam Ambassador Vu Anh Quang informed updates on the 13th Party Congress results, EVFTA implementation process, and Vietnam-Belgium's investment and commerce situation to the Belgian officials and enterprises. Quang called Belgium enterprises to contribute to promoting the EVIPA approval process in Belgium, which serves the interest of both countries' enterprises.
Mr. Charles Vanderstraeten, DSV Solutions salesperson, specializing in international transportation and logistics (DSV Solutions already opened a branch in Vietnam) said that EVFTA created favorable conditions for Belgian enterprises' activities in Vietnam. He believed that, with the current growth of Vietnam's economy, his business would have many opportunities for development.
Meanwhile, Mr. Eric Franssen, Commercial and Development Director of John Cockerill Company, currently implementing projects in the energy and environment sectors in Vietnam, highly appreciated this Southeast Asian country's developing economy. Especially since the EVFTA took effect, his company has had more opportunities to develop in Vietnam.
Photo: VNA
For many years, Brouwerij Huyghe Company's beer products have been present in the Vietnamese market and highly appreciated by consumers. However, the company has not been able to directly export its products to this potential market of more than 90 million people but has to use an intermediary stage. Mr. Stijn De Neve, the company's export director, said he was looking for a partner to export beer products to Vietnam. He hoped that with the EVFTA, Brouwerij Huyghe Company would easily find opportunities to bring its products directly into Vietnam.
According to Mr. Duong Minh Tri, representing the Belgian-Vietnamese Alliance, an increasing number of Belgian companies want to invest in Vietnam. Especially as the EVFTA is implemented, tax reduction is one of the advantages that attracts Belgian investors when they want to expand their market in Southeast Asia.
Belgium currently has 78 investment projects in Vietnam with a total registered capital of USD 1.1 billion, ranking 23 among 131 countries and territories investing in Vietnam. Belgian investments are mainly concentrated in ports, infrastructure, logistics, real estate, water supply, drainage and waste treatment, processing and manufacturing, electricity generation and distribution, and products of forestry, agriculture, seafood.
The seminar was evaluated by Belgian businesses as very useful, contributing to maintaining and strengthening the relations between the Embassy and Belgian businesses, and was one of the important economic diplomacy activities of the Vietnam Embassy - Delegation in Belgium in 2021.