Best and Most Luxurious Cave Hotels in Cappadocia, Turkey for Travellers
Have you been in a hotel built inside a cave, but still provide you luxury and convenience? Here is the best cave hotels in Turkey that you can pay a visit in the future.
We have all seen the photographs of balloons swaying with vibrant colors in the sky of Cappadocia. Cappadocia is one of the few places where you can observe volcanic formations with a panoramic view from balloons. Even though the region has become synonymous with hot air balloons, another important experience is staying in the cave hotels in Cappadocia.
The most distinctive characteristic of Cappadocia is its unique land forms. However, with its history dating back to ancient times, there are also many man-made beauties in Cappadocia. In other words, Cappadocia is uniquely suited to both enjoy the beauty of nature and set out on a journey in history.
You can crown this cultural experience by staying at a cave hotel in Cappadocia. Because the boutique cave hotels of Cappadocia contain details that exactly match the geographical features and history of the region.
1. Aydinli Cave Hotel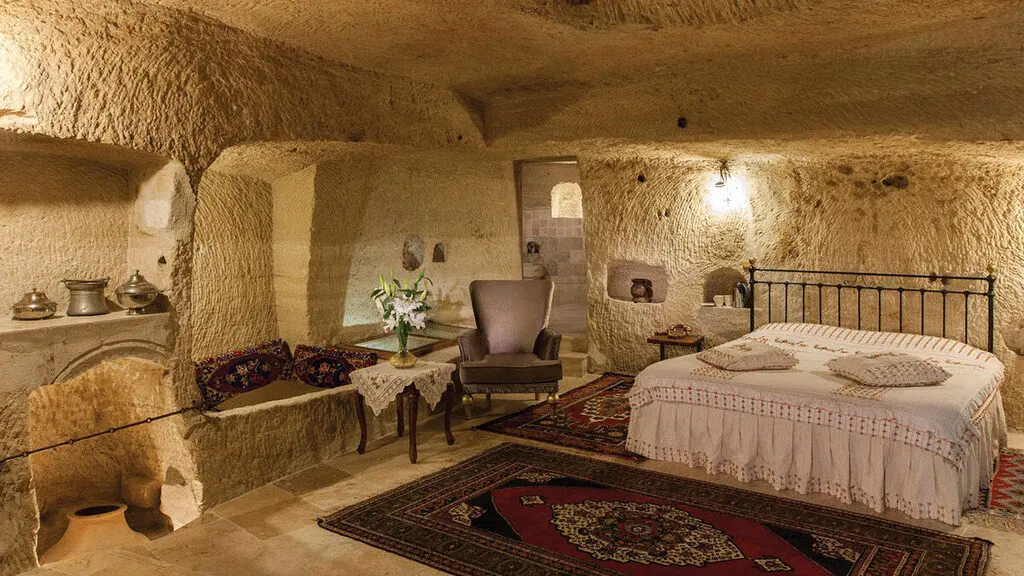 Photo: Istanbul Clues
Originally a cave dwelling carved out from the Cappadocian rock typical of the region, parts of this hotel are thought to date back at least 500 years. This family-owned guesthouse was restored and renovated in 2008 but retains all the rugged charm of the original abode -- a weathered limestone facade welcomes guests into to a homey and cozy lobby area stuffed with old family antiques and locally-made rugs. A series of stone stairways connect courtyards decorated with potted shrubbery to sunny terraces overlooking the particularly picturesque surroundings of Göreme town and its famous "fairy chimneys". Being run by the particularly friendly Demirci clan means this intimate boutique has a real personal feel with a focus on individual and accommodating service.
Aydinli Cave House is located on a hillside overlooking Göreme, a five-minute walk uphill from the town center and within walking distance of most of the area's attractions. The complex of rock-cut dwellings of the Zelve Open Air Museum is less than a 15-minute walk away, while the ancient 11th-century El Nazar Church is just over a mile away. Ballooning excursion points are also well within walking distance, as are the Pigeon, Love, and Zemi Valleys. The hotel can organize transfers to and from both Kayseri and Nevsehir Kapadokya airports (for a reasonable fee) as well as offering a free pick up from Göreme's bus station.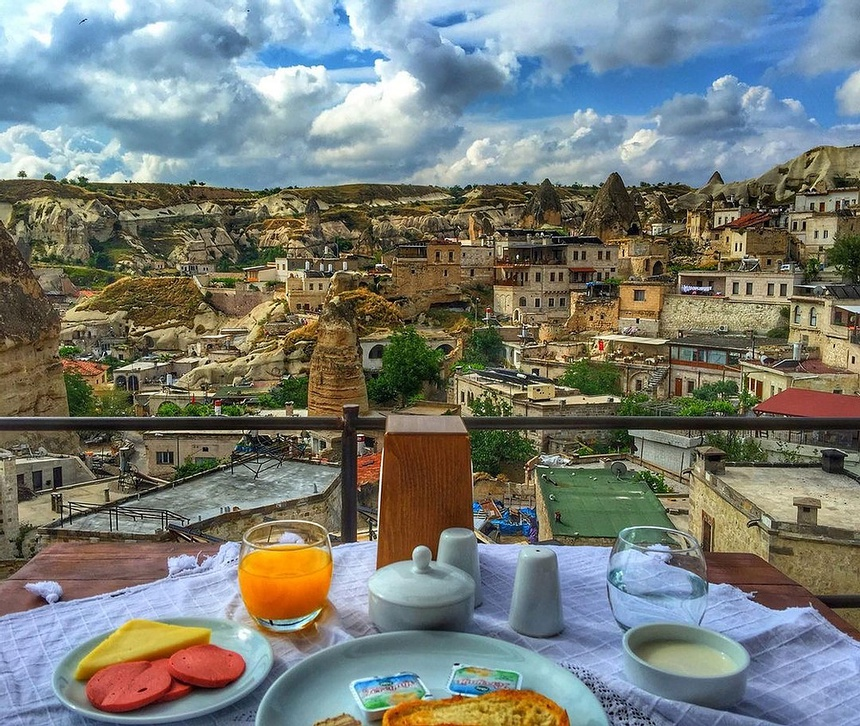 Photo: Mr Airport Guy.
Being more a bed and breakfast guesthouse than a hotel, there isn't a great deal in the way of amenities. However, an excellent, extensive Turkish buffet breakfast is served each morning (included in the rate) and includes cooked-to-order eggs and homemade jams which can be taken on the panoramic terrace. Guests can also take courses to learn to cook regional dishes, and the guesthouse offers free drop-off services to many of the local attractions.
2. Kelebek Special Cave Hotel
One of the originals of its kind, the Kelebek -- which translates to butterfly -- was the family home of owner Ali Yavuz until 1993 when he converted it into this impressive hotel. The property is spread over two charming stone houses, each with a "fairy chimney" protruding upwards, which originally served as ancient chapels and more recently to raise pigeons and store grapes. Typical of the area's architecture, the building has elegant limestone arches and panoramic terraces, though also a lawned, flower-filled garden boasting superb views over the town and fabulous rock formations. Interiors are mostly hewn out of the rock and crammed with numerous rustic furnishings and Anatolian knick-knacks lending the place a particularly authentic and timeless ambience.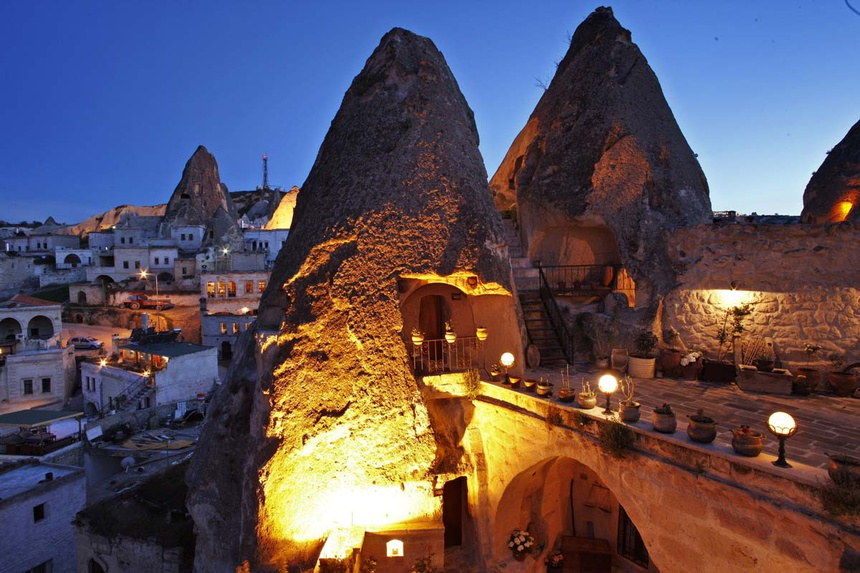 Photo: Room and Wild
The hotel is located in the west of Göreme on the hillside overlooking the town and surrounding scenery. The town center is about a five-minute walk away with most of the restaurants and tour agencies, while there are plenty of hiking trails nearby and the Open Air Museum and balloon take-off areas are both within 15 minutes on foot. The hotel can organize shuttle transfers to and from both Kayseri and Nevsehir Kapadokya airports, which takes between an hour and an hour and a half -- a one-way trip is free if guests also book a daily tour and balloon trip through the hotel.
3. Kayakapi Premium Caves
Kayakapi Premium Caves is located in Urgup. Goreme and Urgup are the most popular places to stay in Cappadocia. While the first two hotels on our list were located in Goreme, we now recommend a place from Urgup.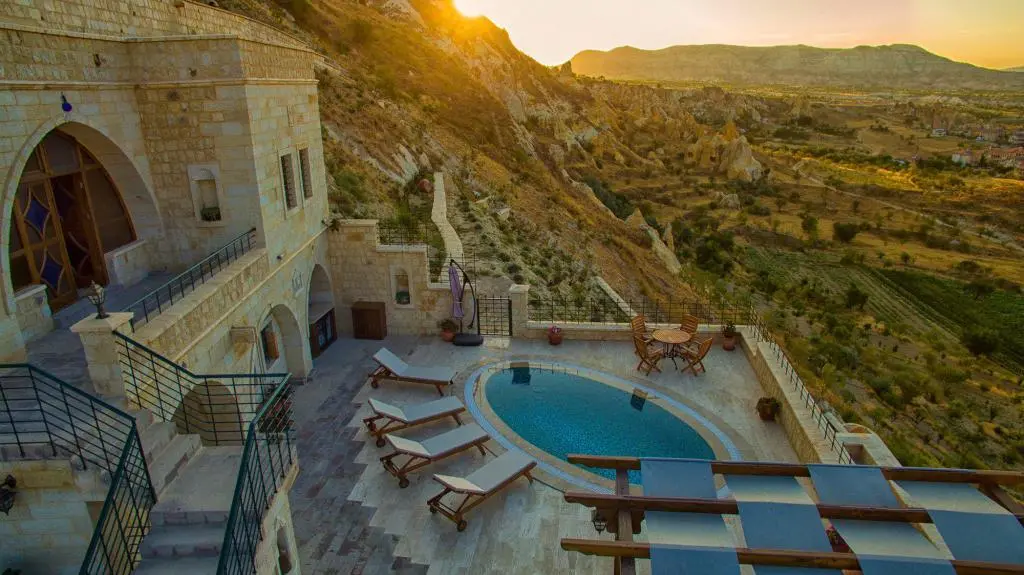 Photo: Istanbul clues
Kayakapi Premium Caves is a 32-room boutique hotel offering views of Cappadocia's unique natural beauties and magnificent fairy chimneys. It is possible to spend the night with the choice of staying in cave-room, suit or mansion which were designed for the needs and comforts of visitors, changing between 33 m2 and 253 m2.
The hotel came out five years in a row in the ranking of "Travelers Choice" arranged by TripAdvisor. In 2018, in particular, it achieved to rank 1st in Turkey, 3rd in Europe and 12th in World in terms of customer satisfaction in a survey arranged by TripAdvisor. Due to this great success, Kayakapi Premium Caves stands out as the best cave hotel in Cappadocia in 2021.
Serving with the concept of B&B, this hotel also provides sauna, massage and fitness services. It also offers electric golfcarts to its customers to take short trips. Kayakapi Premium Otel is 1 km away from Urgup, 9 km away from Nevsehir and 48 km away from Nevsehir Cappadocia Airport.
4. Argos in Cappadocia
Once a monastery, the award-winning Argos offers individually appointed rooms spread over several natural stone buildings. Each room offers free Wi-Fi. Some have breathtaking views of Pigeon Valley or private outdoor area.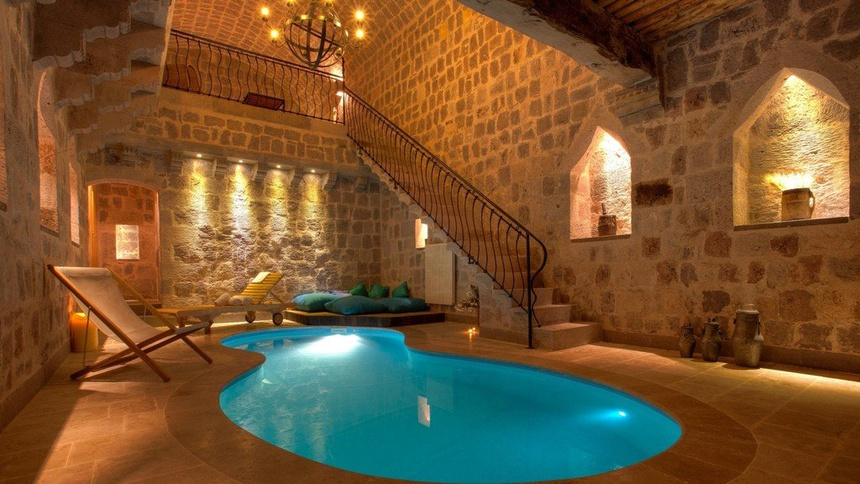 Photo: Kuoni
All rooms feature original details, including elaborate stone carvings and antique furnishings. Each has a private bathroom, while many offer an open fireplace and an iPod docking station. Some rooms are accessed by underground tunnel and feature vaulted ceilings.
The hotel's Seki Restaurant serves a variety of local and international dishes, either indoors or al fresco accompanied by views of Güvercinlik Vallet and Erciyes Mountain. A wide selection of wines, produced from the property' own vineyards and stored in an underground cellar, is available.
The property offers airport shuttle services at an extra fee to and from the nearest airports. Guests can join sightseeing tours. Hot air balloon rides are available. ATV and horse riding tours are also available.
Argos in Cappadocia is just few minutes' walk from the centre of Uchisar, with its many restaurants and shops. Uchisar's soaring rock castle offering magnificent views is also just steps away.
5. Fresco Cave Suites
Fresco Cave Suites provides the opportunity to watch the magnificent nature view of Cappadocia. Located in the old city center of Urgup, the hotel is among the cave hotels with the best view in Cappadocia.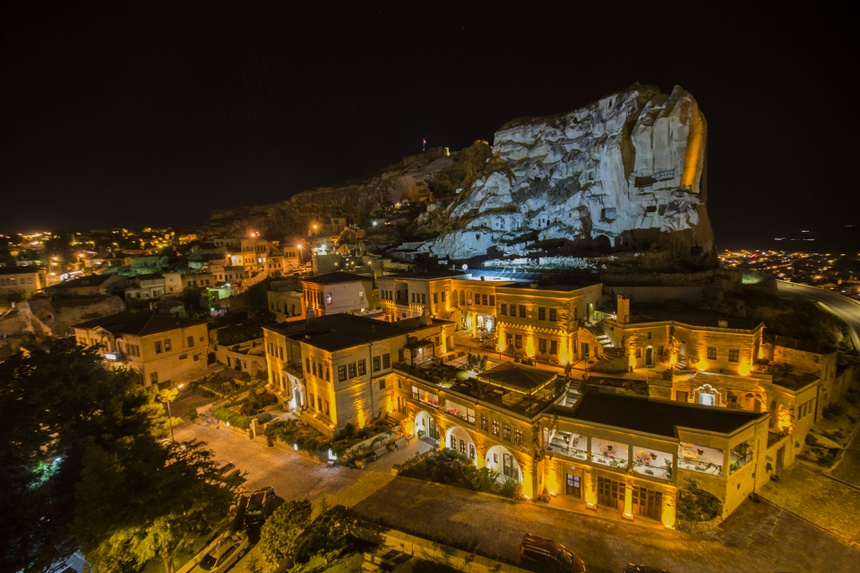 Photo: Alltur
As serving with 11 cave-rooms and 6 historic mansions, this hotel was restored so meticulously that it is awe-inspiring. In the rooms there are installed traditional Turkish carpets and fireplaces so you can go for a vacation even in winter and indulge yourselves.
The hotel is full of historic elements. It is possible to see 150-year-old frescos as well as pipe drains as part of rock tunnels that Ottomans built to supply drinking water to Urgup. Also, a part of the hotel was used as a middle school during "Education Campaign" in the first years of Turkish Republic.
Fresco Cave Hotel is located in an advantageous place for those who want go shopping at the city center and taste local wines. The hotel is 47 km away from Nevsehir Airport.