7 Most Beautiful and Attractive Clifftop Hotels In The World
Hotels are not just a place to stay, it is also a place to enjoy the time of your life with your family and friends. Here is 7 most beautiful clifftop hotels in the world.
When it comes to what makes a hotel truly spectacular, a cliffside setting is hard to beat. There can be little doubt then that some of the most breathtaking properties in existence happen to be perched dramatically on top of cliffs.
Commanding views, whether ocean, mountain or valley, coupled with enviable locales give these hotels endless allure -- it's no wonder they're among the most coveted travel accommodations in the world.
"Properties on cliffs check the boxes for everything you want in a hotel stay," says Josh Alexander, an adviser with Protravel, a travel company in New York City. "They're romantic, private and usually very luxurious. Literally and figuratively, you feel like you're on top of the world."
These are hotels worth daydreaming about for future trips, even if the pandemic means a stay isn't in your immediate future.
From Dominica and Big Sur to the Amalfi Coast and Santorini, here are some of the world's most jaw-dropping, awe-inspiring, envy-inducing clifftop hotels:
Secret Bay, Dominica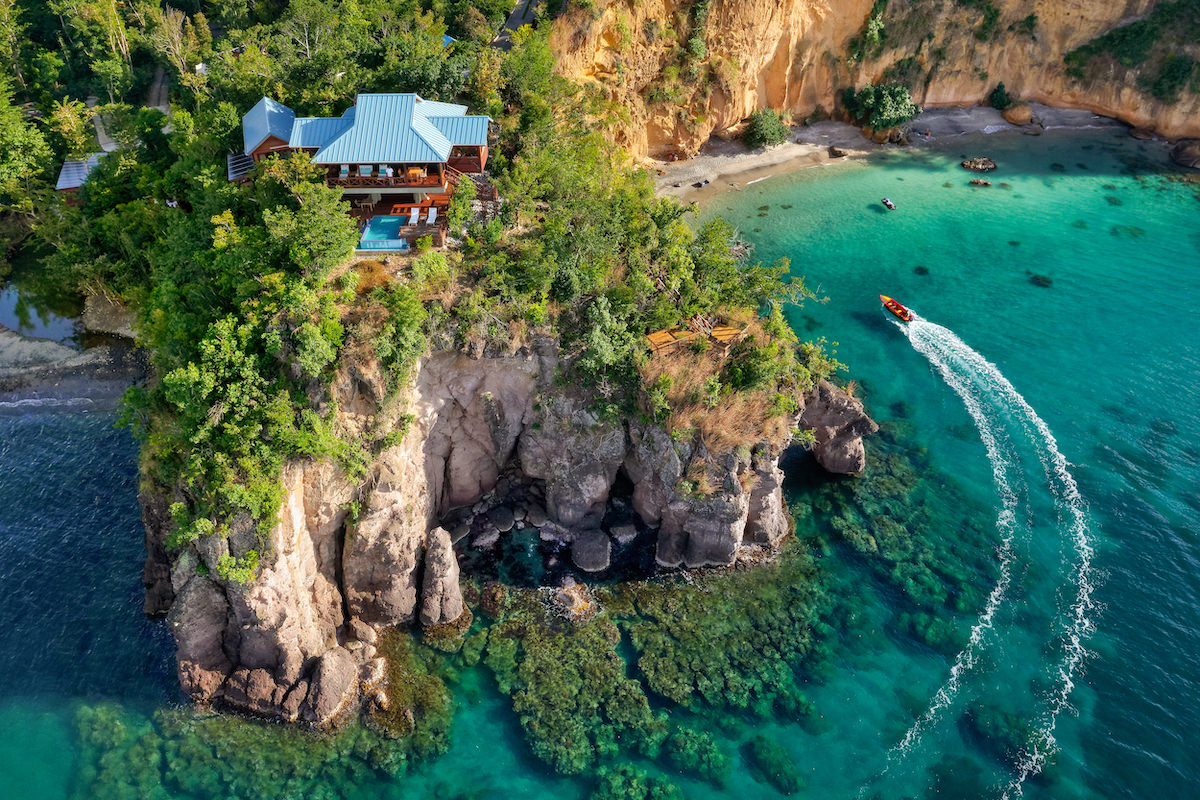 Photo: Secret Bay
In the unspoiled Caribbean island-nation of Dominica, this all-villa boutique resort is situated atop a high promontory amidst a lush rainforest and faces the sea. All units have kitchens, indoor and outdoor sitting areas and plunge pools.
In the northwest corner of the island and a 10-minute drive south of Portsmouth. Douglas Charles Airport and Roseau, the capital, are around an hour away. The four-acre site occupies a tree-shaded promontory with vivid tropical flora, where six standalone villas are set at various levels.
A path leads down to the small, grey Tibay Beach, where there is the Bwa Mang Wellness Pavilion and watersports. On the other side of the headland, and only accessible by kayak, paddleboard or swimming, is Secret Bay Beach with paler sands.
Secret Bay, rebuilt and enhanced after Hurricane Maria, is rightly proud of its green credentials. Buildings are constructed from sustainably sourced Guyanese hardwood and the villas, which are named after local trees, include a library of books about Dominica along with island-made soaps, jams and sauces. Staying here, you feel wrapped in nature with an emphasis on romance, relaxation and healthy living.
Angama Mara, Kenya
Welcome to Angama, inspired by the Swahili word for 'suspended in mid-air'. Located high above the floor of Africa's Great Rift Valley, Angama Mara is a remarkable owner-run safari lodge overlooking Kenya's Maasai Mara, considered by many as the loveliest game reserve on the continent.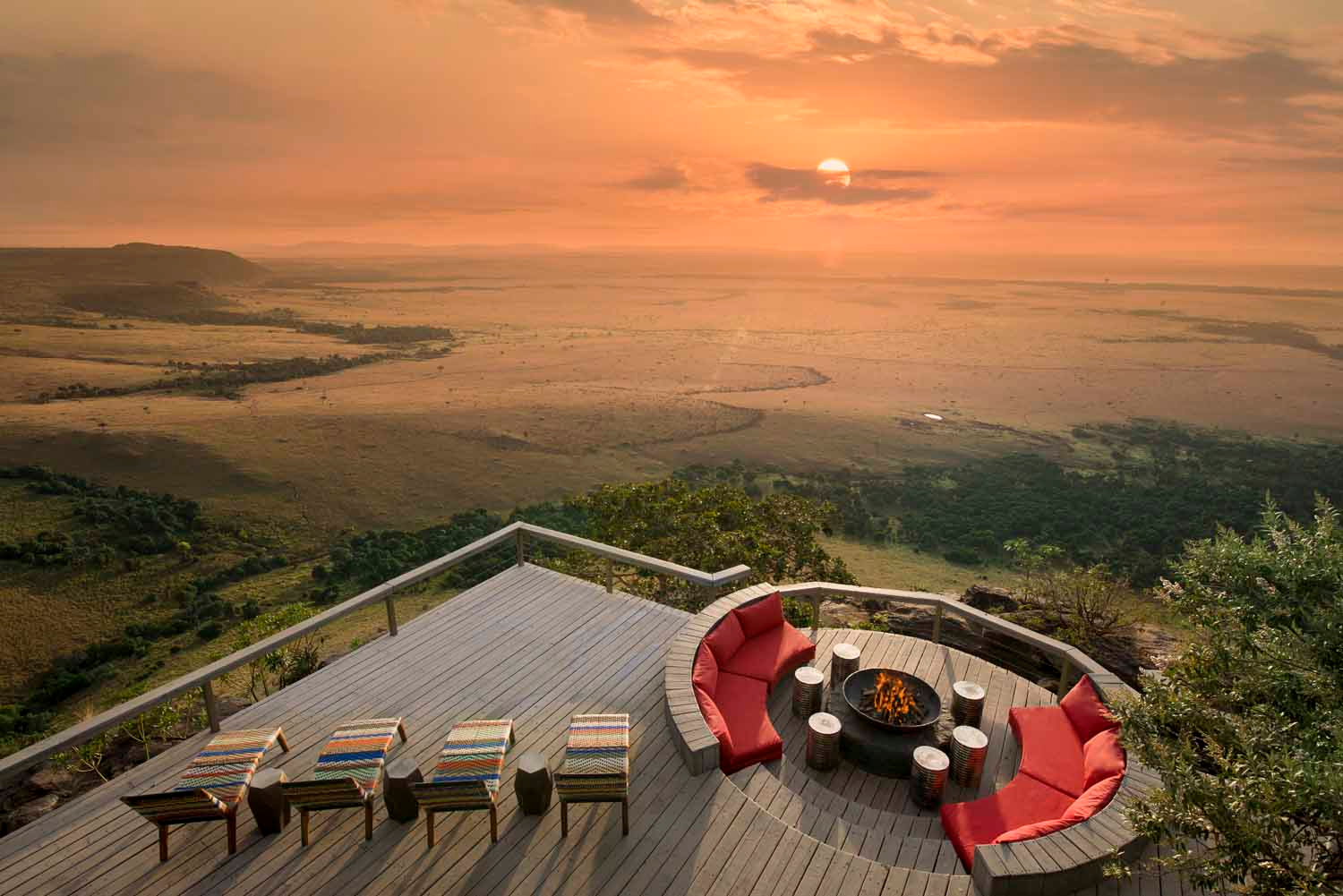 Photo: Wikipedia
Here guests will find a lodge where everything is as it ought to be: two intimate camps of just fifteen tented suites each, a private airfield and access to the Mara below, tailor-made safari days and a famously warm Kenyan welcome.
The lodge is perfectly complemented by Angama Safari Camp, an exclusive-use mobile tented camp sited deep in the Mara Triangle amidst the mega herds of the Great Migration.
The site also served as a location for the 1985 film "Out of Africa." Guests can expect top-quality game viewing, including Africa's Big Five, every month of the year, both on game drives and on walking safaris. Amenities include a photography studio, fitness center, an art gallery, a 40-foot-long swimming pool and a studio where local Maasai women bead bespoke items.
Monastero Santa Rosa Hotel & Spa, Amalfi Coast, Italy
Originally a 17th-century monastery, Monastero Santa Rosa has been affectionately and respectfully restored into an exclusive boutique hotel and extraordinary luxury spa honoring its historic heritage. Ideally located between Positano and Amalfi, part of a coastline already boasting the most beautiful vistas in the world, Monastero Santa Rosa Hotel & Spa sets a new standard for breathtaking panoramas seducing patrons with its heavenly allure for generations to come.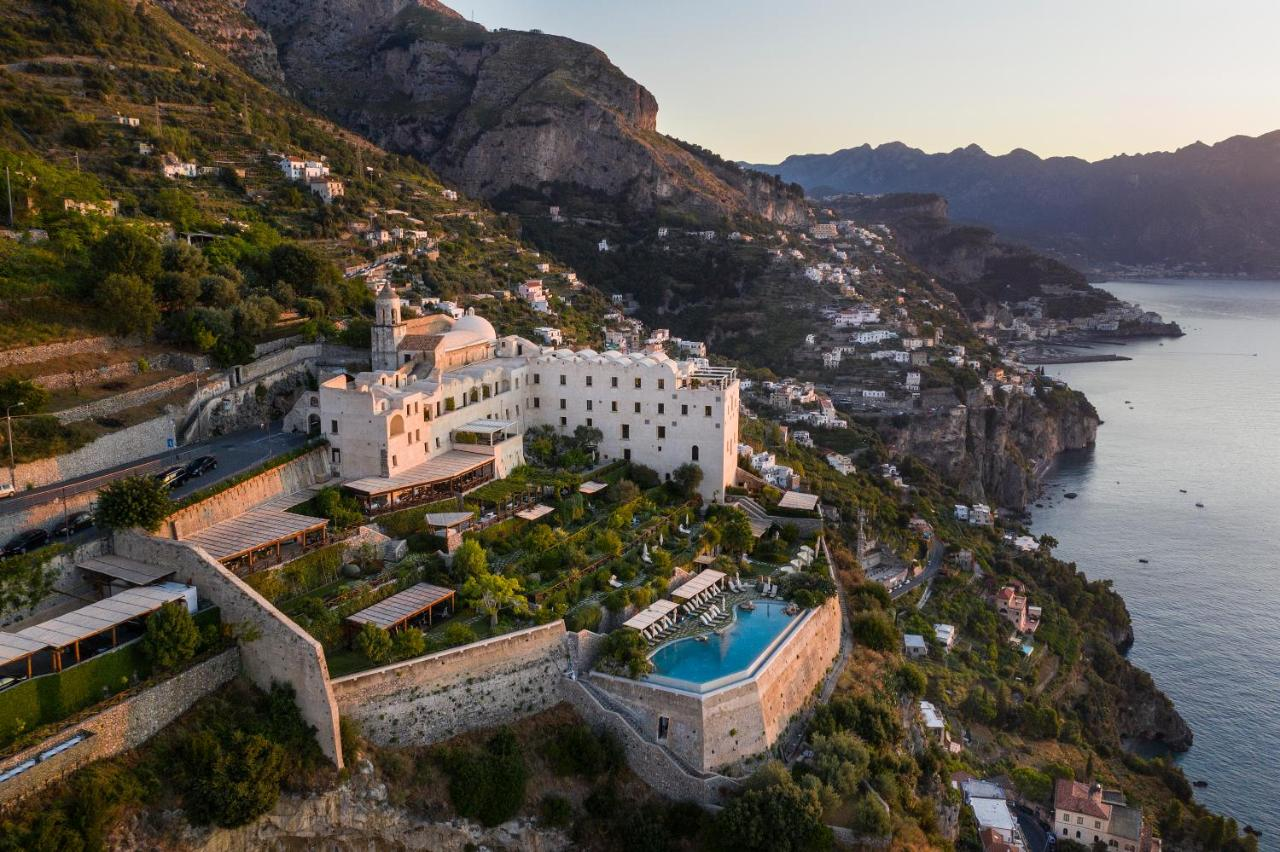 Photo: Booking
Located approximately 175 miles southwest of Rome, the Amalfi Coast stretches for 15 miles along the Sorrentine Peninusla. Monastero Santa Rosa Hotel & Spa is located approximately 10 minutes from the town of Amalfi, 25 minutes from Positano, 15 minutes from Ravello, and 80 minutes from the Naples International Airport, the region's most common point of entry.
Grace Hotel, Auberge Resorts Collection, Santorini, Greece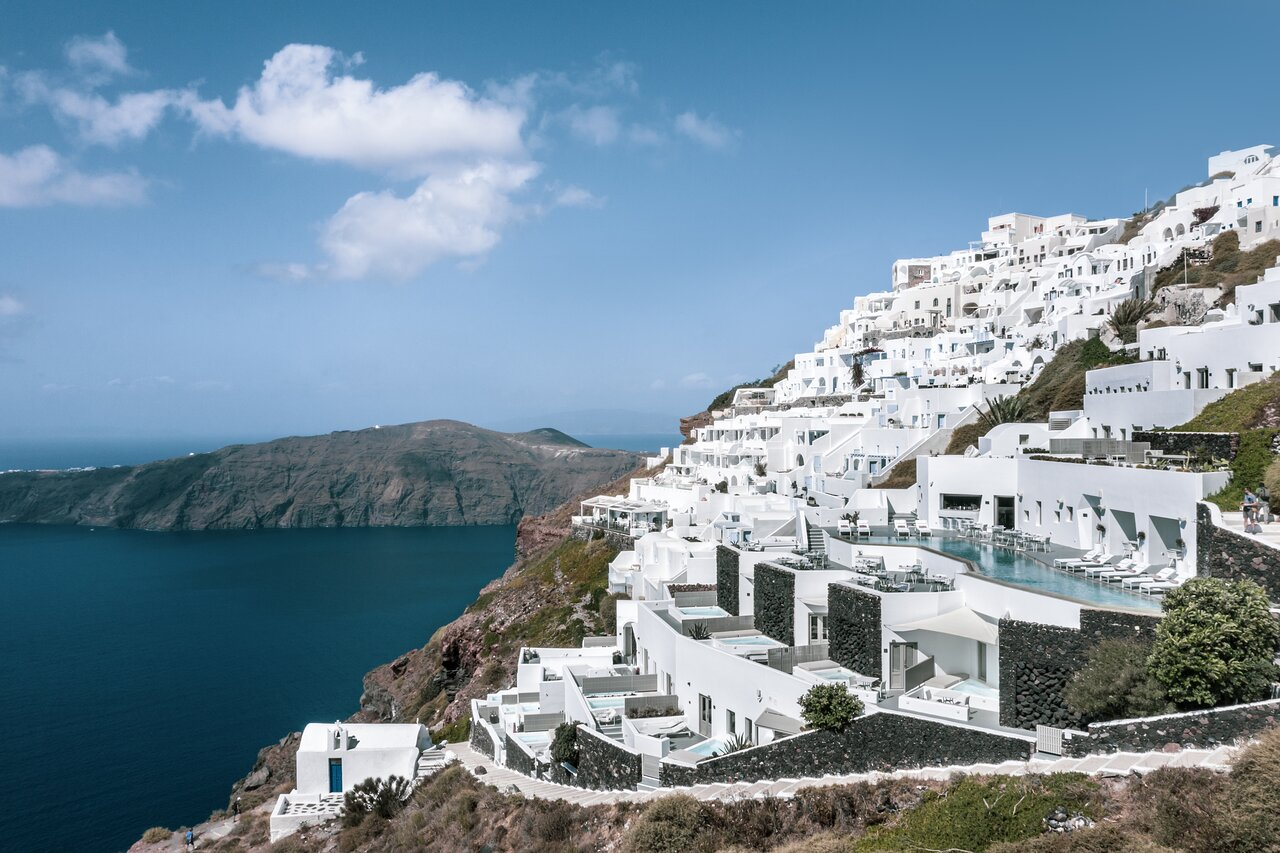 Photo: TripAdvisor
George Avgoustis – With more than 10 years in hospitality, George started his career with Elounda resorts in Crete before joining Grace Hotel, an Auberge Resort in 2013. Moving up through the ranks, George gained experience in Reservations, Food & Beverage and Operations. In 2018 George moved to Grace Hotel, an Auberge Resort as Hotel Manager as the hotel was acquired by Auberge Resorts Collection, he was promoted to General Manager at Grace Hotel, an Auberge Resort in Santorini in January 2020. In his role as General Manager, George oversees day-to-day operations, including management of the hotel's executive team, Sales and Marketing rollout, as well as year on year Capital Investments. Combining a passion for excellence and an understanding of today's global discerning travellers, George's leadership brings true Greek hospitality to life. He holds a bachelor's degree in Hotel Administration. While advancing his career, he continued his education through hospitality management programs.
Grace Hotel, an Auberge Resorts is a five-star hotel, suspended 300 metres above the island's volcanic caldera. The property has a Champagne lounge with sea views, a beautiful infinity pool, a high-end Mediterranean restaurant and yoga and Pilates studio. For a splurge, travelers can book the two-bedroom villa, which boasts a spacious outdoor terrace with a private pool as well as a private spa area with heated indoor plunge pool.
Anantara Al Jabal Al Akhdar Resort, Al Jabal Al Akhdar, Nizwa, Oman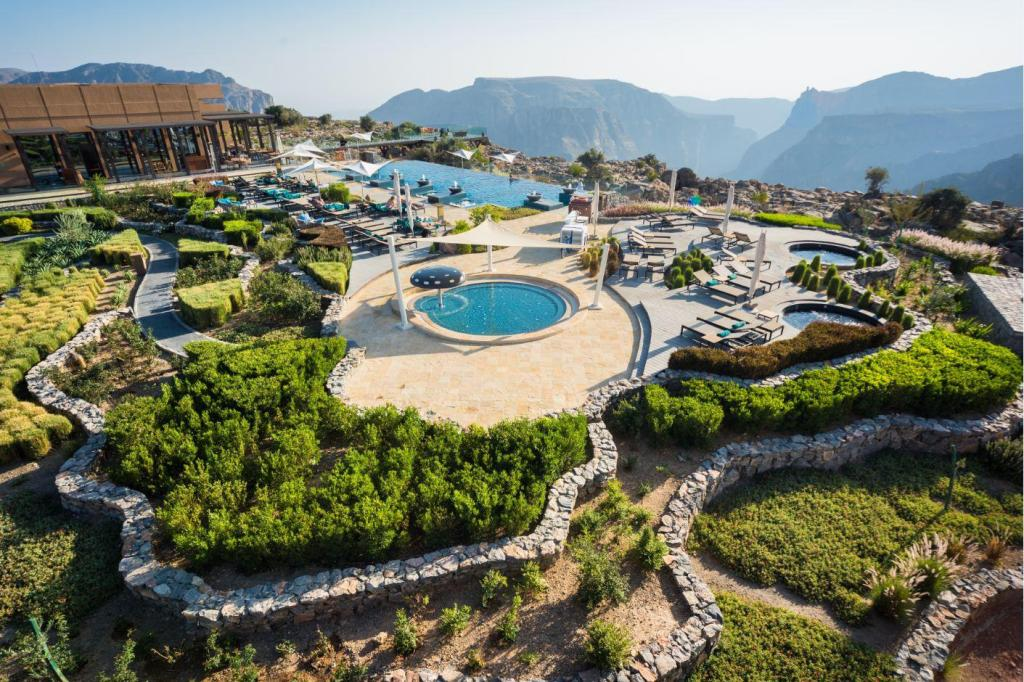 Photo: Agoda
The hotel's location is its reason for being – set 6,500 feet (2,000 metres) above sea level on the Saiq Plateau of Jabal Ahkdar (Green Mountain), an area famous for its damask roses. On the edge of a modern village, there are hiking trails and abandoned villages nearby. Accessible by 4WD only, the hotel is a two-hour drive from Muscat airport and 30 minutes from the historic city of Nizwa.
Stone pathways lined with indigenous plants and crisscrossed by narrow waterways inspired by traditional falaj (irrigation channels) connect the cluster of low-rise buildings, which feature earthy shades, carved wooden doors and graceful archways. The main building has a cosy courtyard fireplace but the star attraction is the cliff-edge infinity pool and viewing platform named after the late Diana, Princess of Wales, who visited the site in 1986.
All 82 rooms come with a balcony offering canyon views, while the 32 one- and two-bedroom villas and two-storey Royal Villa each have a private pool and dedicated host. Ground-floor premier rooms are among the largest in Oman and feature warm natural tones, wooden floors and decorative latticework together with a walk-in dressing area, rain shower and separate bath. For the best views, book Cliff Pool Villa number four or five, which have infinity pools.
Reid's Palace, Madeira, Portugal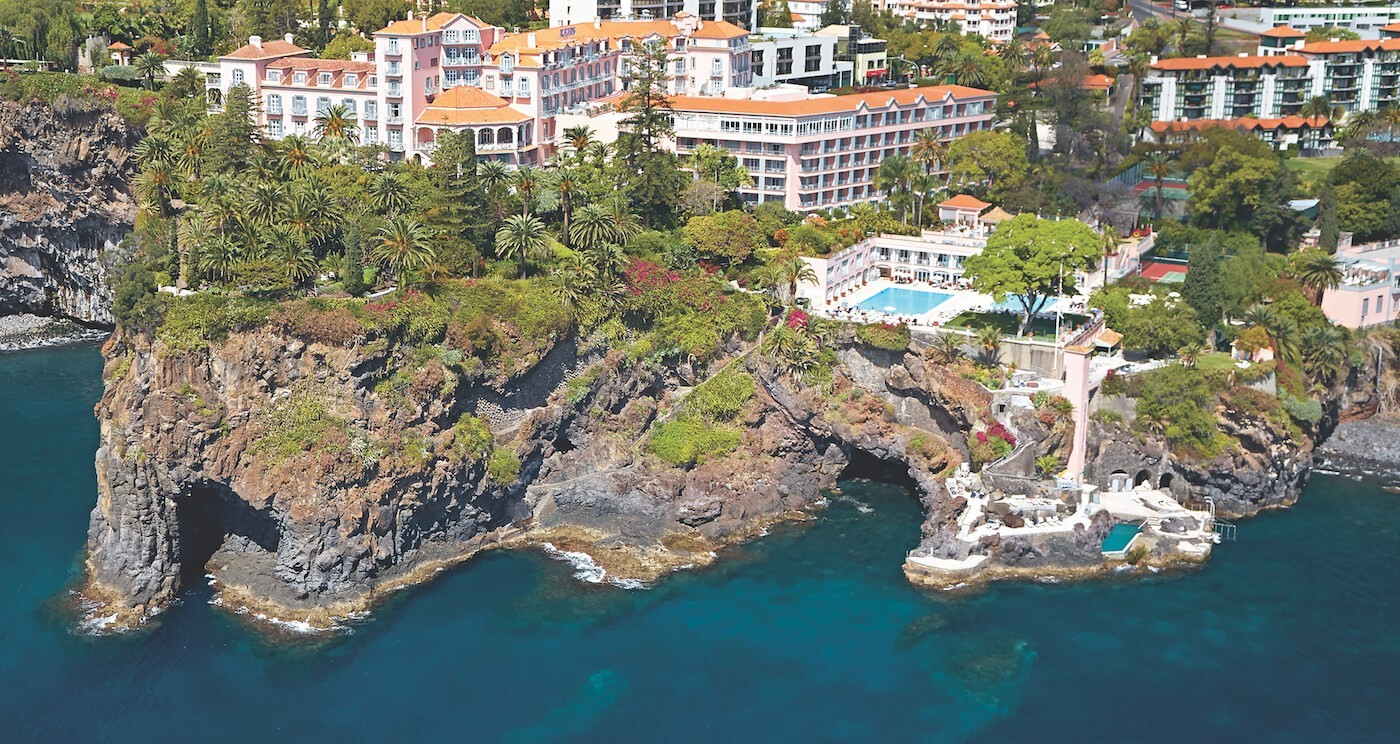 Photo: Portugal Confidential
Boasting a spectacular location, Reid's Palace, A Belmond Hotel, Madeira sits on a tranquil promontory by the ocean and close to the heart of Funchal. The hotel's gardens are a destination in themselves, with a choice of swimming pools so all ages can enjoy themselves to the full. There are many diversions for younger guests, with activities for different age groups at Fun@Reid's.
Set on clifftop overlooking the Atlantic Ocean and with direct access to the ocean. Reid's Palace, A Belmond Hotel, Madeira is located in the capital city of Madeira, at 20 minutes ride from the airport and walking distance from shops, restaurants, shopping centers and historical part of the Funchal.
Cliff House Hotel, Ardmore, Ireland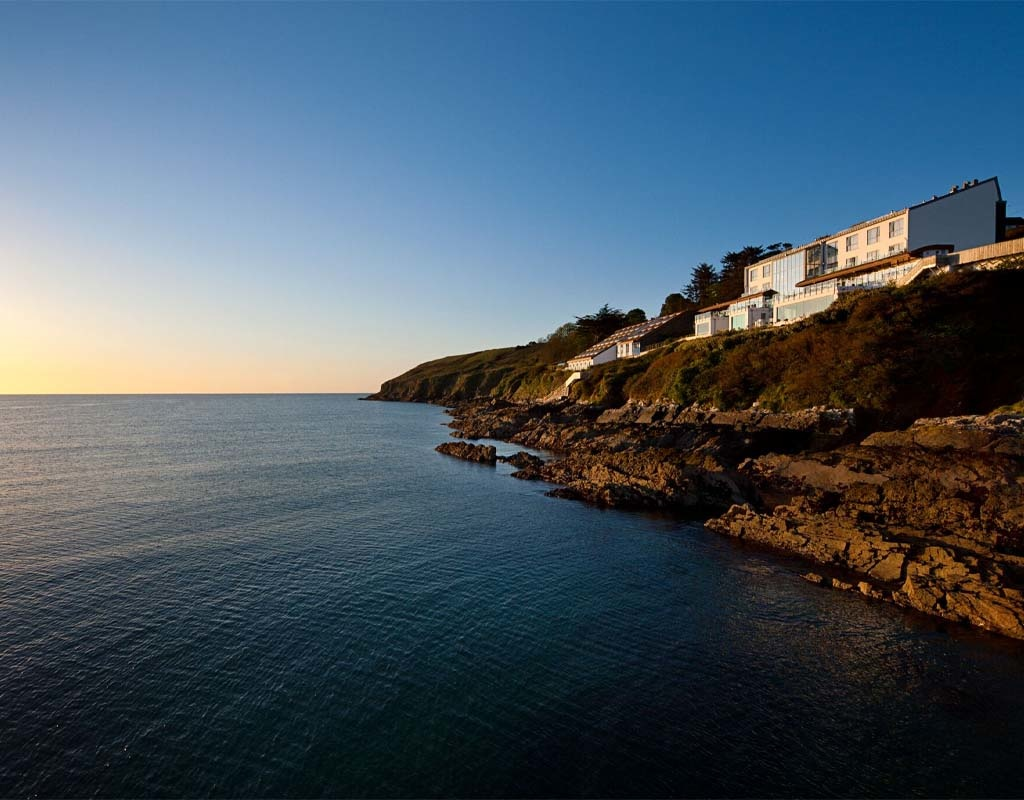 Photo: cliffhousehotel
Cliff House Hotel is a 5-star, privately owned luxury hotel in Ireland, located close to Cork and Waterford. The building seems to defy gravity, clinging to a cliff on the south side of Ardmore Bay where there has long been a fishing village.
Regarded as one of the finest small luxury, five-star hotels in Ireland, Cliff House Hotel is a 39-room Irish seaside boutique hotel in the traditional fishing village of Ardmore. Our privately owned hotel also features an intimate Irish destination spa as well as a one Michelin-star restaurant.
Give the perfect gift of luxury with a CLIFF voucher. Choose from monetary or curated packages tailored to suit all budgets to ensure your loved ones have something to look forward to.
Post Ranch Inn, Big Sur, California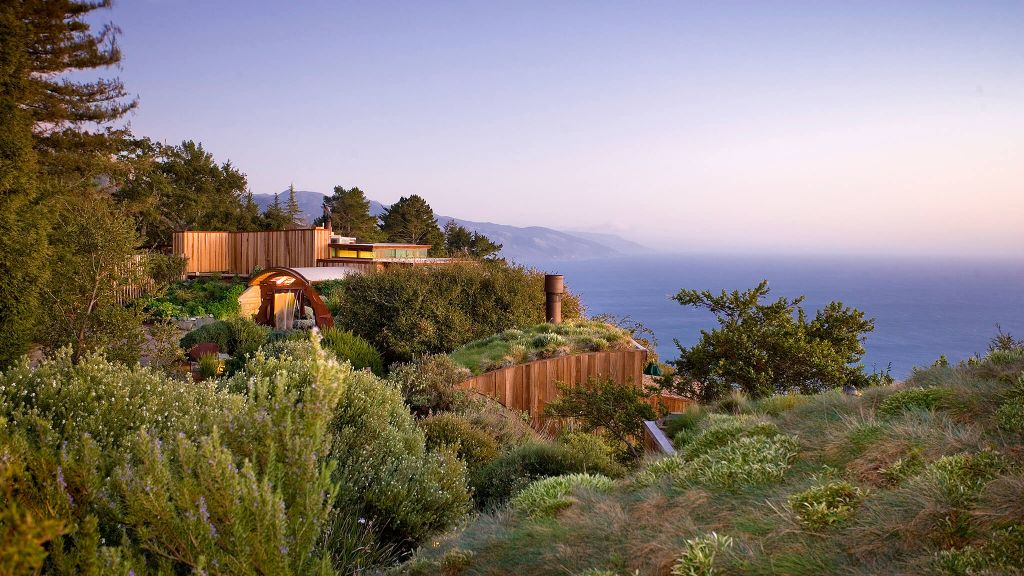 Photo: Kiwi Collection
In remote Big Sur, Post Ranch Inn, a favorite hideaway for Hollywood's who's who, sits 1,200 feet above the Pacific Ocean.
Guests can expect the sight and sound of crashing waves, breathtaking sunsets and a laid-back atmosphere where days are filled with scenic hikes, relaxing by the pool or indulging in a spa treatment (which happens to be in the middle of the woods). Dining at the property's glass-enclosed Sierra Mar restaurant is an experience akin to floating in the sky.
The hotel is accessible by car, but an alternate route is provided to guests coming from Southern California due to recent erosion along Highway 1.
Hotel in Phu Yen named among world's best

A New York-based travel magazine Travel+Leisure has recently named Zannier Hotels Bai San Ho in Phu Yen, Vietnam's South-Central Coast among the world's best hotels ...