Best Christmas Markets In The United States
If you are looking for a true Christmas spirit, Christmas markets are the perfect choices for you to experience European-style arts and crafts, with a fun atmosphere.
Christmas markets are one of the best ways to get in the holiday spirit while finding unique gifts for friends and family. Many of the markets in the United States stay true to the authentic Christkindlmarkts of Germany, some even featuring visits from Nuremburg's own Christkindl Angel. Others, inspired by their European roots.
There's nothing quite like wrapping up warm and strolling around a Christmas market, browsing for gifts and sampling seasonal treats. With the roots of these buzzing bazaars found in Germany in the Middle Ages, many of America's holiday markets are modelled on their Teutonic cousins across the pond. Wooden booths and northern European-style arts & crafts are both nods to this heritage, and it's a pastiche that is lapped up by huge numbers each year.
1. Leavenworth's Christkindlmarkt (Leavenworth, Washington)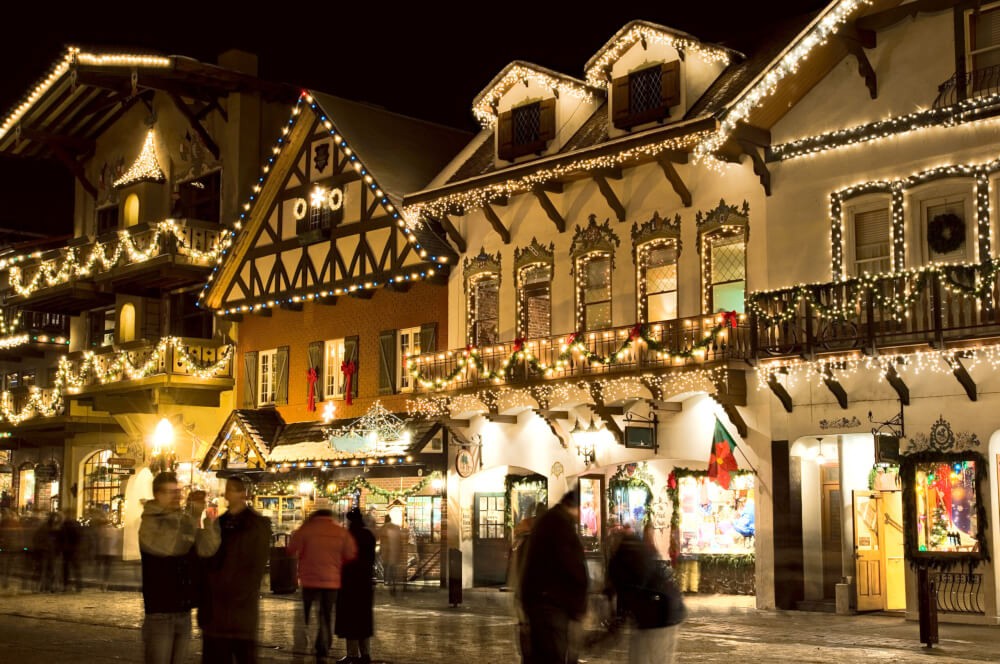 Photo: Christmas Market Guides
Christkindlmarkt is an Annual Bavarian-style Christmas Market for the whole family that happens every year on Thanksgiving weekend. This year, we are planning a scaled back version of our annual Bavarian Style Christmas Market! We will have a wonderful variety of vendors and artisans for you to find a perfect treasure! But unfortunately, the bouncy house, lantern workshop, lantern parade and welcome ceremony have been canceled this year.
Thanksgiving weekend is a wonderful time of year to visit our beautiful Bavarian City of Leavenworth! In fact, all of the Christmas lights are up around town which gives Leavenworth an unbelievable glow to get you in the Christmas spirit! Shopping in Leavenworth for the holiday season will surely delight the entire family!
2. Georgetown Christmas Market (Georgetown, Colorado)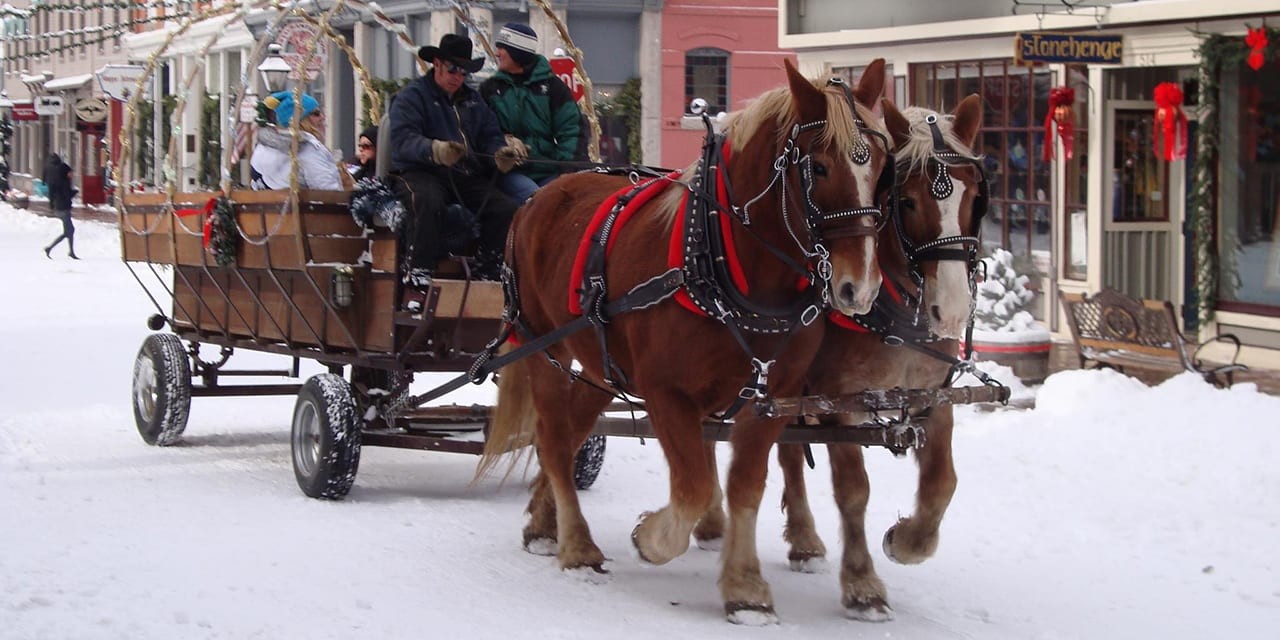 Photo: Uncover Colorado
The Georgetown Christmas Market is the quintessential winter town event, right out of a Christmas movie. No, literally. In the 1980s, John Denver starred in The Christmas Gift, filmed in the snowy streets of historic Georgetown, Colorado. Nestled in the towering peaks of the Rocky Mountains, Georgetown's quaint Victorian era homes and atmosphere add to its festive charm.
You can find Georgetown 45 miles west of downtown Denver and an hour drive on Interstate 70 from Denver International Airport. Visit Georgetown during the 2020 holiday season for its 61st Annual Christmas Market Celebration! The event will take place on the weekend of December 4th-6th and the weekend of December 11th-13th! This is an occasion you and your family will not want to miss!
Georgetown's Annual Christmas Market is regularly ranked in the Top 20 Best Christmas Markets in the United States. Taking place during the first two weekends of December 2020 will be the town's 61st year of celebration. European style festivities and traditions have been taking place in this sleepy town since 1960. What started out as a small gathering of locals has transformed to an event that draws enchanted visitors from all over the world.
During the holiday season, Georgetown turns into a Christmas wonderland. As winter hits, Georgetown dazzles with colors of red and green, twinkling lights, and a fresh blanket of fallen snow. The Christmas Market takes place in historic Strousse Park in downtown Georgetown. The happenings that occur in Strousse Park will surely enchant the most gleeful holiday spirit.
3. Christkindlmarket (Chicago, Illinois)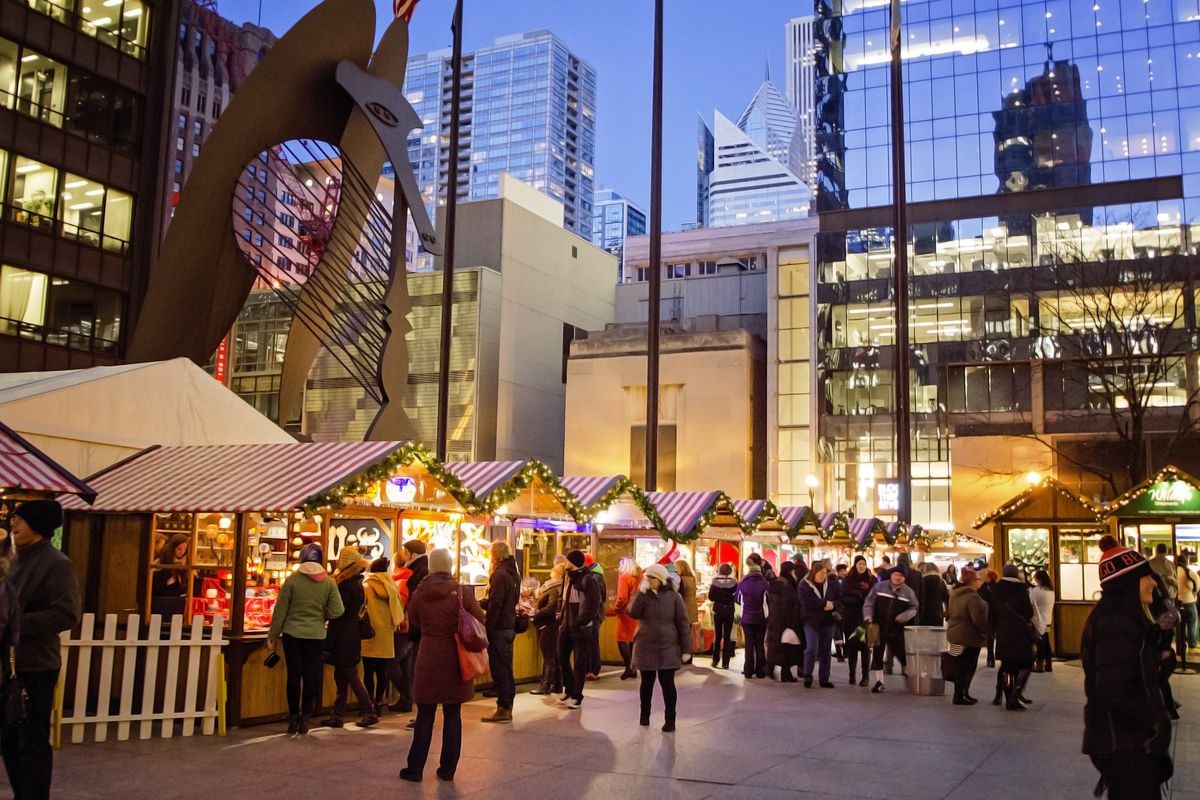 Photo: Eater Chicago
Sausages are one of the top reasons that Chicago's Christkindlmarket is one of the top Christmas markets in the country, and it's been one of the longest-running Christmas markets in the U.S. There are plenty of other amazing German-inspired foods here, and many vendors that sell cuckoo clocks, table laces, ornaments, and woodworking masterpieces. One of the essential activities at this market is to get a glass of gluhwein in a themed cup that changes designs every year. For the kids, there's a Kinder Club that organizes fun activities, like scavenger hunts. Admission to the festivities is free.
Christkindlmarket is a Christmas market held annually at Daley Plaza in Chicago, Illinois, United States. The festival attracts more than 1 million visitors each year.
The market is situated by a large Christmas tree at Daley Plaza and also houses a small nativity scene. The site features entertainment from Christmas choirs, dance groups, and brass bands. It also houses a Santa house. At the site beer, wine, baked goods, meats, toys, holiday ornaments, and other Christmas decorations are sold by vendors from Germany, Ukraine, Austria, and the Chicago metropolitan area.
4. Union Square Holiday Market – New York City, New York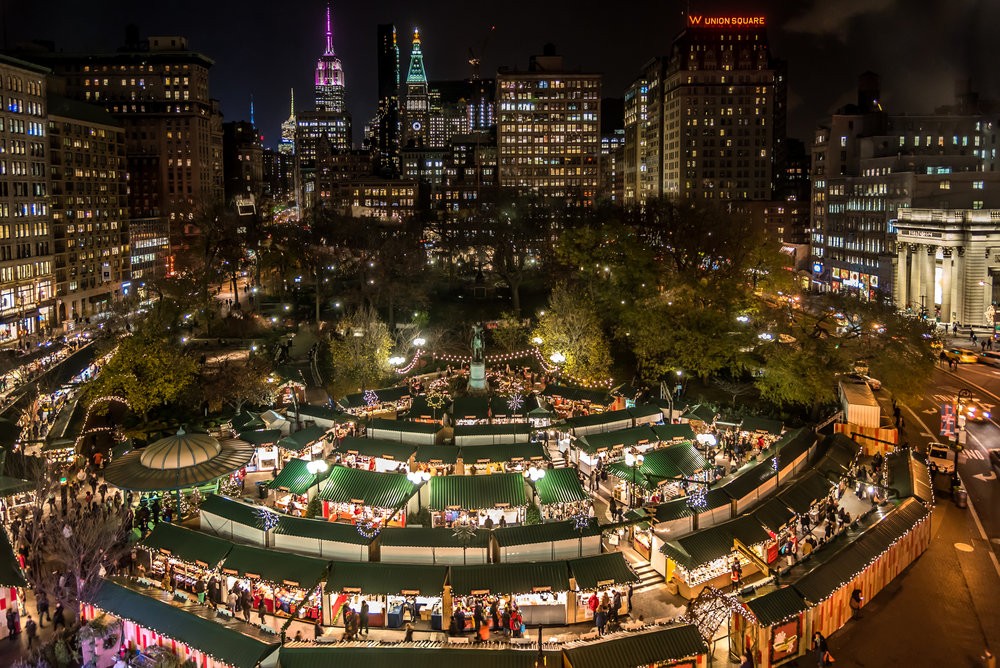 Photo: Union Square Partnership
The Union Square Holiday Market will be back this year and better than ever! It is an internationally renowned Holiday Market located at the heart of New York City, in Union Square Park. Hailed as a must-visit destination, with over 160 vendors for unique gifts created by local craftsmen, artists and entrepreneurs. Over millions of people browse the winding aisles each year enjoying this unique and eclectic holiday experience and we are very excited in returning this year to share the holiday magic tradition.
5. Texas Christkindl Market – Arlington, Texas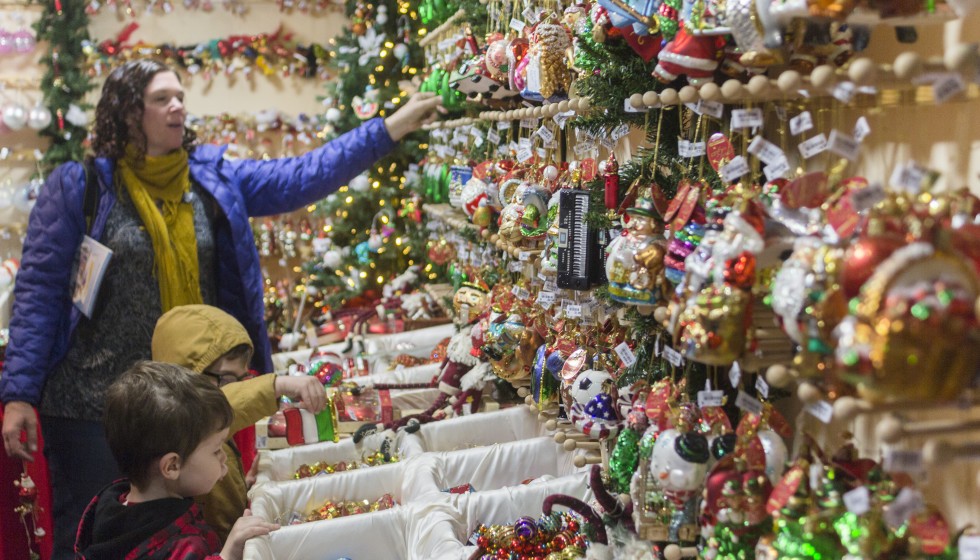 Photo: CultureMap Dallas
The Texas Christkindl Market returns to The American Dream City this holiday season at Choctaw Stadium (formerly Globe Life Park), at 1000 Ballpark Way, Arlington, TX 76011.
The almost 70-year relationship between Arlington and its sister city, Bad Königshofen, inspired the Texas Christkindl Market to commemorate its first magical season in 2011. With several markets all over Europe for the holidays, the Texas Christkindl Market also works with its partner Christmas city, Rothenburg ob der Tauber, to bring the same wonderful magic and feeling to Texas.
Visitors will discover handcrafted gifts and collectibles, including exclusive Käthe Wohlfahrt merchandise and designs from the iconic Rothenburg ob der Tauber Christmas Village.
The entrance to the market is through the first base entrance, directly across from Texas Live!
The holidays are always magical in Arlington. Elf on the Shelf Magical Holiday Journey is new this year and there are the nationally-famous Interlochen lights. Don't forget experiencing Six Flags Holiday in the Park (right next door to the Texas Christkindl Market) first-hand. Visit arlington.org for a comprehensive list of things to do, see, and experience while in town for the Texas Christkindl Market!
6. Downtown Holiday Market – Washington, D.C.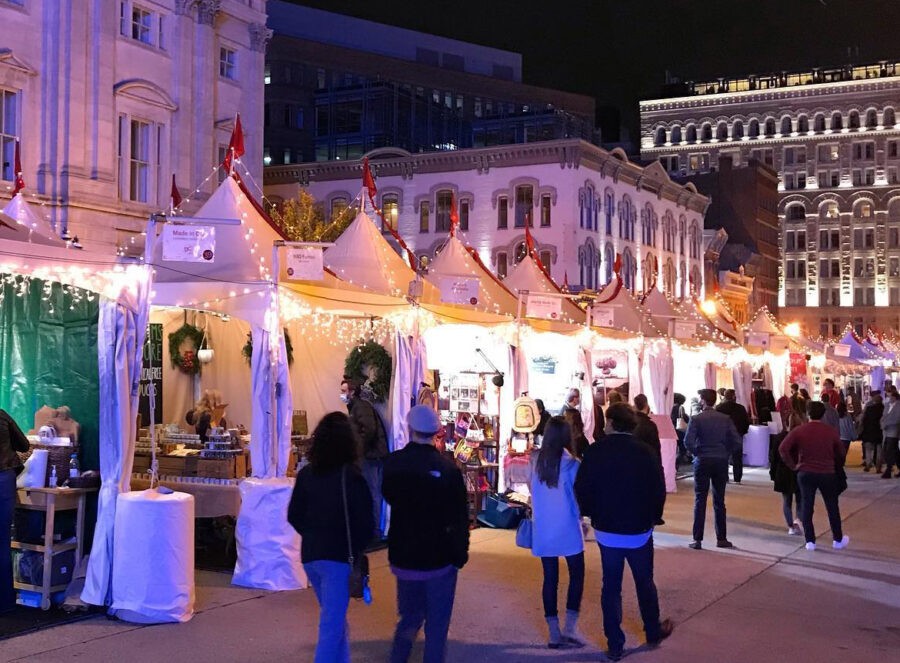 Photo: DCist
Another great place to celebrate Christmas is our nation's capital, Washington, D.C. This is a favorite Christmas market among foodies because of the fresh donuts, ice cream, and holiday treats for sale under festive tents. Non-traditional and ethnic foods, like churros and empanadas, can also be found here to savor and enjoy. You'll find this market near the Smithsonian American Art Museum and the National Portrait Gallery, so it's an easy walk from these popular sightseeing spots. The market is located at 8th and F Streets and open daily, and lots of musical acts across all genres perform at the Market Stage.
7. Old World Christmas Market (Elkhart Lake, Wisconsin)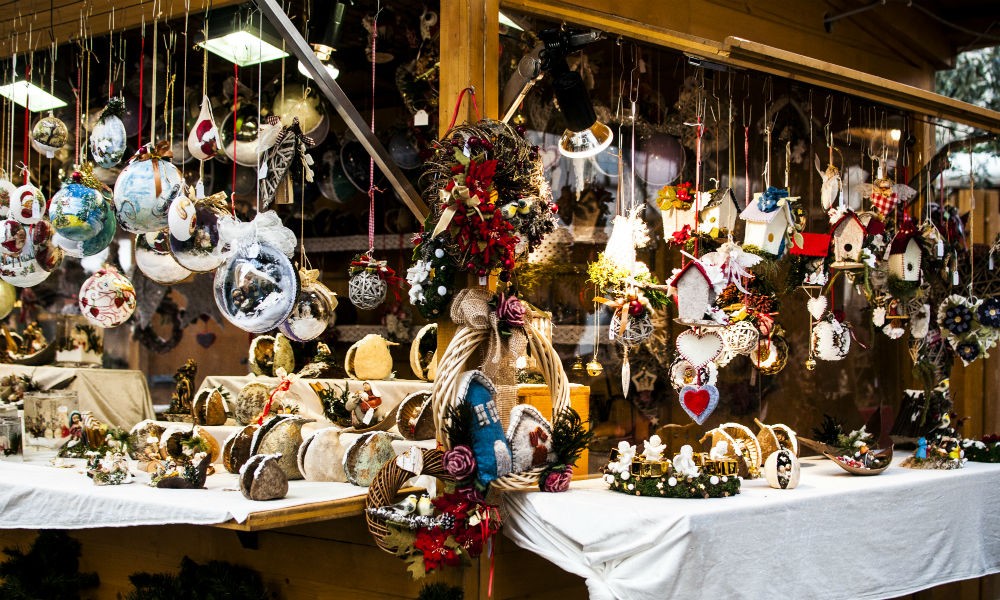 Photo: OneTravel
This market does what it says on the tin, rekindling the centuries'-old German Christkindlesmarkts with authentic gifts, ornaments and food specialities sold at quaint timbre booths. The setting is perhaps unusual for a Christmas market, taking place in a luxury resort overlooking Wisconsin's scenic Elkhart Lake, but it's certainly eye-catching. The market stalls feature freshly-cut balsam trees adorned with thousands of twinkling lights, a European-style food court, and an appearance by Father Christmas, all staged in a heated tent the length of a football field.
For ten consecutive days, guests stroll the aisles of a grand heated tent bedecked with fragrant boughs of fresh evergreens and the tantalizing scents of roasted almonds as they browse for unique and specialty items among international and regional artisans. Czech blown-glass ornaments, Russian nesting dolls, German hand-carved smokers and nutcrackers, fine apparel, handmade amber and silver jewelry, Turkish pashmina scarves and shawls, stained glass art, Russian hand-painted Santas, fresh green wreaths, kissing balls and centerpieces, alpaca products, Estonia woolens, fine chocolates, Plauen lace, fine woodwork, fur products and much more!
The Old World Food Court offers shoppers space to relax and enjoy delectable German fare, such as hot glühwein, sauerbraten, dumplings, schnitzel, potato pancakes, red cabbage, pulled pork and apple strudel.
Best Christmas Festivals In The World

Colorful lights, sparkling Christmas trees, dancing, drinking eggnogs, and eating traditional food, you can experience all of these activities in one of these famous Christmas ...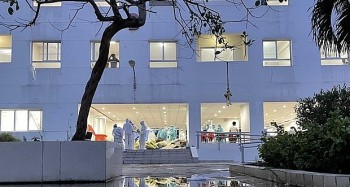 National
Vietnam News Today (Aug. 16): More than 251 million doses of Covid-19 vaccines administered in Vietnam; HCM City ready to reactivate Covid-19 treatment hospitals; Vietnam Airlines opens ticket sales for upcoming Tet Holiday; Demand for logistics real estate increases sharply: Savills Vietnam.