Biden administration reaffirmed recognition of 2016 arbitral ruling on Bien Dong Sea
The administration of President Joe Biden reaffirmed its recognition of the 2016 arbitral ruling on the Bien Dong Sea (South China Sea), which it called "final and legally binding on all parties."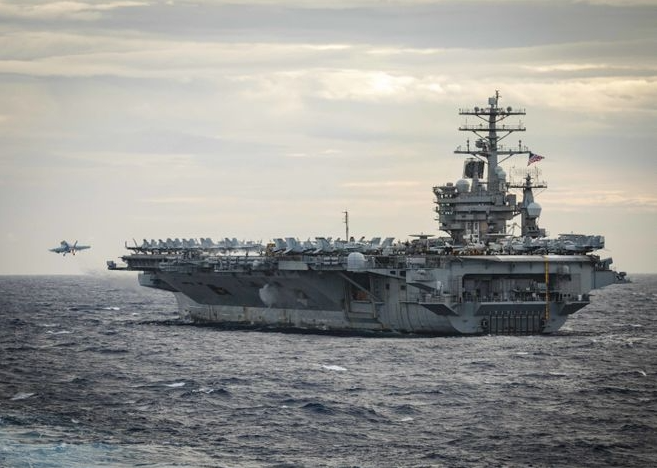 USS Nimitz in a drill on February 2. (Photo: US Navy)
According to The Philippine Star, US National Security Advisor Jake Sullivan recently spoke by phone with National Security Adviser Hermogenes Esperon, in which, he "reaffirmed the (Biden) Administration's recognition that the 2016 Arbitral Tribunal ruling, pursuant to the UN Law of the Sea Convention, is final and legally binding on all parties."
On July 12, 2016, the Permanent Court of Arbitration in The Hague released the ruling of the arbitral tribunal constituted under the UN Convention on the Law of the Sea (UNCLOS) on the case initiated by the Philippines in 2013 regarding China's claims and activities in the South China Sea. At the center of the dispute is China's nine-dash line, a vague depiction by China of its claim encompassing about 90 percent of the South China Sea. Since around 2009, China has steadily increased its efforts to consolidate its position in the South China Sea with varied tactics, including using its military, coast guard, and maritime militia to harass foreign ships; exploring and extracting resources in disputed areas; and, starting in 2013, constructing artificial islands and basing military and civilian assets there.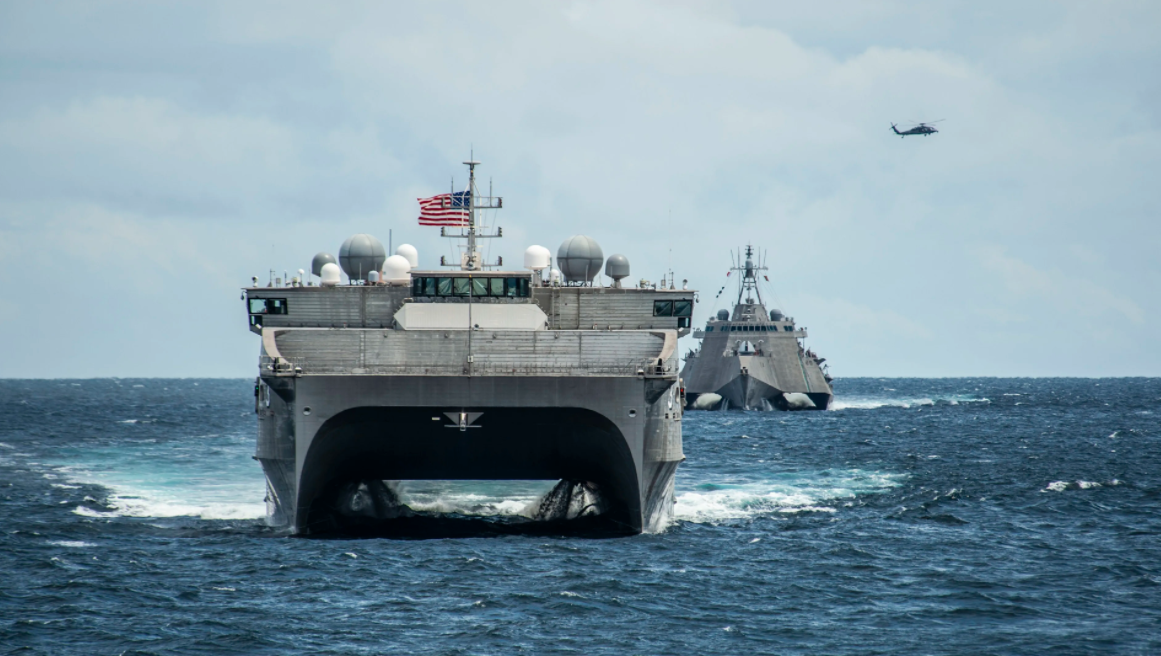 An expeditionary fast transport ship, littoral combat ship, and helicopter of the U.S. Navy participate in an exercise in the South China Sea in October 2019. (Photo: U.S. Navy)
Key findings of the ruling include:
(1) China's claims to historic rights and resources within its nine-dash line have no legal basis.
(2) None of China's claimed land features in the Spratly Islands are an island capable of generating a 200-nm exclusive economic zone.
(3) China violated the Philippines' sovereign rights by interfering with Philippine oil exploration activities, prohibiting Philippine fishing vessels from operating, failing to prevent Chinese fishing vessels from operating, and conducting land reclamation in areas where the Philippines enjoys sovereign rights to explore for and exploit natural resources.
(4) China violated its marine environmental protection obligations under UNCLOS by causing "severe harm to the coral reef environment" with its land reclamation activities and harvesting of endangered species.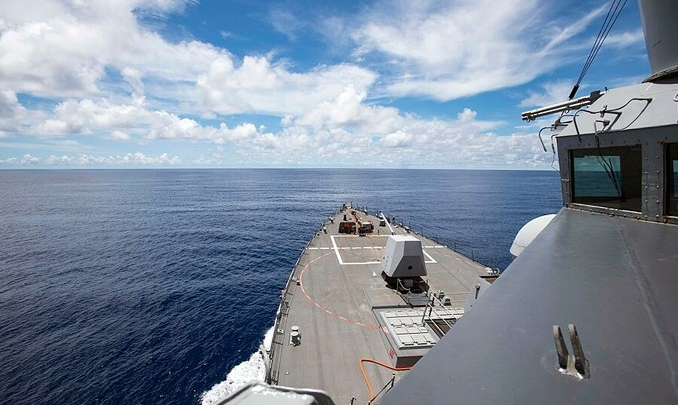 Guided-missile destroyer USS Ralph Johnson on Bien Dong Sea, July 14 2020. (Photo: US Navy)
On February 22, responding to Thanh Nien, Associate Professor Stephen Robert Nagy (International Christian University, Tokyo; scholar at the Asia-Pacific Foundation in Canada) commented that Biden's government's announcement showed that the US would side with allies like the Philippines on South China Sea issues.
"Along with the statements from President Biden's administration about the Senkaku/Diaoyu Islands, Taiwan, Hong Kong ... it can be seen that the new White House owner clearly emphasizes not accepting expansionist claims of Beijing towards the South China Sea, as well as threats aimed at Taiwan".
In recent times, the US has continuously carried out deterrent moves towards China on the issue of the Bien Dong Sea. Accordingly, the United States is concerned by China's recently enacted coast guard law and that it could escalate maritime disputes and be invoked to assert unlawful claims, said Reuters. State Department spokesman Ned Price told a regular briefing Washington was "concerned by language in the law that expressly ties the potential use of force, including armed force, by the China coast guard to the enforcement of China's claims, and ongoing territorial and maritime disputes in the East and South China Seas."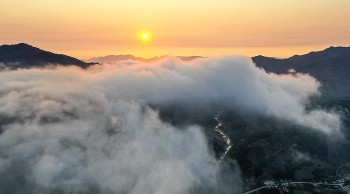 Multimedia
The gorgeous dawn behind a sea of fluffy white clouds creates a wonderful and beautiful picture of Truong Son Dong peak, Quang Ngai.