Biden aministrations states that US in no hurry in engaging with China
The Biden administartions said on Tuesday it will take a slow tep in engaging with China, would do so once it was in "lockstep" with allies and partners.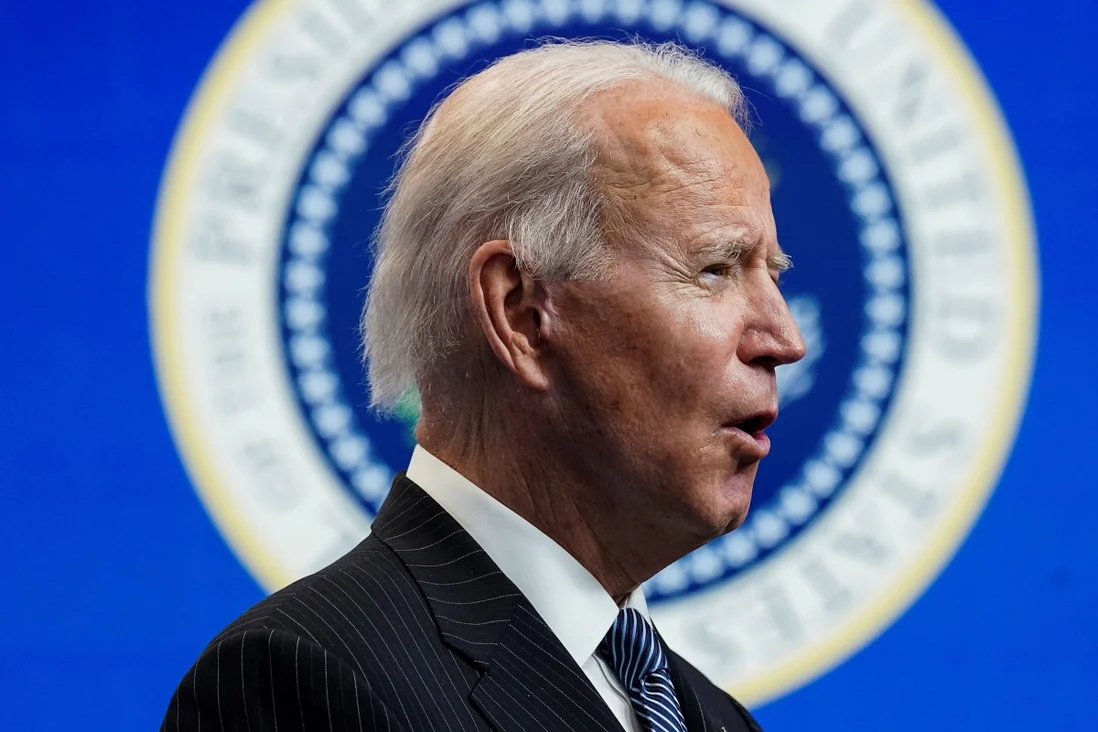 US President Joe Biden favours a multilateral approach to engaging with China, according to the White House. Photo: Reuters
President Joe Biden has spoken to many world leaders since taking office on Jan. 20, but has yet to speak to his Chinese counterpart Xi Jinping, and White House spokeswoman Jen Psaki told a briefing she could not say when a call might take place.
Psaki said that with Antony Blinken in place as U.S. secretary of state, "there are additional layers to engage with the Chinese," but both she and State Department spokesman Ned Price said speaking to allies and partners came first.
Price told a briefing there were issues, including climate change, "in which it is our national interest to cooperate on a limited basis with China."
He said U.S. alliances and partnerships were a "force multiplier across any range of challenges, and that includes in our relationship with Beijing.
"So, as a first step we want to make sure that we are in lockstep with those allies, in lockstep with those partners, and then ... you can expect that there will be engagement in several areas with China."
Xi congratulated Biden on his election, even though Biden called him a "thug" during the campaign and vowed to lead an international effort to "pressure, isolate and punish China."
Psaki declined to say whether China had requested a call with Biden.
The Biden administration has not fully articulated its strategy towards China, the world's second largest economy, but has indicated it will broadly continue the tough approach taken by former President Donald Trump.
It has vowed to "out-compete" Beijing and endorsed a last-minute Trump administration determination that China has committed genocide against Muslims in Xinjiang, while also stressing the hope to cooperate on policy priorities like climate change..
Blinken last week called the U.S.-China relationship arguably the most important Washington has in the world, while Psaki told the briefing: "Of course, the relationship with China is going to be multi-layered, we'll deal with climate, we'll deal with the economy, we'll deal with security."
China's top diplomat called on Tuesday for U.S.-China relations to be put back on a predictable and constructive path, while saying Washington should respect Beijing's position on Taiwan and stop meddling in Hong Kong, Tibet and Xinjiang.
Asked about the comments, Price said China should "cease its military, diplomatic and economic pressure against Taiwan, and instead engage in meaningful dialogue with Taiwan's democratically elected leadership."
Separately, Price said Washington was "deeply concerned" by China's attempts to disbar and harass lawyers representing 12 Hong Kong people convicted after trying to flee to Taiwan by boat.
"We urge Beijing to respect human rights and the rule of law and to reinstate their legal credentials at once," he said in a tweet.
Biden to approach US – China relations with "Patience"
US President Joe Biden's administration has started a review of his predecessor's trade war with China and other actions taken against Beijing, and will work with allies to stop the country's "economic abuses on many fronts".
Pledging "an approach of patience", White House press secretary Jen Psaki said on Monday that Biden "will take a multilateral approach to engaging with China, and that includes evaluating the tariffs currently in place, and he wants to ensure that we take any steps in coordination with our allies and partners, and with Democrats and Republicans in Congress"
The trade war that former president Donald Trump started with China in 2018 stopped escalating a year ago, when he and Chinese Vice-Premier Liu He signed a phase one agreement that committed Beijing to specific targets for the country's purchases of US goods and services.
Biden's intentions with respect to the punitive tariffs has become a key focus on the US-China front as an indication of how the new leadership in Washington will handle the bilateral relationship.
An analysis of Chinese customs data by the Peterson Institute of International Economics last week showed that China fulfilled only 58 per cent of the phase one targets, raising questions about whether the agreement was ever feasible even without the disruptions caused by the coronavirus pandemic.
The White House is also running inter-agency reviews on other US-China matters, including an executive order by Trump that barred US investors from making new purchases in three Chinese telecommunications carriers beginning January 11 and gave them until November to sell their existing holdings.
Deliberations over the ban on investment in companies including China Mobile and China Telecom are being undertaken by the State and Treasury departments, "and a number of others", Psaki told White House reporters.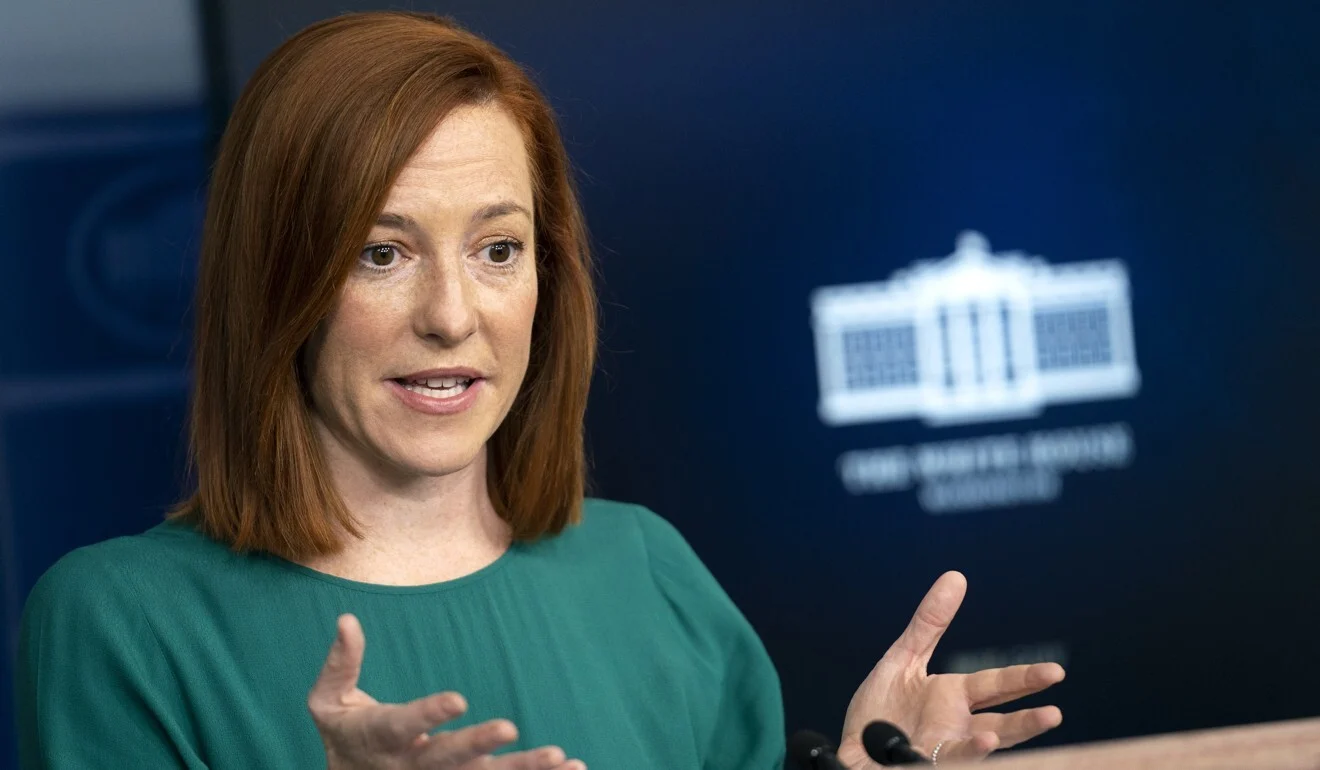 Jen Psaki, White House press secretary, said working with allies was the most effective way to stop China's economic abuses. Photo: UPI/Bloomberg
"I don't want to get ahead of any review, but certainly we're taking an overarching look at all of it," she said. "As we have more to report will report back to you.
"The president is committed to stopping China's economic abuses on many fronts, and the most effective way to do that is through working in concert with our allies and partners to do exactly that."
Yet the new administration's plans for a coordinated approach to tackling China comes as the European Union, recently agreed to a wide-ranging investment deal with Beijing, an agreement that critics say is too weak on China's human rights record.
White House statements about recent calls with Britain's Boris Johnson, France's Emmanuel Macron, and Germany's Angela Merkel have all namechecked China as a priority issue for transpacific relations. In contrast, statements from those European countries' governments of the same calls made no mention of the country.
Biden moved quickly to undo a number of Trump's policies in his first few days in office, including Washington's return to the Paris climate agreement, but has yet to do so on any matters related directly to China.
Psaki's description of Biden's approach was consistent with what the president's secretary of state nominee Antony Blinken said about China in his confirmation hearing last week."President Trump was right in taking a tougher approach to China," Blinken said. "I disagree very much with the way that he went about it in a number of areas, but the basic principle was the right one, and I think that's actually helpful to our foreign policy."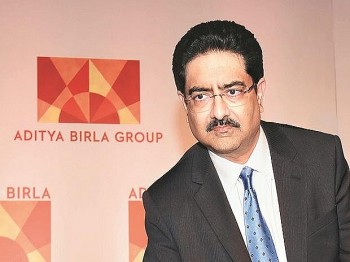 World
India is becoming more famous with many wealthy business billionaires, and the cumulative wealth of India's richest saw a rise of 50 percent in the year two of the pandemic, according to Forbes magazine. Take a look at these richest Indian billionaires in Asia and their huge net worth.