Britain calls for urgent access to Xinjiang, challenging China at UN
On Monday, Britain requests "urgent and unfettered" access to Xinjiang at the United Nations, in order to set light on the reports of abuses in the Chinese region.
The United Nations must be given "urgent and unfettered" access to Xinjiang to investigate reports of abuses in the Chinese region, the United Kingdom said Monday, upon its return to the UN Human Rights Council as a voting member.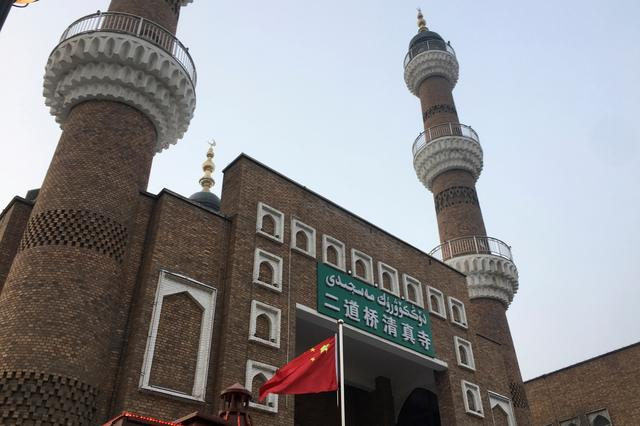 The Chinese national flag flies outside the mosque at the Xinjiang International Grand Bazar during a government organised trip in Urumqi, Xinjiang Uighur Autonomous Region, China, January 3, 2019. REUTERS/Ben Blanchard/File Photo
During an address to the council in Geneva, British Foreign Secretary Dominic Raab condemned the rights record of fellow council members China and Russia, and also raised concerns about Myanmar and Belarus.
"We see almost daily reports now that shine a new light on China's systematic human rights violations perpetrated against Uyghur Muslims and other minorities in Xinjiang," Raab said during the meeting.
"The situation in Xinjiang is beyond the pale. The reported abuses -- which include torture, forced labor and forced sterilization of women -- are extreme and they are extensive," Raab added.
China has been widely condemned for setting up complexes in Xinjiang that Beijing describes as "vocational training centres" to stamp out extremism and give people new skills. China's critics have called them concentration camps.
The United Nations has said at least 1 million Uighurs and other Muslims have been detained in Xinjiang.
Raab will also raise the "disgraceful" treatment of Kremlin critic Alexei Navalny, the crisis in Myanmar and the situation in Belarus. He will set out steps Britain has taken to address these issues, such as sanctions, and encourage others to follow.
Earlier on Monday, China said Xinjiang and Tibet were "important examples of human rights progress."
"China is a country that has always protected and promoted the development of human rights," Senior Diplomat Wang Yi said in a speech. "Over the past 60 years, Xinjiang's economic aggregate has increased by more than 200 times, the per capita GDP has increased by nearly 40 times, and the average life expectancy has increased from 30 to 72 years," Wang added.
The United Nations has said at least 1 million Uyghurs and other Muslims have been detained in Xinjiang.
While the Chinese government has repeatedly said that Muslim minorities in Xinjiang are enjoying a high quality of life, attempts by journalists to report independently on the region have often been hamstrung by authorities.
The Chinese government is facing growing pressure to address allegations of human rights abuses towards Muslim minorities in Xinjiang.
On January 19, the US announced it had determined that the Chinese government was committing genocide in Xinjiang, which then-Secretary of State Pompeo described as "the systematic attempt to destroy Uyghurs by the Chinese party-state."
After US Secretary of State Antony Blinken was confirmed one week later, he said that the Biden administration stood by the genocide finding.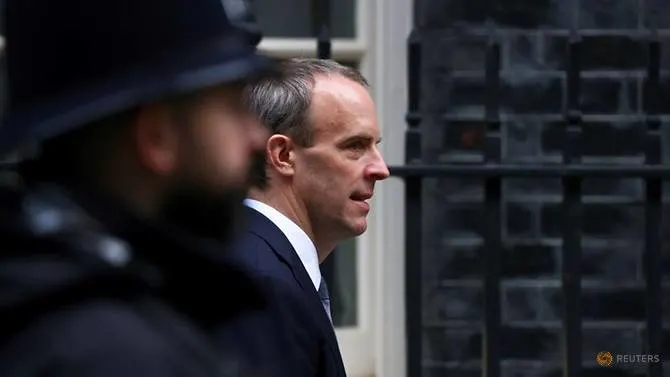 Britain's Foreign Affairs Secretary Dominic Raab arrives at Downing Street in London on Nov 26, 2020. (File photo: Reuters/Simon Dawson)
Uighurs: 'Credible case' China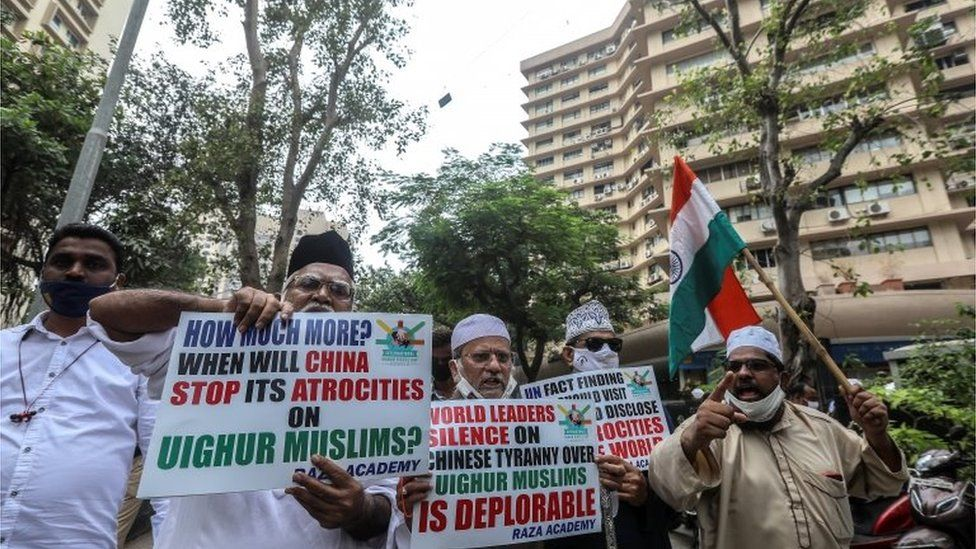 Protests against China's alleged abuse of the Muslim Uighur community (Photo: EPA)
There is a "very credible case" that the Chinese government is carrying out the crime of genocide against the Uighur people, according to a formal legal opinion newly published in the UK.
It concludes there is evidence of state-mandated behaviour showing an intent to destroy the largely Muslim minority in north-western China, BBC reported.
This includes the deliberate infliction of harm on Uighurs in detention, measures to prevent women giving birth - including sterilisation and abortion - and the forcible transfer of Uighur children out of their community.
And, significantly, it says there is a credible case that Chinese President Xi Jinping is himself responsible for these crimes against humanity. It states "the close involvement of Xi Jinping" in the targeting of Uighurs would support a "plausible" case of genocide against him.
It says: "On the basis of the evidence we have seen, this Opinion concludes that there is a very credible case that acts carried out by the Chinese government against the Uighur people in Xinjiang Uighur Autonomous Region amount to crimes against humanity and the crime of genocide."
A legal opinion is the professional judgement of a respected QC - an independent expert in their field - who assesses the evidence and the law and comes to a conclusion. It does not have a legal standing, like a court judgement, but can be used as a basis for legal action.
This opinion was commissioned - but not paid for - by the Global Legal Action Network, a human rights campaign group that focuses on cross-border legal issues, and the World Uighur Congress and the Uighur Human Rights Project.
China's foreign ministry has consistently denied allegations of human rights abuses against the Uighurs in Xinjiang.
The Chinese embassy in London accused anti-China forces in the West of fabricating "lies of the century" about Xinjiang.
The 100-page document - written by senior barristers at Essex Court Chambers in London, including Alison Macdonald QC - is understood to be the first formal legal assessment in the UK of China's activities in Xinjiang.
The opinion is significant because it beats a legal path that British judges would follow if Parliament were to agree new legislation allowing the High Court to decide on matters of genocide. MPs from all parties are hoping to push through this change in the House of Commons on Tuesday, but the government is working hard to avoid defeat.
The legal opinion was based on an exhaustive legal assessment over six months of publicly available evidence from governments, international organisations, academic scholars, charities and the media.
The documents included first-hand witness evidence from survivors, satellite imagery and leaks of Chinese government papers.
The bar for proving genocide is high. A court has to establish acts were committed with intent to destroy, in whole or in part, a national, ethnical, racial or religious group.
In great detail, the opinion sets out evidence of what it describes as the "enslavement, torture, rape, enforced sterilisation and persecution" of the Uighurs.
"There is compelling evidence that detainees are subject to a range of forms of serious physical harm," the opinion says.
"Detainees report having been punished by administration of electric shocks, forced to remain in stress positions for an extended period of time, beaten, deprived of food, shackled and blindfolded."
Measures intended to prevent births within a group are among the activities that count as genocide in international law. The opinion sets out evidence of mass forced sterilisation as part of a plan for population control acknowledged by the Chinese authorities.
Genocide can also include the forcible transfer of children from one group to another.
The opinion says: "There is evidence of Uighur children being forcibly removed from their parents. This includes their non-consensual placement in orphanages when one or both parents are in detention, and their mandatory placement in boarding schools.
It says: "We consider that there is a credible case against each of these three individuals for crimes against humanity."
It adds: "The evidence reviewed above suggests the close involvement of Xi Jinping, Chen Quanguo and Zhu Hailun in initiating and implementing a range of measures which, taken together, target Uighurs with a severity and to the extent that one could infer an intent to destroy the group as such.
"In those circumstances, we consider that there is a plausible inference that each of those three individuals possess the necessary intent to destroy, so as to support a case against them of genocide."
China rejects genocide charge in Xinjiang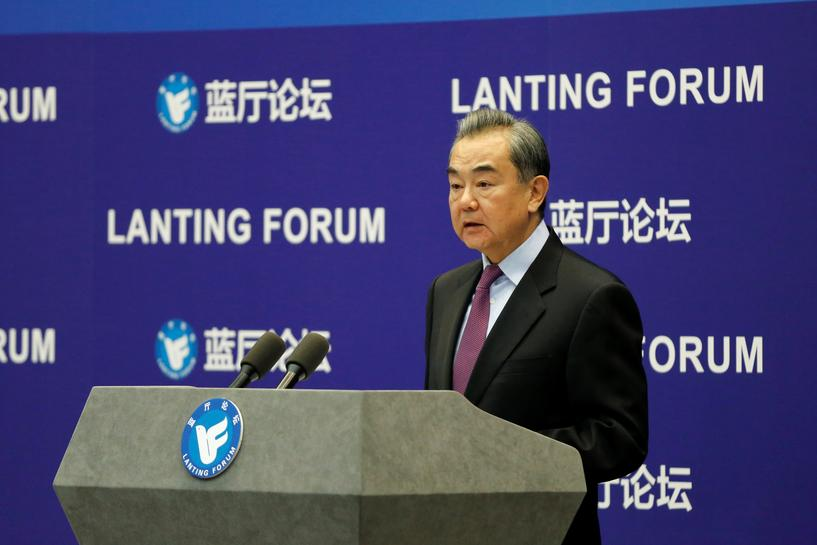 Chinese State Councilor and Foreign Minister Wang Yi delivers a speech at the Lanting Forum in Beijing, China February 22, 2021. REUTERS/Shubing Wang
China on Monday rejected "slanderous attacks" about conditions for Muslim Uighurs living in Xinjiang, as European powers and Turkey voiced concerns and called for U.N. access to the remote western region.
Activists and U.N. rights experts have said that at least 1 million Muslims are detained in camps in Xinjiang. China denies abuses and says its camps provide vocational training and are needed to fight extremism.
Foreign Minister Wang Yi told the U.N. Human Rights Council that it was taking counter-terrorism measures in accordance with the law and that Xinjiang enjoyed "social stability and sound development" after four years without any "terrorist case".
There were 24,000 mosques in Xinjiang, where people of all ethnic groups also enjoyed labour rights, he said.
"These basic facts show that there has never been so-called genocide, forced labour, or religious oppression in Xinjiang," Wang said. "Such inflammatory accusations are fabricated out of ignorance and prejudice, they are simply malicious and politically driven hype and couldn't be further from the truth."
The Biden administration has endorsed a last-minute determination by the Trump administration that China has committed genocide in Xinjiang and has said the United States must be prepared to impose costs on China.
Earlier, British foreign secretary Dominic Raab denounced torture, forced labour and sterilisations that he said were taking place against Uighurs on an "industrial scale" in Xinjiang.
Germany's foreign minister Heiko Maas said that "the arbitrary detention of ethnic minorities like the Uighurs in Xinjiang or China's crackdown on civil liberties in Hong Kong" required attention.
Mevlut Cavusoglu, Turkey's foreign minister, said it expected transparency from China on the issue and called for protecting the rights of Uighurs and other Muslims in Xinjiang.
Wang invited U.N. scrutiny but gave no timetable.
"The door to Xinjiang is always open. People from many countries who have visited Xinjiang have learned the facts and the truth on the ground. China also welcomes the High Commissioner for Human Rights to visit Xinjiang," he said, referring to U.N. rights chief Michelle Bachelet, whose office has been negotiating terms of access to the country.