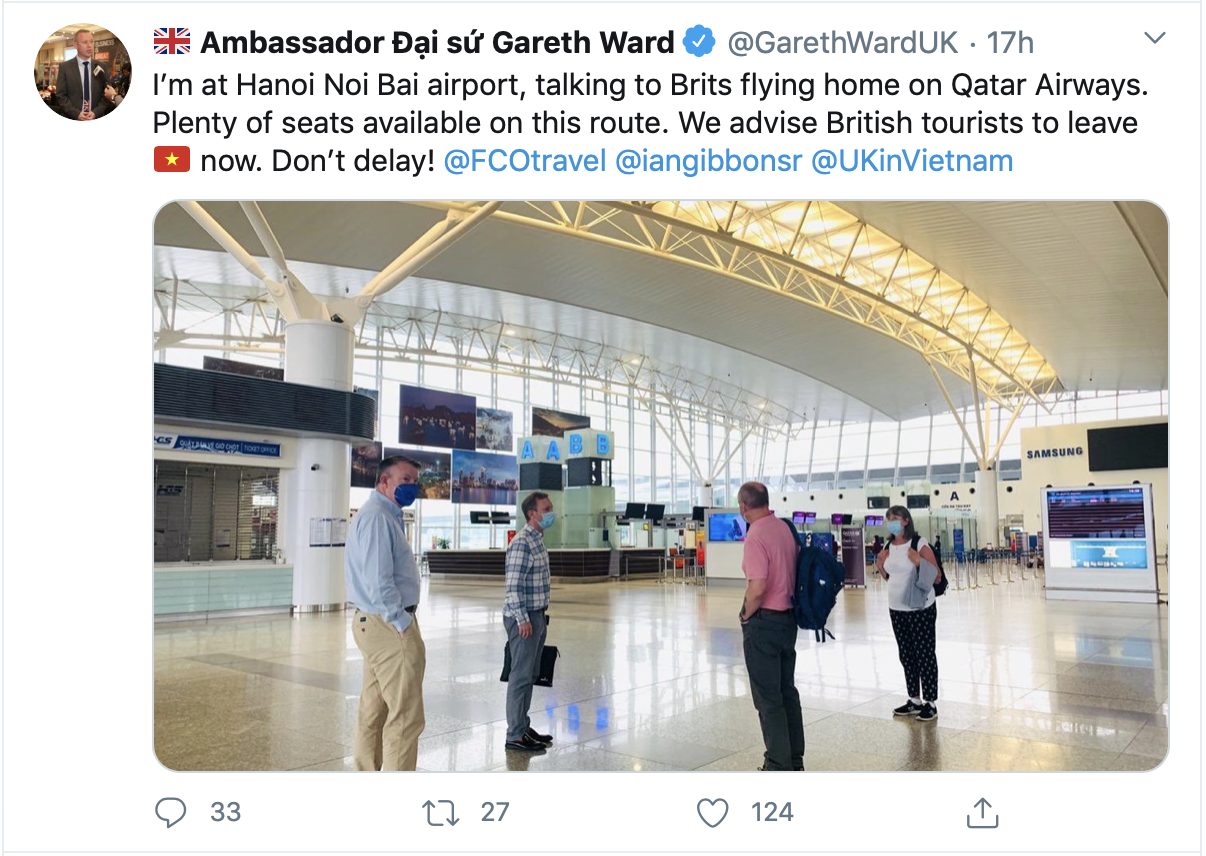 Ambassador Gareth tweeted on his Twitter on April 3. Photo screenshot
On April 3, Ambassador Gareth tweeted on his Twitter 'I'm at Hanoi Noi Bai airport, talking to Brits flying home on Qatar Airways. Plenty of seat available on this route. We advise British tourists to leave Vietnam now. Don't delay!''
His tweet caused a bit of misunderstanding. Some expressed confusion that the UK was trying to evacuate its citizens from Vietnam due to COVID-19.
In the notice on April 3, the British Embassy in Hanoi explained its policy and the Ambassador's message.
British Emabssy in Hanoi
For urgent matters, please call +84 (0) 24 3936 0500 (24/7 hotline) or email [email protected] We are receiving a huge volume of enquiries and will try to get back to you as soon as possible.
"The British Embassy in Hanoi has been working closely with Vietnamese authorities to support and provide consular assistance to British nationals during the COVID-19 outbreak."
"We recommend that all British citizens in Vietnam follow the British Foreign Ministry's travel advice on https://www.gov.uk/foreign-travel-advice/vietnam. This information is regularly updated".
"If you live in the UK and are currently visiting Vietnam, you're strongly advised to return now by commercial means"
Therefore, the British Embassy has been actively sharing and updating information for British tourists in Vietnam about available commercial routes.
"That is also reason why on April 2, Ambassador Gareth Ward arriving at Noi Bai International Airport to learn more about flights. After talking with some tourists and getting information that plenty of seats available on the flights back to the UK, he advises them to return home''
"We would like to emphasize that this recommendation is not intended for British nationals residing in Vietnam," the British Embassy explained.
On March 23, British Ambassador Gareth Ward & Consul General Ian Gibbons sent a video message to British citizens who decided to stay in Vietnam during COVID-19 outbreak, sharing some advices on how to keep themselves and other safe.
COVID-19 Update for British nationals in Vietnam
What is your current advice to British nationals (BNs) in Vietnam?
If you're visiting Vietnam and intend to return to the UK, you're advised to make arrangements to do so as soon as possible.
If you choose not to return to the UK now, you must do so in full knowledge that you will be in Vietnam for the foreseeable future irrespective of how your personal circumstances may change. You must also follow the advice of local authorities and be ready to comply with the local isolation, testing or quarantine requirements.
If you decide to remain in Vietnam, see the British Ambassador and Consul-General's video message that provides more tips to keep yourself and those around you safe.
What should I do to book a return flight to the UK?
We recognise that flight options are rapidly diminishing. You are advised to keep checking with airlines, tour operators and your travel insurer. Those seeking flights are advised to go to Hanoi or HCMC that are currently the only cities with available international flights to the UK. To get a list of hotels that will accept you, email [email protected] and see the auto-reply.
From 1 April, internal flights will be severely restricted with the only routes open are between Hanoi, HCMC and Da Nang. Base yourself close to the airport so that you are ready should a flight become available at short notice. Please follow our social media channels for our daily updates on viable flight options and other important announcements. Please note that these flights are subject to constant change and availability.
Will the UK government send a repatriation/evacuation flight?
There remain commercial options to return to the UK from Vietnam. If you live in the UK and are currently visiting Vietnam you're strongly advised to return now by commercial means. Don't run the risk of getting stranded.
UK special charter flights will only operate for priority countries where commercial flights are not possible. You should not assume that these flights will become available in countries where commercial routes are operating. Please do not contact the contracted travel management company if no flight is advertised here.
What does Vietnam's "national social distancing" mean?
The Vietnamese authorities have announced a nationwide partial lockdown to start from midnight on 31 March until 15 April. This has implications (see below) including making it difficult to move both between, and within, cities across the country.
The lockdown means that:
· people are being advised to stay at home, leaving only to buy food and medicine
· if you leave your accommodation, always wear a mask, practice social distancing and do not congregate with more than one person, with some exceptions (e.g. hospitals)
· public transport and taxi services are being widely suspended; internal flights greatly reduced. (See our daily flight updates on social media.)
· essential services will remain open.
You should follow the instructions of local authorities. There are penalties for non-compliance.
Can I still go to the airport? Does that qualify as essential travel?
There are currently very limited, or in some cases no, taxis or Grab taxis available to take you to international airports in Vietnam. We understand that private hire cars are still allowed to take passengers to airports. We advise you to ask your hotel or travel agent to book you a private car. For those trying to leave Vietnam, we are able to provide you with a letter to facilitate airport transfer – if you need this letter, please send us a message on social media or email [email protected]
What if I overstay my visa? Can you help with visa extensions?
During lockdown: Vietnam will not require people to extend their visas between 1 and 15 April. Should you want to stay longer term in Vietnam, you should only do so legally and with the right visa.
After lockdown: As stated in our Travel Advice, BNs nearing the end of their current stay in Vietnam should not take it for granted that existing visas will be extended and should contact Vietnamese authorities to ensure that they remain in compliance with Vietnamese laws and regulations. Extensions in country are complicated and most people will require the services of an agent. Decisions on granting extensions of stay are a matter for the Vietnamese authorities.
Why am I being quarantined? Will I need to pay? Can I leave quarantine early?
Widespread quarantine requirements are in place for anyone who may have come in to contact with coronavirus. The Vietnamese government has confirmed that it will cover all quarantine costs, but foreign nationals will be personally responsible for paying for any coronavirus hospital treatment costs, and hotel costs from periods of self-isolation.
Vietnamese quarantine centres are basic, and most do not meet Public Health England standards. With the increased number of people in quarantine, it is likely that the standards of quarantine facilities will reduce further.
If you come in to contact with someone who is positive with coronavirus you must expect to undergo quarantine in a government centre. It lasts a minimum of 14 days and longer if you test positive at any point. In addition, if you have a positive test result, you will be expected to undertake a period of self-isolation after this point and restrictions on travel for a further period of 14 days. These are mandatory requirements from the Vietnamese Ministry of Health.
You should not expect the British Government to be able to have these requirements changed or shortened. Should you have serious reservations about undertaking quarantine in Vietnam if required for health or other reasons, you are strongly advised to return to the UK as soon as possible.
What are you doing to support BNs who are in quarantine facilities?
We are working with local authorities to ensure BNs have adequate accommodation including food, water and medical supplies. We have raised urgent concerns about the condition of some quarantine facilities with the Vietnamese authorities in Hanoi and the Vietnamese Ambassador in London. Our Consular team in Vietnam is in close contact with the Vietnamese authorities and is providing consular assistance to affected BNs.
I'm running out of money. Can the embassy provide financial support?
We understand that this is a difficult time for everyone. Please check this webpage for more information on what to do and who to contact if you require financial assistance abroad.
What if I need to renew my passport?
For consular matters like passport renewals, we advise you to follow the online process in place at https://www.gov.uk/overseas-passports. You can also reach out to @HM_Passport on Twitter for other passport-related questions.
VNT