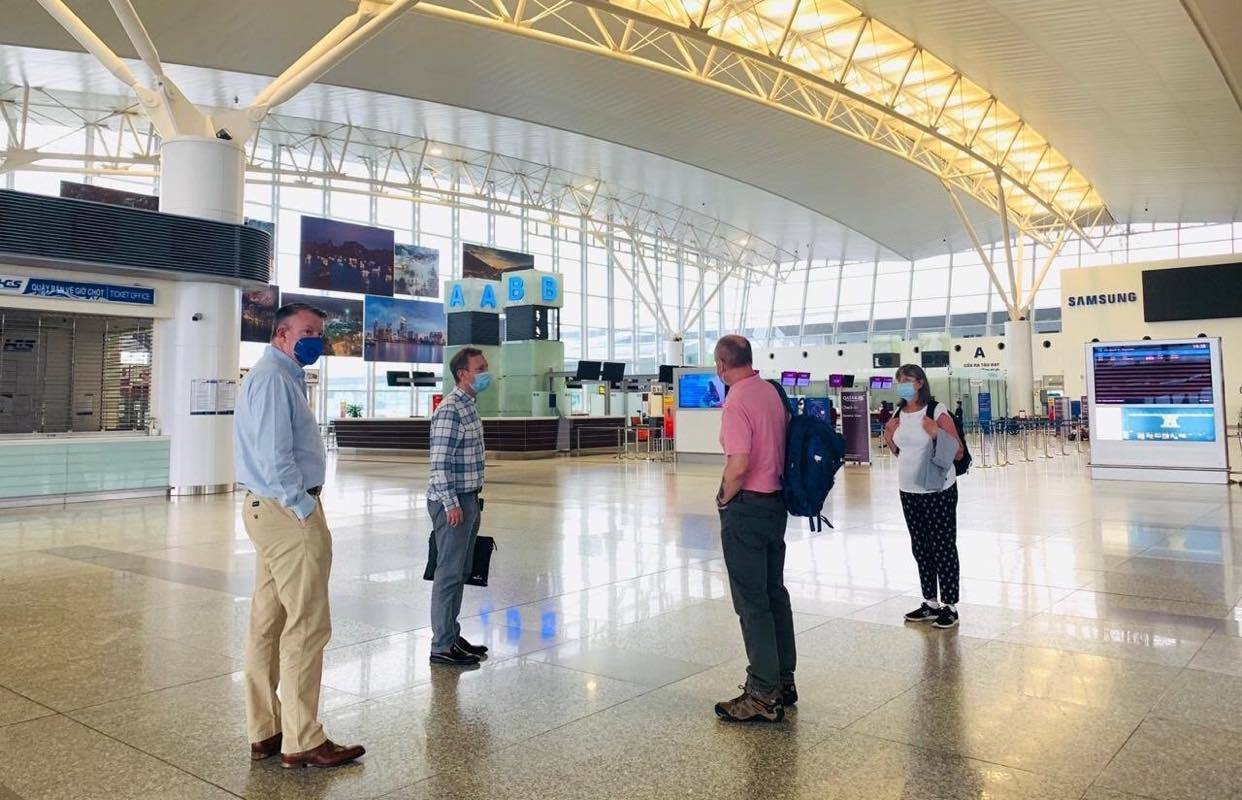 Ambassador Gareth Ward went to Noi Bai airport to check commercial flights
The Advisory Notice states that:
As countries respond to the COVID-19 pandemic, including travel and border restrictions, the FCO advises British nationals against all but essential international travel. Any country or area may restrict travel without notice. If you live in the UK and are currently travelling abroad, including Vietnam, you are strongly advised to return now, where and while there are still commercial routes available. Many airlines are suspending flights and many airports are closing, preventing flights from leaving.
Cases of coronavirus (COVID-19) have been confirmed in Vietnam. The Vietnamese authorities have introduced a large number of measures to limit the spread of the virus, including banning the entry of foreigners and a nationwide lockdown from midnight on 31 March to 15 April.
If you are visiting Vietnam and intend to return to the UK, you are strongly advised to return now.
As of 18 March, some staff and dependents in the British Embassy have been withdrawn from Vietnam for the foreseeable future. Core staff will remain to continue critical work, including consular assistance.
Most visits to Vietnam are trouble-free, but you should take sensible precautions to protect yourself and your belongings in big cities and tourist areas.
Travelling by motorbikes in Vietnam carries significant risk. There are frequent road traffic accidents and fatal crashes. Before choosing to ride a motorbike in Vietnam, it is essential that you're an experienced motorbike rider, have a good quality motorbike helmet, have the correct licence(s), understand the roads on which you plan to travel and that your travel insurance covers your planned activity.
Although there's no recent history of terrorism in Vietnam, attacks can't be ruled out.
Vietnamese law requires everyone to carry photographic ID at all times.
You can contact the emergency services by calling 113 (police), 115 (ambulance) or 114 (fire).
If you're abroad and you need emergency help from the UK government, contact the nearest British embassy, consulate or high commission.
The Overseas Business Risk service offers information and advice for British companies operating overseas on how to manage political, economic, and business security-related risks.
Take out comprehensive travel and medical insurance before you travel.
The notice is strongly highlighted not towards the British nationals who have been settling in Vietnam. Those are also advised to stay calm and join hands with native citizens to protect themself and others.
If you have any questions or need more information, please to go to the website:
https://www.gov.uk/foreign-travel-advice/vietnam