British pilot: "If I'd been almost anywhere else on the planet, I'd be dead'
The Briton Stephen Cameron, one of the most critical COVID-19 patients in Vietnam, speaks highly of and thanks Vietnamese doctors and the Health Ministry for patching him up to life from the death's door.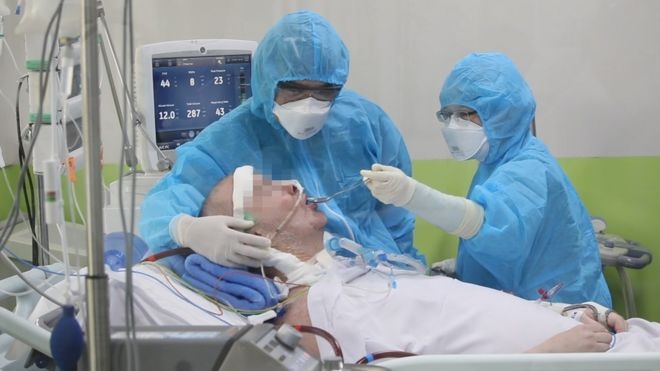 Stephen Cameron being treated at Cho Ray Hospital (Photo courtesy of Cho Ray Hospital)
"If I'd been almost anywhere else on the planet, I'd be dead. They would have flicked the switch after 30 days," Cameron, known as patient 91 in Vietnam, said from his hospital bed.
"I'm very humbled by how I've been taken into the hearts of the Vietnamese people," says Cameron, speaking exclusively to the BBC. "And most of all I'm grateful for the bloody-mindedness of the doctors in not wanting me to die on their watch."
The 42-year-old pilot from Vietnam Airlines has just recovered from a very dangerous period in a Ho Chi Minh-based hospital after contracting the novel coronavirus. His 689 days on ventilator is thought to be a longer stretch of time than any patient in the UK.
He lost 20 kilograms, suffers from fatigue and depressive episodes, and needs physiotherapy to regain his muscle strength. Initially, he had only 10 percent of survival, which threatened the zero record of coronavirus deaths in Vietnam. His friend, Craig had even planned for the worse upon knowing the survival chance. He gave up Cameron's apartment, and started everything somebody would do if Cameron was coming home in a box.
Regular conference calls on his condition were held among intensive care specialists in the country. He was put in a medically-induced coma and on a ventilator following his complications, which include kidney failure. He was also on an Ecmo machine – which performs the function of the hearts and lungs, costing up to US $10,000 a day - for life support in 8 weeks.
Given the severe condition he went through, Cameron miraculously recovered and is now doing rehabilitation sessions twice a day. Cameron is deemed to fit to fly back to the UK on July 12.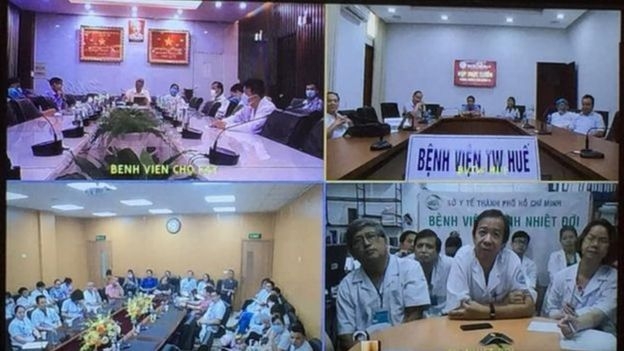 Dr. Kidong Park, the World Health Organization representative to Vietnam told BBC "The very small number of critical care patients meant anyone who was severely ill got the attention of all the country's top-level clinicians".
The politics of his return are a reminder that the miraculous recovery of Patient 91 is not just a story of a British pilot who recovered from Covid-19 and overcame the odds. It is the story of how a developing Southeast Asian country with a turbulent recent history beat the odds too, BBC commented.
The British Embassy in Hanoi has earlier sent a note to the Vietnamese Ministry of Foreign Affairs and the Ministry of Health to thank Vietnamese doctors for saving the Patient 91's life during the past few months, in the meantime, proposing the doctors to examine if the patient could travel to his hometown by air.
The ambassador also expressed hope for the British pilot to be recovered in time for the repatriation flight of Vietnam Airlines scheduled to depart from Hanoi on July 12. According to Vietnam net, a Vietnam Airlines aircraft is set to fly to the UK that day to bring home stranded Vietnamese citizens over coronavirus fear.
Cameron's hospital fees will be covered by an insurance company, and he will leave Vietnam with assistance from Vietnamese health specialists. The insurance company, which had already paid VND3.5 billion for the patient's treatment cost at the Ho Chi Minh City Hospital of Tropical Diseases, will also arrange doctors to receive Cameron upon his arrival at the airport in the UK.
As of June 29, Vietnam's cumulative cases stand at 349, with only 22 active patients remain. No death reported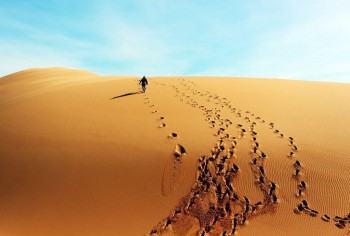 Multimedia
Hoa Thang is a famous tourist destination in Binh Thuan, consisting of many beautiful sand dunes. It is considered to be Vietnam's largest desert.