Charli Lello and her ducklings (Photo: New York Post)
The assistant retail manager from Hertfordshire, northern London came up with the idea of incubating eggs to kill time after watching a video of a woman hatching quail eggs on Facebook feed.
"My initial plan was also to hatch quail eggs, but as I saw duck eggs at the supermarket, I told myself incubating duck eggs was not a bad idea", Lello recalled. "My mom and I used to mention about raising ducks when the blockage order ends".
She brought the eggs from supermarket home and put them into the incubator. "I prepared myself that the incubating thing would fail, but to my surprise, the eggs have veins and tiny wiggly embryo after 6 days", she said. The three ducklings were hatched one month later, which Lello named Beep, Peep, and Meep.
Lello plans to keep the ducklings indoor until they are fully feathered and then move them to live outside with her chickens.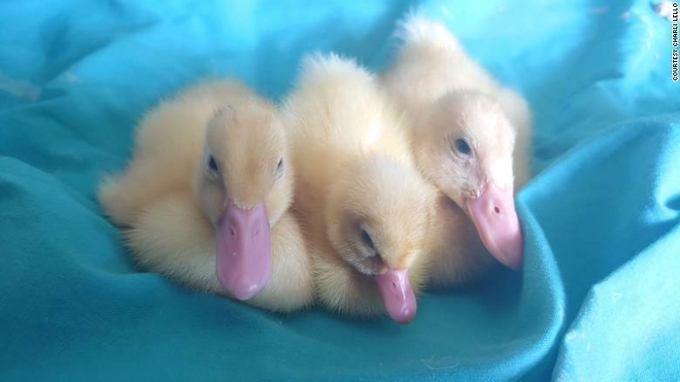 Beep, Peep, and Meep (Photo courtesy of Charli Lello)
Though this is an interesting experience for Lello, she insists of not doing it again. "I do this just because my life has been disrupted recently due to the COVID-19 pandemic, and you know, I have enough time to take care of them. Under normal conditions, this will not happen," she said.
Lello emphasizes that egg sold in supermarkets could be fertilized like this is a "rare" occasion. Moreover, the eggs had to travel a long distance from the packing center to supermarket depot to store, so "it is a feat of remarkably slim odds that a duckling has been hatched."
A representative from one supermarket chain in London said that because it was "notoriously difficult to identify the sex of egg-laying white-feathered ducks," males were sometimes left with groups of females and there were also rare instances when a wild duck (female) encounters a farmed drake (male).
Jasmine Le