Businesses Adopt Flexible Approach to Maintain Stable Production amid Pandemic
Businesses in Vietnam have been adapting to constant changes due to the impact of Covid. Production has been resuming gradually, readily responding to the new normal.
Proactive response
At Garment 10 headquarter in Hanoi and its branches, the unpredictable Covid occurrences of the past 2 years have pushed the corporation to constantly change its operation mode.
As such, Garment 10 has been applying a proactive and flexible strategy to implement its production plans, especially to fulfill orders from the United States, Europe and Japan.
"Fashion apparels are seasonal products. Before the pandemic, Garment 10 used to receive orders every 3 – 6 months and make production plans accordingly.
For the past two years, orders have been coming in on a weekly and even daily basis," Garment 10 General Director Than Duc Viet said.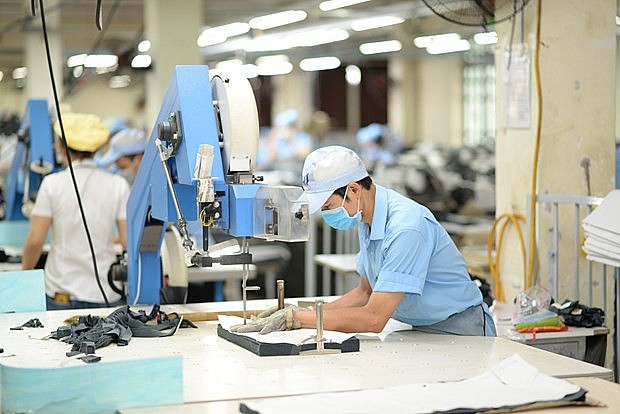 Businesses in Vietnam have been proactive in responding to the Covid-19 pandemic. Photo: Vietnam+
Many businesses are also facing the risks of a disrupted supply chain, which affects production and business efficiency.
According to the Vietnam National Textile and Garment Group Managing Director Cao Huu Hieu, the fourth Covid outbreak has caused a negative impact on the economy.
For garment businesses, contract cancellation, loss of customers and workers, and depleted financial resources have been creating tremendous challenges, even for large corporations.
"However, under the guidance of the management board, flexibility in coordinating business activities and responsiveness to the market developments, the group is expected to exceed the target set for 2021," Hieu said.
Sharing her experiences to overcome the pandemic, An Phuoc Construction and Trading Corporation Deputy General Director Nguyen Thi Thuy Diep noted that human resources were the most important element.
"No matter if we are in the social distancing or new normal period, An Phuoc strives to ensure proper living conditions to maintain the labor force and hopes to improve on the current results towards the end of the year," Diep said.
To maintain production, An Phuoc is developing its online selling channel. With this strategy, the corporation's production plans are carried out effectively. When the social distancing orders are lifted, An Phuoc will continue with alternate working arrangements while ensuring Covid prevention to complete the orders set for this year.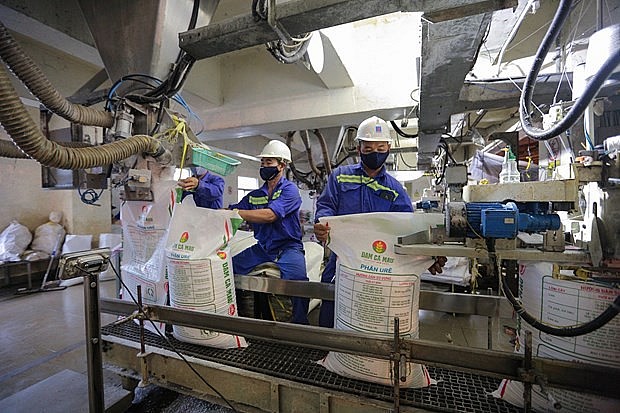 Workers at the Ca Mau fertilizer factory. Photo: Vietnam+
Similarly, PetroVietnam Gas Joint Stock Company is implementing strict Covid prevention measures, especially for the staff who have been staying and working at the company since June 2021.
The company has developing responsive plans, acquiring necessary papers to maintain business activities and performing Covid prevention measures promptly.
In addition, PetroVietnam Gas Joint Stock Company continues to provide vaccinations for its staff and apply IT solutions for its stations.
According to the company's representative, "even if Covid continues to have complicated occurrences, we are confident that we can maintain continuous production and business activities."
Continuing to remove barriers for businesses
While businesses have been proactive in responding to Covid, challenges remain for production and business activities in general.
The Hanoi Department of Industry and Trade will update the budget, market and inventory issues facing businesses in the city regarding recommendations to the city authorities and provide maximum support to the businesses.
The department is also assisting the city to implement trade and tourism promotional events and boost the consumption of products.
In its recent press conference, the Ministry of Industry and Trade noted that it would focus on supporting major companies located in industrial parks to quickly resume production and supply chain and respond timely to the increasing market needs at the end of the year.
It will also concentrate on accelerating production to make up for disrupted business activities in the past months.
The ministry said it would closely monitor supply and demand to make timely adjustments, ensuring reasonable distribution of goods across regions, provision of necessities and stabilization of prices. It will work with other ministries and authorities to create favorable conditions for the circulation of goods in Vietnam.
In addition, the Ministry of Industry and Trade will continue to implement online trade promotion and boost consumption of products on digital platforms, garnering new orders for the final quarter of 2021 and the next year.
VN-Index Surges To Near 7-week High

Vietnam's benchmark VN-Index shot up 1.13 percent to 1,354.63 points, the highest in nearly seven weeks, with foreign investors turning net buyers.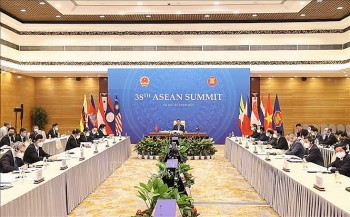 National
Vietnamese participation in upcoming ASEAN Summits also clearly displays the nation's desire to unite with the bloc to overcome difficulties, maintain solidarity, the community building process, and promote regional linkages