Cafe Cà Phê Highlights Vietnamese Coffee in Kansas City
In Kansas City, Missouri, Jackie Nguyen, a former Broadway performer, has opened a new store named Cafe Cà Phê that celebrates the coffees and cultures of Vietnam.
Inside the 1,200-square-foot cafe, warm hues and cultural icons displayed in a fusion of old and modern design are everywhere. Nguyen's idea for a vibrant display for the tastes and spirit of Vietnam is brought to life both inside and out with murals created by North Carolina-based muralists Love Letter Creative.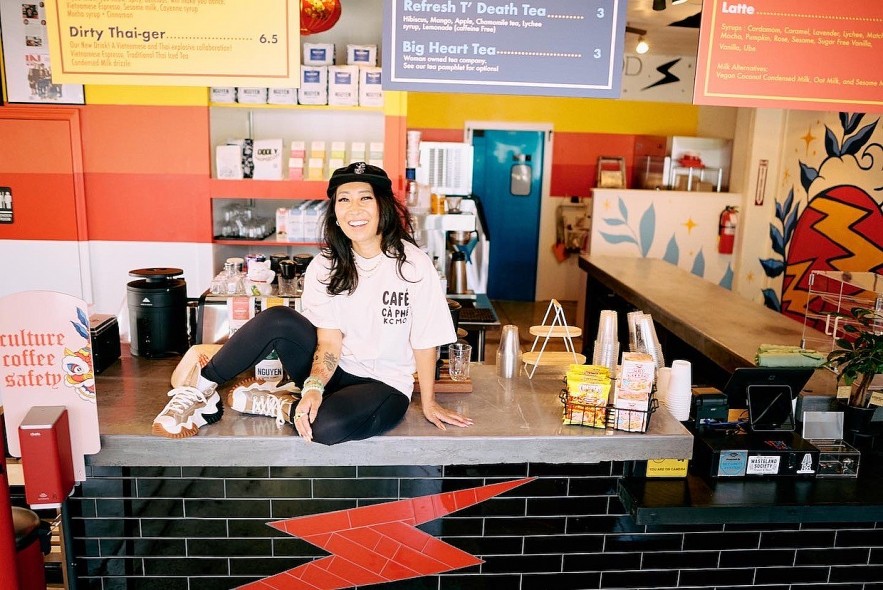 Cafe Cà Phê Founder Jackie Nguyen. Photo by Travis Young, Cafe Cà Phê.
First-generation Vietnamese American Nguyen told Daily Coffee News, "Because I am an artist, art was one of the primary concerns for my store. Each and every wall inch has been used. I wanted to include cultural elements into every aspect of the design."
"Quynh Uong, a Vietnamese designer who made sure everything complemented our store, even covered our refrigerator in a bespoke pattern," Jackie Nguyen added.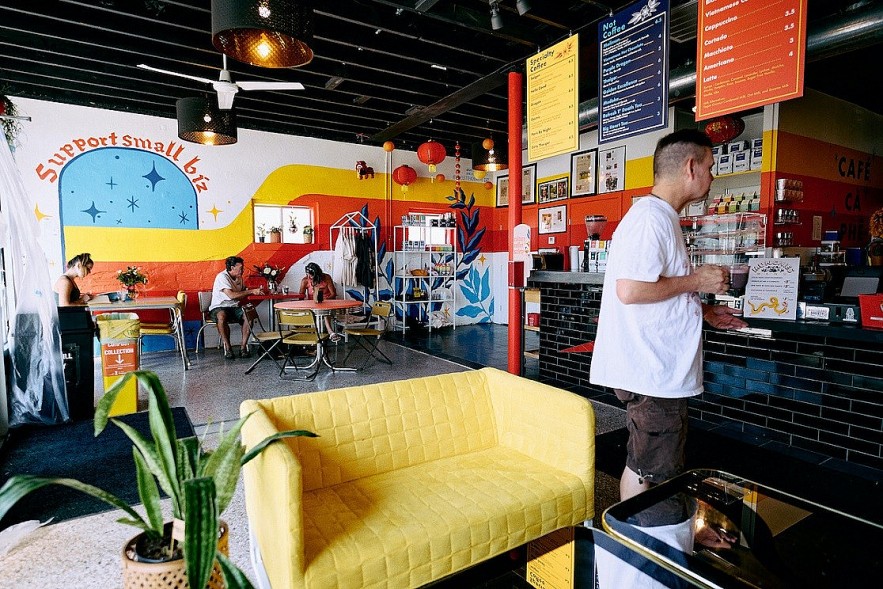 Cafe Cà Phê. Photo: Travis Young Photography.
"I gave performing a very long, hard, 15-year stint. It was lovely, it was my life, and deeply shaped who I am as a person," said Nguyen.
"However, the pandemic really changed the landscape of Broadway and performing arts. It's a lot more difficult to find meaningful work, that is produced by well-intended people, and that is consistent. There are still incredible artistic opportunities that I've created from scratch from my shop, which has been my outlet."
It is known that Nguyen played the title role of Kim in a 2012 Los Angeles production of Miss Saigon. Up until the pandemic closed theaters and postponed tours, Nguyen continued to work as a language consultant and cast member for a Broadway revival of the stage show.
Pivoting to coffee was a natural move for Nguyen, who's worked occasionally as a barista since high school through college and her time in New York.
"I worked as a barista when I wasn't auditioning or doing theater," Nguyen said to the Daily Coffee News Magazine. "It was my first job and it stuck with me."
Cafe Cà Phê. Photo: Travis Young Photography.
With phin brewers, tradition-steeped recipes, Vietnam-grown coffees and nonstop enthusiasm, Nguyen launched Cafe Cà Phê in late 2020 — first on a pop-up basis, then with a dragon-faced mobile coffee trailer, and as of last month a brilliant brick-and-mortar shop in Kansas City's Columbus Park neighborhood.
Coffees roasted by New York-based Nguyen Coffee Supply have consistently laid the basis for the Cafe Cà Phê drinks menu, including the 100% robusta blend True Grit for house espresso. Coffees are combined with a number of popular Vietnamese flavors, such as lychee, cinnamon, cayenne and condensed milk.
In addition to serving delicious drinks, Nguyen hopes the shop will help serve some cultural enlightenment, as well, particularly regarding Asian and Asian-American entrepreneurship in the midwest and in specialty coffee as a whole.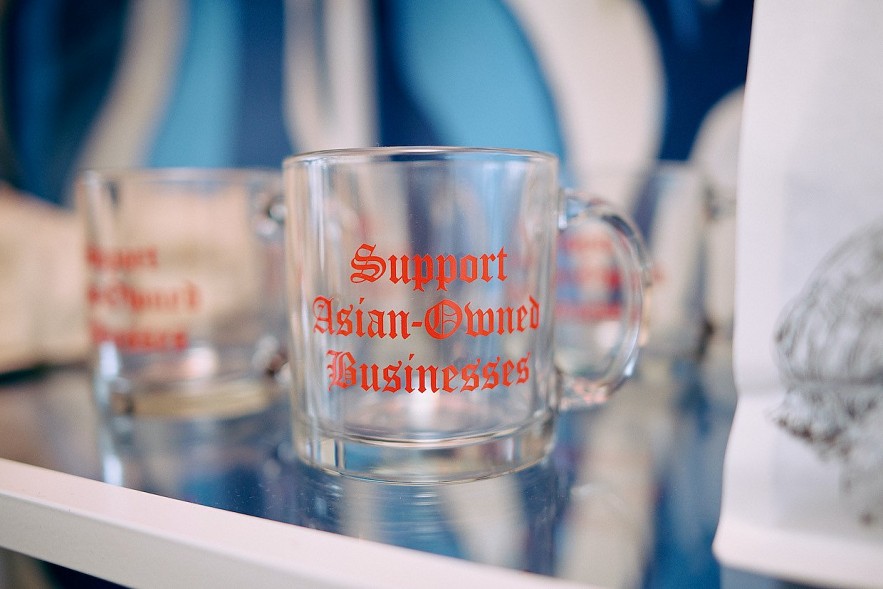 A mug with the message "Support Asian-Owned Business". Photo: Travis Young Photography.
"My entire team is made up of marginalized communities: AAPI, immigrant, Queer, Hispanic, and artists. We all have a huge lack of representation not just in the Midwest particularly, but especially in the coffee scene," told Nguyen. "There's not much diversity in the ownership side of coffee, which I aim to change. I hope to exemplify that coffee shop owners can look like me and can come from very different backgrounds. It's also important for me to show that coffee is not just part of our cuisine but that it is essential to our culture."
As mentioned in the Daily Coffee News Magazine, Nguyen had anticipated the store opening for Halloween in 2021. That deadline was delayed due to inspection delays, financial difficulties, and supply chain issues, but Nguyen was encouraged to see that new Vietnamese-themed coffee shops were opening from coast to coast in the interim.
Jackie claims that a movement was created from Nguyen Coffee Supply in Nguyen Coffee Supply in New York City, Fatmiilk in Chicago, Portland Ca Phe, and Caphe Roasters in Philadelphia.
"I believe that it's not a trend, but that we are creating a newfound space for ourselves to have a seat at the table with everyone else. Most of these are first-generation businesses, and I believe what we all have found is that if not us, then who? Our parents sacrificed their lives for us to live and dream in America. Our parents' generation's motives were survival; our job now is to thrive," Jackie Nguyen shared to the press.