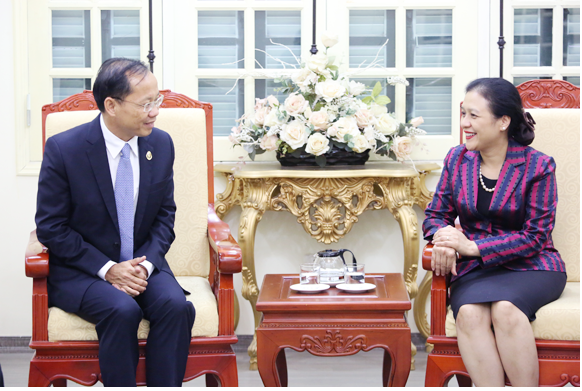 VUFO Presiden Nguyen Phuong Nga hosted a reception for Cambodian Ambassador Chay Navuth when he started the new tenure in Vietnamand.(Photo: vufo.org)
On the occasion of the Day of Vietnam Southern Liberation for National Reunification April 30, Cambodian Ambassador to Vietnam Chay Navuth has sent a congratulatory letter to Vietnam Union of Friendship Organizations President Nguyen Phuong Nga to express his warmest congratulations and high appreciation. Vietnam Times would like to cite his letter of congratulatuon for reference.
Dear Excellency,
I personally have a great pleasure to extend my warmest congratulations to you and Vietnamese people on the occasion of the Day of Southern Liberation for National Reunification.
For Vietnam's Reunification, many thousands of Vietnam patriots have sacrificed themselves for a double objective - the unity and independence of Vietnam.
I would like to take this opportunity to express my high appreciation to you and wish you good health, prosperity and further success in your noble mission.
Please accept, Excellency, the assurances of my highest consideration.
Sincerely yours,
Ealier in April, the Vietnamese government has provided the Kingdom of Cambodia with medical equipment worth more than VND7 billion (over USD 297,000), including medical masks, protective gear, and COVID-19 test kits to support the neighouring country in containing the epidemic.
In recent years, many provinces, ministries, and military units of Vietnam have also presented gifts to assist Cambodian people to combat the disease. In addition, Vietnamese businesses operating in Cambodia have also made considerable contributions to the fight against the epidemic in the host nation.
Tarah Nguyen