Vietnam Airlines sells its 49% interest in state-run Cambodia Angkor Air as service cuts
Vietnam Airlines has signed contracts to sell five A321 aircrafts with a total liquidation value of $37 million to undisclosed buyers with its 49 percent shareholder of the Cambodian national airline, Cambodia Angkor Air, for looking to divest its shares in the airline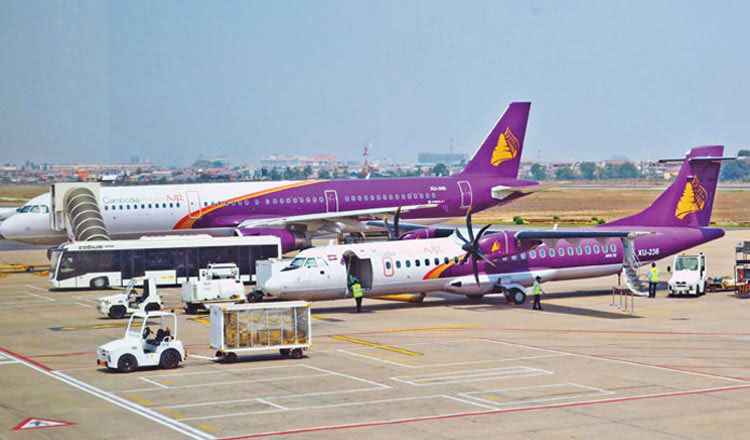 Cambodia Angkor Air (Photo: khmertimeskh)
It was reported on khmertimeskh that Vietnam Airlines, the 49 percent shareholder of the Cambodian national airline, Cambodia Angkor Air, has said that it is looking to divest its shares in the airline.
Cambodia Angkor Air was established in 2009 as a new flag carrier for the Southeast Asian country, eight years after the bankruptcy of Royal Air Cambodge. The airline operates about 10 domestic and foreign routes and has a code-share arrangement with Vietnam Air. Cambodia Angkor Air currently has five A321 aircraft and is said to be currently in an advanced stage of negotiations to sell the aircraft and the stake to an undisclosed buyer, rumoured to a Cambodian registered private airline.
In its audited report for 2019, Vietnam Airlines has said that difficult operating conditions, this information was revealed in post-audit notes to Vietnam Airlines' consolidated financial statement released Friday, which explains how the company has been impacted by the Covid-19 epidemic this year.
But the challenge will be to find a buyer when airlines are grounded, and the Covid-19 shows few signs of receding in the short-term. 51 of the shares in Cambodia Angkor Air belongs to the Cambodian government.
The Vietnamese carrier halted all international service in late March, maintaining limited domestic service to three routes. It also has furloughed roughly 10,000 employees, or about half its workforce, amid what CEO Duong Tri Thanh called an unprecedented situation.
More such sales are likely as airlines worldwide seek to ensure survival amid a pandemic that has slashed demand for air travel.
Vietnam's national flag carrier is divesting its stake in Cambodia Angkor Air and has also signed a contract to sell five aircraft.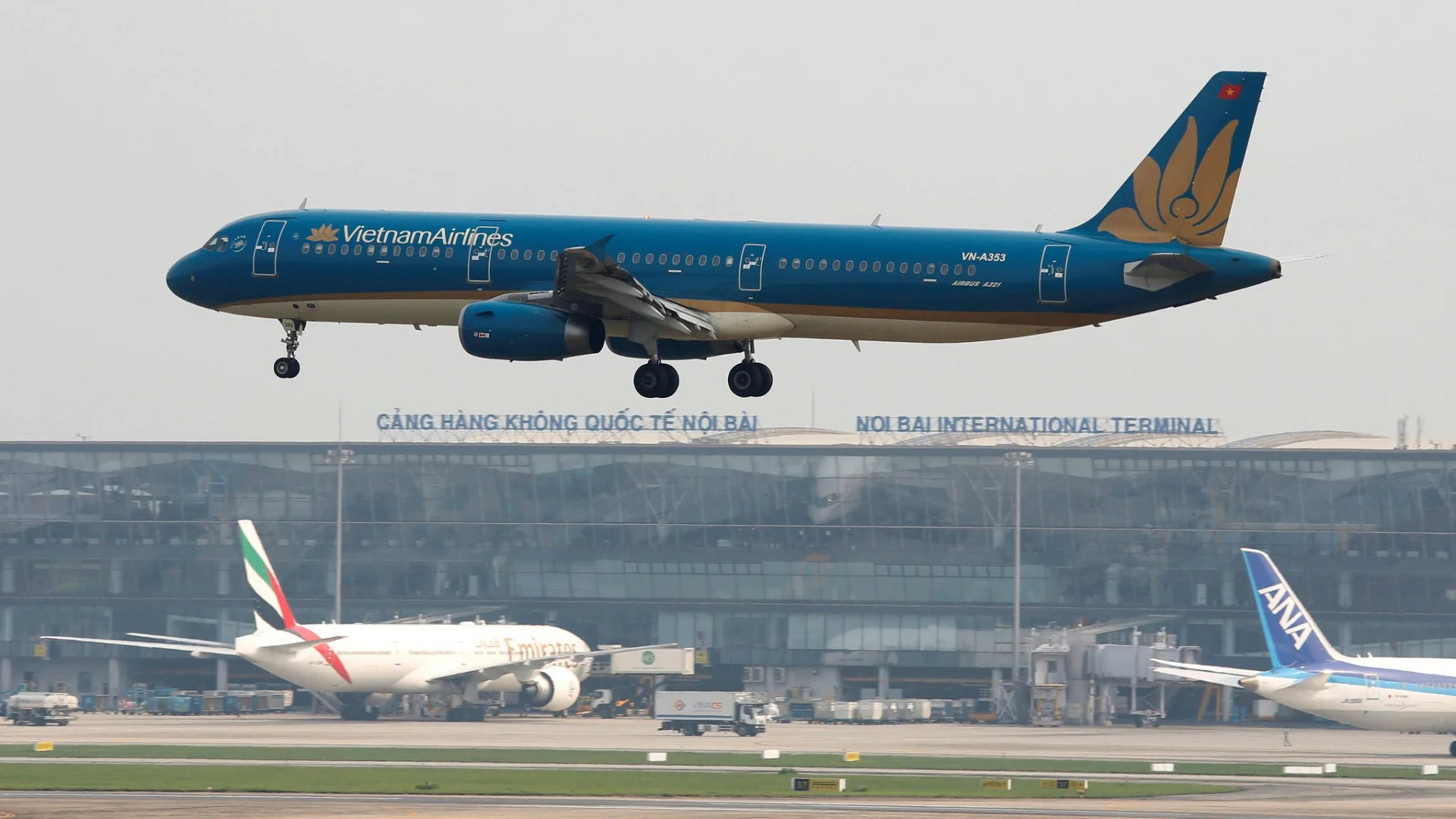 A Vietnam Airlines plane lands at Noi Bai airport in Hanoi. The carrier has suspended international service and slashed domestic flights. (Photo: Reuters)
Earlier in 2020, the Prime Minister had approved a plan allowing Vietnam Airlines to restructure its investment in Cambodia Angkor Air, and the company is accordingly carrying out this divestment, the report said.
And it was said Vietnam Airlines looks to sell its 49% interest in state-run Cambodia Angkor Air as service cuts spurred by the coronavirus outbreak leave the Vietnamese carrier strapped for cash.
Vietnam Airlines's signed contracts to sell five A321 aircraft values a total liquidation of $37 million to undisclosed buyers. Delivery of all the above aircraft is expected to be completed before June this year, the airline said.
The Covid-19 pandemic, which has impacted economies worldwide, has directly hit Vietnam Airlines' core revenue stream, partly a result of the Vietnamese government curbing air travel as well as imposing nationwide social distancing that severely limits travel, the carrier said.
"As a result, the ability of Vietnam Airlines to continue operating will depend on financial support from the Government and the extension of loans and payables from commercial banks, credit institutions and suppliers," the airline said in its post-audit notes cited on Vnexpress.
A report by the Commission for Management of State Capital at Enterprises (CMSC) released last week said that Vietnam Airlines, which operates just a few domestic flights a week now, has suffered the greatest damage among the 19 state-owned corporations managed by the CMSC.
Only six of its 106-jet fleet are now operational, and half of its employees have had to stop working.
To ensure solvency by the end of this year, the report estimates that Vietnam Airlines will require VND3.52 trillion ($150.94 million) in short-term loans as well as VND12 trillion ($514.58 million) in state support, which needs to start disbursement this month.
Revenues of the national flag carrier in the first quarter fell 26 percent year-on-year to VND19.2 trillion ($819 million). If the pandemic persists until the fourth quarter, the airline estimates a loss of VND19.6 trillion ($836 million) this year after years of making profit, the CMSC report said.
Last year, Vietnam Airlines made VND99 trillion ($4.25 billion) in revenue, up 1.4 percent year-on-year, and VND2.53 trillion ($109.05 million) in post-tax profits, down 2.3 percent year-on-year, according to its audited financial statement.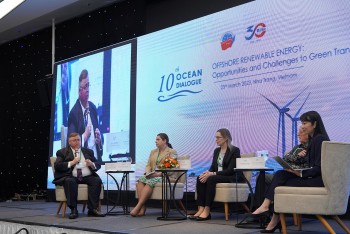 Seas and islands
Vietnam and other coastal countries in the region have both opportunities and challenges in developing offshore renewable energy, according to the 10th Ocean Dialogue held in Khanh Hoa province on Thursday.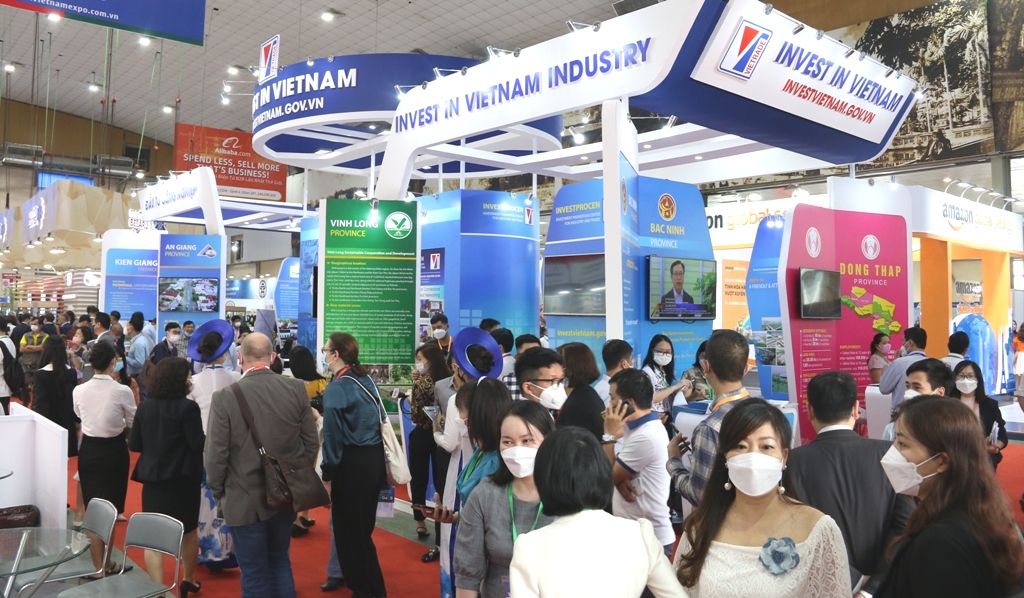 Economy
The Vietnam International Trade Fair - VIETNAM EXPO is an annual event held in Vietnam with the longest history (since 1991) chaired by the Ministry of Industry and Trade of Vietnam, directed by the Vietnam Trade Promotion Agency, and organised by VINEXAD Company.
March 22, 2023 | 11:50