Cambodian King Appreciated Flourishing Ties with Vietnam
Cambodian King Norodom Sihamoni expressed his pleasure at seeing comprehensive cooperation between Vietnam and Cambodia constantly develop.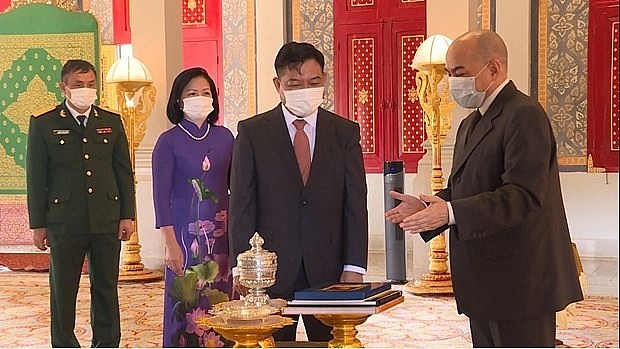 Cambodian King Norodom Sihamoni (R) and Vietnamese Ambassador Nguyen Huy Tang (second from right) at the meeting on October 25 (Photo: VNA)
During a reception held on October 25 for the Vietnamese Ambassador to Cambodia Nguyen Huy Tang who came to present a letter of credence from the State President, King Sihamoni welcomed the Vietnamese diplomat's appointment as Ambassador to the Kingdom of Cambodia. He used the occasion to emphasize the meaning of solidarity and the long-standing traditional friendship relationship between the two peoples. He went on to voice hope that both sides would maintain and utilize results in order to bring mutual benefits to both nations, VOV cited.
The King also spoke highly of Vietnam's comprehensive development and wished Tang a successful term with numerous contributions to bilateral relations.
Expressing his honor to be appointed the Vietnamese Ambassador to Cambodia, Tang appreciated King Sihamoni's sentiment and attention towards Vietnam and the long-standing solidarity and friendship between the two countries, according to Nhan Dan.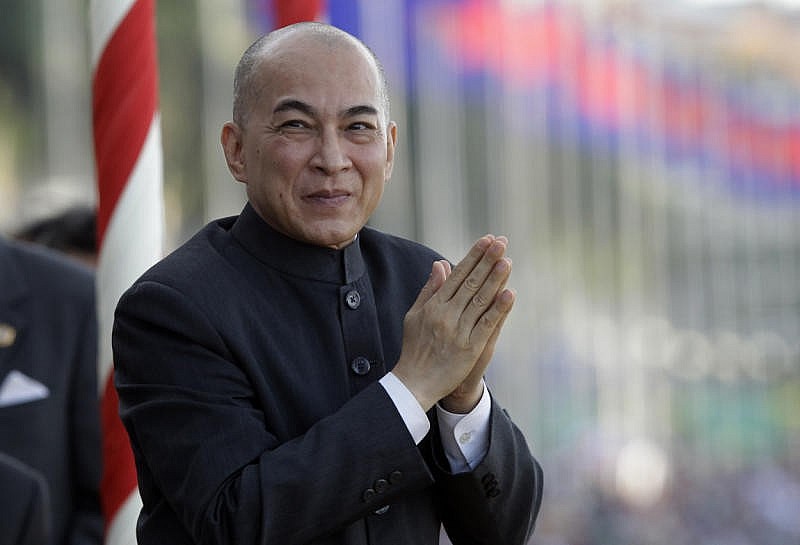 Cambodian King Norodom Sihamoni (Photo: Bangkok Post)
He hailed the flourishing comprehensive cooperation between the two countries, along with the enormous attainments the Cambodian people have gained, especially their consensus to surmount every difficulty and challenge in the Covid-19 combat.
The ambassador said he believes that under the judicious rule of King Sihamoni and the clear-sighted leadership of the Cambodian Senate, National Assembly, and Government, the people of Cambodia will continue harvesting even greater successes on the path to build a kingdom of peace, stability, and prosperous development.
He pledged his best efforts to cultivate the traditional and long-standing relationship between the two countries and peoples, contributing to effectively developing sound relations, time-honored friendship, and comprehensive co-operation, and ensuring long-term sustainability for both sides.
On this occasion, Ambassador Tang conveyed his greetings and best wishes from senior Vietnamese leaders to King Sihamoni and the Queen Mother.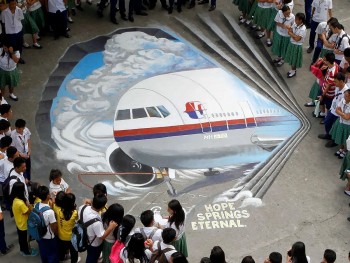 World
The world might never know what really happend when these planes went off the radar. Let's take a look at some of the unsolved mysteries of aircraft disappearances.