Can Tho Friendship Union and Tho Dai Magazine send gifts to Vietnamese Khmer in Cambodia
Foods and thousands of personal medical items worth US $17,4 thousand were handed over to the Vietnamese Khmer community in Combodia last Friday.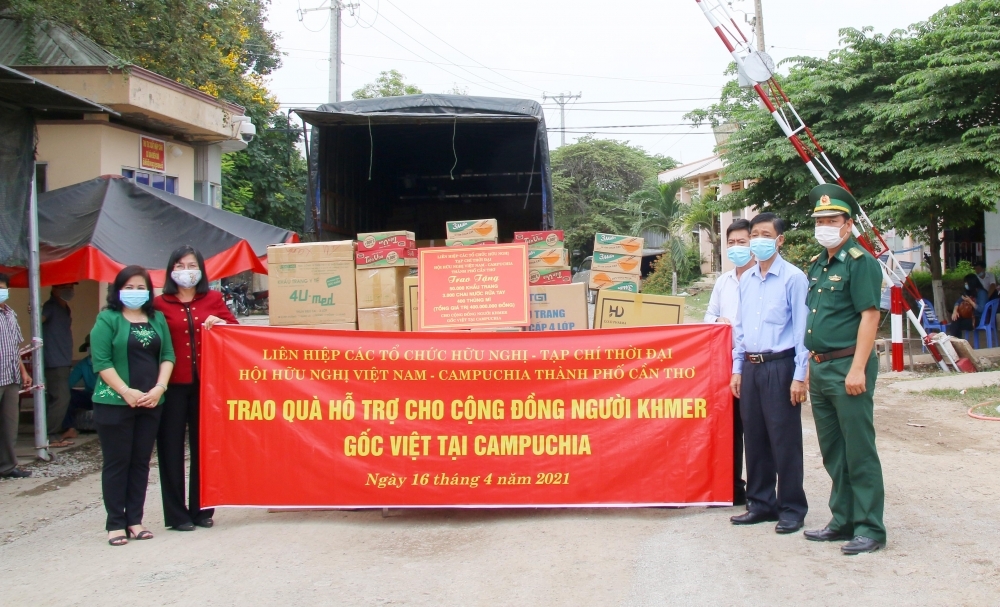 (Photo: Thoi Dai)
Accordingly, the aid package was handed over at Thuong Phuoc International Border Gate, Dong Thap province by Can Tho Friendship Union, Thoi Dai Magazine and Vietnam - Cambodia Friendship Association of Can Tho City.
The package includes foodstuff and essential medical supplies against the Covid-19 pandemic, such as 50,000 face masks, 3,000 bottles of hand sanitizers and 400 instant noodles. All the gifts amount to over VND 400 million (US $17,4 thousand).
Speaking of the supportive program, Ms. Le Thi Thanh Giang, President of the Can Tho Friendship Union affirmed that Vietnam and Cambodia had a special traditional friendship.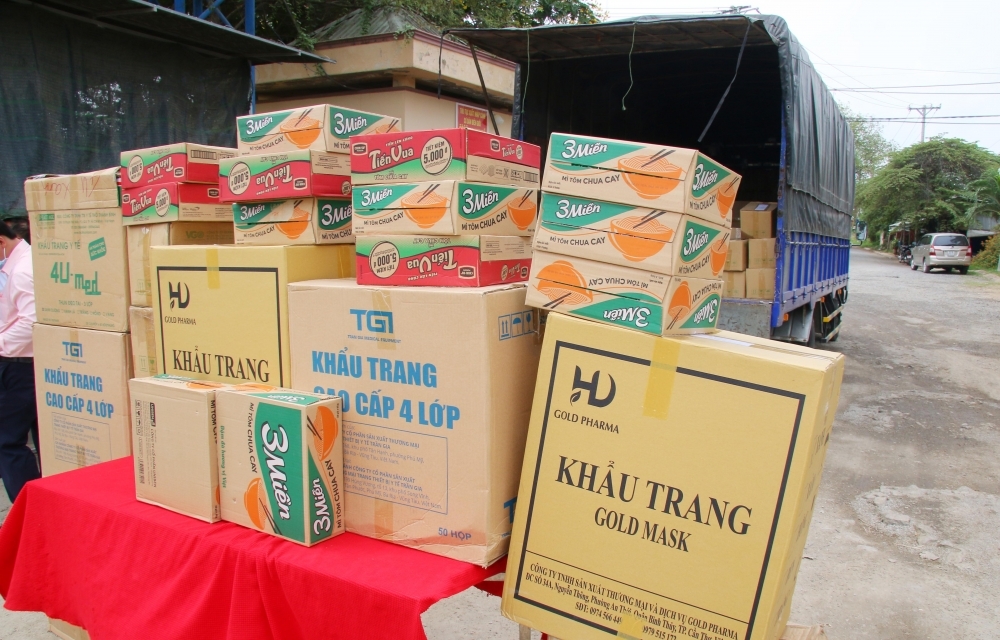 (Photo: Thoi Dai)
The Covid-19 pandemic has been growing more complicated in Cambodia, severely disrupting the lives of Cambodians in general and Vietnamese Khmer in particular, especially those living in Kandal and Prey Veng provinces. The majority of Vietnamese Khmer people in Cambodia are poor laborers who are already struggling. The Vietnamese Khmer community has, therefore, enlisted help from the Union of Friendship Organizations and the Vietnam - Cambodia Friendship Association of Can Tho City.
Ms. Giang expressed her hope that the presents would help encourage and share the difficulties with Vietnamese Khmer in Cambodia during the pandemic time. She also believed Cambodia would soon to contain the Covid-19 pandemic.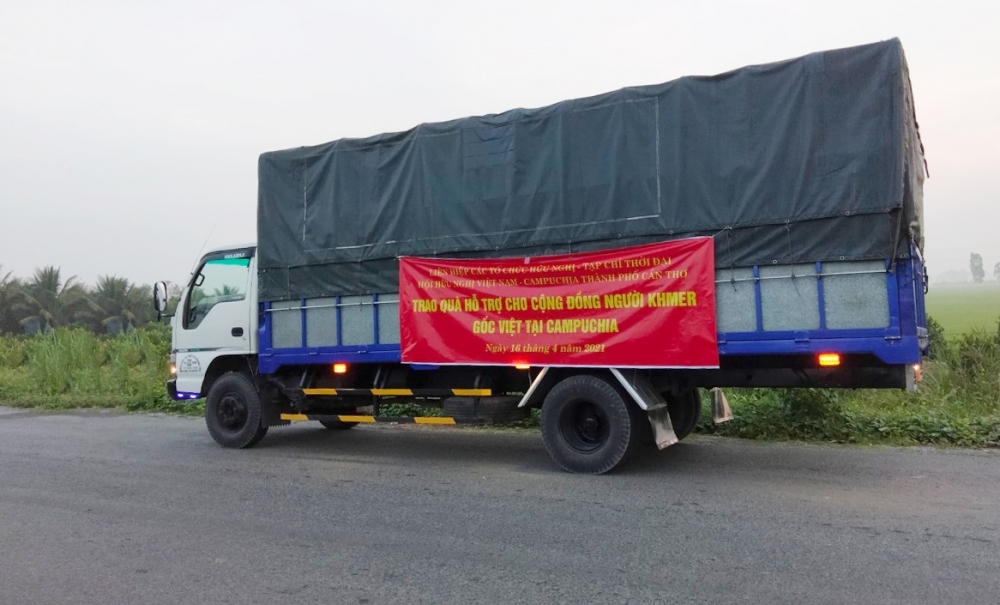 (Photo: Thoi Dai)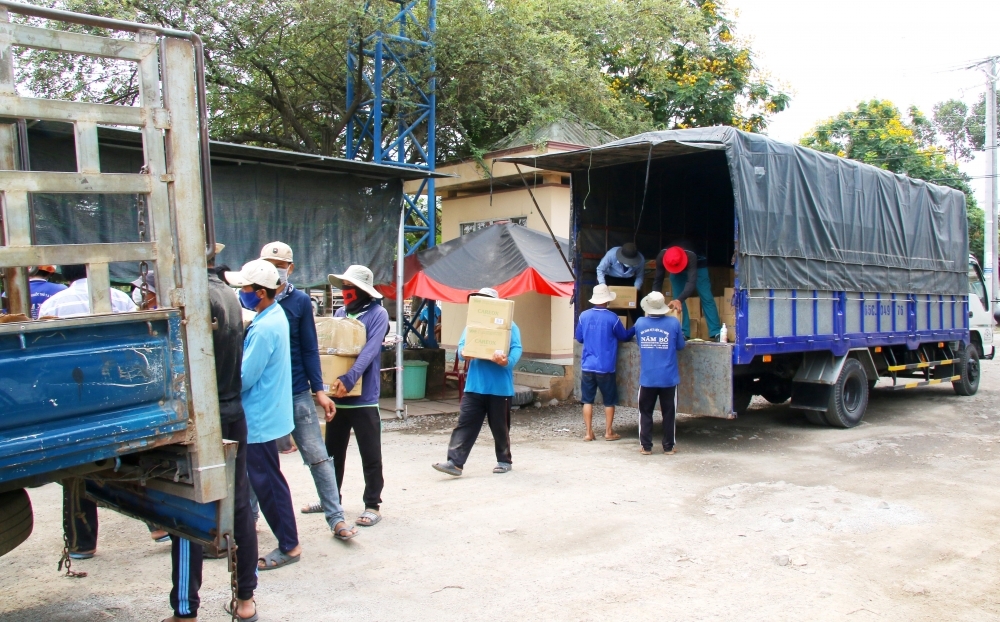 (Photo: Thoi Dai)
Earlier on April 15, Kien Giang's Department of Foreign Affairs and Father Front Committee delegation, led by Mr. Nuyen Viet Thong, Department of Foreign Affairs Vice-Chairman, gave gifts to poor Vietnamese living in Cambodia and Cambodians who struggling due to COVID-19 on the occasion of Choi Chnam Thmay. The ceremony took place at Ha Tien Border Gate.
At the ceremony, on behalf of Kien Giang's Party Committee, People's Council, People's Committee, Vietnam Fatherland Front Committee, Mr. Nguyen Viet Thong sent his congratulations and wishes to the Vietnam Consulate General in Cambodia, Vietnamese who are living and working in The Kingdom of Cambodia, as well as Cambodian citizens on the occasion of Cambodia's traditional New Year Chol Chnam Thmay.
The delegation gifted VND 300 million (USD 15,600) to the Vietnam Consulate General in Preah Sihanouk, Cambodia. The representative of the Kien Giang Fatherland Front Committee gave an additional VND 60 million (USD 2,600) to the Vietnamese Association in Kep and Kampot to support poor Vietnamese and Cambodians living there.
Another aid package, including dozens of tonnes of essential goods, including food and medical supplies, were also distributed to Vietnamese Cambodians to cope with the Covid-19 outbreak.
Amidst the complicated development of Covid-19 in Cambodia, the relief aid, donated by agencies and organizations in Vietnam's provinces bordering Cambodia like Binh Phuoc, Dong Nai, An Giang, and Dong Thap, have supported not only Vietnamese Cambodians but also those working on the frontline against Covid-19 in Cambodia, according to the World & Vietnam Report.
According to the Vietnamese Embassy in Cambodia, the relief aid includes rice, canned fish, medical masks and hand sanitizers, etc.
In addition, the Khmer-Vietnamese Association's chapters in Kratie, Mondulkiri, and Tbong Khmum also received and distributed relief goods to 1,056 disadvantaged households in these three provinces.
In Kampong Chhnang province, where is home to the largest number of Vietnamese Cambodians, the Vietnamese Embassy's Community Support Fund on April 10 handed over 3 tons of rice and 500kg of essential goods to representatives of the Khmer-Vietnamese Association's chapter in the province to help Vietnamese Cambodians here.
The Khmer-Vietnam Association's chapters in the provinces have actively worked with the local authorities so that Vietnamese Cambodians can be soon vaccinated against Covid-19.
Cambodia was suffering a significant surge in Covid-19 community transmissions. On Tuesday, the country reported 181 new infections. Three days earlier, there were more than 1,000 cases.
The World Health Organization (WHO) in Cambodia warned of the risk Cambodia is facing.
"We stand on the brink of a national tragedy because of Covid-19. Despite our best efforts... new cases occur every day and we are racing against the virus. Unless we can stop the outbreak, Cambodia's health system is at high risk of being overwhelmed, which would have disastrous consequences," said WHO Representative to Cambodia, Li Ailan.