Can Tho: Practical Activities to Support LGBT Community
Can Tho organizes many practical activities to show love and support to the LGBT community.
Hundreds of activities have been held under a project to help LGBT children and teens access education, health care and social services, during a meeting held by the Can Tho City Union of Friendship Organizations on March 31, reported VNA and VNT.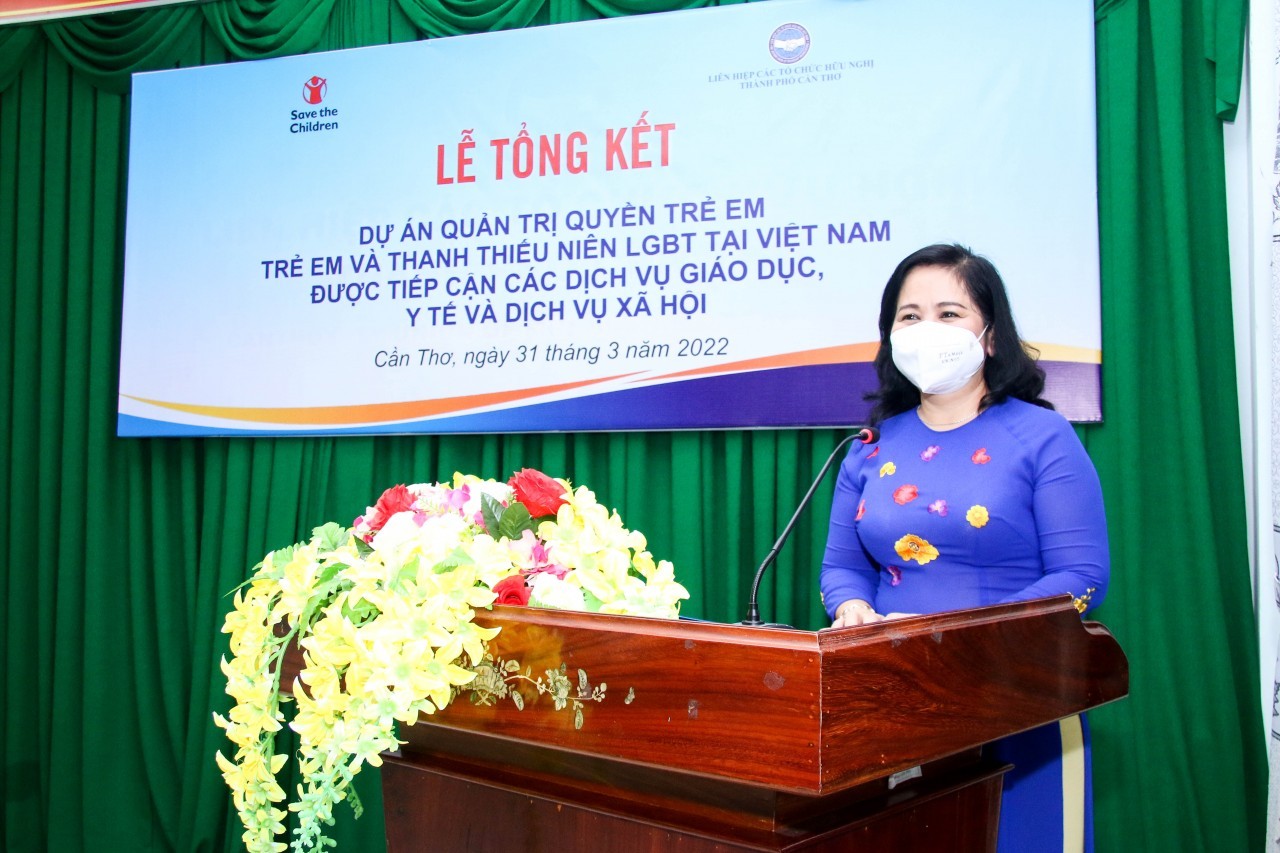 Le Thi Thanh Giang, president of Can Tho Union speaks at the closing ceremony. Photo: VNT
The project was funded by the Norwegian Organization for Sexual and Gender Diversity through Save the Children International in Vietnam, with a total funding of VND 9 million (USD 394,045).
As of March 31, 2022, the project has drawn the participation of more than 12,500 people and accessed 5,000 young people in the LGBT community.
Activities held within the project aim to empower LGBT children and teens by enhancing the capacity of LGBT groups, as well as professional social workers, State agencies and organizations that provide support for the groups.
The project integrated LGBT matters into the Government's relevant policies and programs to benefit street children and teens, including the GLBT ones, and their relatives and friends.
Under the project, a club of parents, families, and friends of lesbians and gays (PFLAG Can Tho) and other groups in support of the LGBT community have been established.
Particularly, the PFLAG Can Tho Club was launched on July 1, 2020 and chaired by Teacher Vo Duc Chinh - former Principal of Nguyen Viet Hong High School.
After more than one year of operation, PFLAG Can Tho Club has organized many communication activities about the LGBT community through seminars, talks, contests, such as: writing competition and inspirational presentations about LGBT, seminar series "I agree", writing contest "Why you support same-sex marriage", skill training sessions for club members, exchange and experience sharing with other local PFLAG clubs (in person and online).
With the support of Can Tho PFLAG Club, up to now, Can Tho has established seven youth groups in support of the LGBT community.
Nguyen Trong Vu Binh, southern regional manager of Save the Children Vietnam speaks at the closing ceremony. Photo: VNT
Speaking at the meeting, Nguyen Vu Trong Binh, regional manager of Save the Children of Southern Vietnam, appreciates the role of the Can Tho Friendship Union and the city's Social Work Center (Can Tho city Department of Labour, Invalids and Social Affairs) which has greatly contributed to the success of the project. Especially the establishment of more clubs to support the LGBT community at schools and in the locality.
Although the project has concluded, it is expected to promote new programs and projects in the time ahead, and contribute to consolidating cooperation between State agencies, social organizations and businesses in protecting children's rights in Vietnam, Binh stressed.
Le Thi Thanh Giang, president of Can Tho Friendship Union, head of the project management board awards individuals and units that have made positive contributions in the process of project implementation. Photo: VNT
Can Tho Friendship Union has coordinated with related units to organize 300 workshops, trainings and programs aimed at empowering LGBT youth through strengthening capacity for LGBT support groups, social workers, government agencies and mass organizations to provide services and support to the community; non-discriminatory advocacy against LGBT young people. At the same time, advocate for policies for equality and legal issues, help LGBT youth access social services, health, counseling, careers, education.
Through a series of outstanding events such as: Vietpride, Transgender presence day; webinar "I agree"; communication program "Let's live, keep loving"; seminars on barriers to access public services for the LGBT people, school initiatives themed "Colors of school", training sessions for the LGBT community on children's rights, gender diversity and sex, emotional management, teamwork, the project's goals have been achieved with high results .
In particular, the Can Tho Union announced the establishment of the PFLAG Clubs in Can Tho city and promoted the establishment of the Mekong Delta CBOs Network, to create favorable conditions for LGBT people to exchange, connect and develop a network of community groups in the Red River Delta.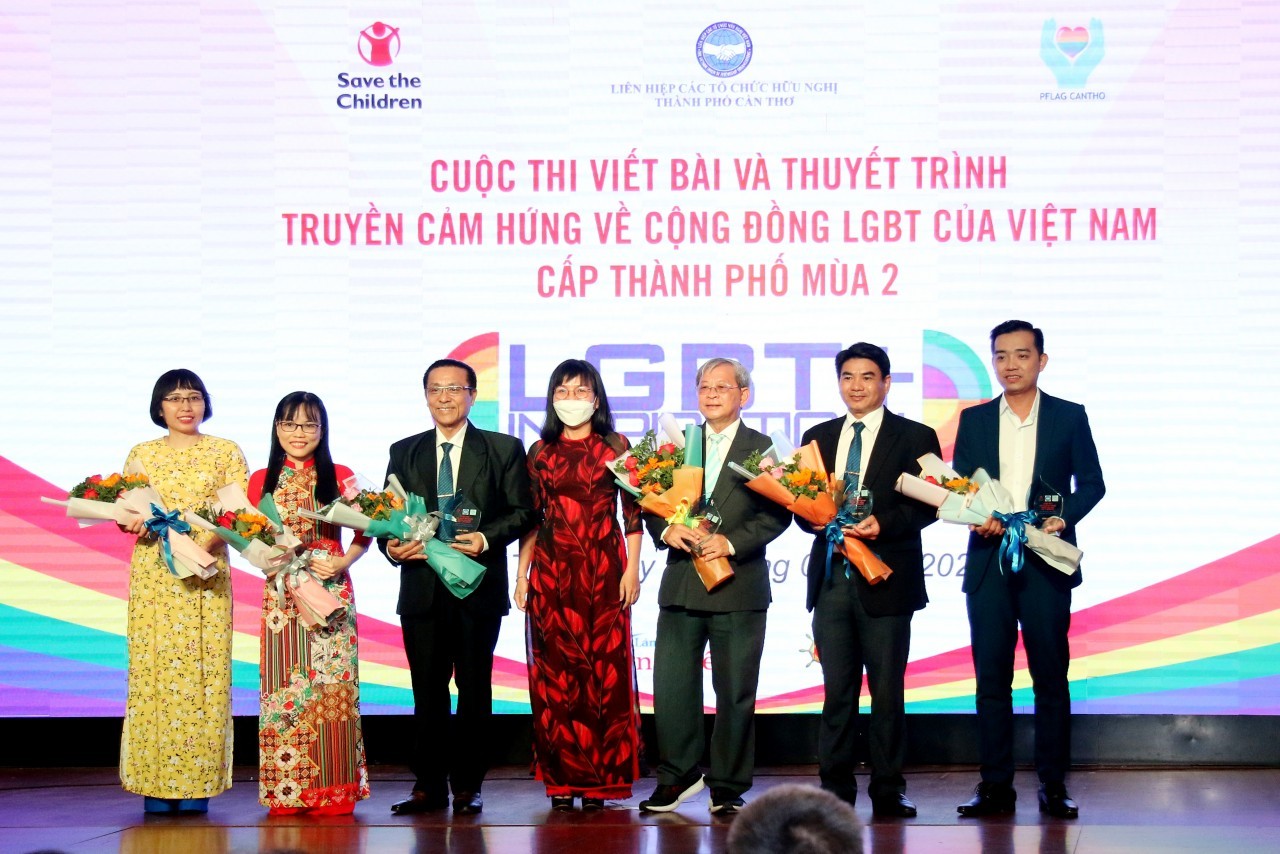 Flowers presented to the jury of the final night of "The second Inspirational Writing and Speaking Contest (LGBT + Inspiration) to learn about Vietnam's LGBT community". Photo: VNT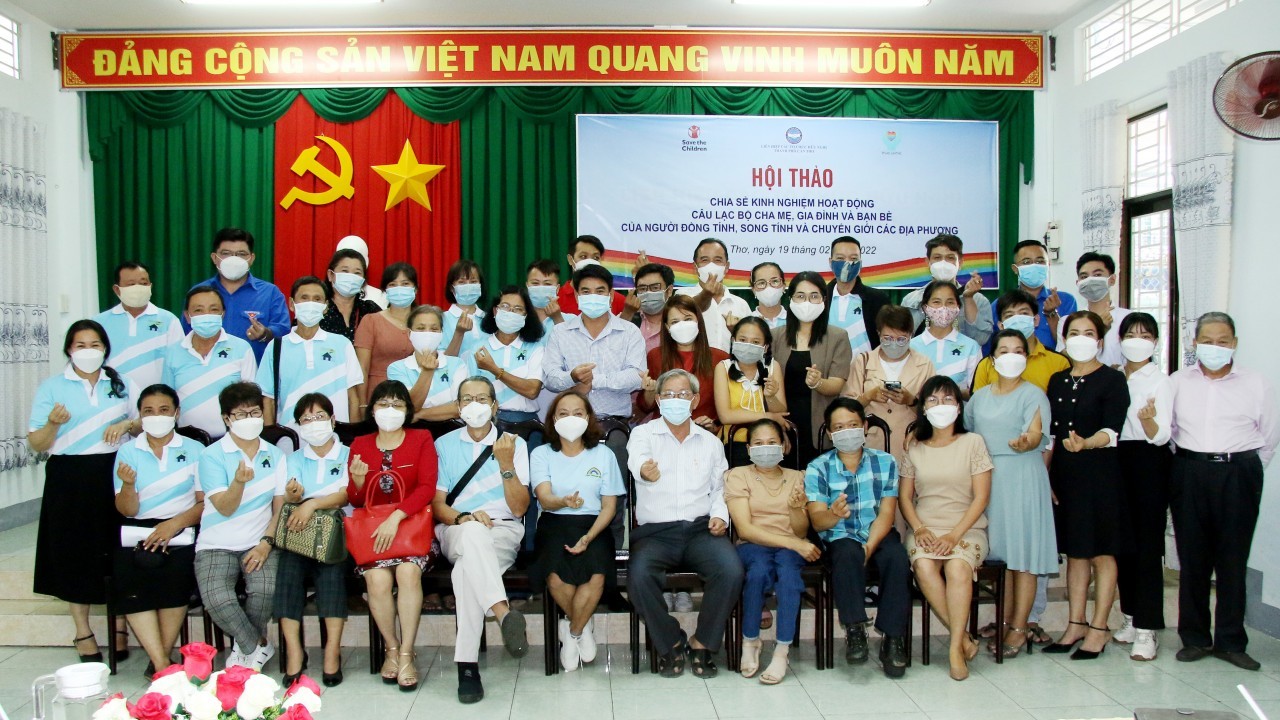 At a workshop on sharing experiences of local PFLAG clubs in Can Tho. Photo: VNT