Canadians impressed by the Vietnam's vision in COVID-19 battle
A teleconference on July 8 sharing Vietnam's experience in fighting against COVID-19, was hosted by the Canada-Vietnam Society (CVS) in collaboration with the Vietnam-Canada Friendship Association (VCFA), attracting the participation of about 90 delegates.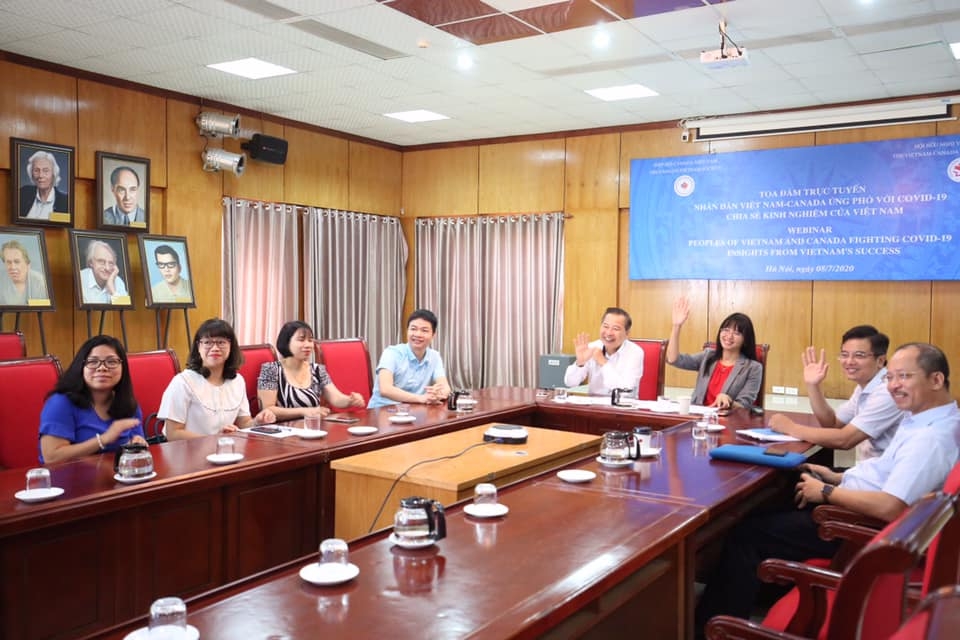 Vietnamese delegates wave at Canadian side during the teleconference. Photo: VUFO
According to the Vietnam News Agency (VNA)'s correspondent in Ottawa, Canadian side were excited to hear the experience of Thomas Alexander, a Canadian who lived in Vietnam during the COVID-19 epidemic.
Alexander, an education consultant, currently working in Ho Chi Minh City, said that during Vietnam's battle with the COVID-19 pandemic, he was most impressed by Vietnamese leaders' vision.
"Vietnamese officials seem to have an early understanding of the complex nature of the pandemic," he said. At the early stage of the outbreak, when coronavirus was new to the public, many did not strictly comply with government's restrictions. But after that, both Vietnamese and foreigners realized that tough measures were worthwhile."
At the seminar, Associate Professor Tran Xuan Bach, a lecturer at Hanoi Medical University shared with Canadian friends the interdisciplinary approach that he said was key to COVID-19 containment efforts in the country.
Dr. Vu Ngoc Long, Deputy Head of Infectious Disease Control Department under Health Ministry's Department of Preventive Medicine, also informed Canadians about the situation with the virus in Vietnam in which July 8 marks 83 days consecutive day of no fresh community cases. Newly-detected cases returned from epidemic hit countries and they were all placed in quarantine as soon as they landed in Vietnam.
Meanwhile, as of July 7, Canada has now seen 106.167 lab-confirmed cases, along with 8.711 deaths.
Elizabeth McIninch, member of the CVS's Executive Board, said many countries are now preparing to return to their normal state, as the world continues to develop and produce COVID-19 vaccines and medicine.
According to McIninch, when the wave of coronavirus infection in Canada began to subside, analysts began to question what would happen next in the economic-trade activities.
She underlined the important role of Vietnam, which is Canada's largest trade partner in Southeast Asia, in its trade diversification strategy towards the Asia-Pacific region. HCM City now one of the most important hubs for startups in the world.
"Canada's strengths in the field of clean technology, agricultural technology, food processing, public transport, road infrastructure, and renewable energy are also areas where Vietnam is in high demand. The Comprehensive and Progressive Agreement for Trans-Pacific Partnership (CPTPP) will be a driving force for further cooperation between Vietnam and Canada," she said.
"Despite the challenges caused by this pandemic, the road ahead is opening up great opportunities for cooperation for the two people," McIninch optimistically affirmed.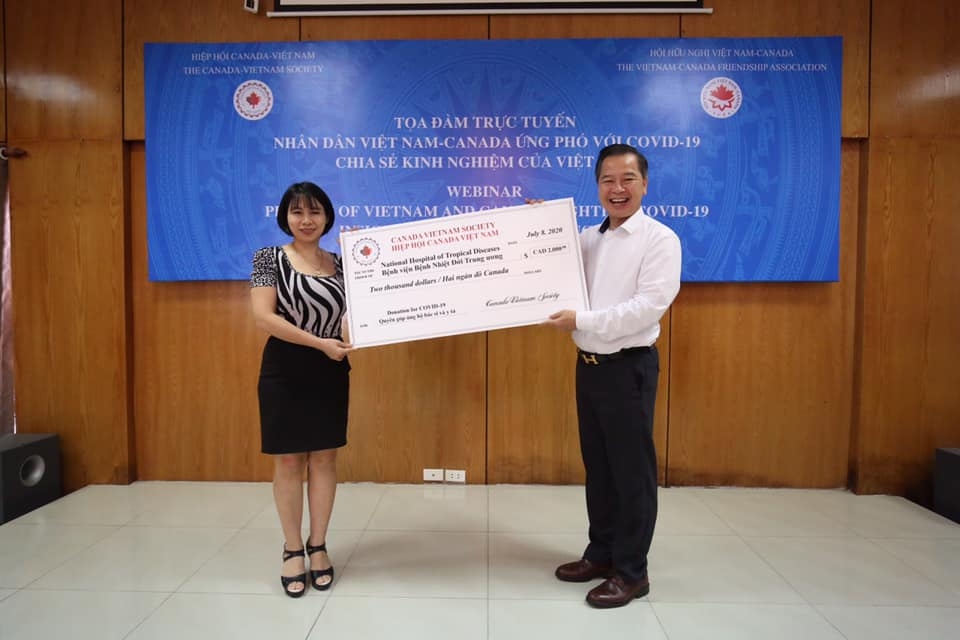 The Canada-Vietnam Society donated CAD 2,000 to the HCM City Hospital for Tropical Diseases and the National Hospital for Tropical Diseases each. Photo: VUFO
On this occasion, CVS also presented CAD 2,000 (USD 1.469) to the HCM City Hospital for Tropical Diseases and the Central Hospital for Tropical Medicine each.
The donations has mobilized by overseas Vietnamese in Canada to support the frontline doctors in combating epidemics in homeland.
On January 31, the World Health Organisation declared coronavirus outbreak in China as a global health emergency of international concern.
COVID-19, the disease caused by the new coronavirus, is largely a respiratory illness that affects the lungs, which has killed over 500,000 people worldwide.