Capella Hanoi Among 100 Best Hotels on the Planet: Travel+ Leisure
Out of all 100 properties on the 2022 It List, Vietnam's representative is the Capella Hanoi hotel. Read on for your next vacation spot awaits.
In 2021, Travel+Leisure has tracked debuts and major overhauls, and crossed the world in search of the best, most memorable, game-changing new and reimagined hotels of the year for its annual It List for 2022.
T+ L writers and editors aimed to showcase the properties that are at the top of their game and adding something new to the conversation, whether they're century-old stalwarts fresh off a major reno or intimate family-run boutiques that hit the sweet spot between hotel hospitality and vacation-rental hominess.
In this list of the 100 best hotels in the world in 2022, you will find accommodations from 35 countries in pursuit of the unforgettable, said Travel+ Leisure, from an ancient former palace in Sicily, a cutting-edge wellness center in Qatar, a working farm in South Africa, to a Miami hot spot from Pharrell Williams.
Out of all 100 properties on the 2022 It List, Vietnam's representative is the Capella Hanoi hotel. Read on for your next vacation spot awaits.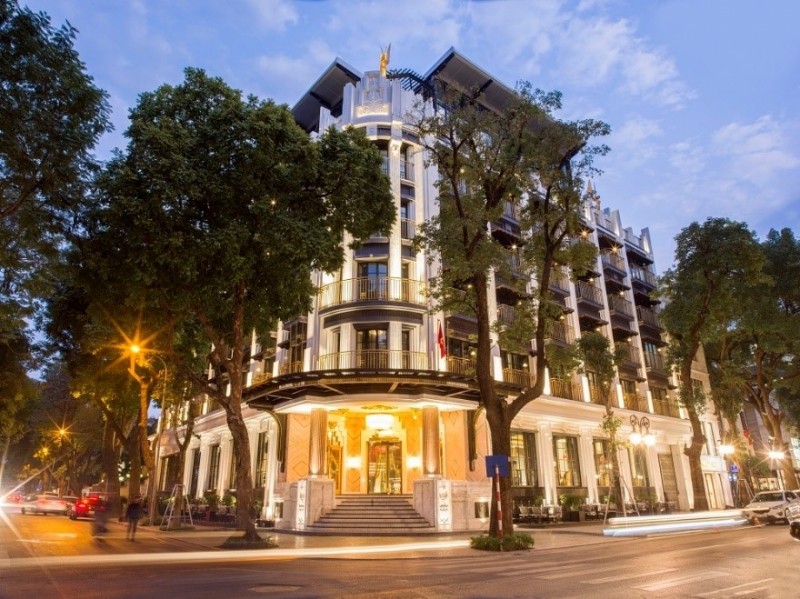 Photo: DEP
T+L writer Diana Hubbell praised the hotel, saying it made the It List thanks to Bill Bensley's wildly inventive creations. Bill Bensley, the illustrious architect behind Capella Ubud, Bali, the No. 1 Hotel in the World in 2020, chose Vietnam's capital and honored its name with his luxury design.
She wrote: would this even be on the list if there weren't one of Bill Bensley's wildly inventive creations on it? Inspired by the proximity of the grand Hanoi Opera House, Asia's luxury hotel king created a stunning oasis inspired by the glitz and glamour of the Roaring Twenties. There are plenty of gilded, Gatsby-worthy details here, but the true jewels of the place are the four individually designed Opera Suites each of which pay subtle homage to legendary divas of a bygone era.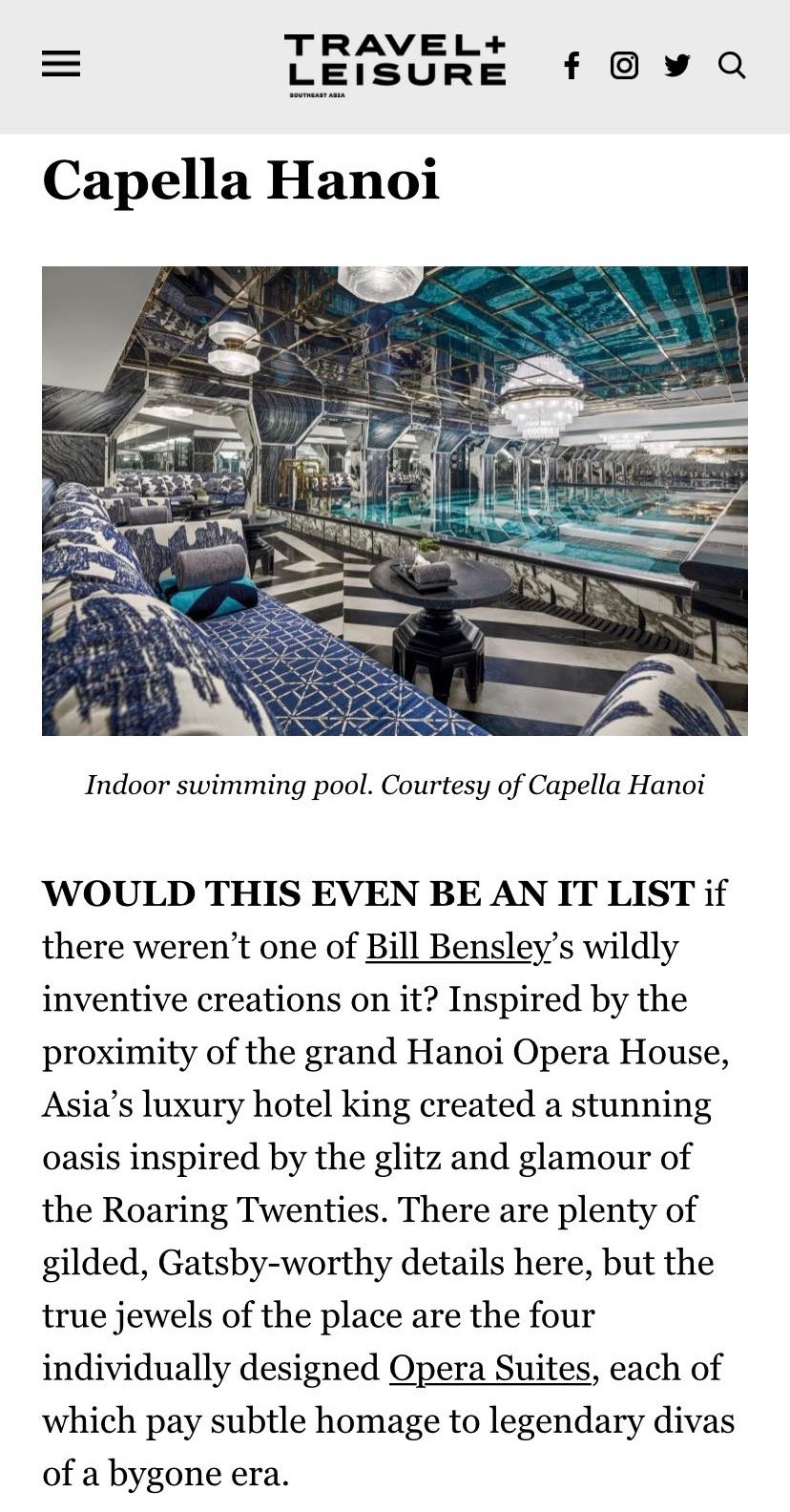 Photo: Screenshot from Travel+ Leisure
According to the magazine, if there's a Vietnamese phrase to describe Capella Hanoi, it's "tinh te".
"A 'tinh te' state of mind is a process of careful selection", says Travel+Leisure.
It noted that the Hanoi outpost is an ideal choice for first-time visitors to the city, thanks to one of the most convenient locations of any high end property in town.
"The building is originally a turn-of-the-century opera house, and architect Bill Bensley used his meticulous eye to incorporate some of that early 20th-century atmosphere via decorative details: paintings of theater scenes adorn guest room walls, and opera-inspired antiques (vintage gowns, wooden shoe molds that performers once wore) can be found around the property", Travel + Leisure editors shared.
Each of Capella Hanoi's 47 rooms is individually styled with operatic artefacts and custom portraiture that pay tribute to legendary Opera artists, composers, designers and performances.
According to the magazine, a night's stay for a double room costs US$236.
Rounding off the list of top 100 included Kisawa Sanctuary of Mozambique, Puku Ridge Camp of Zambia, Six Senses Shaharut of Negev Desert, Israel, Sterrekopje of Franschhoek, South Africa, Zulal Wellness Resort of Qatar, The Ritz-Carlton Maldives of Fari Islands, The Ritz-Carlton, Nikko of Japan, Six Senses Fort Barwara of Rajasthan, India, The Tasman of Hobart, Tasmania, and Explora El Chaltén of Argentina.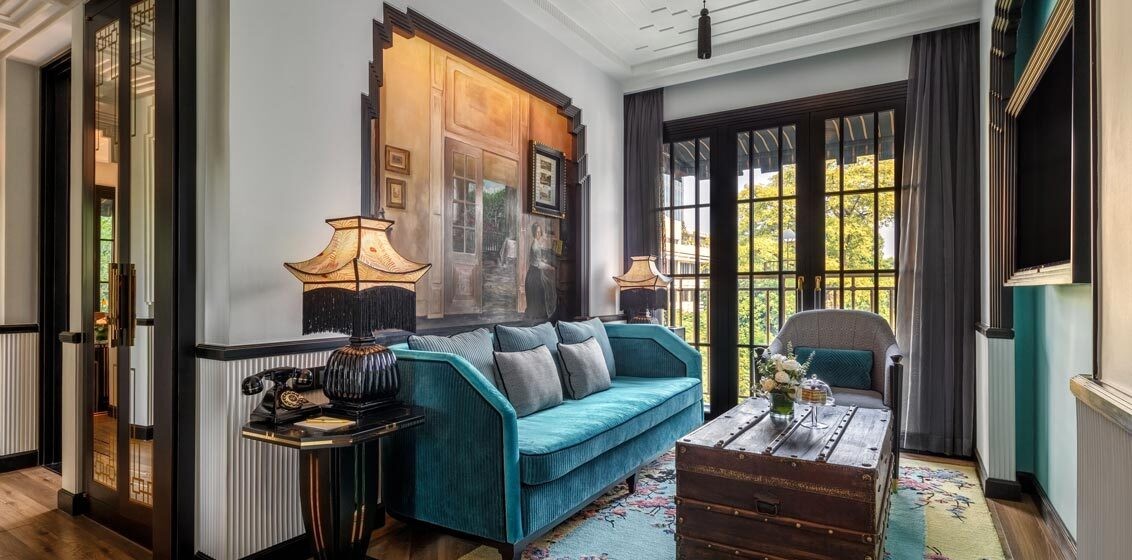 Photo: Latteluxurynews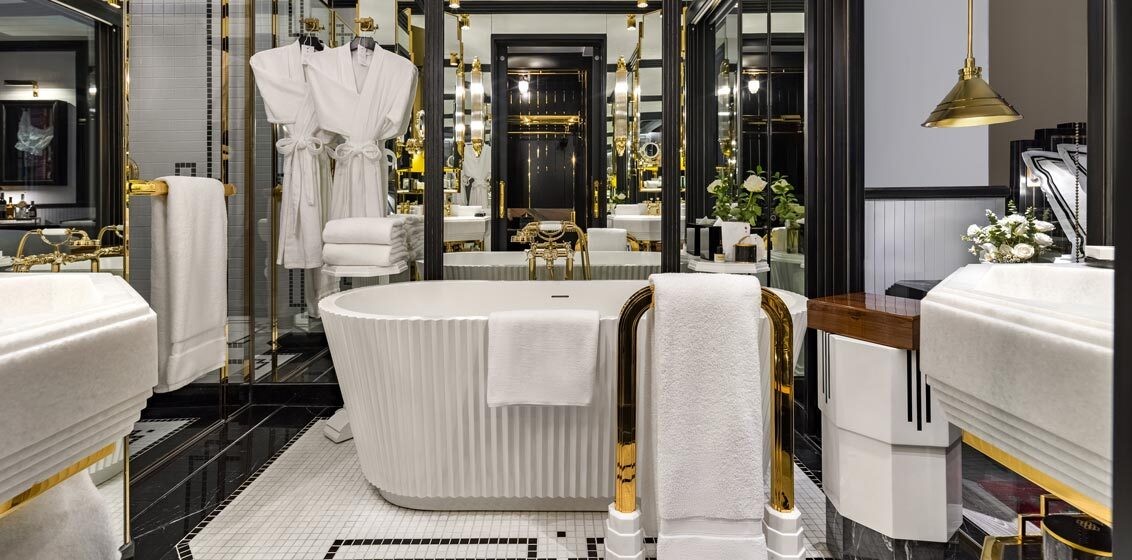 Photo: Latteluxurynews
The Best New Hotels To Book In 2022

From the gorgeous resorts in New York to the classic-styled hotels in London, these new best hotels that were just opened at the beginning of ...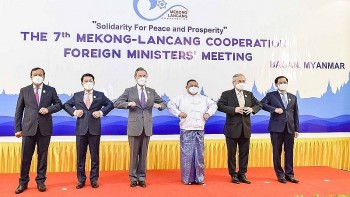 National
Foreign Minister Bui Thanh Son led a Vietnamese delegation to the seventh Mekong-Lancang Cooperation (MLC) Foreign Ministers' Meeting that was held in Bagan, Myanmar on July 4.