Catching Night Squid off the Coast of Minh Chau Island
Ride the wave and grab tight to the pole, you do not want to miss night squid fishing in Minh Chau Island (Quang Ninh).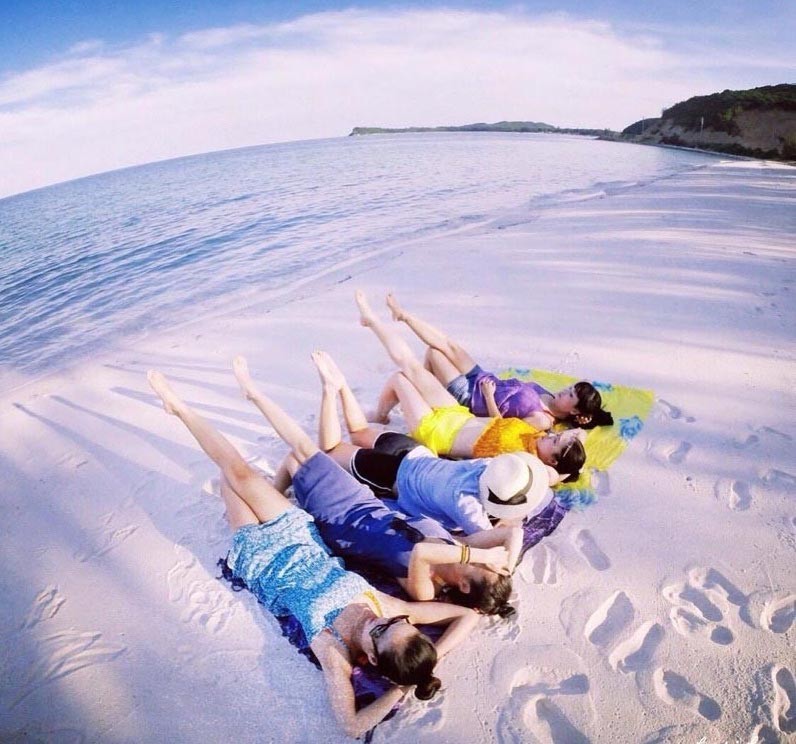 Minh Chau island (Bright Pearl) - a treasure of Vietnam. Photo: Cungphuot
Minh Chau island (Quang Ninh province) is known as the most transparent beach in the province. In Vietnamese, this treasured beach known as "Bright Pearl". You can experience plenty of fun during the day playing in the clear water or hiking through the island forest.
When night falls, an exciting challenge awaits far from the shore; squid catching. This is this is the special delicacy that locals highly recommended. When going squid catching, you will not only have the freshest seafood for your dinner, but also enjoy the feast of winners.
The night is young on the island
Departing from about 5PM on Minh Chau port, you will reach the fishing spot in about 15-20 minutes. The local fishermen depend on no sign of absolute location, just years of experiences to take you right to the ideal night squid fishing spot.On Minh Chau island, this is a popular tourist attraction and there are many boats that offer night squid fishing tour.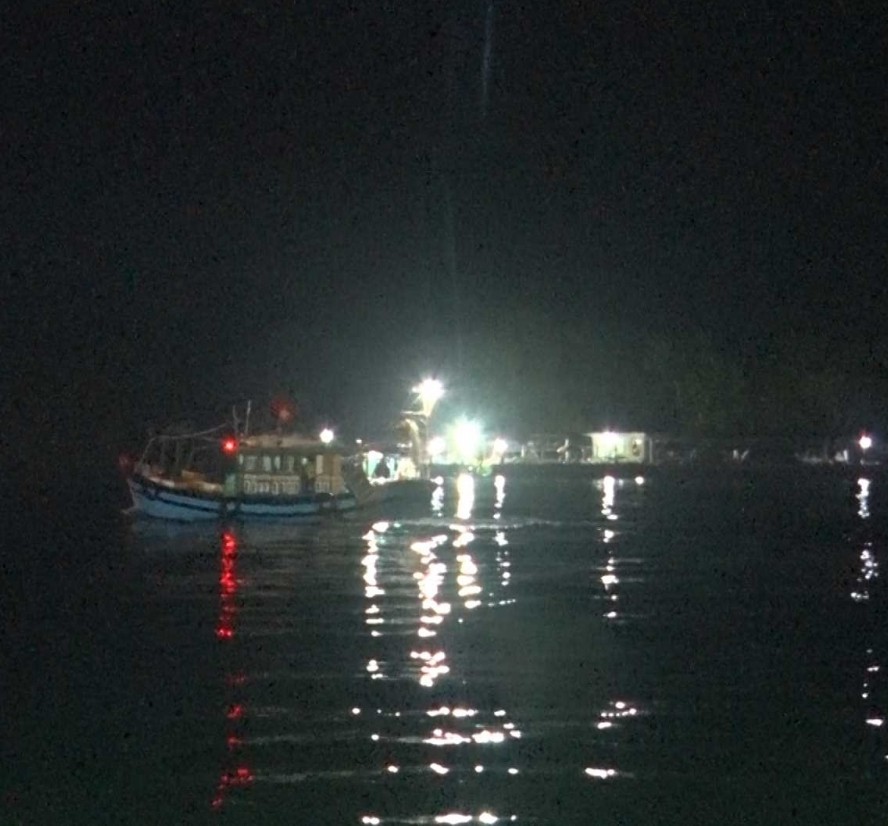 The squid fishing spot in about 15-20 minutes from the Minh Chau port. Photo: Petrotimes
Nguyen Tien Thinh - Owner of a boat that takes tourists to night squid fishing on Minh Chau island shared: "Squid fishing in Minh Chau was formerly a traditional profession, now it has expanded to be more of a travel experience, for tourist entertainment. Every year my boat also carries 50 fishing trips.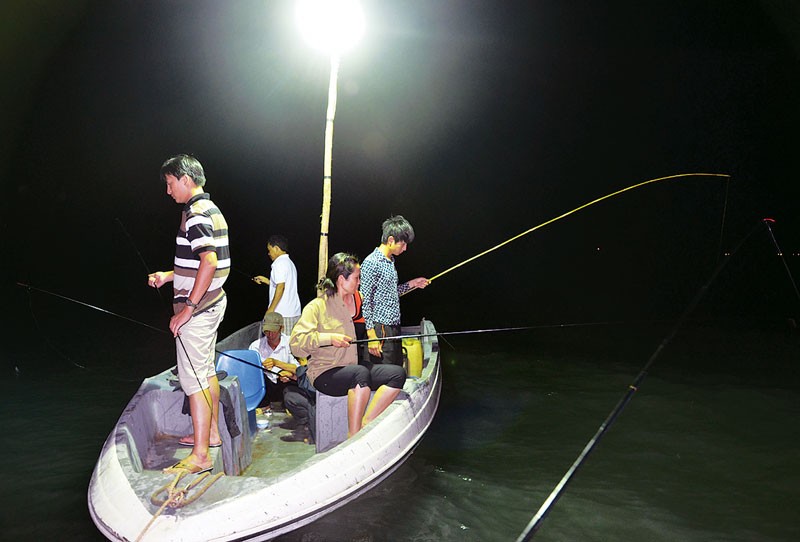 Tourists enjoy squid fishing. Photo; Thanh Nien
According to Thinh, summer is the ideal squid fishing season because this is also the season with the most squid. Fishing time is usually from 6pm to 9pm. There is no squid fishing on days with moon and monsoon, because there will be no or very few squid. When there are big waves, squid fishing would be impossible even for veteran fishermen so tourists should not try to avoid seasickness.
The cost of hiring a fishing boat is from VND 1,200,000 to 2,000,000 (US $52 - 87) depending on the number of people. Boat owners will provide tourists with fishing equipments.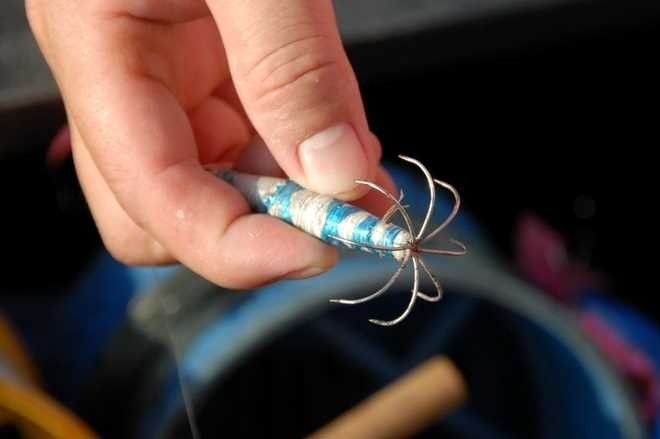 Squid fishing is different from regular fishing. Photo: Petrotimes
You usually need real bait and a quiet space but squid fishing only needs a reflective fake shrimp or fish with a sharp hook. This fake bait will glow under the headlights and lure in the squids.
Since the boat might run slowly or park at on spot, tourists can easily see the squids swimming in the clear blue water. The trick is to bring the bait up and down so you triggle the curious squid; or when seeing a big squid, move the bait closer so that the squid can see it and rush to bite the bait.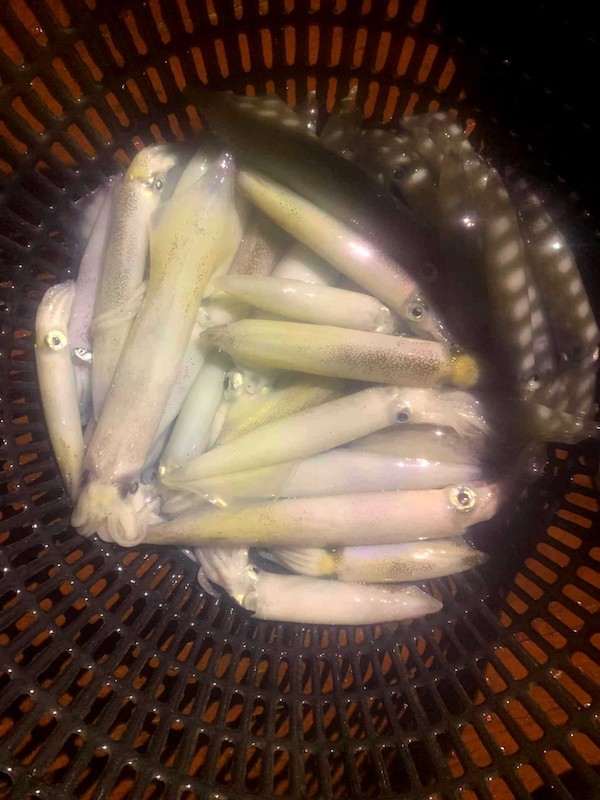 The size of squid is about 10-13 cm. Photo: Petrotimes
The feast of the winners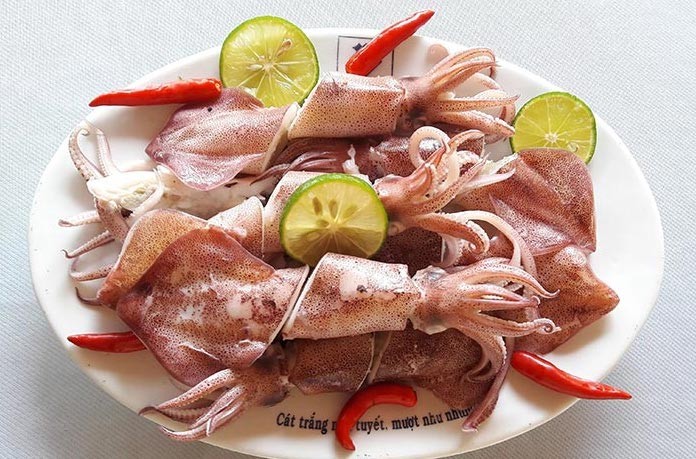 The result of night squid fishing. Photo: Cungphuot
Dao Thi Bich Ngoc - a tourist from Hanoi could not be happier when she caught the squid on her first time trying: "This is my first time going to Minh Chau island, our group went to experience some places. I find the sea here very beautiful. My friends and I go on squid fishing two nights in a row because we cannot get enough of the feeling watching the sea shimmering with swarms of squid swimming in the sea. I even caught some. We will definitely come back here next time."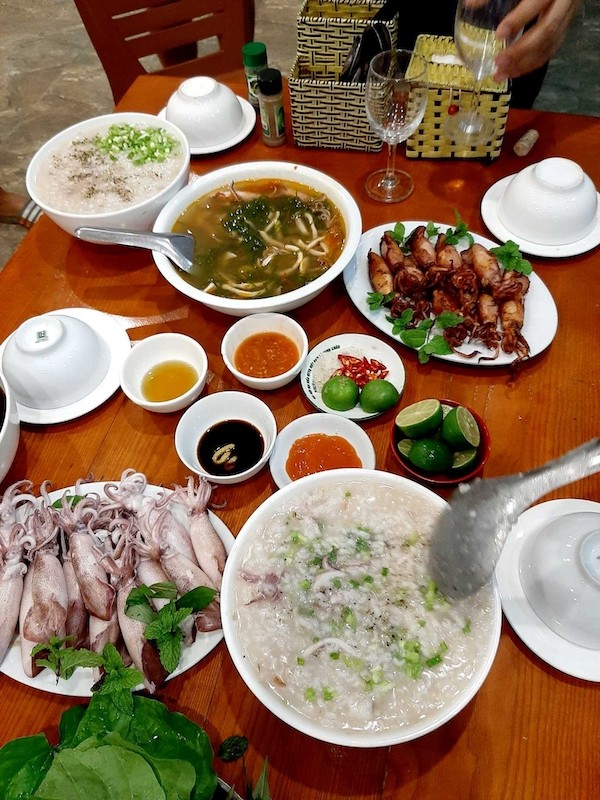 Tourists can enjot many dishes from what they catch. Photo: Petrotimes
Tourists can enjoy many dishes such as steamed, fried, cooked with guise leaves, and porridge. Some even enjoy it right on board. This is what local fishermen usually do on the boat. They call it "the feast of the winners".
After a long night of fishing, you can sit back with a beer in hand and watch a glorious sunrise. Not a bad way to spend the night in Minh Chau Island!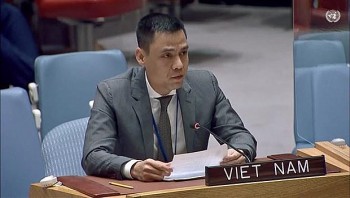 Friendship
Vietnamese Ambassador Dang Hoang Giang underscored the critical importance of protecting civilians in armed conflicts while addressing an annual open debate on the issue held by the UN Security Council (UNSC) on May 25.