Celebrating Mid-Autumn Festival While Combating the Virus
A less celebrative Mid-autumn festival is beginning across Vietnam, with many people being thrown a warm "party" at hospitals or quarantine centers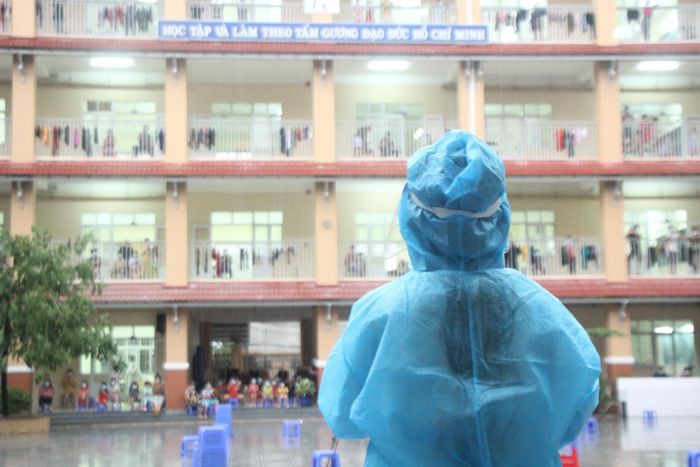 Photo: Tien Phong
Mid-autumn, or Children's Festival, is held annually on August 15 in lunar calendar in Vietnam. It is an occasion for a family get-together where members enjoy some tea and mooncakes or moon gazing. In the evening, children bearing brightly colored lanterns form raucous processions and tour their neighborhoods singing songs. There will also be lion dancing, uplifting drumbeats to cheer up the atmosphere.
This year, however, such a celebration will be less festive given the ongoing pandemic. For health safety, there will be no parades or traditional dancing on the streets. Many people might miss the opportunity to gather with families due to travel restrictions.
The day of Mid-autumn (Sept. 21 in solar calendar) will be the last day Hanoi residents supposedly serving the citywide social distancing if there's no further extending order. Meanwhile, the prolonged stay-at-home order is in place in HCMC and other southern localities, meaning each family can only have an indoor celebration.
Still, they are still considered lucky. Many people, including Covid-19 patients and frontline workers, will have to spend the festival in medical establishments.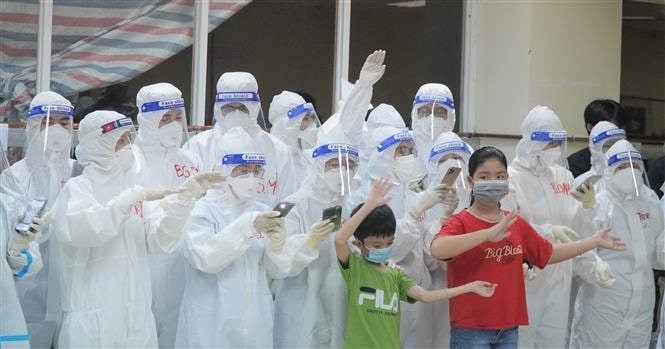 Children at HCMC Field Hospital No.1 join medics to put on musical performance. Photo: VNA
To make Mid-autumn less lonely, authorities and benefactors in many places have been handing presents to Covid patients and organizing meaningful activities at hospitals or quarantine centers.
Medical personnel at HCMC Field Hospital No. 4 on Sept. 17 evening held a small Mid-Autumn festival for the children treated for Covid-19 at the facility.
'The small patients can't enjoy their childhood to the fullest due to the coronavirus. We hope our presents will somehow make up for their loss during the Mid-autumn this year," said Dr. Nguyen Cat Phuong Vu, of the Department of Social Work, HCMC Children Hospital which hosts the field hospital No. 4.
Last Wednesday, Covid-19 patients at the ICU area,Field Hospital No. 1,also enjoy the festival with the help of doctors and nurses. Such a special celebration is reportedly an encouragement for the patients, especially pediatric ones.
"Everyone must be longing to go out with friends or reunite with family as Mid-autumn is up in the air. I used to feel the same way when I was small, thus I know how the patients are feeling in here, especially the children," Dr. Nguyen Thanh Tam, head of the General Planning Department, Field Hospital No. 1 told Bao Tin Tuc.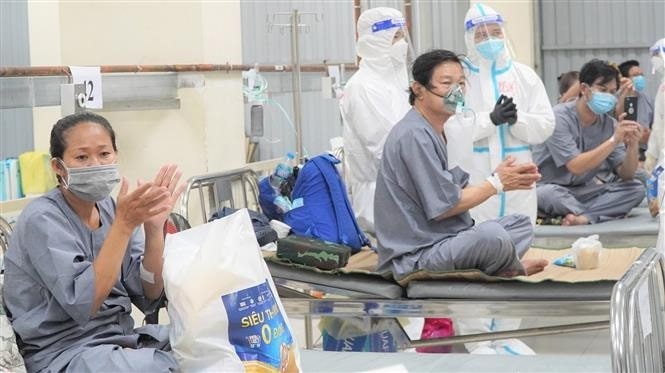 Not only children, adults are also given presents at the occasion. Photo: VNA
After doling out 270 portions of candies and cakes, doctors and nurses at the makeshift hospital also gave live musical performances. In the blue protective clothes, medics sang songs under smartphones' flashlights.
"I'm very happy today joining such a warm party like this at the hospital. Mid-autumn is a reunion festival, but I can't be with my members this year. It's sad," said N.T.H, 63. "We feel less lonely thanks to the medical personnel."
Meanwhile, P.H.T, 40, also thanked the medics for creating a playground for children and adults to participate in as the Full-moon festival was approaching.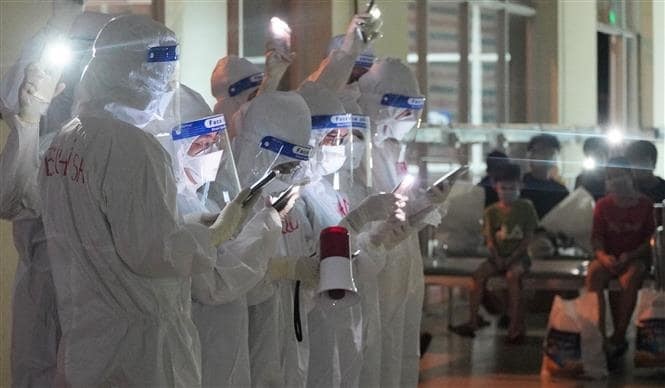 Photo: VNA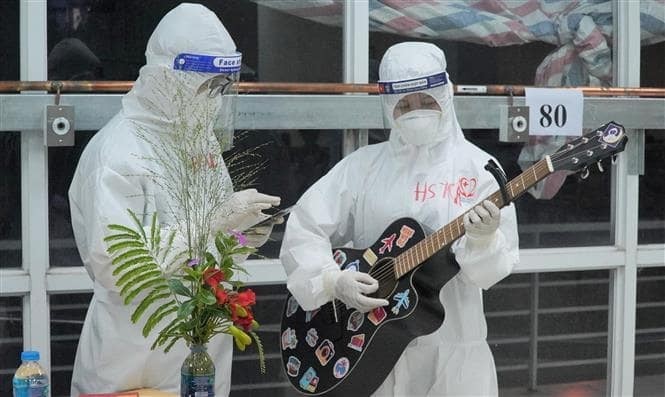 A medic at Field Hospital No. 1 plays guitar to cheer up the patients. Photo: VNA
The city Youth Social Work Center on Sept. 16 also worked with several other units to organize the program "Mid-Autumn Festival for children" at the quarantine center in Binh Chieu high school, Thu Duc City, Tien Phong reported.
The early celebration is a dose of mental boost for both children and adults either doing quarantine or treating at the center. Volunteers reportedly made balloon art to hand to the children after doling out presents and giving musical performances.
The facility is accommodating over 400 Covid-19 patients and their attendants, including over 60 children.
The municipal National Assembly Delegation has earlier presented 2,000 gifts to children treated for Covid-19 at four hospitals in the city.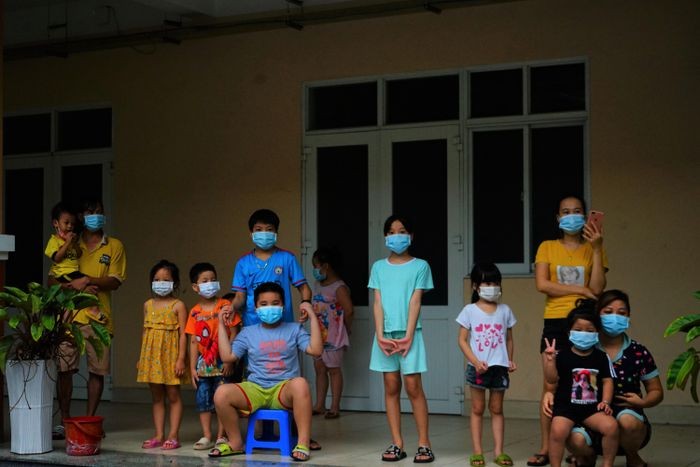 Children at quarantine center in Binh Chieu high school. Photo: Tien Phong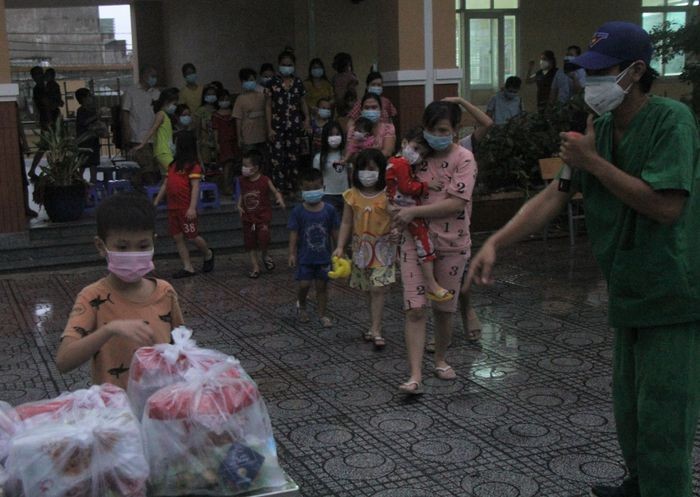 Photo: Tien Phong
Photo: Tien Phong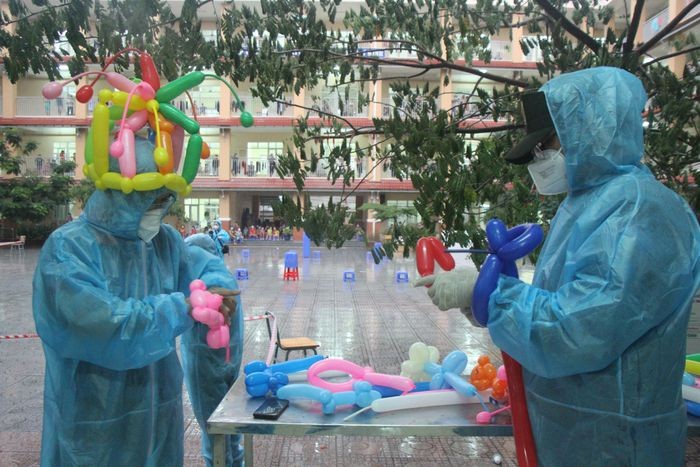 Medics make balloon art to give to the children. Photo: Tien Phong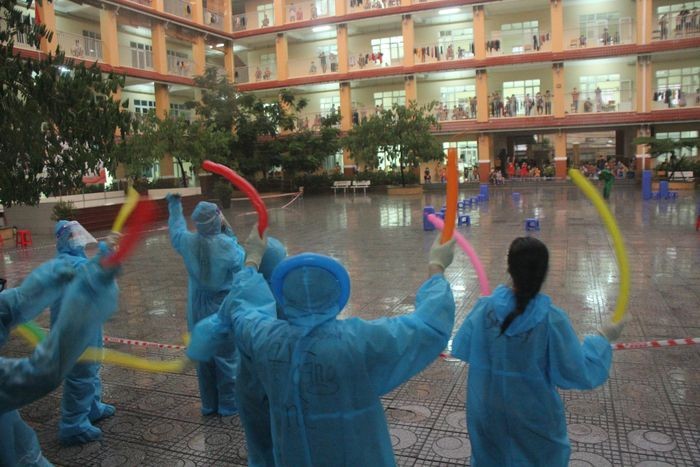 Photo: Tien Phong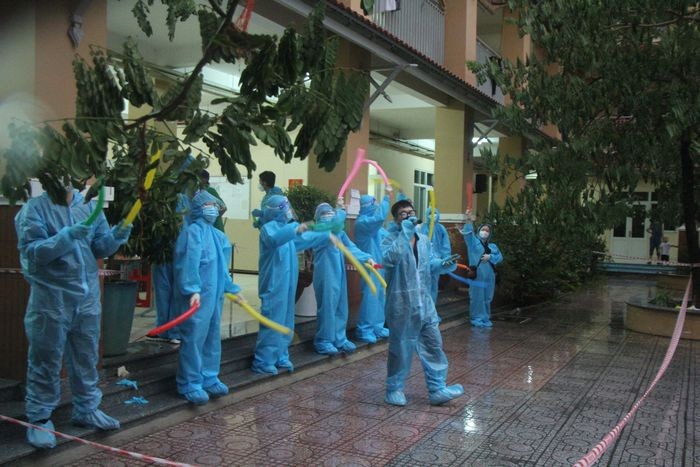 Photo: Tien Phong
The Covid-19 pandemic, first originated in Wuhan city, China's Hubei province, and has now spread to 221 countries and territories, devastating the life hundreds of thousands of patients. Nearly 4.7 million deaths have been reported worldwide.
In Vietnam, the latest resurgence broke out on April 27, and has infected 672,593 people, claiming 16,857 lives. HCMC remains the biggest epicenter while the situation in the northern city of Hanoi has abated.