Vietnamese Children Suffer Heavy Toll from 4th Covid Outbreak
The ongoing coronavirus resurgence has been affecting the lives of many children, leaving thousands orphaned with an uncertain future
Khanh Nhu, 13, was left an orphan by the Covid-19 wave sweeping through HCMC that took away her father, mother and grandfather.
Nhu's first day of class on Monday was at the home of her maternal grandparents in southern Dong Nai Province. She began the new school year with new clothes, books and friends.
"All the things that are familiar to me are in HCMC, including the ashes of my parents and my grandfather," she told VNE.
A few months ago she and her younger brother lived with their parents and grandfather in an apartment on Giai Viet Street, District 8.
Nhu is among a long list of unfortunate children in HCMC whose parents or custodial grandparents succumbed to the deadly diseases.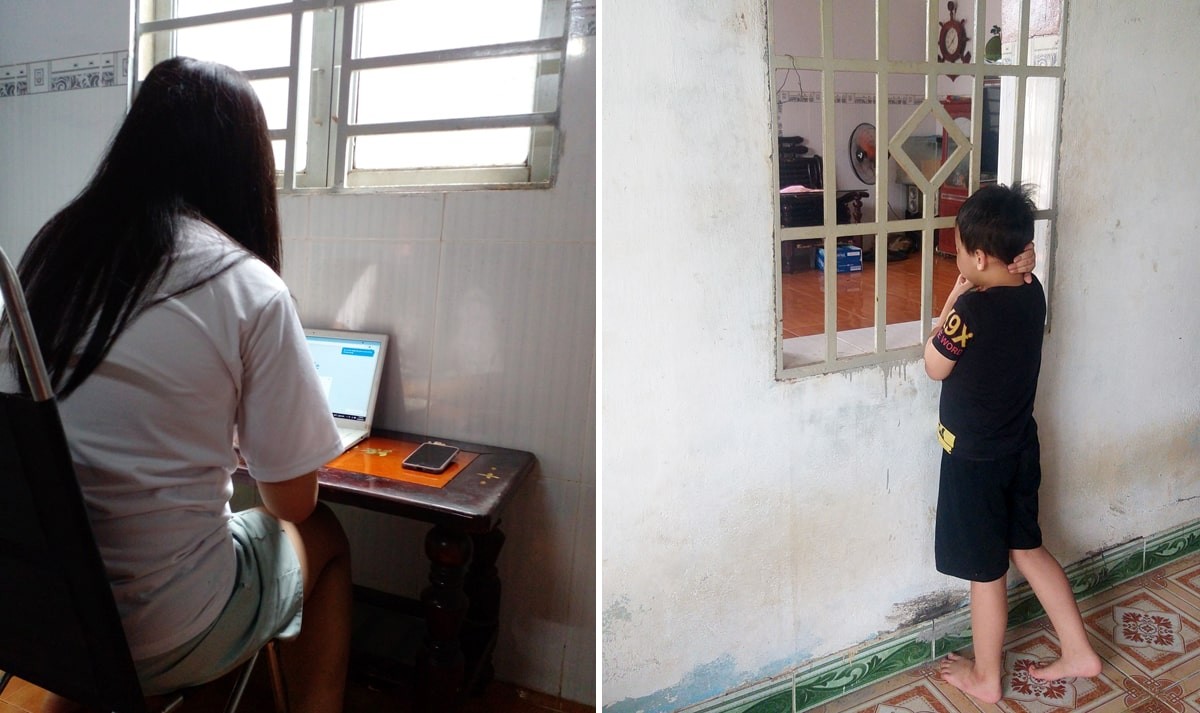 Khanh Nhu (L) and her brother now live in their grandparents' house in Dong Nai Province. Photo courtesy of Nguyen Thi Huong, Nhu's grandmother/ via VNE
Over 1,500 children in HCMC have lost their parents to the pandemic, according to the municipal Department of Education and Training. At least 10,073 children, mostly primary and secondary students, and nearly 3,400 teachers and educational staff have contracted the virus.
Dr. Le Minh Thuan, lecturer at HCMC University of Medicine and Pharmacy, told Tuoi Tre that being left orphaned is a trauma that might last for years or forever. Such a loss might also take a toll on their physical development and education, leading them astray, and even leaving negative consequences for themselves and society.
He called on all localities to thoroughly investigate and compile lists of orphans and work with psychologists, benefactors and charity organizations to provide timely, long-term support and psychological reassurance.
City officials on Sept. 11 announced all children who lost parents in the pandemic would receive monthly support, scholarships and tuition waivers until they are 22.
Orphans under four years old will receive a monthly allowance of nearly US$ 40 until they turn five. Those aged five and above will get US$ 24 a month.
The orphaned children will also be granted medical insurance cards and tuition waivers until 16, and will be eligible for social benefits till 22 if they continue their education.
Children undergoing Covid-19 treatment, meanwhile, will be granted VND1 million, VND80,000 for their daily meals, and all hospital fees related to the pandemic will be paid for, VNE reported.
Many organizations also launched projects to lend the children a helping hand.
Nguyen Ngoc Nhung, vice chairwoman of the city unit of the Ho Chi Minh Young Pioneers Organization, said: "The Ho Chi Minh Young Pioneers Organization has launched a program sponsoring annual scholarships to the orphans, each worth US$ 132 per one student until they graduate from high school. Those from underprivileged families will also enjoy the financial support, said Nguyen Ngoc Nhung, vice chairwoman of the organization"
The program has attracted over 150 individuals and groups, raising over 400 scholarships that worth nearly US$ 263.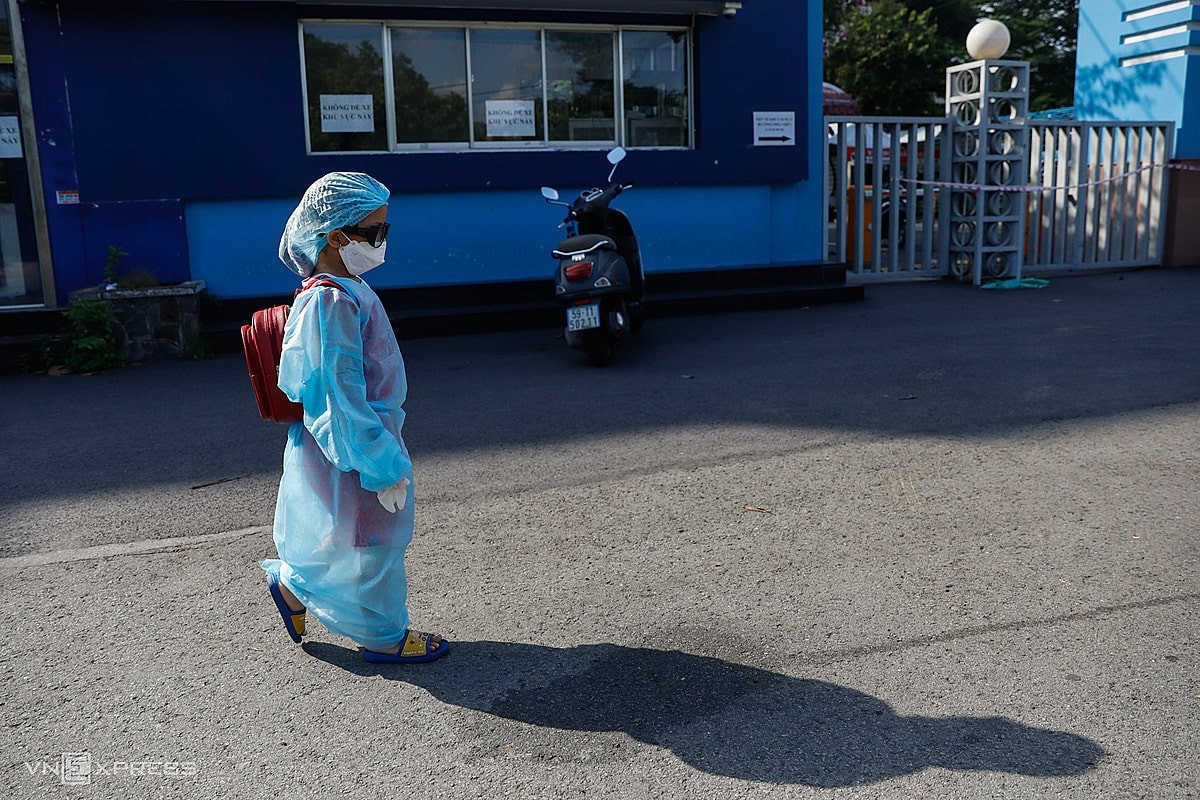 A child outside a Covid-19 quarantine facility in HCMC's Thu Duc City in June 2021. Photo: VNE
Notwithstanding the dire situation many orphans face, life goes on. The children still have to continue with their everyday rituals, including learning, to ensure their future.
As the fourth wave continues to rage and social distancing order strictly deployed in many places, they join other students across Vietnam to attend online lessons, which are supposed to take place in physical classes.
While many students and parents find virtual learning ineffective and troublesome, many households still struggle to afford technological devices or Internet connections.
The Hanoi Department of Education and Training has collected 2,345 devices, including computers, laptops, smart phones, and other equipment to help needy students catch up with their online curriculum. Many of the donated items have reportedly been handed to families who previously couldn't afford them.
The department aims to achieve the "dual goals" of ensuring the safety of teachers and students and maintaining qualified teaching and learning results.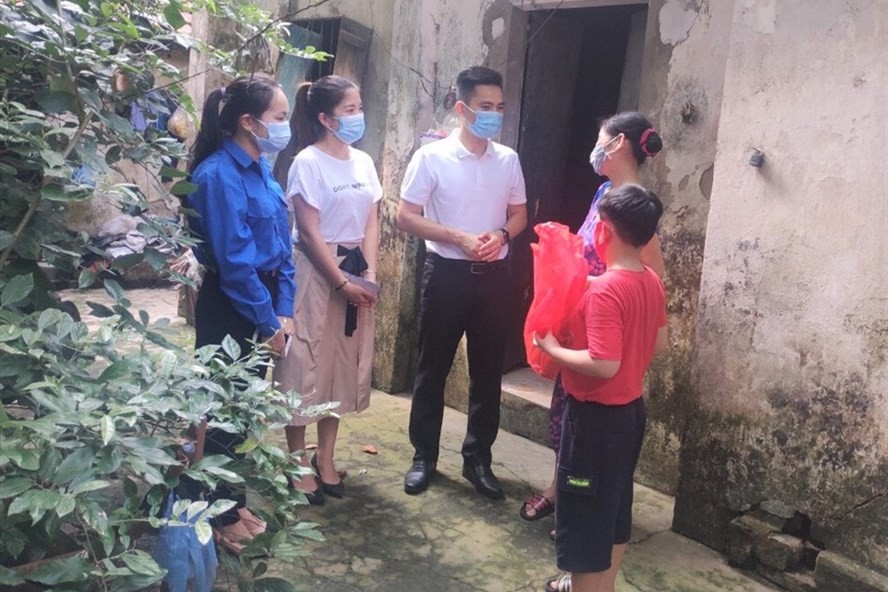 A family gets learning devices from a supporter. Photo: Lao Dong
According to research published in British medical journal The Lancet in July 2021, more than 1.5 million children worldwide have lost a parent, custodial grandparent or other secondary familial caregivers to Covid.
Another study by the US CDC, USAID, World Bank, and the University of London found that globally, for every two people who died of Covid one child lost a parent or caregiver.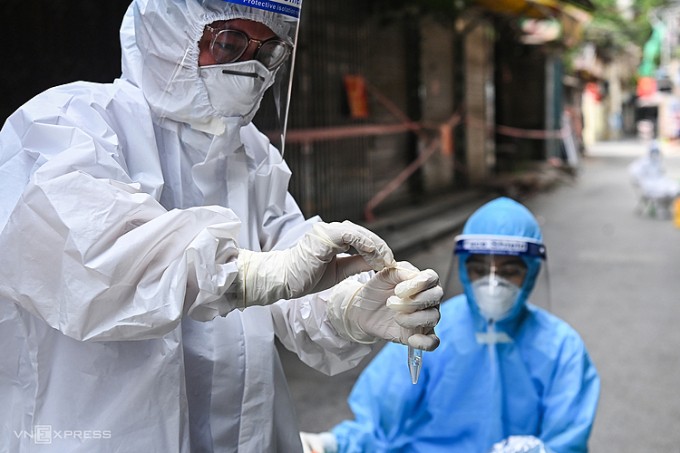 Covid testing in Thanh Xuan district, Hanoi. Photo: VNE
The Covid-19 pandemic, first originated in Wuhan city, China's Hubei province, and has now spread to 221 countries and territories, devastating the life hundreds of thousands of patients. Nearly 4.7 million deaths have been reported worldwide.
In Vietnam, the latest resurgence broke out on April 27, and has infected 663,233 people, claiming 16,637 lives. HCMC remains the biggest epicenter while the situation in the northern city of Hanoi has abated.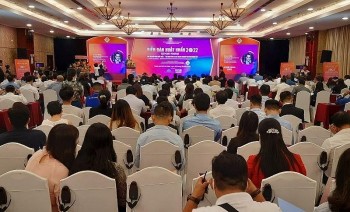 Focus
Vietnam News Today (Dec. 9): Vietnam - Singapore innovation centre helps firms transform production; HCM City among most searched destinations by travelers; Vietnamese digital technology industry's revenue estimated at 148 billion USD in 2022; Two Vietnamese films up for consideration at Oscars.