Central region: North re-flooded, Central Coast faces landslides, flood release in the South
In the South Central provinces, some hydroelectricity plants still discharge floods while rain spreads to the North Central provinces and the Central Coast provinces are facing the concern of possible landslides.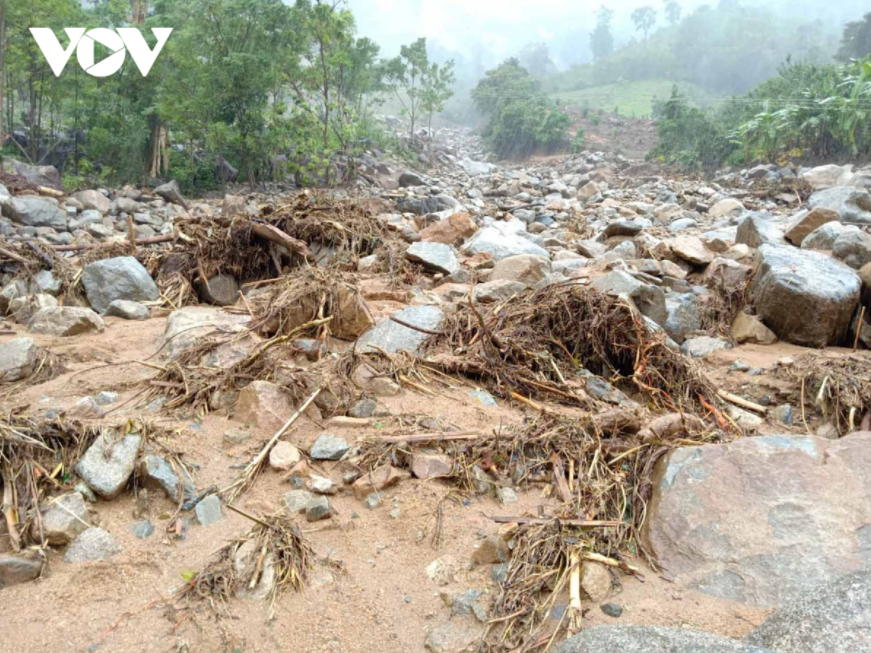 Photo: VOV
On the afternoon of November 11, in South Central provinces, hydroelectricity plants were discharging floods. Meanwhile, the rain spread to the North Central provinces, causing many localities to be flooded again. The Coast provinces are facing the fear of possible landslide.
In Phu Yen province, the rain has stopped, but due to the Song Hinh, Song Ba Ha, K "Rong Nang hydropower discharges with frequency from 4500 to 5900 cubic meters/second, water recedes slowly in many places. Floods causing one person to be missing, 62 houses to be damaged and roofed off; pavement in some parts of the national highway to be destroyed.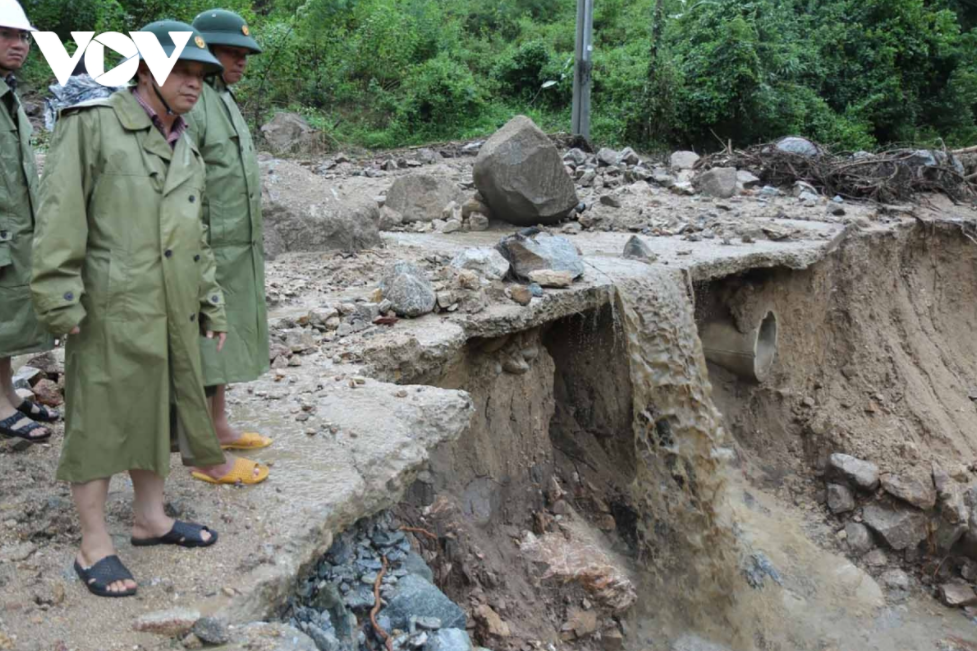 Photo: VOV
By the afternoon of November 11, some communes such as Xuan Son Nam, Xuan Son, and Bac Xuan Long were still isolated due to deep flooding. Mr. Pham Tuan Chanh, Vice Chairman of People's Committee of Dong Xuan district, Phu Yen province, said that in the district the power was completely cut. The locality had evacuated more than 2 thousand households with more than 4,000 people in the low-lying areas to safer places. This afternoon, the Dong Xuan district government organized a relief team by boats and canoes to provide food, drinking water, instant noodles to help people in isolated areas.
Chanh said: "Up to now, water has receded from the town area, though some communes are still isolated. Traffic can only function in one route, DT 644. The telecommunication system can only be used to make phone calls. We are also proactive to evacuate the households which are currently safe, in case the storm Vamco comes back. In the immediate future, the locality still adheres to the "4 immediate" motto to support isolated households. "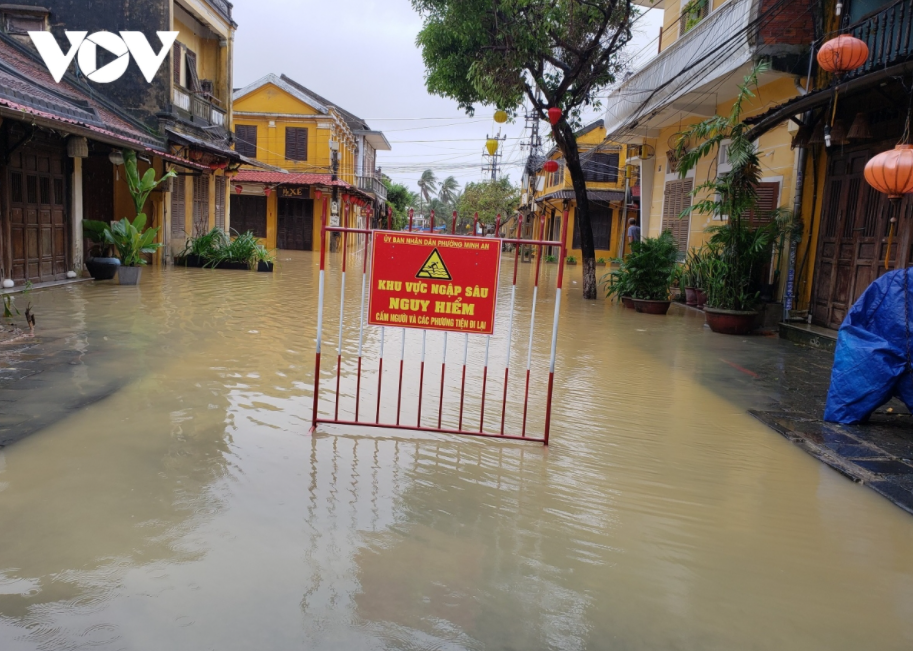 Photo: VOV
This afternoon in Binh Dinh province, it was sunny, the floodwater receded quickly. By about 14 o'clock, most of the flooding points in Nhon Binh and Nhon Phu wards and on Hung Vuong street in Quy Nhon city have been drained, people are cleaning the streets and houses.
The lastest storm caused heavy rains and landslides in mountainous districts such as Van Canh, Vinh Thanh, An Lao, Hoai An, and Hoai Nhon town. In Vinh Kim commune, Vinh Thanh district, there have been 33 landslides that last about 8km. Many large rocks fell across the road, booking the traffic. In Hoai An district, nearly 12km of roads were eroded and divided.
Mr. Ho Quoc Dung, Chairman of Binh Dinh People's Committee said: "We have established an interdisciplinary mission to carry out inspection of the damage in localities with heavy destruction, especially Hoai An, An Lao, and Vinh Thanh districts. This week, the People's Committee will provide urgent assistance to these 3 districts, especially Hoai An."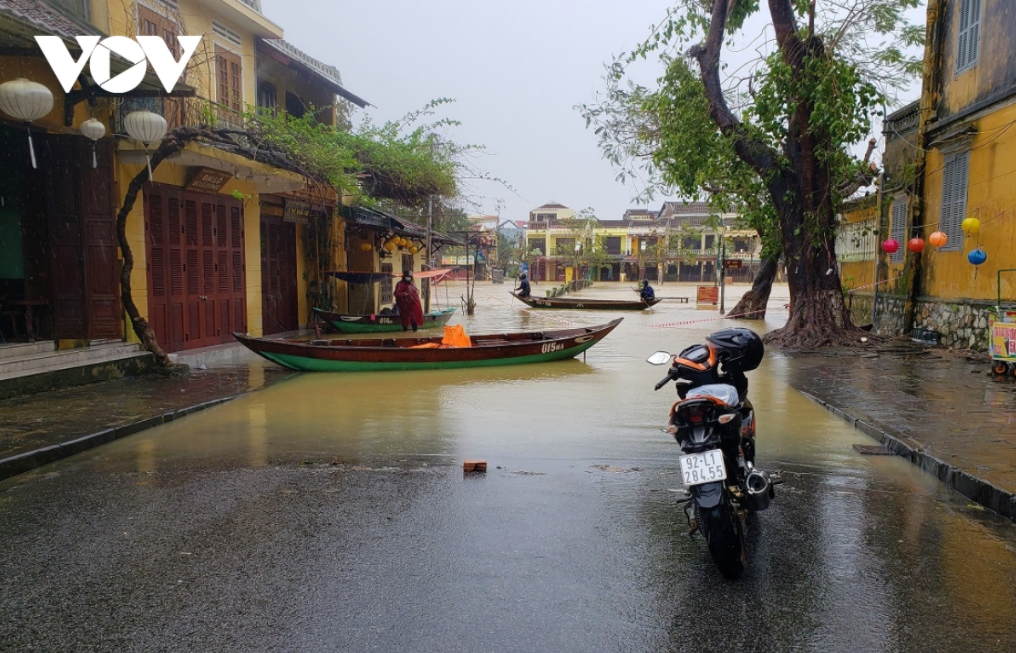 Photo: VOV
In Quang Ngai province, heavy rains over the past few days caused landslides on many roads to the mountainous districts. New landslide spots appeared in many mountainous areas, with a high risk of flash floods. This morning, the part of Truong Son Dong road that passing through Son Long commune, Son Tay district suffered a heavy landslide, causing thousands of cubic meters of rock and soil poured into the road surface. Heavy rains caused landslides at many parts of Provincial Road 623. Son Tay district has moved more than 900 households out of locations at risk of landslide.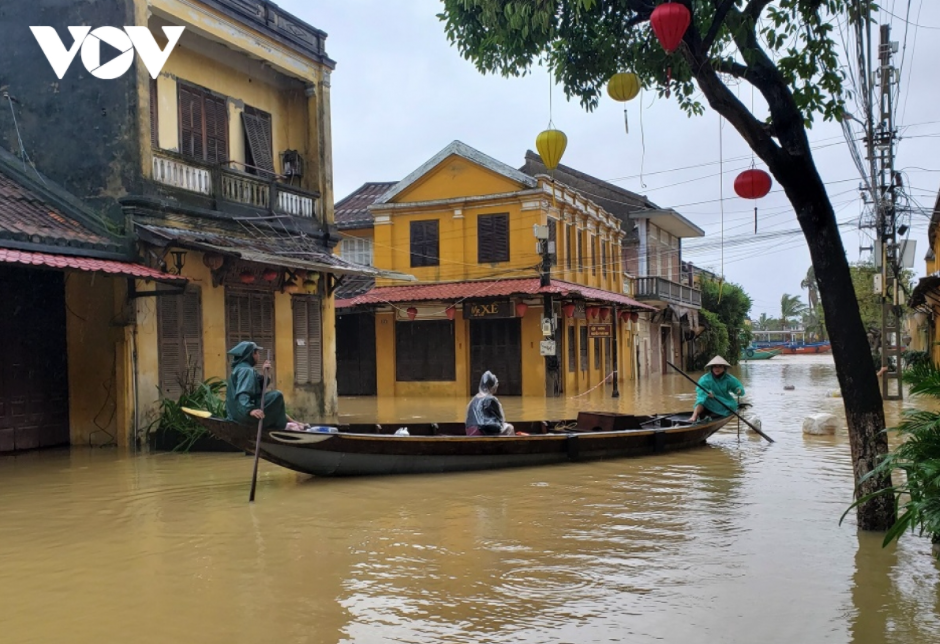 Photo: VOV
Last night, Dang Nhu Y and Tran Phu Vinh (from Quang Nam province) ride a motorbike on Truong Son Dong street. When the two people arrived in Son Long commune, although there was a warning barrier, they still tried to pass. As they could not pass the road, these two people stayed in a homestay, which was then buried about half a meter due to rock fell. Local forces were promptly present to handle the accident.
Mr. Dinh Quang Ven, Acting Chairman of Son Tay People's Committee, Quang Ngai Province, said: "Right on Truong Son Dong street, the old landslide site now continues to erode 3 or 4 times, isolating the whole province. Electric posts have collapsed, currently, there is no electricity in the local. Warning barriers were set up on both sides. Road Management Department 3 is waiting for the rain to stop to start the fixing work."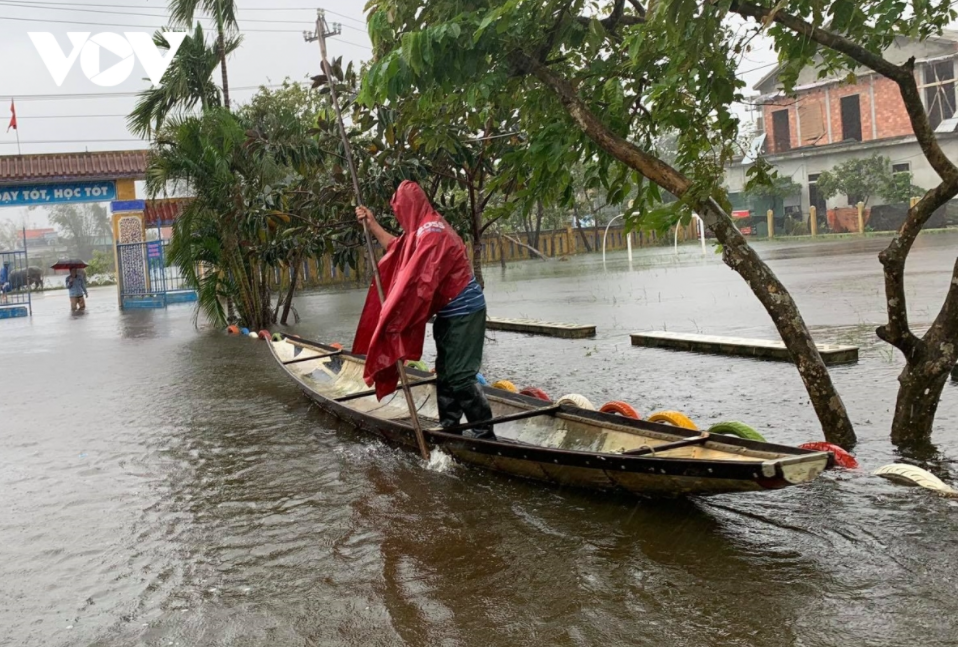 Photo: VOV
Heavy rains, water discharge from hydroelectricity, flooded some low-lying places in Hoi An city, Dai Loc district, Duy Xuyen, Quang Nam province. Since last night, the water from the upper reaches makes the Hoai River water level rise beyond roads in the old town such as Bach Dang, Nguyen Thai Hoc, Le Loi ... Local people have actively evacuated to higher houses. This is the 6th time in a month that flood water from the Hoai River has risen to the level of people's houses.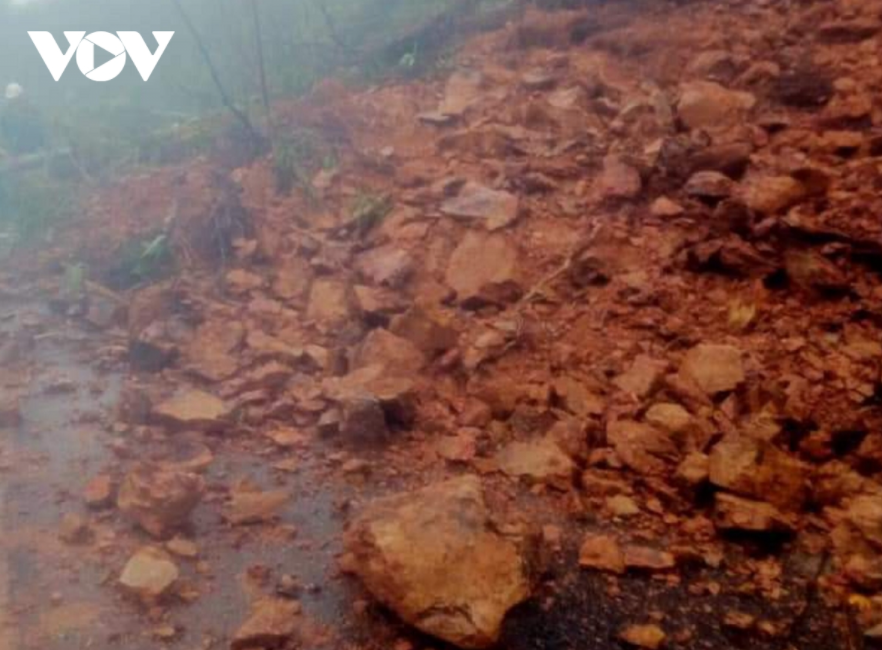 Photo: VOV
Ms. Nguyen Thi Hoa, 60 years old, lives in no. 78, Nguyen Thai Hoc Street, Hoi An city, Quang Nam province worries: "The water started rising from 5 am. I do not know how much the rising level. The authorities predicted that it would be level 3, but I personally think that I was about 40cm higher. I have brought some instant food and evacuate to higher places. If the water gets too high, I may have to find a higher place to stay."
Heavy rains in the south of Thua Thien Hue province caused local inundation. Some low-lying residential areas in Hue city, Quang Dien and Phu Loc districts got flooded up to half a meter. In particular, some parts of National Highway 1A running through Loc Tri commune, Phu Loc district was flooded, creating traveling difficulty. The police of Phu Loc district has directly warned small vehicles such as cars and motorbikes to not ride through this road.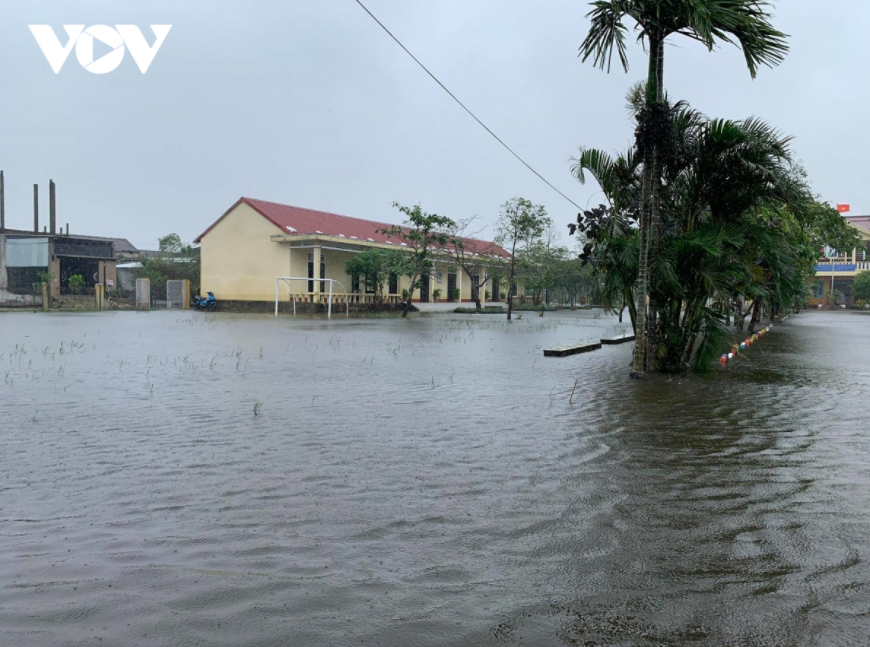 Photo: VOV
At present, the forces are mobilizing motor vehicles on the route. Provinces are also evacuating and relocating more than 5,000 households out of dangerous areas. Until this afternoon, the districts of Phu Loc, Quang Dien, Huong Tra town ... allowed students in low-lying areas to leave school to avoid floods and storms Vamco.
Mr. Nguyen Thai Hiep, Head of Education and Training Department of Quang Dien district, Thua Thien Hue province, said: "Currently, it is still heavily raining in the area, so schools are flooded. The sector also directed schools to focus on storm prevention".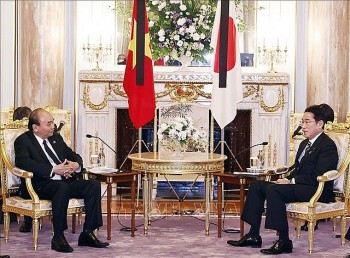 Friendship
Vietnam always treasures the extensive strategic partnership with Japan and views Japan as an important and long-term strategic partner, President Nguyen Xuan Phuc told Japanese Prime Minister Kishida Fumio in Tokyo on September 26.