Motorbike mechanics closed shops, formed group to repair motorbikes in flooded areas
After serious storms in October, most localities in Quang Tri province were flooded. To assist local people, a group of young motorbike mechanics in Cam Lo district (Quang Tri province) set up a rescue team to travel to the countryside to help repair people's motorbikes for free.
Immediately after the floodwater in Quang Tri receded, Mr. Nguyen Thanh Tuan, a skilled motorbike repairman in Cam Nghia commune, Cam Lo district, together with some of his friends formed a rescue team to repair motorcycles that were damaged by floodwater, according to Laodong.
For the past half month, the rescue team has grabbed their tools and gone to many heavily flooded villages in districts of Cam Lo, Trieu Phong and Hai Lang to provide free motorbike repair assistance to residents.
Motorbikes are considered an important means of transport for local people. After long flooded days, rainwater often mixed in oil, so after the repair was completed, the group offer free oil changing service.
When they first began the rescue work, the team members had to spend their own income to help local people. Realizing the meaning of this work, many generous individuals join hands to donate to support the budget, buy lubricants and spare parts to create favorable conditions for the rescue team.
Before going to any area to repair the motorbikes, they always ask for permission from the authorities and urge people to bring the bikes to a concentrated location then wait for their turn. The members of the rescue team always try to work their best, regardless of the time, even until late at night,to repair all flooded cars for everyone who has a means of transport.
After a month of function, the number of motorbikes that Mr. Tuan's team repaired was more than 1,000.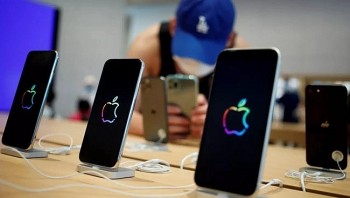 World
India exported iPhones worth $1 billion from May to September 2022, according to a Bloomberg report, but a closer look at the data shows the country is a long way from rivalling China's iPhone manufacturing chops